The Loctek UF6M is a little different upright exercise bike with the feature of being able to convert to and from a bike with a desktop to a more standard upright exercise bike. The bike is compact and operates very quietly, so it can be used just about anywhere indoors to get exercise.
The eight levels of magnetic resistance are controlled by a tension knob that is just below the handlebars on the front support post. The resistance goes from very easy to moderately hard. It moves up incrementally, and the changes are smooth.
The bike has a belt drive and flywheel to provide an excellent, consistent pedaling motion. It operates very quietly and is deficient maintenance. All you might hear is a very soft whooshing sound when pedaling fast.
The seat is padded and contoured and comes with a padded backrest. The two are fixed in place to each other – i.e.; both move together when you adjust the seat's position. The seat is large, which, along with the backrest, helps to provide proper support and helps with balance too.
Learn more in my complete review below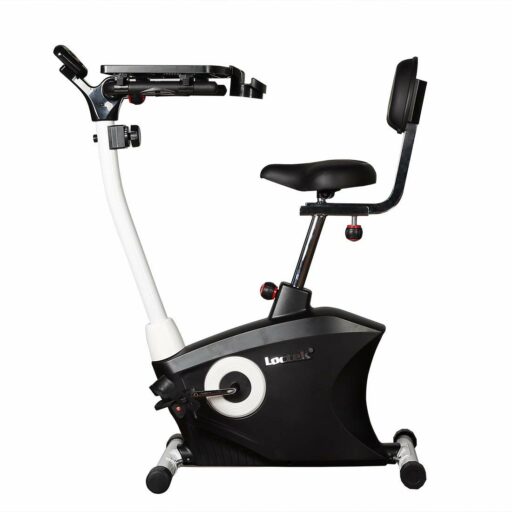 Product: Loctek UF6M Upright Desk Exercise Bike
Price: For a great deal on this desk/upright exercise bike, merely go here on Amazon
Warranty: 1 Year limited
My rating: 7.25/10
Amazon Affiliate Disclosure: I may earn commissions on purchases made through links in this post.
Details and Specifications
Assembled dimensions: 39L x 18W x 48H inches (99L x 46W x 122H cm)
Desk dimensions: 12L x 17.5W inches (30.5 x 44.5 cm)
Assembled weight: 54 lbs (24.5 kg)
Weight capacity: 250 lbs (113 kg)
Handlebars: Adjustable
Seat: 4-way adjustable
Pedals: Weighted, with adjustable straps
Resistance: Manual magnetic, eight levels
Exercise console: Time, speed, distance, RPM, calories, and pulse
Warranty: 1 year limited
UF6M Frame
Like most exercise bikes, the Loctek UF6M features a frame made of steel tubing.  Its assembled weight is 54 lbs (24.5 kg), which means its assembly and transport shouldn't be a problem for almost anyone. On the other hand, it's considerably more substantial than most office seats; thus, it offers excellent stability. On top of that, its rear base caps have a polygonal shape and can rotate, offering the possibility to stabilize the frame.
This exercise bike is far from being large. It's footprint is 39″L x 18″W (99 x 46 cm). However, it requires approx. 50″ x 35″ (127 x 89 cm) of usage surface as the handlebar post extends forward for more than 10″ (25 cm), and you'll need a bit of space on each side for unhindered operation.
The steel parts in the bike's construction come with corrosion-resistant white paint, this being the only color available so far. However, the protective PVC shrouds of the flywheel and drive mechanism are black, while the seat post has a chrome finish.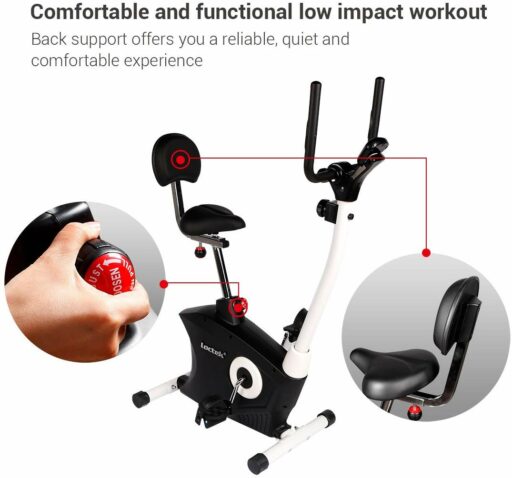 Seat
The Loctek UF6M has a 4-way adjustable seat. Its vertical post offers an 8″ (20.3 cm) span of adjustment, while its horizontal bar allows approx. 4″ (10.1 cm) of change. At its lowest position, the seat is approx. 30″ (76 cm) above floor level, while at its tallest setting, it stands at 38″ (96.5 cm).
In other words, the bike can accommodate users between 4'10" and 5'8″ (147 – 178 cm). Also, the bicycle supports a maximum user capacity of 250 lbs (113 kg). However, several users have reported that it can support heavier weights.
The seat is not extremely comfortable, especially for users who are new to using a bike seat. The saddle is a standard bike saddle. It does have a layer of padding, though, offering optimal comfort. However, since the seat is standard, you can easily find a replacement for it. Or, you can increase its comfort via a gel cover.
The seat also has a small backrest, which is attached to the same tube as the seat. It won't independently adjust from the seat. It's designed to provide optimal lumbar support, also integrating a thick layer of padding.
UF6M Handlebars and Desk
This exercise bike features adjustable handlebars, which can be tilted horizontally towards the user, to make available the placement of the desk onto them. The handlebars have a layer of rubber foam to provide a comfortable and sure grip. They also integrate pulse sensors so that the fitness meter unit can track your heart rate.
The desk has a simple design. It attaches to the handlebars via four clips. It features an adherent surface, to offer superior stability for your laptop. There are two slots on its surface to serve as support for your tablet or phone. Also, a cup holder or bottle holder accessory is (supplied) with the bike.
Resistance System
Despite several descriptions we've seen online, which claim that this bike features an electromagnetic resistance, its resistance system does not require an electric current. It's not motorized and does not need a connection to a power circuit.
Differently put, its resistance system consists of a magnetic element connected via a steel wire to the resistance knob on the front upright bar. By turning the knob clockwise, the magnet will come closer to the bike's flywheel, this way increasing resistance.
The bike's resistance has eight distinctive. The first resistance levels supply a very light workout, while the top 7-8 settings deliver a resistance level, which is considered medium. In other words, by pedaling on the high resistance levels, you will feel the burn in your leg muscles, and put your heart to work.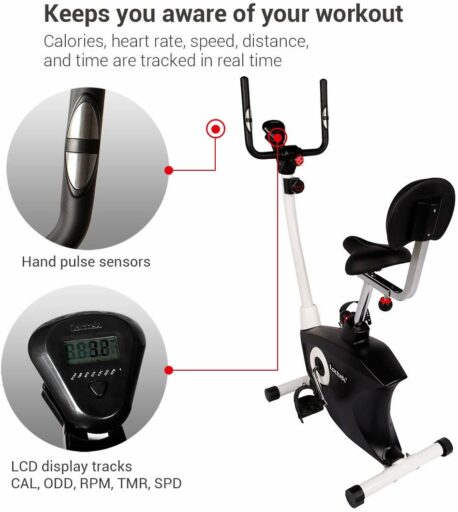 UF6M Drive System
This Loctek desk bike comes with a belt drive system. Thus, the pedaling motion is almost silent. Therefore, you can use the bike in an office with multiple co-workers without bothering them. The bike's flywheel is steel-made and has a weighted perimeter structure, to deliver a consistent momentum and stable pedaling motion.
The crank arms are solid steel, is quite durable. However, this exercise bike is not for standing up pedaling routines, only for seated pedaling. Although the crank assembly may support your whole weight, it's not advisable to engage in standing up pedaling routines. Additionally, it may considerably increase the bike's wear.
The crank arms come with heavy-duty nylon pedals with adjustable straps. Each strap has several adjustment settings, being able to accommodate shoes of all sizes.
The pedals have a weighted design, each one of them should assume its standard position once you remove your foot from it.
And finally, the pedals have standard threads; thus, you should easily find replacements for them in case it's necessary.
Console
The Loctek UF6M comes with a simple fitness console. As I've mentioned above, this console unit does not control the bike's resistance. It's only for tracking your workout parameters. It can track time, distance, speed, RPM, calories, and pulse.
Since it can monitor pulse and RPM, it's a bit more advanced than the most basic type of fitness console. The metallic sensors in the handlebars monitor the HR pulse. The unit is not telemetry enabled.
The console is battery powered, using 2 AA batteries, which are (included). It's easy to operate. It features only one button which covers all of its functions. It has a SCAN function which cycles through all the metrics, indicating each one for several seconds. However, you can select any of these values to be the only one displayed on the screen. To reset all the metrics, press and hold it for several seconds.
UF6M Assembly and Maintenance
The body of the bike comes pre-assembled. Therefore, the assembly requires you to add the base tubes to the mainframe of the bike, the seat post, the handlebar post, the seat, the handlebars, the pedals, and the console. The desk is easily removable, and you can install it whenever you like.
The whole assembly shouldn't take more than one hour. All the necessary tools are included, as well as the step-by-step assembly manual.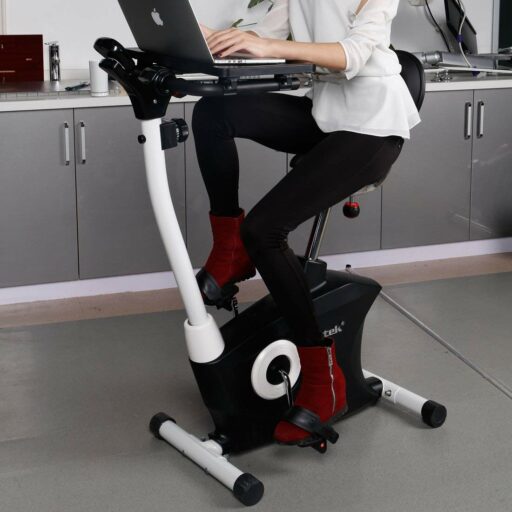 Maintenance is almost inexistent. All you have to do is periodically check the machine's joints and re-tighten the bolts if necessary. Also, make sure to wipe off sweat that may fall onto the frame, and especially on the console.
Pros
Solid construction, the frame can support users up to 250 lbs;
4-way adjustable, wide, padded seat;
Padded backrest, supplying excellent lumbar support;
2-way adjustable handlebars;
Pulse sensors integrated into the handlebars;
Integrated desk, with an adherent surface, made to accommodate any laptop or tablet;
Cup holder included;
Fitness console which can track speed, time, distance, total distance, RPM, calories, and pulse;
Weighted pedals, with adjustable straps;
Balanced flywheel providing a smooth and steady pedaling motion with a consistent momentum;
Smooth and almost silent drive;
Eight levels of resistance;
Little maintenance required;
Extremely easy to assemble.
Cons
The seat is not too comfortable;
The console display isn't backlit.
Loctek UF6M Summary
The Loctek UF6M is an upright exercise desk bike, featuring eight levels of quiet, frictionless and smooth magnetic resistance. It is perfect for maintaining your muscle tone and boosting your heart rate during workouts. It has a desk large enough to accommodate any laptop or tablet, and also comes with a fitness console.
Even though it's not a fitness machine for intense training, it can still deliver pedaling workouts of medium intensity. Its seat provides optimal comfort and excellent lumbar support. In all, it's a fitness machine with a solid build, high stability, with an excellent price/value ratio.
I hope you found this article helpful and informative. If you have anything that you'd like to share or any opinions about my website, please do speak up. I look forward to your comments, questions, and the sharing of ideas.
Recommended articles:
Please follow and like us: