Get your heart pumping and reap the benefits of a full-body cardio workout with the Marcy ME-1018RE Magnetic Rower. You'll experience a muscle-building and fat-burning workout that's unlike anything you've had before by adding this high-functioning rower to your home gym.
The ME-1018RE comes equipped with eight levels of manual magnetic resistance. A resistance control knob allows you to customize training sessions to suit your fitness needs. You can set the intensity of your workout with a simple turn of the knob.
The Marcy ME-1018RE Magnetic Rower features a contoured seat that ensures you stay comfortable throughout training while helping to maintain proper body alignment during exercise. This machine also has sturdy pedals that can accommodate feet of different sizes, granting you superior footing for precise motion when exercising.
The ME-1018RE foldable rowing machine includes a user-friendly LCD which tracks count, total count, calories, and time. There is also a scan mode that cycles through all the metrics. However, it does not have a pulse reading function.
Learn more in my complete review below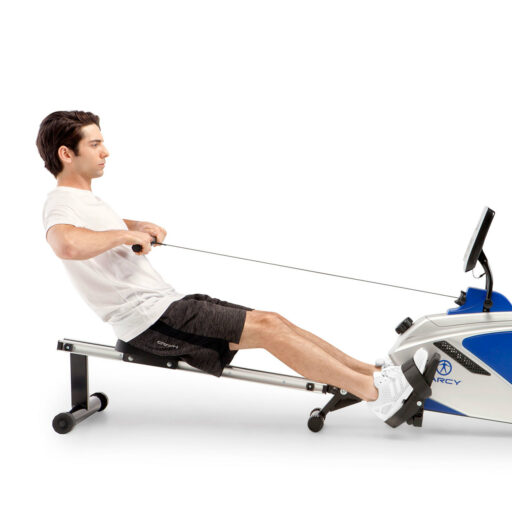 Product: Marcy ME-1018RE Magnetic Rower
Price: For a great deal on this rower, merely go here on Amazon
Warranty: 2 years limited
My rating: 8/10
Amazon Affiliate Disclosure: I may earn commissions on purchases made through links in this post.
Details and Specifications
Assembled dimensions: 72L x 20W x 32H inches (183L x 51W x 81H cm)
Assembled weight: 66 lbs (30 kg)
Weight capacity: 250 lbs (113 kg)
Frame: Steel & aluminum
Resistance type: Magnetic, 8 levels
Console: Time, RPM, count, distance, calories, goals, scan
Warranty: Frame 2 years
ME-1018RE Frame construction
The Marcy ME-1018RE magnetic rower combines steel, aluminum, and ABS plastic parts in its construction. Most of the structural frame parts are steel except for the slide rail; the core of the slide rail is steel-made, while its side sections are aluminum alloy for a smoother seat movement. The front unit of the machine, which holds the drive and resistance elements, features ABS covers.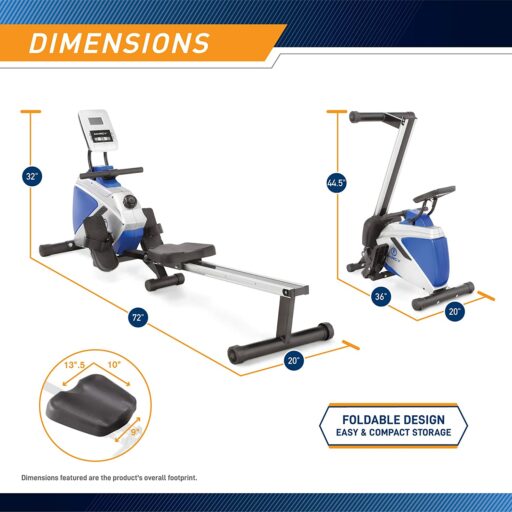 All the steel parts of the structural frame come coated with a corrosion-resistant paint finish black in color. The side aluminum beams of the main sliding rails don't have any paint finish, but they're highly resistant to corrosion anyway.
The fully assembled machine is approx 72″ (183 cm) long, and 20″ (51 cm) wide. Thus, it takes quite a bit of space, especially lengthwise, so it may not fit too well into a small room. Plus, it is advisable to allow at least two feet of clearance at the rear and on each side of it to ease access and unhindered usage.
On the other hand, the machine's frame is foldable. The rail with the seat is foldable. With the rail folded, the machine's dimensions become approx. 37″L x 20″W x 46″H (94L x 51W x 117H cm).
The machine's sliding rail is approx 45″ (115 cm). Thus, the machine can accommodate users up to 6'4 ″ (193 cm), allowing a complete leg extension. It's rated for a maximum user weight capacity of 250 lbs (113 kg).
It's also important to mention that rail is not horizontal. It has an incline of a few degrees. This type of rail setup results in a slightly better workout for the legs and a faster recovery motion.
Seat and other parts
The Marcy ME-1018RE rower comes equipped with a pretty standard seat. Its top is contoured and integrates a layer of high-density foam padding to reduce the impact on your tailbone. It's also relatively large, 13.5″ (34.29 cm) wide, and 10″ (25.4 cm) long, so it provides plenty of contact surface.
The seat's base frame is metallic to support users up to 250 lbs (113 kg) with no problem. It has two sets of wheels that slide through the aluminum side grooves of the rail. The wheels integrate high-grade sealed ball bearings for a smooth motion, while their outer layer is rubberized to minimize noise.
This Marcy rower also has pivoting footrests. This means they can tilt forward on their axis to adapt better to your movement during each stroke. Of course, they have heel stoppers so they won't lean past approx—75 °.
The two footrests are large enough to accommodate athletic shoes of all sizes. They feature heel guards and adjustable straps for maximum foot stability.
The machine's pulling handle consists of a short straight bar. It does not integrate any resistance controls or pulse sensors like the more expensive, commercial rowers. Its grips are rubberized, though, for improved comfort.
The pulling handle is attached to a heavy-duty, abrasion-resistant nylon strap. Therefore, it generates less vibration during rowing than a chain. It also doesn't require lubrication.
ME-1018RE Resistance system
The Marcy ME-1018RE features a full-magnetic resistance system with manual action. This means it does not require a power adapter or an external power source. But on the other hand, its console does not have preset programs and cannot automatically adjust the resistance.
The machine's resistance system consists of a magnetic brake attached to the tension knob on the front unit. By turning the knob to the right, the magnetic brake moves closer to the flywheel and increases the rowing difficulty.
The rower makes available eight resistance levels. The 8th resistance level isn't challenging; however, it does provide a pretty consistent full-body cardio workout. Of course, the lowest resistance levels provide a relatively light rowing difficulty.
Since the machine's resistance mechanism is magnetic and does not integrate any air resistance or water resistance elements, it's important to mention that it doesn't provide a dynamic response during rowing. Differently put, the resistance is generated only by the magnetic brake. It does not increase if you pull faster.
This shouldn't influence the consistency of the workout. However, the rowing feel is not as close to the rowing of a real boat, as it is the case for water resistance rowers or air rowers.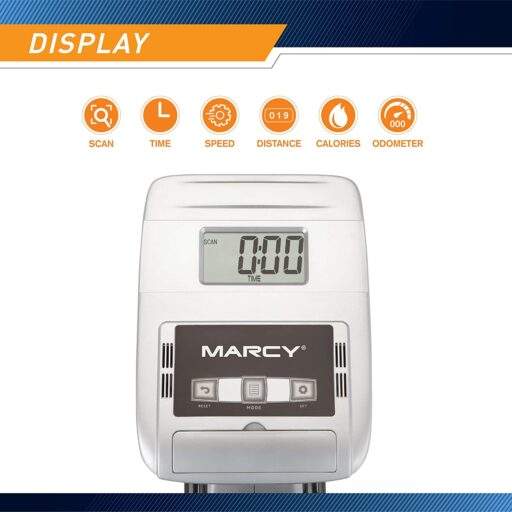 Console
As I've mentioned earlier, the Marcy ME-1018RE rower has a manual magnetic resistance system. Therefore, the console cannot automatically adjust the resistance. It does not have preset programs, and it isn't compatible with any online fitness apps.
It features an LCD (without backlight) that tracks time, count, total count, and calories burned. However, it does not have a pulse reading function.
The console features three buttons – Mode, Set, and Reset. The Set button allows you to enter setup mode and select a goal for time, count, and calories burned. If a goal for any of these metrics is set, the console will show the remaining value until you reach zero and complete your goal.
The Mode button gives you the possibility to scroll through the workout values and select the one that you want to view on display. You can also select the Scan Mode, which rotates all the values, showing each one for 6 seconds. And finally, the Reset button clears all the values on the console to zero.
The unit requires 2 AA batteries as its power source, which are not (included) with the rower. It starts up when you begin rowing and automatically shuts off if it doesn't detect any machine activity for four minutes.
Two other notable features regarding the console that I must mention here are the mount and the device holder. The mount allows angle-adjustment for the console. Therefore, you can set it to an appropriate position to your height so you can view the workout data better.
The device holder consists of a small folding shelf integrated at the bottom of the unit, supporting your tablet or your smartphone. The console does not have USB or other connection ports for your device.
ME-1018RE Assembly and Maintenance
The front unit of the rower with all the drive and resistance elements comes pre-assembled. You only have to attach the front base bar, the footrests, connect the rail to the front unit, insert the seat on the track, and close it with the rear stabilizers. The console also requires assembly and cable connection. The whole task shouldn't take more than an hour, and clear, step-by-step assembly instructions, illustrations, and necessary tools are (included) with the rower.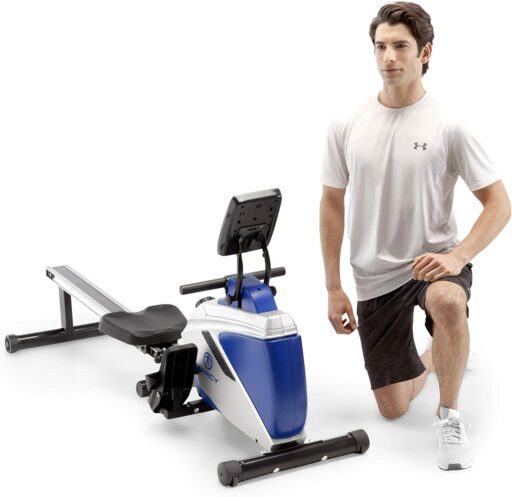 For maintenance, it is advisable to keep the rail clean to prevent any damage to the wheels. Other than this, you only have to clean the machine and periodically check for loose parts. The internal parts don't require any lubrication.
Pros
Sturdy frame for a home-use machine – can hold users up to 250 lbs;
Folding rail and aesthetic design;
Transport wheels on the front base;
Adjustable stabilizers on the rear base;
Large, padded seat for improved comfort;
Relatively long rail – can accommodate users up to 6'4″;
Pivoting footrests with adjustable straps;
Quiet magnetic resistance with eight distinct levels;
Exercise meter included – it tracks time, count, total count, and calories burned;
Goal settings for time, count, and calories;
Tablet holder included;
Easy to assemble;
Little maintenance is required.
Cons
No pulse reading function;
The fitness console doesn't have a backlight.
Marcy ME-1018RE Magnetic Rower Summary
The Marcy ME-1018RE is a standard manual-magnetic rower made for home use. It features a sturdy rail with a user weight limit of 250 lbs, eight magnetic resistance levels, a relatively large and padded seat, and a fitness console that tracks time, count, t-count, and calories burned. Also, its rail is foldable to save space. It's a reasonably decent trainer for a full-body cardio workout, stamina development, muscle toning, and weight loss.
I hope you found this article helpful and informative. If you have anything you'd like to share or any opinions about my website, please speak up. I look forward to your comments, questions, and the sharing of ideas.