The Marcy ME-1019R Recumbent Bike has a sturdy, durable, and premium construction with a 14-gauge steel tube frame that is powder-coated to enhance performance and appearance. It is a very sturdy and functional bike for the price overall.
The Marcy ME-1019R delivers a comfortable cardio workout that other bikes cannot provide. The back pad and ergonomic handles at your side allow you to go on long rides without putting a strain on your back and arms. Alternatively, if you'd like to push for a more challenging ride, you could use the handles at the unit's front.
This Marcy magnetic recumbent cycle comes with an average weight flywheel. And this is the case with most recumbent exercise bikes. They do not offer the heaviest of flywheels, unlike a lot of the spin bikes. The ME-1019R has eight levels of magnetic resistance. The lower levels are exceptional for weaker people or who are recovering. And it only gets harder as you increase the resistance.
Don't let all that hard work go to waste; utilize the built-in LCD screen to note calories burned, speed, and more. If you prefer monitoring your workout based on heart rate, the built-in pulse monitors record your heart rate in beats per minute (BPM).
Learn more in my complete review below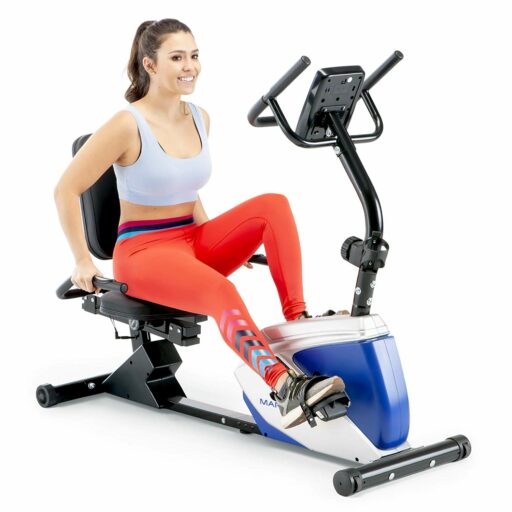 Product: Marcy ME-1019R Recumbent Bike
Price: For a great deal on this bike, merely go here on Amazon
Warranty: 2 years limited
My rating: 8/10
Amazon Affiliate Disclosure: I may earn commissions on purchases made through links in this post.
Details and Specifications
Assembled dimensions: 57L x 25W x 45H inches (145L x 63W x 114H cm)
Assembled weight: 78 lbs (35.3 kg)
Weight capacity: 250 lbs (113.3 kg)
Seat: Adjustable
Pedals: Weighted, with straps
Resistance: Magnetic, eight levels
Console: Time, distance, speed, calories, pulse, goals, scan
Warranty: 2 years
ME-1019R Frame construction
The Marcy ME-1019R features a frame composed of two main pieces, the rear part with the seat and the front part that holds the drive system. The two pieces connect in the middle. The bike's frame has a step-through design. Thus, taking a position on the seat shouldn't be a problem even for users with specific disabilities.
All the tubes in its structural frame are steel. Its construction also includes several ABS parts, such as the seat base covers or the covers of the flywheel and resistance elements. These only have a protective role, though; they don't reduce the unit's overall sturdiness.
Compared to other fitness machines, this Marcy exercise bike isn't giant. However, it still takes approx. 57″L x 25″W (145 x 63 cm) of floor space when fully set up. Plus, it is advisable to leave at least two feet of clearance on each side to ease access and usage.
The bike isn't hefty. It weighs approximately 78 lbs (35.3 kg), which is enough to provide plenty of stability. Thus, two people should carry the boxed bike and assembly it. Once fully assembled, its transport is made via the wheels integrated into its front base.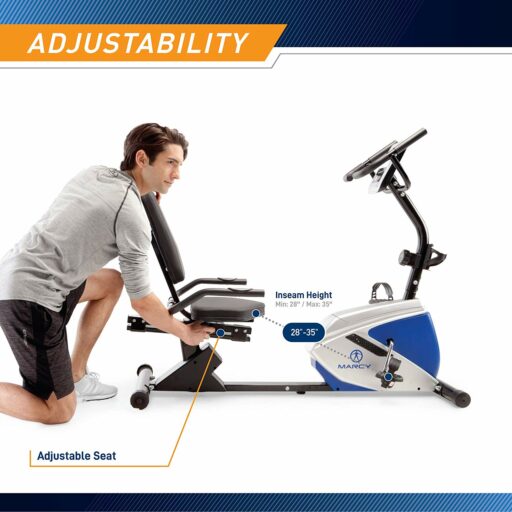 The unit's rear base comes equipped with two polygonal stabilizers. These can be rotated, offering the possibility to stabilize the bike on an uneven floor. There's also a small stabilizer placed in the middle of the main 2-piece frame bar.
The Marcy ME-1019R features a black powder coating finish. The paint is corrosion-resistant; however, the bike is for indoor use only. If stored or used outside, moisture can eventually corrode other small internal parts, screws or bolts, and damage the console.
Seat and handlebars
The Marcy ME-1019R recumbent exercise bike features two sets of handlebars. One is attached to the front mast; this handlebar assembly features a multi-grip design, with inner curved grips at the bottom. This handlebar is non-adjustable and does not integrate pulse sensors.
The other set of handlebars is attached to the seat frame. These handlebars aren't adjustable either, but they will move along with it on the adjustment bar since they directly connect to the seat. They also have rubberized grips and integrate metallic pulse sensors.
The bike comes equipped with a reasonably standard seat. Its bottom pad and backrest are cushioned, integrating approx — 1.5″ (4 cm) of foam padding, and their upholstery is durable and flexible vinyl material.
The seat assembly is adjustable. It can slide forward or backward on its rail, offering several adjustment positions. Thus, the bike can accommodate users up to 6'2″ (188 cm). Just as the seat handlebars, the backrest cannot adjust independently from the rest of the seat. It does not recline like some other recumbent bikes.
Finally, the bike's seat assembly has a user weight capacity of 250 lbs (113 kg). Several sources mention a user weight capacity of 300 lbs (136 kg) for this bike. However, the manual specifies a user capacity of 250 lbs only.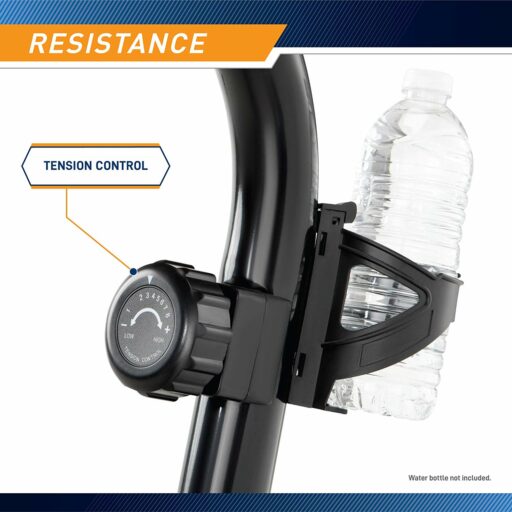 ME-1019R Drive and resistance
The Marcy ME-1019R integrates a perimeter-weighted, metallic flywheel. Its exact weight is not specified, but considering the unit's overall weight, it should weigh between 10 – 20 lbs (4.5 – 9.0 kg). It will provide a smooth pedaling motion and a reasonably consistent momentum. It's also bi-directional.
As I've mentioned above, this Marcy upright bike comes equipped with a mechanical, magnetic resistance system. This means you don't have to connect it to a power source, nor you need any power adapter for it. Its internal magnetic brake connects to the tension knob on the console mast.
When you turn the knob, the brake moves closer or farther from the flywheel, which increases or decreases the pedal resistance. Since the brake is magnetic, it does not touch the wheel, and there is no friction between the tension elements. Therefore, the wear and tear of the main resistance parts are minimal.
The bike makes available eight tension levels. The lowest level generates little resistance, great for conditioning and recovery training. The 8th level, on the other hand, provides significantly more resistance, simulating a hill climb and giving you the possibility to train on a higher level.
The bike's internal transmission uses a poly-v belt. Therefore, it does not require periodic lubrication. It also provides a vibration-free and almost entirely silent pedaling motion.
The bike's pedals are a durable nylon material with a metallic core. They have weight elements to turn up if you remove your feet from them. They are equipped with adjustable straps and also have a non-slip surface.
Console
The console included with the Marcy ME-1019R exercise bike features an LCD (without backlight), which tracks the essential workout metrics. It indicates time, distance, total distance, speed, calories, and pulse. Speed and distance are only in imperial units (MPH and miles); there is no option for metric units.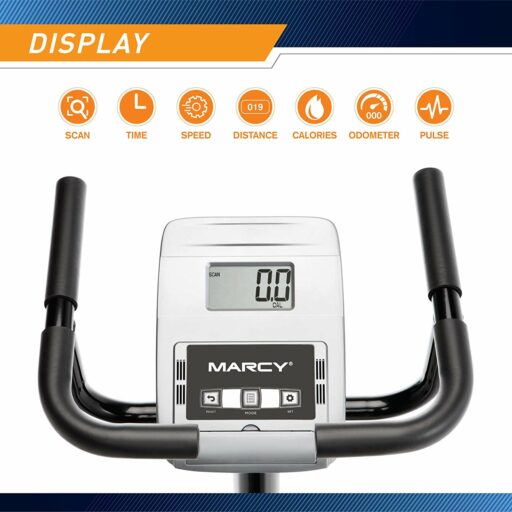 The console unit is not telemetric. This means it can only track your pulse through the sensors integrated into the seat handlebars. It is not compatible with any HR chest strap transmitters.
The console does not have any preset programs, nor it has any online capabilities. However, it does offer goal settings for time, distance, and calories.
You can select a value for any of these metrics, and it will begin to countdown from the desired value until it reaches zero. You can also set a pulse value between 40-240 RPM, and the unit will sound an alarm when your heart rate falls below the selected value.
The unit is relatively easy to operate. There are three main buttons: SET, MODE, and RESET. The SET button allows you to enter setup mode and select targets for time, distance, and calories. MODE button toggles ON/OFF the unit's scan function. The RESET button, as the term suggests, clears all the values to zero.
The unit uses two 1.5V (AA) batteries, which are not (included) with the bike. It starts up when you begin to pedal or press a button. It also has a sleep mode to enter if there is no bike activity for several minutes.
ME-1019R Assembly and Maintenance
The drive and resistance elements of the bike come pre-assembled and already secured by the ABS covers. Therefore, you only need to connect the two main pieces of the frame, add the front and rear base stabilizers, the seat, the seat handlebars, the console mast, the front handlebars, the console, and the pedals.
This shouldn't take more than one hour. All the tools necessary for the assembly come included with the bike. Also, the manual provides pretty clear assembly instruction, so you shouldn't need professional assistance.
For maintenance, you only need to periodically inspect the bike for loose parts and re-tighten them if necessary. The internal components should not need any care for an extended time.
Pros
Fairly sturdy frame – can support users up to 250 lbs;
Adjustable stabilizers on the rear base;
Transport wheels on the front base;
Step-through frame design for easy access to the seat;
Seat handlebars with pulse sensors;
Front handlebars included;
Padded seat and backrest for optimal comfort;
Quiet magnetic resistance system;
Eight tension levels available;
Weighted pedals with adjustable straps;
Fitness console that can track time, distance, total distance, speed, calories, and pulse;
Goal setting functions for time, distance, calories, and pulse;
The bottle holder included;
Reasonably easy to assemble;
Little maintenance is required.
Cons
The LCD does not have a backlight;
Calorie reading isn't too accurate.
Marcy ME-1019R Recumbent Bike Summary
The Marcy ME-1019R is a recumbent bike made for home use. It features a manual magnetic resistance system, a comfortable seat, and pulse sensors integrated into its handlebars. Its console tracks the essential workout metrics and offers goal settings for time, distance, calories, and pulse.
Moreover, this exercise bike is excellent for light to mid-range cardio training, muscle toning, stamina development, recovery training, and weight loss. It's also an affordable trainer, currently for around $350.
I hope you found this article helpful and informative. If you have anything you'd like to share or any opinions about my website, please speak up. I look forward to your comments, questions, and the sharing of ideas.