The Marcy MWM-990 Home Gym comes with multi-position high and low pulleys. They connect to a 150 lb adjustable selectorized weight stacking system that offers smooth and controlled body exercises without the need to load and unload weight plates.
The Marcy MWM-990's upper pulley targets your core while performing ab crunches, and you can control the resistance by adjusting the selectorized weight stack.  The high and low lifts allow for both upper and lower body exercises. Additionally, the Marcy MWM-990's overhead lat station helps to work the back while the adjustable preacher curl pad helps to tone your abs and triceps.
The Marcy MWM-990's dual function Leg Developer works your lower body muscles and features foam roller pads for added comfort.  It's designed to properly align the knee joints for valid leg extensions and leg curls.
This all-in-one gym machine provides over 30+ strength training exercises for the total body. This complete gym system is constructed from heavy-duty steel and offers a variety of functions for an entire workout. It features a 150 lb selectorized weight stack, a dual functioning press arm, adjustable preacher curl bicep pad, and comfortable roller pads.
Learn more in my complete review below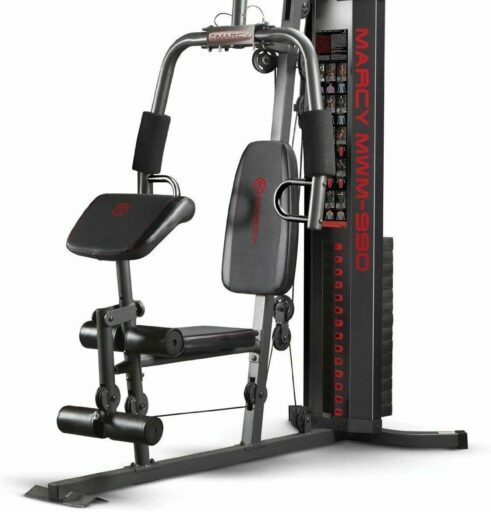 Product: Marcy MWM-990 Home Gym
Price: For a great deal on this gym, merely go here on Amazon
Warranty: Frame 2 years
My rating: 8/10
Amazon Affiliate Disclosure: I may earn commissions on purchases made through links in this post.
Details and Specifications
Assembled dimensions: 69″L x 36″W x 79″H (173L x 92W x 201H cm)
Assembled weight: 271 lbs (123 kg)
Max. user capacity: 300 lbs (136 kg)
Stack weight: 150 lbs (68 kg)
Max. weight resistance: 200 lbs (90.7 kg) for the front press
Possible exercises: 30+
Warranty: Frame 2 years
MWM-990 Frame construction
Needless to say, since it's a weight stack machine, its frame is made of steel tubing, 14ga, with a black/gray powder coating resistant to corrosion and scratches. It's not an extremely large gym. It takes 69″L x 36″W (173 x 92 cm) of floor space.
It can safely fit in a room with a 7′ ceiling; its assembled height is 79″ (201 cm). In particular, users taller than 6'0″ – 6'1″ (183 – 185 cm) may find it a bit "tight." Therefore, they may not be able to adopt an utterly correct form for specific exercises.
The assembled machine with the weight stack attached is relatively heavy. It weighs over 270 lbs, therefore, once assembled it's meant to remain on its spot.  This weight plays an essential role in its stability. You can be sure that it won't wobble or move when you exercise. Thus, it doesn't require to be anchored to the floor either.
The seat and backrest of the machine feature a 2″ foam material padding. They are stationary (non-adjustable) as they attach to the frame bars directly. They're finished with durable upholstery, made of heavy-duty vinyl material, in black, gray and red colors.
The preacher pad has similar padding and upholstery and is vertically adjustable. Preacher curls are performed via the low pulley of the machine and the lat bar. Also, you don't need a new curl bar.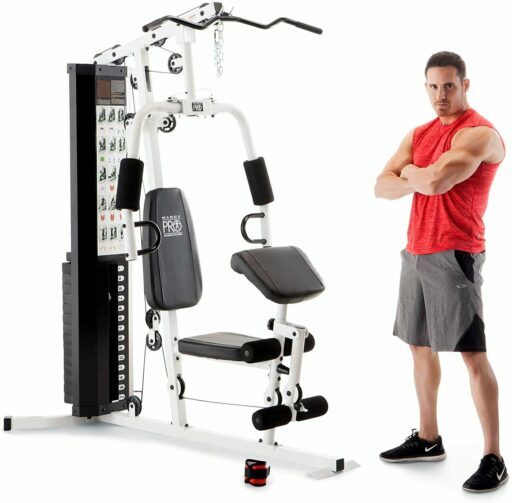 The leg developer attachment and the fly bars integrate 4″ thick foam rollers to provide adequate comfort for the related exercises.
Accessories
Last but not least, there are several accessories supplied with this machine. Among them, I count one ankle strap, one short bar, one chain extension, and one lat bar. The preacher curl pad is also (included). However, the machine does not include a leg press.
Pulleys and Cables
The machine comes with 16 pulleys made of heavy-duty nylon material. They integrate sealed ball bearings for prolonged use. The machine's cables are steel-made, covered by a thin sheet of PVC material.
They are for a much higher tension than the maximum 200 lbs that this machine can provide. Cable tension is adjustable by moving up or down the lower pulley in the double pulley bracket situated behind the main vertical tube of the device.
MWM-990 Workout stations
This Marcy home gym set integrates six distinctive workout stations:
Chest press station – for triceps, shoulders, and pectoral muscle training.
Pec fly station – for pectoral and deltoid muscles training;
High-pulley station (lat bar included) – for lat pulldown exercises, and the practice of triceps, shoulders, and back muscles;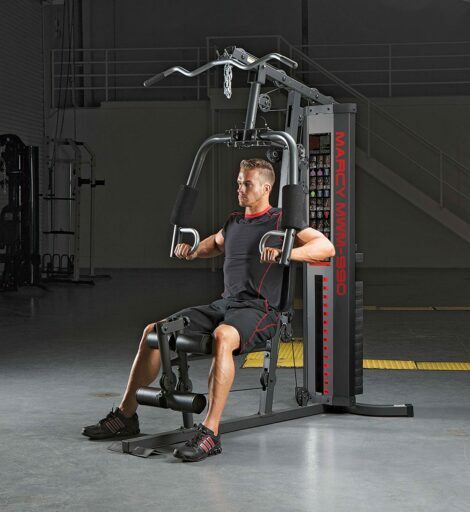 Low-pulley station – the pulley attached to the lower front part of the machine can facilitate a wide array of exercises, such as stand-up curls, triceps kickbacks, squats and more;
Curl pad attachment – as I've mentioned above, the curl pad is vertically adjustable, offering several positions. This workout station provides several types of exercises for the arm muscles;
Leg developer – this accessory is designed mainly for leg extensions. The machine's seat is not long enough to support face-down leg curls. But you can perform one-leg stand-up curls by using the ankle strap.
Weight Resistance System
To begin with, the Marcy MWM-990 comes with a weight stack including 14 plates, approx. 10 lbs (4.5 kg) each. The top support plate also weighs 10 lbs; thus, the total weight of the stack is 150 lbs (68 kg).
The weight plates are a concrete material, encased in a sheet of synthetic material. This is one of the factors that render this machine quite a bit less expensive than one with cast iron or steel plates. But the plates supplied with this Marcy home gym are durable enough to last for many years.
The weight stack is selectorized; weight adjustments can easily and quickly be made, without taking a lot of time from your workout.
The weight ratios vary depending on the pulley. The maximum weight resistance output provided is 200 lbs (90.7 kg), which applies to the press station.
The weight stack is not upgradable. There aren't extra plates available that you can add, and the plate bars don't allow any additional plates. However, in case you want heavier loads, you can always improvise by adding 1-2 dumbbell plates to the machine's stack and secure them with a chain. The pulleys and cables should support at least 100 lbs of extra load.
MWM-990 Possible Exercises
The machine comes with a sheet of exercises attached to the weight stack enclosure. Among the activities that you can perform on this Marcy weight stack machine, we can count:
Seated Biceps Curls
Stand-up Biceps Curls
Preacher Curls
Concentration Curls
Triceps press downs, Triceps Extensions, and Triceps Kickbacks
Ab Pulldowns
Low Pulley Trunk Rotations
Deltoid Raises
Seated Rows
Upright Rows
Vertical Grip Chest Presses
Horizontal Grip Chest Presses
Fly presses
High Cable Cross-Overs
Lat Pulldowns
Leg Curls
Leg Abductions, Leg Extensions, and Leg Adductions
Kickbacks
Squats
… and more.
MWM-990 Assembly and Maintenance
The Marcy MWM-990 comes packaged in 3 boxes, 2 for the weight plates, and one for the frame. They're rather heavy; thus two people should receive the packages, do the unboxing and assembly.
Assembly, although a straight forward process, may take up to several hours. The assembly instructions provided by the manual are not too good. However, it does contain an exploded diagram so you can see pretty clearly how to position each part. Tools for assembly are also not included. You will need two adjustable wrenches and a Phillips screwdriver for it.
When it comes to maintenance, all you have to do is periodically lubricate the pulleys.
Pros
Sturdy construction, elegant frame design;
Thick and durable vinyl upholstery, with consistent padding for maximum comfort;
Foam roller padding on the chest press bars and leg developer attachment;
Relatively small footprint for a home gym system;
Six workout stations, including pec fly, chest press, low pulley, high pulley, curl pad and leg attachment;
Short bar included;
Ankle strap included;
Lat bar included;
Over 30+ exercises available;
Quiet operation, a suitable machine for apartment use;
Little maintenance required;
Fairly easy to assemble.
Cons
Weight stack is not upgradable;
Not for users taller than 6′ (183 cm);
The owners manual doesn't offer detailed step-by-step instructions;
Tools for assembly not included.
Marcy MWM-990  Summary
The Marcy MWM-990 is a home gym designed for beginners and intermediate users. It's equipped with a 150 lb (68 kg) weight stack, providing up to 200 lbs (90.7 kg) of weight resistance. It offers the possibility to perform more than 30+ exercises, involving most muscles.
Although the weight plates supplied are concrete and not made out of steel, the weight stack is exceptionally durable and should last for many years of use. Also, due to the non-steel weight plates, the machine is at least a few $100s cheaper than other similar models with a cast iron or steel stack. In all, it's an affordable machine with a decent construction and range of features, offering an excellent price/value ratio.
I hope you found this article helpful and informative. If you have anything that you'd like to share or any opinions about my website, please do speak up. I look forward to your comments, questions, and the sharing of ideas.
Related articles: