Perform an effective full-body workout and be in the best shape of your life with the Marcy Pro Deluxe Cage System PM-5108! Build the body of your dreams and stay fit and healthy right in the comfort of your home. The PM-5108 has a maximum user weight of 300 lbs and holds 300 lbs on the bar catch, 100 lbs on the leg developer, and 100 lbs on the sliding weight post.
Made from sturdy oversized 14-gauge powder-coated steel, this PM-5108 all-in-one cage system effectively resists scratches and chipping that may result from heavy use. It's improved with a guided weight trolley and adjustable contoured foam roller pads for additional comfort during workout sessions.
This Marcy Pro Deluxe Cage System has a high pulley lat tower, a low pulley station, and a removable bench for a convenient workout system to perform basic to intense exercise routines. In addition, its cage is also utilized as a squat rack, enabling you to execute leg workouts comfortably.
It comes with a multi-position seat pad that can adjust into three positions: inclined, flat, and declined to give you the advantage of performing chest press exercises. It also has an adjustable bar and safety catches suitable for weightlifting 6- and 7-foot Olympic barbells. Unfortunately, the barbell and weights do not come with the cage system.
Learn more in my complete review below!
Product: Marcy Pro Deluxe Cage System PM-5108
Price: For a great deal on this gym, merely go here to Amazon.com
Warranty: 2 years limited
My rating: 9.25/10
Affiliate Disclosure: As an Amazon Affiliate Program participant, I earn commissions on purchases made through links in this post. Full disclosure
Details and Specifications
Cage dimensions: 50.75L x 42.25W x 83.75H inches (129L x 107W x 213H cm)
Bench dimensions: 68.25L x 25.75W x 45.5H (173L x 65W x 116H cm)
Total weight: 190 lbs (86 kg)
Weight capacity:
Max. user weight: 300 lbs (136 kg)
Bar catches: 300 lbs (136 kg)
Leg developer: 100 lbs (45 kg)
Lat machine: 100 lbs (45 kg)
Possible exercises: 40+
Warranty: 2 years limited
PM-5108 Frame Construction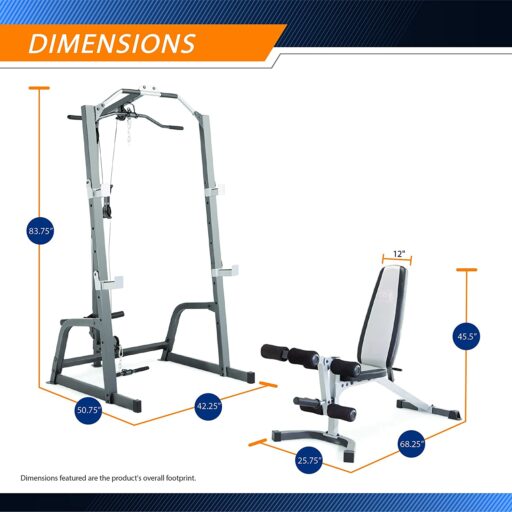 The mainframe of the Marcy Pro Deluxe is oversized 14-gauge steel tubing featuring a pretty sturdy construction. In addition, the included catch bars have a weight capacity of 300 lbs (136 kg). Also, its top pull-up bar has the same 300 lbs (136 kg) capacity. Furthermore, this bar offers a standard grip with rubberized handles.
All the structural frame bars of the cage and the bench come coated with a corrosion-resistant paint finish. The main bars of the enclosure is black, while the base frame of the bench is light gray. The top pull-up bar and the bar catch elements also have a gray paint finish.
The cage isn't giant. With all the bars assembled, it is approximately 50.75″ (129 cm) long and 42.25″ (107 cm) wide. Its top bar is about seven ′ (213 cm) above the floor level so it won't fit in a room with a seven ′ ceiling. It is advisable to leave at least 5-6 inches of clearance above it to perform pull-ups correctly.
In addition, considering the bench is approximately 69″ (173 cm) long, you should assign a usage area for this strength cage system of at least 130″ x 100″ (330 x 254 cm).
Considering that the width of the cage is only 42.25″ (107 cm), it is compatible with seven-foot and six-foot barbells. Unfortunately, a barbell does not come with the cage; you must use your own or purchase one separately, along with corresponding weight plates.
The two main upright pillars of the cage incline slightly towards the rear of the enclosure. Thus, this provides extra sturdiness to the power cage and offers a bit of extra front-to-back room. Also, each pillar has eight height positions for the catch bars.
The base bars of the power cage do not have any adjustable stabilizers or rubber pads. Therefore, placing the cage system on a rubber mat is advisable to prevent floor damage.
Also, the base bars do not have pre-drilled holes for anchoring the cage to the floor. However, it is pretty heavy and sturdy, so anchoring it to the floor shouldn't be necessary.
Lat attachment and accessories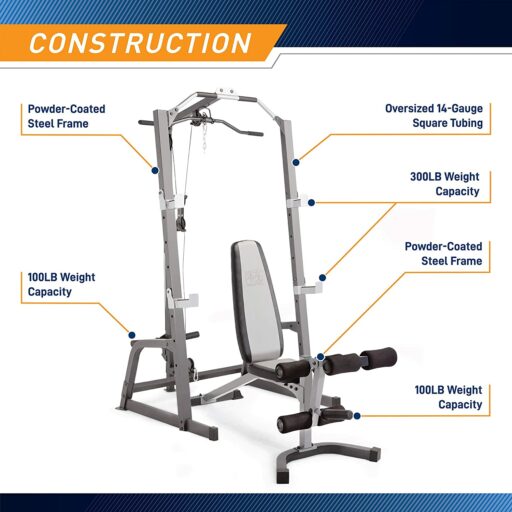 The Marcy Pro Deluxe cage system PM-5108 integrates a lat machine. However, it does not have its weight stack. Instead, its weight carriage can use either Standard (1″) or Olympic (2″) weight plates. Its pegs are 1″ in diameter, but the cage includes 2″ Olympic adapters for them, as well as a spring collar to secure the weight plate in place.
The weight carriage of the lat machine attaches to the backbone bar of the cage. Therefore, it slides on it at approximately—70″, providing plenty of motion range. In addition, the pulleys are made of durable nylon material and integrate ball bearings for a smoother motion.
The cables are steel-made, rated for a 2,000 lbs capacity, so there shouldn't be any problem if you put the maximum load on the carriage.
Although the specified weight limit for the lat machine is 100 lbs (45 kg), users have reported loading it with up to 150 lbs (68 kg) with no problem. Also, its weight ratio is 1:1. For example, if you load it with 50 lbs (22.6 kg), you will benefit from 50 lbs (22.6 kg) of weight resistance.
In addition, several accessories come with the PM-5108 for the lat machine. For instance, I count the lat bar, the short row bar, two extension chains, a D-handle, and an ankle cuff.
PM-5108 Bench and leg developer
The Marcy Pro Deluxe cage system PM-5108  includes a standard bench. Moreover, it features an adjustable backrest with three positions for incline, horizontal, and decline exercises. However, the seat section is not adjustable. It doesn't tilt, nor can you adjust its height.
The base frame of the bench is steel tubing, similar to the rest of the cage. Therefore, the maximum user weight limit is 300 lbs (136 kg), to which you can add 300 lbs (136 kg)  for the catch bars.
In addition, the bench is fairly large. It is approximately 68.25″L x 25.75″W (173L x 65W). Due to its steel structure, it is also pretty heavy, so it provides excellent stability. However, it has no transport wheels, so moving it from the cage, for example, may require some effort.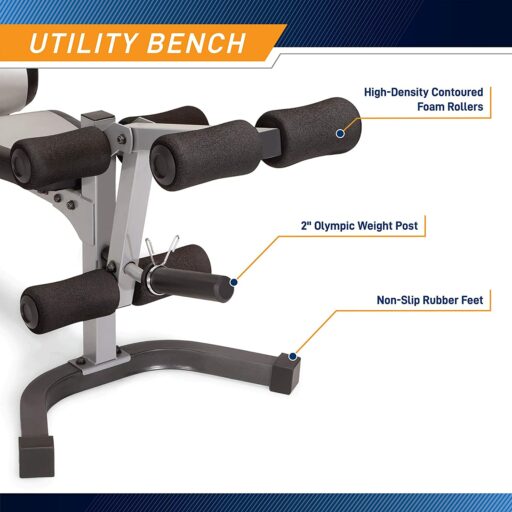 The seat and the backrest have 2″ of foam padding for optimal comfort. The upholstery is a durable vinyl material that is sweatproof and easy to maintain.
The bench comes with a leg developer. This attachment features three 4″ (10 cm) foam rollers for improved comfort during leg extensions. In addition, it has a peg that holds weight plates up to 100 lbs (45 kg).
Just like the lat machine, the peg is 1″ in diameter, suitable for Standard weight plates, but a 2″ plastic adapter comes with it if you have Olympic weight plates.
It is important to note that neither the bench nor the cage has knee stoppers for lat pulldowns. Therefore, it may be difficult to remain seated if you want to perform lat pulldowns with heavy loads; you may lift yourself rather than pull all the weight down.
Possible Exercises
Pull-ups
Wide grip pull-ups
Muscle pull-ups
Behind head pull-ups
Cliffhangers
Chin-ups
Close grip chin-ups
Wide grip chin-ups
Hanging knee raises
Hanging leg raises
Lat pulldowns
Close-grip pulldowns
Behind head pulldowns
Aerobic rowing
Kneeling rowing
Bicep curls
Triceps press downs
Incline presses
Decline presses
Horizontal presses
Single-arm chest presses
Wide grip chest presses
Close grip chest presses
Cable crunches
Cable twist crunches
Seated trunk rotations
Standing trunk rotations
Seated leg extensions
Lying leg extensions
Leg curls
Stand-up leg curls
Calf raises
Sit-ups
Squats
Single-leg squats
Kneeling single-leg squats
Wide squats
Twisting squats
Jumping squats
Hip extensions
Hip adductions/Hip abductions
and more
Of course, you can use the bench for the full range of dumbbell exercises.
PM-5108 Assembly and Maintenance
Both the cage and the bench require complete assembly. Consequently, they come in several boxes, and putting them together may take over three hours. Unfortunately, the tools needed for assembling do not come with the machine. Therefore, you will need one adjustable wrench, Allen wrenches, and a rubber mallet.
Once assembled, its maintenance doesn't require much. However, its pulleys and the lat machine carriage may occasionally require lubrication. It is also advisable to periodically check the machine for loose bolts and parts and retighten them as needed.
Pros
Heavy-duty 14-gauge steel construction;
Two sets of safety catch;
Eight adjustment positions for the safety catch;
Lat machine with high-pulley and low-pulley;
Olympic 2″ adapters for the lat machine carriage and leg developer;
3-position (flat, incline, and decline) bench included;
2″ of foam padding on the backrest and seat of the bench;
Leg developer included;
Heavy-duty nylon pulleys;
2,000 lbs tensile strength steel cables;
Lat pulldown bar included;
Short row bar included;
Ankle cuff and D-handle included;
Over 40 possible exercises;
Little maintenance is required;
Reasonably easy to assemble.
Cons
No knee stoppers for the lat machine;
Tools for assembly do not come with the machine.
Marcy Pro Deluxe Cage System Summary
The Marcy Pro Deluxe cage system PM-5108 has a lat machine and a lifting bench with a leg developer attachment.
The cage includes a pull-up bar, a lat pulldown bar, a short-row bar, extension chains, a D-handle, and an ankle cuff. In addition, it's a reasonably sturdy strength training system; the bar catches, and the bench has a weight capacity of 300 lbs.
Moreover, this weightlifting system offers over 40 quality exercises to train all muscle groups. It's also an affordable home gym for less than $400.
I hope you found this article helpful and informative. Would you please speak up if you have anything you'd like to share on the topic or any opinions about my website? I look forward to your comments, questions, and the sharing of ideas.
Please remember to consult your physician to determine if you have any medical or physical conditions that could put your health and safety at risk or prevent you from using the equipment properly. In addition, your physician's advice is essential if you are taking medication that affects your heart rate, blood pressure, or cholesterol level.