The MaxKare indoor cycling bike offers the same range of features as the Ancheer B-3008. It's a bike made for home use and spin workouts. It's an affordable trainer and can make a decent alternative to any spin bike, especially if you want to train at home.
Yellow MaxKare indoor cycling bike is a compact and comfortable bike efficient for cyclists looking for an indoor cycle that provides good cardio for an affordable price. The bike has friction resistance (not magnetic). The MaxKare Yellow indoor cycle comes with armrests for a comfortable triathlon bike position.
The Yellow MaxKare stationary bike is a compact spin bike with 2-way adjustable handlebars (not 4-way adjustable handlebars). Therefore, it has a limited user inseam capacity. It is perfect for rides from 4'9″ to 6'4″ tall. As far as the seat goes, it is 4-way adjustable so the riders can enjoy the fast and easy bike set up for a comfortable exercise.
The bike features a quiet and low-maintenance belt drive and heavy 44 pounds flywheel; the Yellow MaxKare exercise bike is capable of providing a smooth workout and consistent pedal stroke. The MaxKare indoor cycling bike yellow comes with a primary computer. It is not backlit, but it does help you stay aware of your speed, time, distance, calories burned, and pulse.
Learn more in my complete review below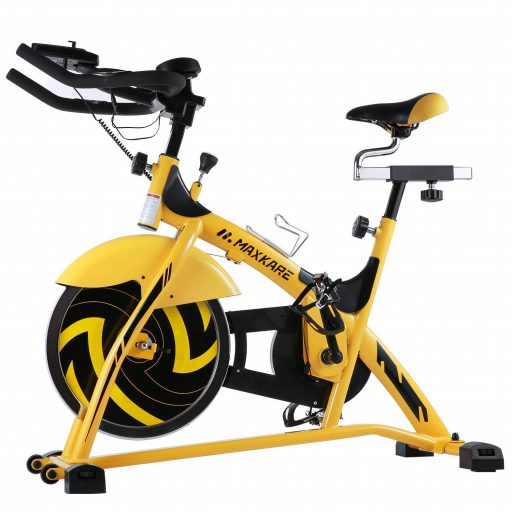 Product: MaxKare Indoor Cycling Bike
Price: For a great deal on this bike, merely go here on Amazon
Warranty: 2 years limited
My rating: 8.5/10
Amazon Affiliate Disclosure: I may earn commissions from purchases made through links in this post.
MaxKare Frame construction
The MaxKare bike features a frame made of steel tubing. It doesn't offer the sturdiness and overall weight of a commercial-grade spin bike such, but it still provides a weight capacity of 260 lbs (118 kg).
The fully assembled bike is relatively heavy. It weighs approximately 92 lbs (41 kg). All this weight delivers excellent stability. Plus, both base bars of the bike come with easily adjustable levelers.
The bike doesn't have a folding frame. However, once assembled, it is effortless to move and handle. Its front base features a set of wheels that facilitate its relocation.
This indoor cycling bike isn't huge. It is approximately 43″ (109 cm) long and 19″ (48 cm) wide. Thus, it can fit a small room or apartment, but still, it's recommended to leave at least two feet of clearance all around it. It's also recommended to place it on a mat.
Although most of the bike's frame is steel tubing, there still are several ABS plastic parts in its construction. These are the covers of the transmission belt and the brake pad, as well as other small covers. They don't influence the overall sturdiness of the unit, though. Their role is to provide protection for these parts and also prevent any sweat from dropping on them.
Most of the metallic parts of the bike have a corrosion-resistant and abrasion-resistant paint. The primary color used is yellow, with the seat and handlebar posts painted black. The seat slider assembly and the flywheel have a chrome finish.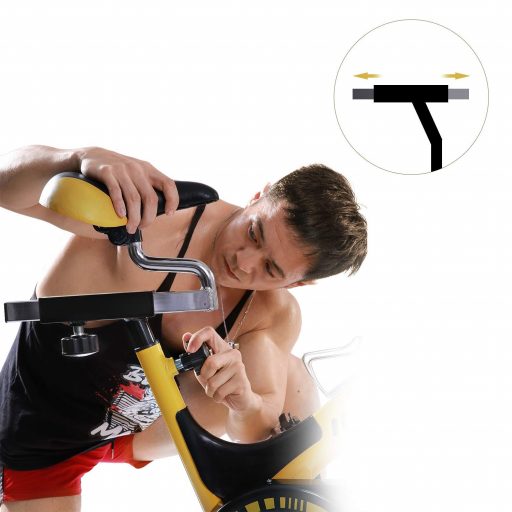 Seat and handlebars
The MaxKare indoor cycling trainer comes with a reasonably standard seat. The saddle is a bit wider than the average slim spin seat. Therefore, it provides a bit more contact surface and a bit more comfort during seated workouts.
The attachment system of the saddle is collar-based; this means compatible replacements for it are widely available. It also means that you can slightly tilt it forward or backward.
The bike's seat is 4-way adjustable (up, down, front, back). It has a reasonably long square slider, which provides approx — 5″ (12 cm) of front to back adjustment. Plus, its upright bar also has several adjustment positions.
Therefore, the bike can adjust to accommodate users comfortably between 4'11" and 6'3″ (150 – 190 cm). Also, it supports users up to 260 lbs (118 kg) with no problem.
The bike comes with a multi-grip handlebar. It features a small loop aero bar in the middle (to which the exercise meter needs to be attached), and two more extended side grips. Thus, it can provide a racing grip, a close parallel grip, a standard grip, and more.
The handlebar features two elbow pads placed at the base of the more extended side grips. This feature is quite a plus as many exercise bikes in this price range do not offer it. The side grips also integrate stainless steel pulse sensors.
The handlebar only offers 2-way adjustability (up, down). Its upright bar has several adjustment positions, and the adjustment is via the large knob at the front, similar to the ones on the seat.
MaxKare Resistance and drive
The MaxKare indoor cycling bike has a standard friction resistance system. It integrates a felt pad that is attached to the tension knob on top of the main tube of the frame and concealed by the top front cover. This brake pad comes in contact with the flywheel from above as you turn the knob clockwise.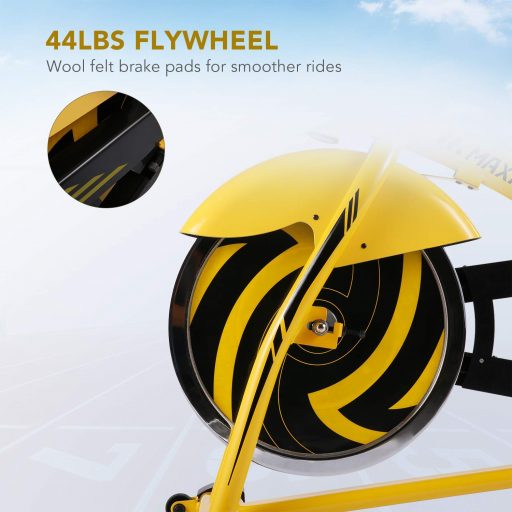 The bike's resistance system does not have pre-determined tension settings like most magnetic bikes. You tighten the knob until you get a satisfying level of pedal resistance. Also, since this brake system is fully mechanical, you don't have to connect the bike to a power source, and the console does not play any role in the resistance adjustment.
The tension knob fulfills the function of an emergency brake, as well. You can press it down to instantly stop the flywheel from spinning. This may be necessary as the pedals continue to turn for as long as the wheel is spinning.
The bike comes with an extra-heavy flywheel. It weighs 44 lbs (20 kg). It has a perimeter-weighted structure for aggressive inertia, which is excellent for spin workouts.
It's also bi-directional; in other words, it gives you the possibility to pedal in reverse if you want. But when driving in reverse, the resistance remains constant; you cannot coast on this bike as on a road bike that has a rear derailleur.
The bike's drive system integrates a heavy-duty v-belt. Thus, it does not require lubrication, and the pedaling motion is whisper-quiet.
The crankset features heavy-duty crank arms, which can support the full weight of the user. Also, the pedals are a metallic alloy. They're also highly durable, feature a non-slip surface and toe cages for extra thrust during pedaling. However, they do not have SPD clips for special spin shoes.
Console
The console unit included with this exercise bike features an LCD (without backlight), which tracks the most crucial workout metrics, including time, distance, speed, calories, and pulse. It can only read your pulse via the handlebar sensors, though. It is not telemetric, so it does not work with wireless HR chest straps.
There are only three buttons on the console which cover all of its functions. The Mode button allows you to select one of the metrics to view on display, or to choose the Scan function which rotates all the parameters. The Set button will enable you to enter set-up mode and select a goal for time, distance, or calories.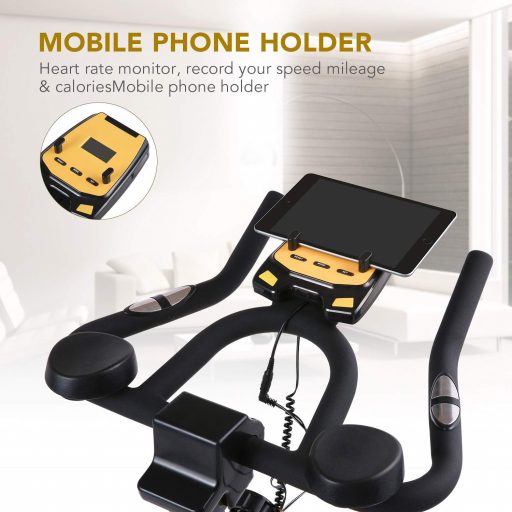 If a goal is selected, the display will show the remaining value and counts down to zero. And finally, the Reset button covers the reset function. If you press and hold it for several seconds, you can clear all the values on the meter to zero.
The unit is battery-powered and requires two AAA batteries. It starts up when you push one of its buttons or when you begin pedaling, but also has a sleep mode to which it will enter after a few minutes of inactivity on the bike.
It also integrates a phone holder but does not have any online connectivity or a USB port to connect your phone. It's a fairly basic unit.
MaxKare Assembly and Maintenance
The mainframe comes pre-assembled. The flywheel, the belt, the crank, and the resistance system (are already attached) to the frame.
You only need to connect the two base bars, the seat, the handlebar, the exercise meter, and the pedals. This shouldn't take more than 30-40 minutes — an essential toolkit for the assembly (is also included).
Once assembled, the bike doesn't require much maintenance. You may need to lubricate the brake pad from time to time with a bit of silicone lubricant (mainly if emits a squeaking noise when in contact with the flywheel). Other than this, you only have to keep the bike clean and periodically check for loose bolts and parts.
Details and Specifications
Assembled dimensions: 43L x 19W x 45H inches (109L x 48W x 115H cm)
Assembled weight: 92 lbs (41 kg)
Flywheel weight: 44 lbs (20 kg)
Weight capacity: 260 lbs (118 kg)
Seat: 4-way adjustable
Pedals: With toe cages
Drive: Belt
Resistance: Friction, adjustable
Console: Time, speed, distance, calories, pulse, scan, goals
Extras: Bottle holder, phone holder
Warranty: 2 years limited
Pros
Sturdy, steel construction;
Adjustable stabilizers on both bases;
Transport wheels on the front base;
4-way adjustable seat with a standard attachment system;
Multi-grip handlebar;
Elbow rests, and pulse sensors integrated into the handlebar;
Perimeter-weighted, 44 lbs (20 kg) flywheel for a consistent momentum;
Heavy-duty crank and metallic pedals;
Adjustable toe cages on the pedals;
The console included – it can track time, distance, speed, calories, and pulse;
Phone holder included;
Goal settings on the fitness meter;
Quiet operation, great for apartment use;
Easy to assemble;
Little maintenance required.
Cons
No backlight on the console;
A tablet or phone placed on the holder will cover the console display.
MaxKare Indoor Cycling Bike Summary
The MaxKare bike is an indoor cycling trainer designed for home use. It features a 44 lbs flywheel, a friction resistance system, a belt drivetrain, and a 4-way adjustable seat. It also includes a fitness meter that tracks the essential workout metrics.
It's a bike designed for spin workouts, great for light to intense cardio training, interval training, weight loss, leg muscle strength development, and stamina improvement. It's also an affordable trainer, an excellent alternative to a commercial-grade spin bike.
I hope you found this article helpful and informative. If you have anything that you'd like to share or opinions about the content on my website, please do speak up. I look forward to your comments, questions, and the sharing of ideas.
Recommended articles:
Please follow and like us: