The MaxKare Magnetic Indoor Bike is for spinning with durable construction that can support just about any spin workout. Its frame is built entirely out of steel tubing using an electroplating process. It is a relatively heavier bike that weighs 90 pounds with the frame fully assembled, which is more than the weight of the average road bikes.
The flywheel is a fairly heavy one, weighing 40 pounds, designed for a more natural ride and consistent momentum. It's fixed and bi-directional, which means you can pedal in reverse as well as forward. The benefit of fixed-wheel (fixed-gear) is that you can double the number of workouts by pedaling in reverse which stimulates different muscle groups.
The MaxKare magnetic indoor cycling exercise bike has four large magnets to provide a challenging and smooth responsive ride by increasing the magnetic field resistance. This indoor cycling bike comes with a manual magnetic resistance system. So, the resistance is controlled manually (not electronically).
The computer included with this MaxKare magnetic exercise bike displays your time, speed, distance, and calories burned. That enables you to see your results to stay motivated and on pace. But don't count too much on this computer because it is too basic and not super accurate, which is very common for spin bikes in this price tag.
Learn more in my complete review below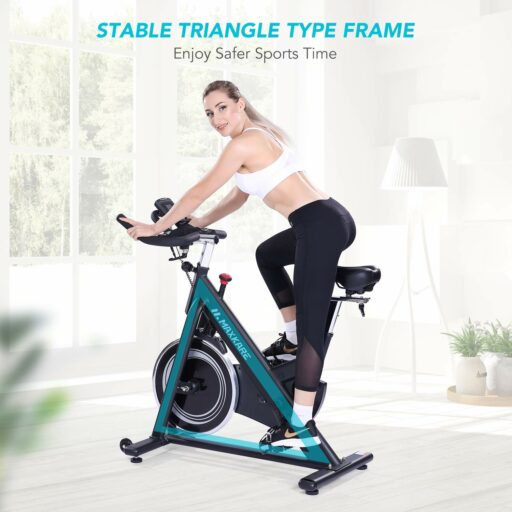 Product: MaxKare Magnetic Indoor Bike
Price: For a great deal on this bike, merely go here on Amazon
Warranty: 2 years limited
My rating: 9/10
Amazon Affiliate Disclosure: I may earn commissions on purchases made through links in this post.
MaxKare Frame
The MaxKare magnetic indoor bike features a heavy-duty triangular frame made of steel tubing. Most of the bars in its structure are precision-welded and ovalized for improved aesthetics. The main oblique bar is considerably thicker than the other bars providing extra sturdiness.
The fully assembled bike is relatively heavy. Its exact weight is not specified, but it is close to 100 lbs (45.3 kg). This is more than twice the weight of the average mountain bike and leads to improved stability. Plus, the bike's base bars come with adjustable stabilizers featuring large rubber pads.
Despite its weight, the bike is not too difficult to move. Its front base features a set of large silicone wheels. Therefore, by using these wheels to relocate it, you won't have to handle more than 30% of its total weight.
The bike isn't huge compared to other fitness machines, such as front-drive ellipticals or treadmills. It is only 41″ (104 cm) long, and 21″ (53 cm) wide. Also, with the handlebar extended to its highest position, its highest point is approximately 49.6″ (126 cm).
It is recommended, though, to leave at least two feet of clearance all around the bike for ease of access and safe usage.
The bike's frame features a durable, corrosion-resistant paint finish. The color used is black, with the MaxKare logo painted white. The only exceptions are the seat and handlebar posts and sliders, which have a chrome finish, which is also corrosion-resistant.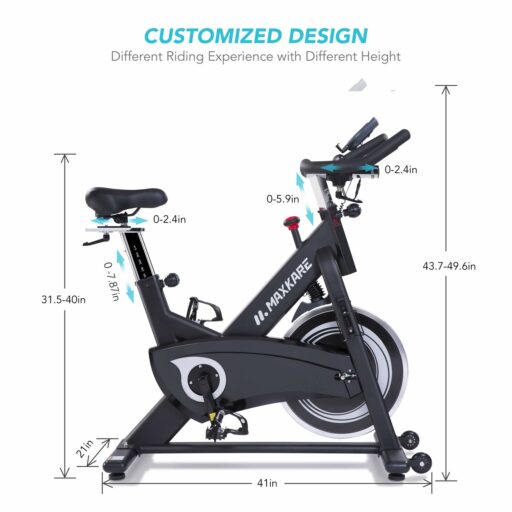 Seat and handlebars
The MaxKare magnetic indoor bike includes a comfort saddle. It is considerably more comprehensive than the average slim spin seat and integrates more cushioning, especially in its rear section.
It has two suspension springs at the rear as well, to allow the seat to adapt to your movement as you pedal slightly. Plus, it has a longitudinal groove to improve breathability.
The saddle has a standard, collar-based attachment system to its slider. This is another plus because if you ever want it replaced, compatible options are widely available.
The bike's seat offers 4-way adjustability (up, down, forward, backward). Its upright post provides approx. 7″ (18 cm) of adjustment while the horizontal slider offers 2.4″ (6 cm) of front to back change. Therefore, the bike can accommodate users between 4'11" and 6'3″ (150 – 190 cm). It's also sturdy enough to support users up to 300 lbs (136 kg).
The bike features a multi-grip handlebar. It has two sets of top grips, a collection of oblique grips for the race position, and a loop aero bar in the middle. The middle top grips have integrated pulse sensors. Also, the whole handlebar assembly is rubberized to provide a secure grip.
Just as the seat, the handlebar is 4-way adjustable (up, down, forward, backward). Its upright adjustment span is approx. 6″ (15 cm) while its horizontal slider provides 2.4″ (6 cm) of front to back adjustment.
Both the seat and the handlebars have large adjustment knobs, easy to grip, pull, and turn. Therefore, it takes less than a minute to adjust the bike to your size.
MaxKare Resistance System
This MaxKare exercise bike has a manual magnetic resistance system similar to the Efitment IC031. These two bikes are pretty close in terms of price, design, and feature range. The bike's resistance system consists of a magnetic brake connected to the tension dial on top of the main oblique frame bar. Its adjustment is manual, by turning the tension dial. Thus, you don't have to connect the bike to a power source, and the exercise meter does not control the resistance.
The main advantage of the magnetic braking system is that the brake does not touch the flywheel. Therefore, the pedaling motion is very smooth and quiet. Also, the wear-and-tear of the brake is pretty much non-existent; you won't have to worry about brake pad replacements.
The bike's resistance system does not have pre-determined tension levels. You turn the knob until the brake pad moves close enough to the flywheel to provide the desired pedaling difficulty.
With the brake, tightened to its maximum point, the bike offers a pretty consistent resistance, simulating a steep climb, which is excellent for spin workouts and interval workouts.
The MaxKare magnetic indoor bike comes with a standard 40-lb (18 kg) flywheel. It has a perimeter-weighted structure to provide higher inertia. It's also bi-directional; in other words, it allows you to pedal in reverse.
However, just as it is the case for most other spin bikes, coasting on this bike is not possible. The pedals continue to spin for as long as the flywheel is spinning.
Drive System
The bike features an internal belt drivetrain, using a heavy-duty, poly v-belt. A belt drive comes with several advantages. For example, it doesn't generate as much vibration as a chain, it doesn't require lubrication, and it's quiet.
One last element that we must focus on here is the crankset. This MaxKare exercise bike comes with two heavy-duty steel crank arms, which can take the full weight of the user.
As long as you don't exceed the specified 300 lbs (136 kg) weight limit, you should be able to pedal while standing up on the pedals without any problem. The pedals are also metallic, featuring adjustable toe cages. However, they do not have SPD clips.
MaxKare Console
This MaxKare bike comes with a fitness computer. It features an LCD, which indicates time, distance, total distance, speed, calories, and pulse. It is not telemetric, so it cannot read your pulse through any wireless HR chest strap. However, the handlebars come with pulse sensors.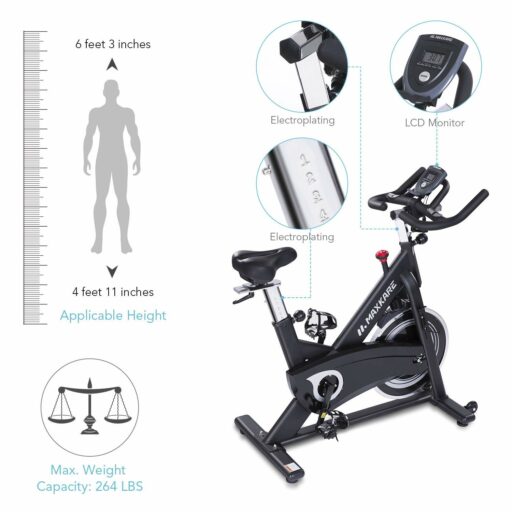 The fitness computer is quite easy and straightforward to operate. It only has one (MODE) button. The button allows you to toggle ON and Off the unit's SCAN function, which rotates the workout values, showing each one for several seconds.
After you stop the SCAN function, you can select the time, speed, or any of the other workout statistics to be shown on screen all the time. The MODE button also covers the unit's RESET function. By pressing and holding it for a few seconds, it will clear all the values to zero.
The unit is battery powered. It starts up when you begin pedaling or when you push the button. It also has a sleep mode to which it will enter after a few minutes of inactivity on the bike.
MaxKare Assembly and Maintenance
Just as it is the case for many other spin bikes, the main body of the MaxKare bike comes pre-assembled. The flywheel, the crankset, the belt, and the resistance elements are pre-assembled to the mainframe. Thus, you only need to connect the two base bars, the seat post, the saddle, the handlebar post, the handlebar, the pedals, and the exercise meter.
This shouldn't take more than 30 minutes — a manual with step-by-step assembly instructions and an essential toolkit (are both included).
Maintenance requires lubricating the seat and handlebar posts so they can slide easier. A periodic check for loose bolts and parts is advisable. The transmission does not require any lubrication as it's a belt, not a chain. Other than this, you should keep the bike clean and liquids away from the console unit.
Details and Specifications
Assembled dimensions: 41L x 21W x 49.6H inches (104L x 53W x 126H cm)
Flywheel weight: 40 lbs (18 kg)
Weight capacity: 300 lbs (136 kg)
Seat: 4-way adjustable
Pedals: With toe cages
Drive: Belt
Resistance: Magnetic
Fitness computer: Time, speed, distance, calories, pulse, scan
Extras: Bottle holder, phone holder
Warranty: 2 years limited
Pros
Sturdy construction – can support users up to 300 lbs;
It comes with adjustable stabilizers on both base bars;
Transport wheels on the front base;
4-way adjustable seat;
4-way adjustable handlebar;
High-comfort saddle with rear springs and a center cutout;
Multi-grip handlebar;
Pulse sensors integrated into the handlebar;
Smooth, almost silent belt drive;
Bi-directional, 40-lbs flywheel for a consistent momentum;
Manual magnetic resistance, with zero friction;
Fitness Computer included – it can track time, distance, total distance, speed, calories, and pulse;
Tablet holder included;
Bottle holder included;
Easy to assemble;
Little maintenance required.
Cons
The fitness computer isn't backlit;
A tablet or phone placed on the media holder will cover the display of the fitness computer.
MaxKare Magnetic Indoor Bike Summary
The MaxKare Magnetic indoor bike is a mid-range trainer designed for home use. It features a durable, triangular frame construction, a manual magnetic resistance system, and a 40 lbs flywheel. It offers superior micro-adjustability and also includes a fitness computer with a pulse reading function.
It's an excellent bike for training at home, great for high-intensity cardio spin workouts, interval training, stamina development, and weight loss.
I hope you found this article helpful and informative. If you have anything that you'd like to share or any opinions about my website, please do speak up. I look forward to your comments, questions, and the sharing of ideas.
Recommended articles:
Please follow and like us: