The MaxKare Magnetic Rower has a frame made of steel tube that's very solid and sturdy for home use with a maximum user weight capacity of 243 lbs (110 kg). Thus, it is very comfortable for the majority of users who want to use a rower. It is the perfect design for your home use, and you can fold and keep it any corner without any hassle.
This MaxKare Magnetic Rower features 16 levels of resistance, allowing for indirect control of the manual magnetic resistance from 1-16, suitable for whole family use. To get the most benefit from your workout it's suggested to workout for at least 30 minutes at a time.
The rower comes with an LCD monitor that tracks your time, count, strokes per minute (SPM), total strokes, and calories burned with scan mode for you to keep track of your training data during a workout. No doubt that a fitness monitor is one of the essential parts of every single workout.
The MaxKare Magnetic Rower comes equipped with a non-slip foam grip handlebar and a large comfortable seat that provides a soft cushioning and brings about a great rowing experience. Also, large textured pedals with safety straps provide users with a non-slip surface, and your feet remain in place throughout your rowing routine.
Learn more in my complete review below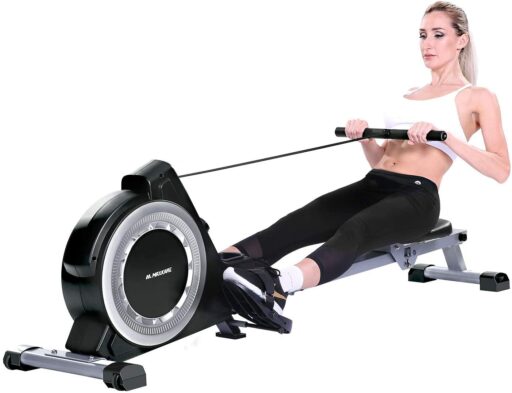 Product: MaxKare Magnetic Rower
Price: For a great deal on this rower, merely go here on Amazon
Warranty: 1 year limited
My rating: 8.75/10
Amazon Affiliate Disclosure: I may earn commissions on purchases made through links in this post.
Details and Specifications
Assembled dimensions: 76.4L x 18.9W x 18.5H inches (194L x 48W x H cm)
Assembled weight: 64 lbs (29 kg)
Flywheel: 7 lbs (3.1 kg)
Weight capacity: 243 lbs (110 kg)
Frame: Steel
Resistance type: Magnetic, 16 levels
Console: Time, SPM, count, total count, calories, scan
Warranty: 1 year limited
MaxKare Frame construction
The MaxKare magnetic rower features a frame made of steel tubing. However, it also integrates ABS parts in its construction. The most notable ones are the flywheel covers and the base caps.
All the steel parts in the machine's development come with a corrosion-resistant paint finish. The color of the paint coating is gray, while the ABS covers are black and white. This is the only color combination available for this machine.
Although it's not as large as a professional rower, the MaxKare model still offers a reasonably long rail. It can accommodate users with an inseam up to 42″ (107 cm), or differently put, users up to 6'5 ″ (196 cm) with no problem.
It has a maximum user weight capacity of 243 lbs (110 kg), but users up to 285 lbs (130 kg) have reported that it holds pretty well even to this weight.
The fully assembled machine measures 76.4″ (194 cm) in length and 18.9″ (48 cm) in width. Plus, it is advisable to leave at least two feet of clearance on each side and at the rear of the machine. Therefore, it may not fit too well in a small room.
On the other hand, the rower is foldable. Its rail with the seat can fold up. The junction between the railway and the front section of the frame features a locking knob. You can simply unscrew this knob to unlock the rail and fold it up for better storage possibilities. With the track folded up, the unit's length reduces by approx—60 %.
The fully assembled unit is not too heavy. It weighs approx. 64 lbs (29 kg); therefore, one person can assemble the rower easily. Its front base has transport wheels so you can quickly relocate the assembled unit. Also, its rear base features a set of adjustable stabilizers.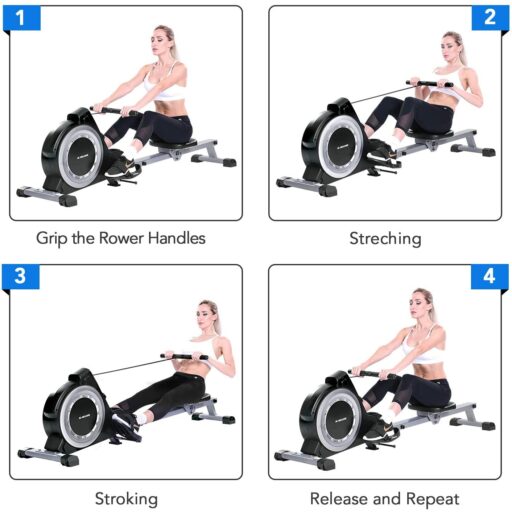 Seat and other parts
The MaxKare magnetic rower comes equipped with a padded seat. Its top integrates approx 2″ (5 cm) of foam padding. It is also slightly contoured to provide better positioning, while its cover is a durable, double-stitched, vinyl material.
The seat frame is steel like the rest of the structure. It integrates three sets of wheels; two are placed above the rail while the other is under it for extra stability.
The wheels have a layer of rubber material on the outside to dampen noise and integrate ball bearings for a smooth seat motion. They are also concealed by the side sections of the seat frame to improve safety.
One last aspect with regards to the machine's seat is its height. The rail is slightly oblique; at its highest point to the back, it is approx. 10.2″ (26 cm) above floor level.
This MaxKare rower features a set of durable footrests made of nylon material. They have a pivoting design; this gives you the possibility to slightly adjust the position of your feet with each stroke, resulting in a more comfortable experience.
They have a non-slip surface, heel-guards, and adjustable straps to keep your feet secured during your workout. They also have metallic stoppers at the heel so they won't incline backward more than 45°-50°.
Last but not least, the unit's pulling handle is a short straight bar. It has rubberized grips for extra comfort and is attached to an abrasion-resistant nylon mesh strap.
It does not integrate any pulse sensors or resistance controls like other, more advanced rowers. Also, given the fact that the handle is attached to a strap, not a chain, the rowing motion is considerably quieter, and the belt does not require lubrication.
MaxKare Resistance system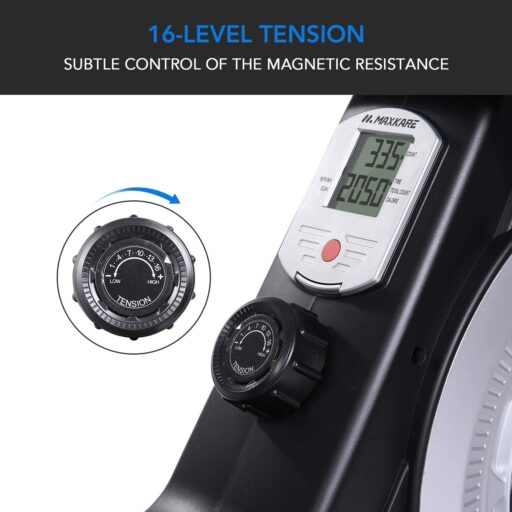 This MaxKare rower comes equipped with a manual magnetic resistance system. Thus, you don't have to connect it to a power source. Also, its console cannot adjust the resistance automatically.
The main resistance elements are an internal magnetic brake, the flywheel, and the tension knob on top of the front unit of the machine. The brake connects to the tension knob by a steel wire. Therefore, when you turn the knob clockwise, it moves closer to the flywheel, which increases the overall resistance.
As I've mentioned earlier, the MaxKare magnetic rower offers 16 resistance levels. The lowest resistance level delivers a relatively light rowing difficulty. But from level to level, the resistance increases considerably. The 16th tension level offers the possibility to perform a very consistent, full-body cardio workout.
It's important to mention here that the machine does not offer a dynamic response during rowing. In other words, the resistance is strictly by the selected tension level. It does not depend on how hard you pull, as is the case for water resistance rowers, or air resistance rowers.
This is not necessarily a downside because the unit still provides a great workout, but a professional athlete may need a dynamic response as well.
Since this machine doesn't have any air resistance elements, its usage generates very little noise. This makes the machine suitable for apartment use. The integrated flywheel weighs approx 7 lbs (3 kg).
It's not extremely heavy, but this weight is just enough to deliver a consistent momentum for rowing, along with the magnetic braking mechanism. The flywheel is also perimeter weighted, which results in extra motion stability.
Console
The MaxKare rower comes with a fitness console. It features an LCD that tracks time, count (strokes per session), strokes per minute (SPM), total strokes, and calories burned. In case you're wondering, it does not indicate distance and does not have a pulse reading function.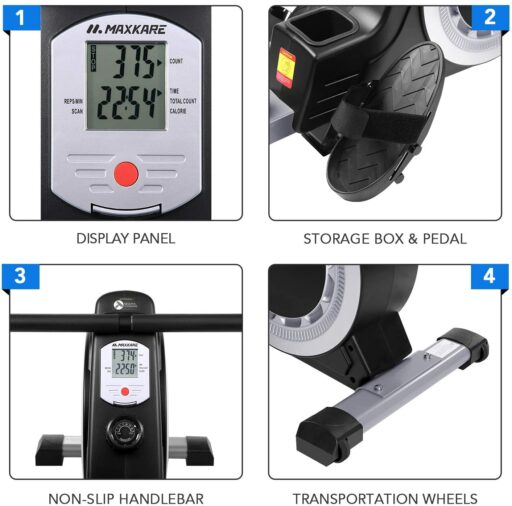 The unit's display divides into two sections. The top section always shows the count metric, while the lower part indicates time, SPM, total strokes, and calories.
The unit has one button. By pressing this button, you can scroll through the four metrics shown on the bottom display and select the one you want to view. Or, you can select the Scan Mode, which automatically rotates them, showing each one for a few seconds.
The rower's fitness is battery-powered; the batteries are (included) with the rower. It starts when you begin rowing or if you press the MODE button, and also has a sleep function to which will enter after several minutes of inactivity on the machine.
MaxKare Assembly and Maintenance
The front section of the machine, with all the drive and resistance elements, and the fitness meter, comes pre-assembled. Therefore, you only have to insert the seat onto the rail, connect the track to the central unit, add the rear and front stabilizers, and the footrests.
This shouldn't take more than one hour. The task is pretty straightforward, and all of the necessary tools are (included) with the rower.
The internal parts of the rower shouldn't need any lubrication or maintenance for an extended time. Therefore, in terms of maintenance, you should only keep the unit clean, especially the rail, and periodically check for loose parts.
Pros
Durable steel frame construction;
Folding design;
Transport wheels integrated into the front base;
Adjustable levelers on the rear stabilizers;
Relatively long rail – can accommodate users up to 6'5″;
Tranquil and smooth magnetic resistance system;
16 levels of resistance, for light to medium workouts;
Ergonomic, padded seat for optimal comfort;
Pivoting footrests for a perfect foot position with each stroke;
Fitness console included – it can track time, count, t-count, SPM, calories;
Bottle holder included;
Easy to assemble;
Little maintenance required.
Cons
No backlight on the fitness console;
No pulse reading function.
MaxKare Magnetic Rower Summary
The MaxKare magnetic rower offers 16 levels of resistance, a durable frame, and a long rail, being able to accommodate users up to 6'5″. It also integrates a fitness console that tracks time, strokes per minute, strokes per session, total strokes, and calories burned.
Although it's a machine made for home use, it can provide a very consistent, full-body cardio workout, which makes it great for stamina development, muscle toning, and weight loss. It's also one of the most affordable magnetic rowers at the moment.
I hope you found this article helpful and informative. If you have anything that you'd like to share or any opinions about my website, please do speak up. I look forward to your comments, questions, and the sharing of ideas.
Recommended articles:
Stamina Body Trac Glider 1050 – Features oar-like Handles!