The MaxKare Power Cage with Lat Pulldown features 1600 lbs of actual weight capacity on squat bars and 1500 lbs weight capacity on power racks. It comes with two high-density PVC power cage dip handles with a rubber strip covering.
This power cage features 14 variable positions for both barbell racks and safety catches bars. The included MaxKare Lat Pull Down and Low Row Cable attachment are essential for building your upper back, shoulders, abs, and arms muscles.
The MaxKare Power Cage comes with a spacious inner power cage for unlimited potentials performing barbell and heavyweight exercises like wide stance squats, low squats, bench press, etc. The power cage built-in multi-grip pull-up bar offers multiple hand positions to enhance back, shoulder, and arm muscles.
Learn more in my complete review below!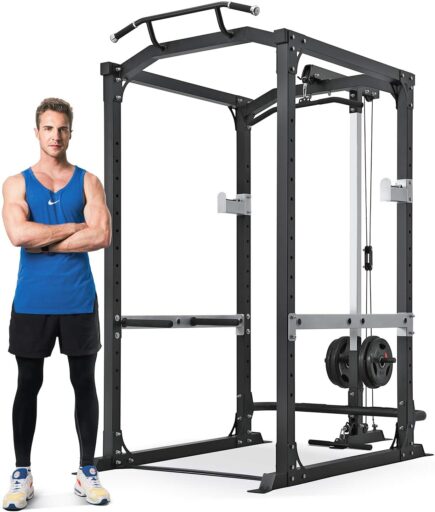 Product: MaxKare Power Cage with Lat Pulldown
Price: For a great deal on this gym, merely go here to Amazon.com
Warranty: 2 years limited
My rating: 8.25/10
Amazon Affiliate Disclosure: I may earn commissions on purchases made through links in this post. Full disclosure
Details and Specifications
Assembled dimensions: 81L x 45.3W x 87.5H inches (206L x 115W x 222H cm)
Assembled weight: 193.5 lbs (87.7 kg)
Weight capacity:
Cage: 1,500 lbs (680 kg)
J-hooks: 880 lbs (399 kg)
Safety bars: 1,600 lbs (752 kg)
Pull-up bar: 330 lbs (150 kg)
Upright bar positions: 14
Possible exercises: 40+
Accessories: Dip bars, lat bar, a short bar for low rows
Warranty: 2 years limited
Frame construction and parts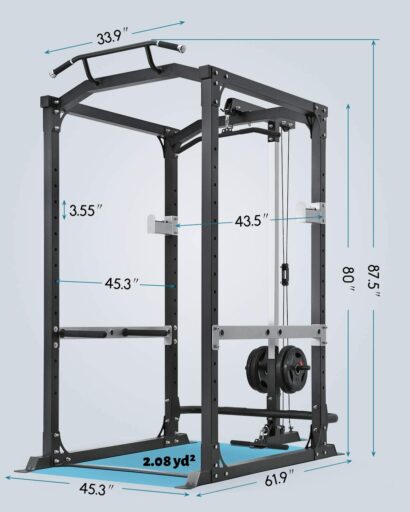 The MaxKare power cage features a steel frame made of 2.5″ x 2.5″ 14-gauge tubing—all the steel tubes in the construction of the cage come coated with a corrosion-resistant paint finish. The color used for the cage tubes is black, while the color used for the lat machine main tube, the J-hooks, and the safety bars is gray.
The whole cage with the lat machine attached is 81″ (206 cm) long and 45.3″ (115 cm) wide. Without the lat machine connected, the depth of the cage is approx—61.9″ (157 cm). The maximum height of the cage with the pull-up bar attached is 87.5″ (222 cm).
Therefore, it won't fit in a room with a 7-foot (213 cm) ceiling unless you don't connect the pull-up bar or you attach it upside down. Without the pull-up bar installed, the cage is only 80″ tall (203 cm).
The main upright pillars feature 14 adjustment holes for the J-hooks and the safety bars. The holes are 1″ (2.5 cm) in diameter. Thus, the cage is compatible with various other addons with standard 1″ connection points. Also, the distance between the adjustment holes is 2″ (5 cm).
The base frame of the cage does not have pre-drilled anchor points. However, the unit is pretty heavy, so this shouldn't be necessary. Its base bars do not have rubber pads, so it's a good idea to place and use the cage on a rubber mat.
J-Hooks and Safety Bars
The J-hooks and the safety bars attach to the cage frame via screws. Therefore, you can't quickly adjust their height if necessary. Whenever you want to change them, you will have to use tools. This may be an inconvenience if you're going to alternate bench presses (bench not included) with squats, for example.
On the other hand, since they attach to the frame with screws, you can be sure that their connection is super solid. Also, the J-hooks have a layer of rubber material on their top side, while the safety bars are not rubberized.
Lat Machine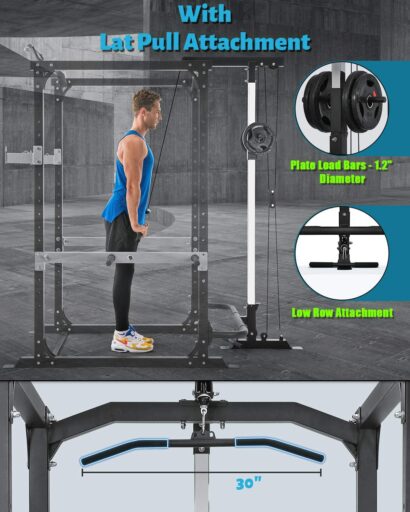 The lat machine included with the cage features several heavy-duty pulleys with sealed ball bearings for a smooth rotation. The cables have PVC sleeves to prevent the scratching of the pulleys.
The carriage of the lat machine element has 1″ pegs so that you can load it with Standard weight plates. However, the set also includes two Olympic adapters, so the lat machine can also use 2″ weight plates.
Accessories
In terms of accessories, this MaxKare power cage comes with a set of dip bars that you can attach to the safety bars. The list also includes the lat bar, the short bar for low rows, and the pull-up bar. A barbell and weight plate set do not come with the machine.
Workout stations
This MaxKare Power Cage offers five main workout stations. These are:
The main cage. The cage itself allows you to perform squats, curls, shrugs, or other exercises while safely using a heavy barbell. A barbell and weight plates do not come with the unit, but it accommodates  7-foot Olympic barbells as a general idea.
Pull-up station. This workout station consists of a 33.9″ (86 cm) bar featuring curved side grips, which are rubberized to provide superior contact. This offers the possibility to perform all kinds of chin-up and pull-up exercises. However, it does not provide a standard parallel grip.
High-pulley station. This is the primary workout station for the lat machine. It offers the possibility to perform lat pull-downs, tricep press-downs, and many other high-pulley cable exercises. A lat bar comes included with the set; it has approx—the same length and design as the pull-up bar.
Low-pulley station. The unit's low pulley allows the execution of seated rows, stand-up curls, or other low pulley exercises. A short bar, approx. 16.6″ (42 cm) long with rubberized handles comes included with the cage, especially for the low pulley station.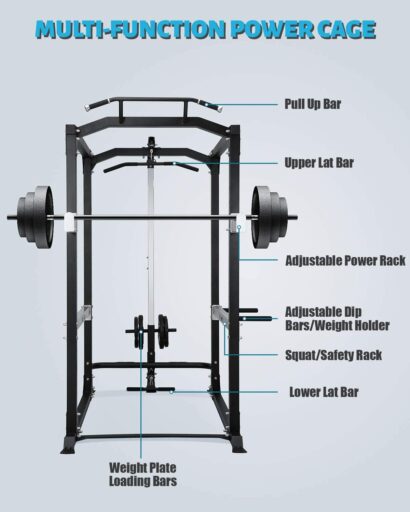 Dip station. The MaxKare cage comes with two dip handles that can be attached to the safety bars. They have rubberized sleeves for an improved grip.
Weight Limits
This MaxKare power cage offers a pretty sturdy construction. The cage itself is rated for a maximum weight limit of 1,500 lbs (680 kg), while the safety bars have a 1,600 lbs (752 kg) weight limit. The included J-hooks should be able to support loads up to 880 lbs (399 kg).
The chinning bar assembly has a maximum user weight limit of 330 lbs (150 kg). So, as long as you don't weigh that much, you should also be able to perform weighted pull-ups or chin-ups.
The weight capacity of the lat machine is not specified. Although the cables are sturdy enough to support loads of at least 1,000 lbs (453 kg), the pegs of the carriage are not too long. So, its weight limit is probably around 300 lbs (136 kg), similar to other cages in this feature range.
Possible Exercises
Pull-ups
Wide grip pull-ups
Muscle pull-ups
Behind head pull-ups
Around the world, pull-ups
One-arm pull-ups
Cliffhangers
Weighted pull-ups
Chin-ups
Close grip chin-ups
Wide grip chin-ups
One hand chin-ups
Weighted chin-ups
Hanging knee raises
Hanging leg raises
Dips
Assisted dips
Weighted dips
Band-resisted dips
Dip to leg raise
Side-to-side dips
Gironda dips
Reverse Gironda dips
Lat pull-downs
Close-grip pulldowns
Behind head pulldowns
Aerobic rowing
Kneeling rowing
Biceps curls
Triceps press downs
Chest presses
Single-arm chest presses
Wide grip chest presses
Close grip chest presses
High-pulley crunches
High-pulley twist crunches
Seated trunk rotations
Standing trunk rotations
Stand-up leg curls
Calf raises
Squats
Single-leg squats
Kneeling single-leg squats
Wide squats
Twisting squats
Jumping squats
Leg adductions
Leg abductions
and more
Of course, some of these exercises may require additional accessories which do not come included. For example, to perform leg adductions, you will need an ankle cuff. And, to perform chest presses, you will need a bench.
Assembly and Maintenance
This power cage requires complete assembly. However, since it's not a weight stack machine, the task is considerably more manageable.
You will have to assemble the base first, add the upright bars, close the cage with the top bars, then assemble and attach the lat machine, and finally install the safety bars and the other accessories.
This may take more than an hour. The manual provides precise assembly instructions. Tools for assembly do not come included to need two adjustable wrenches or a set of fixed wrenches.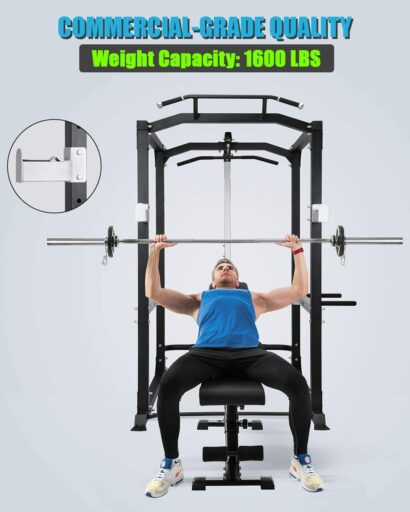 Once assembled, the cage with the lat machine doesn't require much maintenance. All you have to do is keep the unit clean, periodically inspect the joints and bolts to make sure they still hold tight in their places, and apply some oil on the bar of the lat carriage for smooth use of the lat machine.
Pros
Sturdy, all-steel frame – can support loads up to 1,500 lbs;
Five workout stations, power cage, including lat pulldown station, pull-up/chin-up station, low pulley station, and dip station;
Smooth pulley and cable movement;
J-hooks included – rated for 880 lbs;
Safety bars included – rated for 1,600 lbs;
Weight plate storage and balance pegs on the base bars;
14 attachment positions for the catch bars and safety bars;
Sturdy pull-up bar rated for 330 lbs;
Lat pulldown bar included;
The short bar for low pulley exercises included;
Dip bars included;
Over 40 possible exercises;
Quiet operation;
Little maintenance required;
Reasonably easy to assemble for a home gym.
Cons
No footrest plate for low rows;
J-Hooks and safety bars attach to the frame with screws; they require tools to detach and adjust;
There are no support pegs for weight plates.
Note: Barbell, weight plates, and bench do not come included with the machine.
MaxKare Power Cage Summary
The MaxKare power cage is a home-use strength training system. It offers a load capacity of 1,500 lbs for the cage, 1,600 lbs for the safety bars, and 880 lbs for the J-hooks. It comes with several accessories, including dip bars, a lat pull-down bar, and a short bar for low rows.
Moreover, it's a versatile strength training system that allows over 40+ exercises involving most muscle groups.
I hope you found this article helpful and informative. If you have anything you would like to share or any opinions about my website, please speak up. I look forward to your comments, questions, and the sharing of ideas.