While the Merax S500 Indoor Bike may appear to be one of those flashy bikes designed to attract you with their aesthetics, its nothing of the sort. The Merax S500 indoor bike offers reliable performance, which will prove to be challenging even for seasoned users.
The S500 has a 22 lb chromed solid flywheel that helps simulate the momentum and feel of biking on the road. The wheel keeps the bike steady and securely weighted down while pedaling. The pedals are caged and counter-balanced, which makes it very easy to mount up and start cycling.
Switch up the intensity of your workout with the convenient tension knob. With a simple twist, you can increase or decrease resistance so your workout can remain challenging and effective throughout your fitness journey.
Tracking your progress is simple with the S500 Multi-functional Digital Monitor! It displays your time, speed, distance, calories burned, and scan, you will be able to see your results to keep you motivated and on pace.
Learn more in my complete review below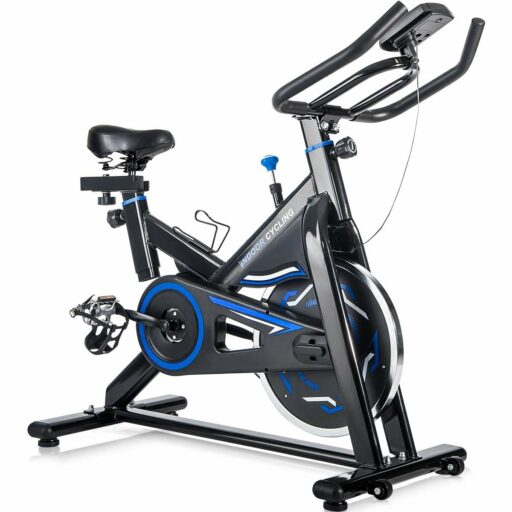 Product: Merax S500 Indoor Bike
Price: For a great deal on this bike, merely go here on Amazon
Warranty: 1 year limited
My rating: 8.25/10
Amazon Affiliate Disclosure: I may earn commissions on purchases made through links in this post.
S500 Frame construction
There are two versions of the Merax S500 bike. Both have a corrosion-resistant black paint finish, but one features blue gaskets, tension knob, and stickers on the frame, flywheel, and belt guard, while the other has red elements. The two versions are the same in terms of specs and features.
The Merax S500 exercise bike features a triangular frame with a suspended seat tube, similar to the Body-Solid ESB250. All the pipes in the bike's construction are steel, so the frame offers excellent sturdiness, with a weight capacity of 330 lbs (150 kg).
This Merax indoor cycling trainer is not extremely heavy, though, compared to other models. It only weighs approximately 65 lbs (29.4 kg). So, its transport and assembly is a one-person job. Also, once assembled, its easily relocated via the wheels integrated into its front base.
Like most other spin bikes, the Merax S500 isn't a large fitness machine. Its footprint is approx. 41″L x 21.3″W (104 x 54 cm), while its maximum height is given by the handlebar when it is fully extended, reaching approx. 48″ (122 cm) above floor level. It is recommended, though, to leave at least two feet of clearance all around the bike, for safe access and usage.
One last aspect to mention regards the bike's stability. Even though it does not have an extra-heavy frame, its center of gravity is pretty close to the ground, which adds stability. Plus, both base tubes of the bike are equipped with adjustable stabilizers featuring rubber pads to prevent the unit from sliding and prevent floor damage.
Seat and handlebars
The Merax Deluxe bike includes a saddle designed to provide extra comfort. First of all, it integrates a thick layer of foam cushioning, while most spin seats are very slim and rather hard.
It has two rear springs which reduce shock and improve the overall flexibility of the saddle, enabling it to adapt better to the user's movement during pedaling. It also has a center cutout which enhances breathability.
Along with all the mentioned comfort factors, the bike's saddle also features a standard attachment system. Therefore, in case you will ever want to replace it, compatible options are widely available.
The bike's seat offers four-way adjustability (up, down, forward, backward). Its upright post offers 5″ (12.7 cm) of adjustment, from 34″ to 39″ (86.3 – 99 cm) above floor level. The horizontal slider adds 2.5″ (6.3 cm) of front-to-back adjustment, as well. Therefore, the bike can accommodate users up to 6'3″ (190 cm), allowing a complete leg extension.
The bike's handlebar only offers two-way adjustability (up, down). It does not have a horizontal slider like the seat. Its upright post offers 6″ (15.2 cm) of adjustment, from 42″ to 48″ (106.8 – 122 cm) above floor level. It has a multi-grip design, with two extended side grips curved upward, and a loop aero bar in the middle.
A layer of rubber foam material covers the side grips for extra comfort. However, the handlebar does not have pulse sensors, and the bike does not offer a pulse reading function.
S500 Drive System
The Merax S500 indoor cycling bike has a belt drive system. Therefore, it provides an exceptionally smooth pedaling motion. Also, since the transmission uses a belt, not a chain, it does not require lubrication, while the usage of the bike is very quiet.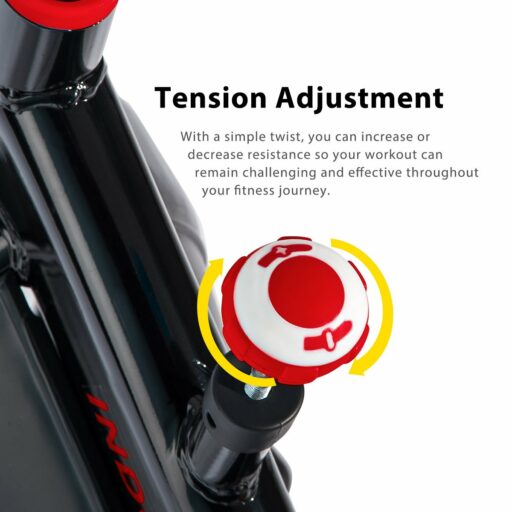 Compared to other spin bikes, such as the Spinner P1, the Merax Deluxe only has a 22 lbs (10 kg) flywheel. Thus, it doesn't offer such a substantial momentum as a commercial spin bike. However, the wheel still is perimeter-weighted to provide more consistent inertia.
The bike's flywheel is chrome-plated with ABS-made side covers. It is also bi-directional; therefore, you can pedal in reverse to diversify your workouts. However, since the bike's drive system is simple, you cannot coast on it.
When pedaling in reverse, you will get the same pedal resistance as when pedaling normally. Also, the pedals continue to spin for as long as the flywheel is spinning.
Since it's a bike designed for spin workouts, the Merax S500 comes with a heavy-duty crankset. Both the crank arms and the pedal should be able to withstand users up to 330 lbs (150 kg). The pedals are an aluminum alloy.
They have adjustable toe cages but do not integrate SPD clips for spin shoes. However, their threads are standard 9/16″, so replacement options are widely available.
Resistance System
The Merax Deluxe S500 comes with a friction resistance system which consists of a felt pad attached to the main tube of the bike's frame, and the tension knob on top of it. This brake is not motorized, so the bike does not require an external power source.
The resistance mechanism is relatively simple. To increase the resistance, you have to turn the tension knob clockwise. This will enable the brake pad to apply more friction to the flywheel, increasing the drag, and the overall pedaling difficulty.
There are no tension levels specified on the resistance adjustment knob. The resistance can be adjusted up to the point you can barely pedal.
The resistance knob also fulfills the function of an emergency brake. You can press it down to immediately stop the flywheel from spinning. This is necessary if you have been pedaling at high speed and you suddenly need to stop, or you want to begin pedaling in reverse.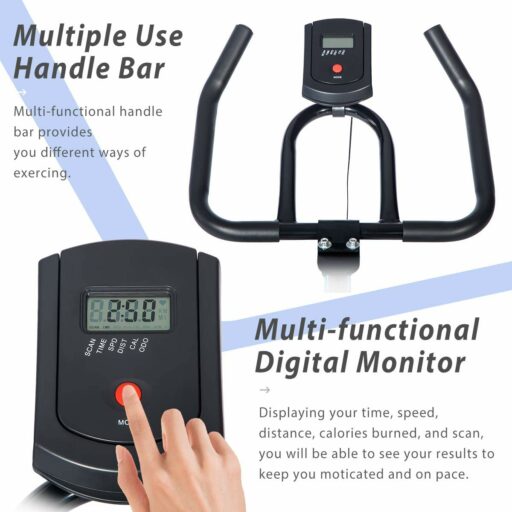 S500 Console
The Merax Deluxe indoor cycling trainer comes with a Multi-functional Digital Monitor. It tracks time, distance, total distance, speed, and calories. Speed and distance are in metric units (km/h and km), and there's no possibility to change them in imperial units.
Also, as I've mentioned above, the bike does not have any pulse sensors, and the monitor does not have a pulse reading function.
The monitor is quite easy and straightforward to operate. It only has one (MODE) button. The button allows you to toggle ON and Off the unit's SCAN function, which rotates the workout values, showing each one for several seconds.
As you stop the SCAN function, you can select the time, speed, or any of the other workout statistics to be shown on screen all the time. The MODE button also covers the unit's RESET function. By pressing and holding it for a few seconds, it will clear all the values to zero.
The unit is battery powered. It starts up when you begin pedaling or when you push the button. It also has a sleep mode to which it will enter after a few minutes of inactivity on the bike.
S500 Assembly and Maintenance
The mainframe of the bike comes pre-assembled. Also, the flywheel, the belt, the brake system, and the crank are already attached. Therefore, you only need to connect the two base bars, the seat post, the saddle, the handlebar post, the handlebar, the exercise meter, and the pedals.
This shouldn't take more than 30 minutes. All the tools for the assembly (are included), and the manual provides precise assembly instructions.
Since it's a belt-drive bike, its transmission doesn't require lubrication. However, the resistance pad may need a bit of silicone lubricant, especially if it overheats during a more intense workout, or it generates a squeaking sound. Other than that, make sure to keep the bike clean, and periodically check for loose bolts and parts.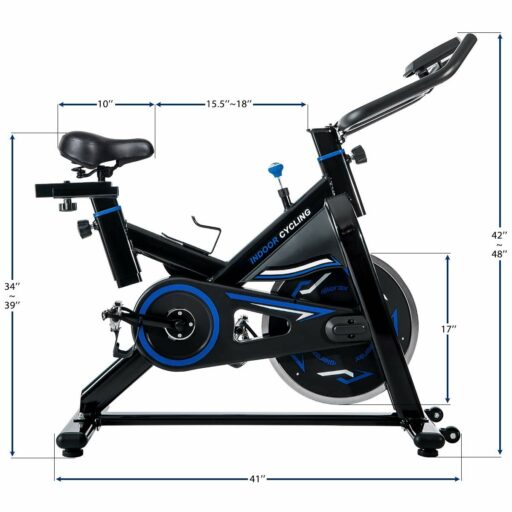 Details and Specifications
Assembled dimensions: 41L x 21.3W x 48H inches (104L x 54W x 122H cm)
Assembled weight: 65 lbs (29.4 kg)
Flywheel weight: 22 lbs (10 kg)
Supported weight: 330 lbs (150 kg)
Seat: 4-way adjustable
Handlebars: 2-way adjustable
Drive: Belt
Resistance: Friction, felt-pad
Fitness Monitor: Time, speed, distance, total distance, calories, scan
Accessories: Bottle holder
Warranty: 1 year limited
Pros
Sturdy, steel construction – can support users up to 330 lbs;
Transport wheels on the front base;
It comes with adjustable stabilizers on both base bars;
Extra comfortable seat for an indoor cycle, featuring a thick layer of padding, contoured surface and a longitudinal groove;
Perimeter-weighted flywheel for improved inertia;
Heavy-duty crank, able to support any user up to the maximum listed weight, in upright pedaling position;
Aluminum pedals with toe cages for extra thrust and standard threads;
Standard friction resistance system;
4-way adjustable seat;
Multi-grip handlebar;
Bottle holder included;
Fitness monitor included;
Quiet operation, great for apartment use;
Easy to assemble;
Little maintenance required.
Cons
No pulse reading function;
The fitness monitor isn't backlit.
Merax S500 Summary
The Merax S500 is an indoor cycling bike designed for home use. It features a standard friction resistance system with a manual action, a belt drive system, superior micro-adjustability, and a cushioned saddle. It also includes a multi-functional Digital Monitor.
It's an affordable exercise bike which can support most spin workouts. It's excellent for light to intense cardio training, interval training, muscle toning, and weight loss.
I hope you found this article helpful and informative. If you have anything that you'd like to share or opinions about my website, please do speak up. I look forward to your comments, questions, and the sharing of ideas.
Recommended articles:
Please follow and like us: