The Nautilus T618 Treadmill Machine is the new top model in the Nautilus Performance Series, a collection of affordable home treadmills for runners. Because the T618 costs just $1,299 at full price, I was surprised by its head-to-toe high quality.
Elements that help make it an excellent value for runners include a large workout area, advanced cushioning, and a 3.5 CHP motor. Additionally, the console comes with interactive training programs, and the treadmill frame features soft-drop folding technology for secure storage between workouts.
Virtual outdoor training especially helps this treadmill stand apart from competitors. The T618 is programmed to integrate RunSocial over its Bluetooth connection. With RunSocial, you can virtually walk or run through scenic locations worldwide, solo, or with other trainees.
Besides the standard treadmill feedback, you'll get Pacer, Compare, and Fitness readings to push you further. A second benefit of the Bluetooth connection is the quick syncing of workout data. The T618 Treadmill can wirelessly connect with fitness apps such as Google Fit, MyFitnessPal, and Nautilus Trainer.
Learn more in my complete review below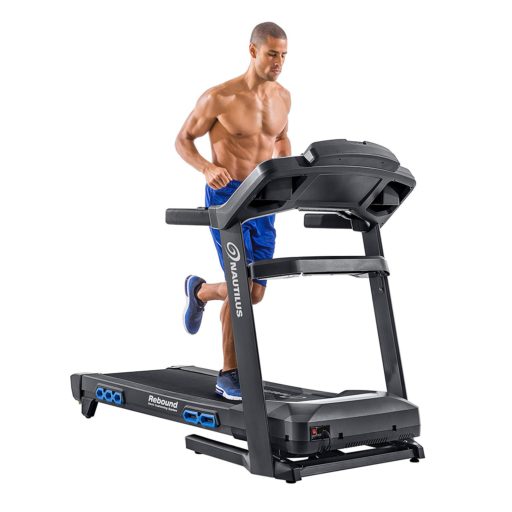 Product: Nautilus T618 Treadmill Machine
Price: For a great deal on this treadmill, merely go here on Amazon
Warranty: Frame 15 years / Motor 15 years / Parts 5 years / Electronics 5 years / Labor 2 years
My rating: 9/10
Amazon Affiliate Disclosure: I may earn commissions from purchases made through links in this post.
Details and Specifications
Assembled dimensions: 72.4L x 35.2W x 57.6H inches (184L x 89W x 146H cm)
Tread belt dimensions: 60L x 20W inches (152.4L x 50.8W cm)
Product weight: 253.5 lbs (115 kg)
Max. weight capacity: 350 lbs (159 kg)
Deck cushioning: ReboundTM Deck Cushioning
Motor: 3.5 CHP
Speed levels: 0-12 MPH
Incline: Automatic, 0-15%
Console: 26 workouts, Bluetooth enabled, RunSocial compatible
Amenities: Chest strap, sound system, cooling fan, USB charging port, 2x bottle holder, an accessory tray with towel support
Warranty: Frame 15 years / Motor 15 years / Parts 5 years / Electronics 5 years / Labor 2 years
T618 Frame
The Nautilus T618 treadmill is built on an extremely sturdy steel frame, coated with a corrosion-resistant and scratch-resistant, industrial-grade finish. The primary color used for the frame finish is black.
The machine's construction also integrates several hard PVC parts, such as the covers of the rear feet, rear roller covers, motor cover, side rails, and the accessory tray. These, however, do not have any impact on the machine's overall sturdiness.
Like most treadmills, the Nautilus Performance T618 is a reasonably large fitness machine. It takes 72.4″L x 35.2W (184 x 89 cm) of floor space, and it requires at least two feet of clearance on each side and at least three feet of clearance at the rear for safe operation.
This Nautilus treadmill is considerably heavy. It weighs approx. 253.5 lbs (115 kg) when fully assembled; therefore, its transport and assembly require at least two people. All this weight plays an essential role in its overall stability. You can be sure that the machine won't wobble, shake, or change its position even during the most demanding workouts.
Furthermore, its front metallic base comes with four adjustable, rubberized stabilizers, which give you the possibility to level it on any flooring or pavement perfectly.
Once assembled, its relocation isn't too tricky, as its front metallic base also integrates a set of wheels. By leaning it onto its wheels, you will have to handle less than half of its weight when relocating it.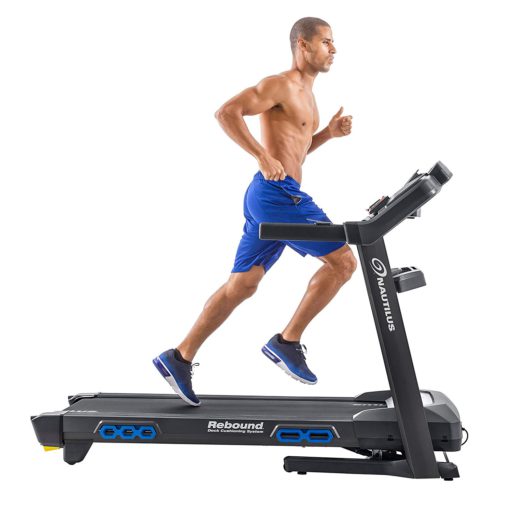 Deck
The deck integrates a fold-up mechanism. It has a hydraulic lift that locks it in an upright position and provides soft-drop unfolding. With the deck folded up, the machine's length is reduced by half.
The treadmill's running platform comes with a more durable belt than the T616 model. It's a 3-ply, 2.5mm, light commercial Trye belt, while the older model only has a 2-ply belt. The belt rolls over large, 2.75 crowned rollers, designed to prolong its lifespan and maximize stability. They integrate heavy-duty, sealed ball bearings for smooth operation.
The running surface is the same as for the T616, though. It's 60″L x 20″W (152.4L x 50.8W cm) and can accommodate users comfortably up to 6'6″ (198 cm). Moreover, it's designed to support heavier users, up to 350 lbs (159 kg).
The machine's deck integrates the ReboundTM cushioning system, featuring two sets of shock absorbers at the front and three close to the rear. The front cushions soften each foot's landing, reducing impact, while the rear ones propel the kick-off providing an energy boost to the stride.
Due to these features, the workout-related pain is more tolerable, which allows you to undertake more extended and more consistent runs.
T618 Incline and step-up height
The Nautilus T618 treadmill is equipped with an automatic incline system, offering a ramp between 0% and 15%, perfect for high-intensity interval workouts. It consists of a small motor and a lift, situated at the front of the deck.
Since the incline system is motorized, the deck's ramp can only be adjusted if the machine has a power connection. You can also change the incline from the control unit or the keys integrated into the left handlebar.
The incline adjusts in increments of 1%. However, the console features keys for the quick selection of the 0%, 2%, 5%, 8%, 10%, 13% and 15% positions.
The deck's running surface is approx. 9″ (23 cm) above floor level. In other words, the machine's step-up height is 9″. The space remaining between the deck and the floor is approximately 4.5″ (11.4 cm). Thus, to avoid any ceiling height issues, make sure that the ceiling in the room where you will be using the machine is at least 15″ (38 cm) taller than your height.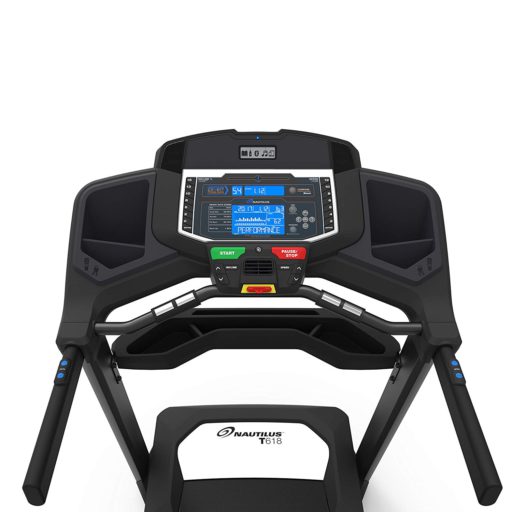 Motor
This Nautilus Performance treadmill comes with a 3.5 CHP, heavy-duty motor. It's a continuous-duty motor, made to withstands prolonged workouts at maximum speed without overheating or losing performance, even if the user is close to the maximum weight capacity. It also comes with a small flywheel, which adds stability to the belt motion.
The motor offers a speed range between 0.5 MPH and 12 MPH. Needless to say, speed is adjusted exclusively from the console. Just as for incline, you'll find gradual and quick adjustment keys for speed. The rate adjusts in increments of 0.1 MPH. This gives you the possibility to see the perfectly suited pace for each workout.
The machine comes with a standard U.S. 3-prong plug, not an adapter. It requires a 120V 15A power circuit. The treadmill should be connected to a power circuit solely, without other devices connected to the same circuit, to avoid surges.
It's not a bad idea to use a surge suppressor to prevent any damage to the motors or console if a surge happens.
T618 Console
The Nautilus T618 treadmill comes with a multi-function console. It has two LCDs with blue backlight, 3.75″ (top) and respectively 5.5″ (bottom) in diagonal. There's also a Pacer feature above the top display, which allows you to train on a set program and distance, and sees how you compare against past workouts.
The smaller display indicates the workout goal, your fitness score, and your placement to the pacer. The bottom, larger screen covers a lot more info, including the program profiles, time, distance, laps, heart rate, calories, speed, incline, pace.
The distance can be tracked in miles and kilometers, while speed is in MPH or km/h. For the Lap Count function, the distance is in laps of 0.25 miles (0.4 km), a feature great to have if you want to undertake a workout designed for professional runners.
The console is telemetric; it can track your pulse via the included wireless HR chest strap. You can also monitor your pulse by holding on to the sensors integrated into the front handlebars.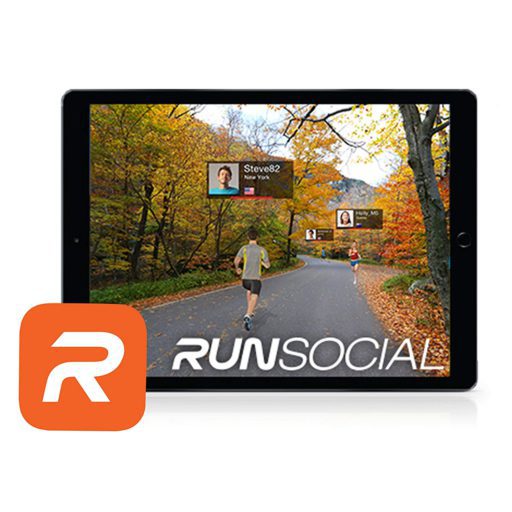 Onboard workout programs
There are several sets of workout programs built-in the console unit.
Quick Goal program allows you to set up an exercise goal for distance, time, and calories and work towards that goal.
Heart Health program offers four preset target heart rates, 55%, 65%, 75%, and 85%.
The Weight Control program has five preset workouts: Fat Burn 1, Fat Burn 2, Speed Burn, Incline Burn, and Dual Burn.
The Interval program offers three preset workouts: Interval-Incline, Interval-Speed, and Interval-Dual.
The Train program has six more applications, including Boot Camp, Endurance, Performance, 1 Mile Pacer, 5K Pacer, and 10K Pacer.
Custom program – offering four customizable programs for heart rate, incline, speed.
The console unit lets you store and use 4 User Profiles, each profile recording the workout results to be (reviewed) later. Additionally, each user profile stores data. Such as age, weight, height, gender, name, and preferred workout values. It's a great function to have if multiple persons use the machine.
Also, since you can input data regarding age, gender, weight, and height, the unit can accurately determine your calorie-burning percentage.
Bluetooth enabled
Along with the onboard programs, this treadmill also offers the possibility to connect online to track your progress. In particular, the console is Bluetooth-enabled, allowing you to sync it with your smartphone, laptop, or tablet, to use the "Nautilus Trainer 2" fitness app, or directly transfer your workout data into your Nautilus Connect or MyFitnessPal account.
Furthermore, this machine is compatible with the RunSocial online app, which gives you the possibility to view a virtual trail on your smart TV, tablet, or phone, based on a GoogleMaps trail. Thus, you can create running events, run with friends, and benefit from many other interactive and fun features through this app.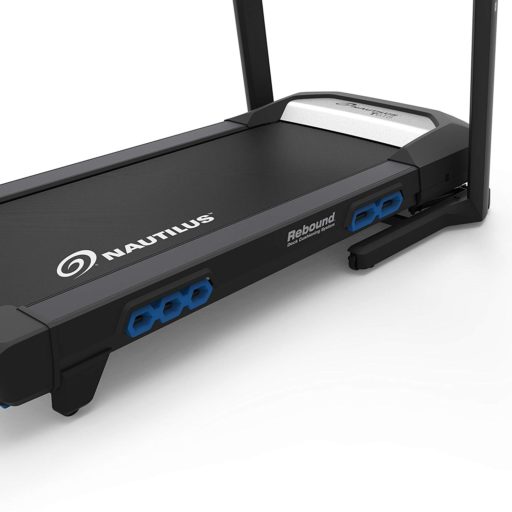 You can also transfer your workout data to your online fitness account by using a USB flash drive. The console unit's USB port also acts as a charging port for your device.
This Nautilus treadmill offers several amenities, including a media tray, a sound system, and a cooling fan, all integrated into the console. The media tray is above the large LCD. The audio system is also compatible with most MP3 players, smartphones, and tablets, consisting of two speakers at the lowest corners of the console.
Although not too large, the workout fan does provide some cooling for your workout, featuring three distinctive speed settings.
T618 Assembly and Maintenace
The deck of the treadmill came fully assembled and attached to the metallic frame. So, you'll have to connect the console masts, the accessory tray, and the console, connecting the wires. This shouldn't take more than 45 min. All the tools required for the assembly (are included), while the manual provides clear, step-by-step instructions for it.
You should keep the belt and deck clean for maintenance, free of any objects that may be caught by the belt and dragged into the rollers or damage the motor. Notably, the belt should be (lubricated) with a silicone-based lubricant after every 25 hours of use. Also, a periodic check for loose bolts and parts is advisable.
Pros
Sturdy overall construction;
The solid deck can support users up to 350 lbs;
Adjustable stabilizers with rubber caps;
Transport wheels;
Folding deck, equipped with a soft-drop hydraulic cylinder;
ReboundTM deck cushioning which softens the landing of the foot at the front and propels kick-off at the rear for an energy boost;
Large, 2.75″ crowned rollers for smooth motion of the belt;
3-ply light commercial Trye belt for a prolonged lifespan;
3.5 CHP, heavy-duty motor;
Speed range between 0.5 and 12 MPH, offering the possibility to perform a wide array of workouts;
Speed control in increments of 0.1 MPH, offering the possibility to find the pace that fits perfectly to you;
Automatic incline, 0% – 15%;
26 workout programs;
Bluetooth enabled the console, allowing you to use the Nautilus Trainer 2 app directly;
A USB port for charging your tablet or phone and for workout data transfer;
Various amenities, such as sound system, media shelf, 3-speed fan, bottle/accessory holders;
Pulse sensors and telemetry enabled console;
The HR chest strap transmitter (is included);
Easy to assemble;
Smooth and fairly quiet operation;
Little maintenance required;
Consistent warranty plan.
Cons
The massive machine requires at least two people for transport and assembly;
The cooling fan isn't mighty.
Nautilus T618 Treadmill Machine Summary
The Nautilus T618 is a light commercial quality treadmill equipped with a 3.5 CHP motor and automatic incline (0-15%), with a solid deck can support users up to 350 lbs. Its console offers 26 workout programs, and Bluetooth enables you to use the Nautilus Trainer 2 app.
Accordingly, it's a running machine made for users of all levels, perfect for light to intense cardio workouts, weight loss, intervals, strength and stamina development, etc. And finally, it costs at least a few $100s less than other machines with a similar range of features, but without the loss of quality. All in all, it's a treadmill with an exceptional price/value ratio, one of the best.
I hope you found this article helpful and informative. If you have anything you'd like to share or opinions about the content on my website, please speak up. I look forward to your comments, questions, and the sharing of ideas.