The Performance Series Nautilus U618 Upright Bike is a light commercial quality bike with a sturdy and robust built. It comes with features that maximize comfort and convenience and offer improved performance.
The U618 Upright Bike is designed with Eddy Current Braking System and has a magnetic resistance up to 25 levels. The higher resistance makes the rides smoother, quiet, and consistent. This Upright Bike has the 30lbs effective flywheel that optimizes the drive system. The belt drive system with the perimeter weighted flywheel provides smooth and quiet operation.
The U618 Upright Bike comes with Nautilus Gel fore/aft adjustable seat that helps the users adjust the position vertically or horizontally to get the maximum comfort. It is imperative to choose an exercise bike with comfortable seating, especially for endurance training.
Additionally, the Nautilus U618 Upright Bike has Bluetooth connectivity and syncs with Nautilus Trainer 2 App for performance tracking and with RideSocial App for real-time training with the people around the world. It also has some user-convenient features like water bottle holder, cooling fan, and inbuilt speakers for increased comfort.
Learn more in my complete review below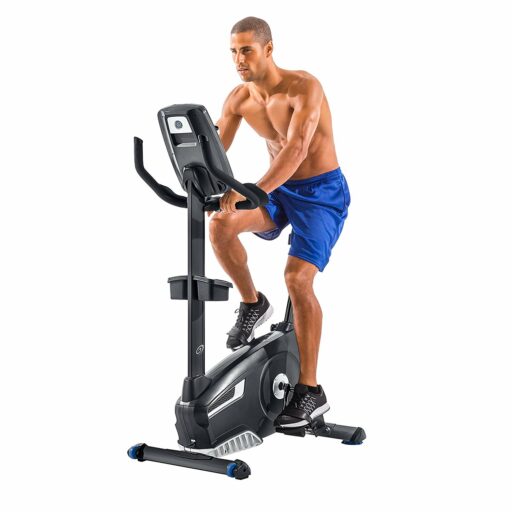 Product: Nautilus U618 Upright Bike
Price: For a great deal on this bike, merely go here on Amazon
Warranty: Frame 15 years / Mechanical 3 years / Electrical 3 years / Labor 1 year
My rating: 8/10
Amazon Affiliate Disclosure: I may earn commissions on purchases made through links in this post.
Details and Specifications
Assembled dimensions: 38.5L x 24W x 58.3H inches (98L x 61W x 148H cm)
Assembled weight: 83.1 lbs (37.7 kg)
Flywheel weight: 30 lbs (13.6 kg)
Weight capacity: 325 lbs (147.7 kg)
Handlebar: 2-way adjustable, with pulse sensors and elbow rests
Seat: Gel-cushioned, 4-way adjustable
Pedals: Weighted, with straps
Resistance: Eddy current, 25 levels
Performance monitor: 29 workout programs, Bluetooth connectivity
Amenities: Sound system, cooling fan, bottle holder, media tray
Warranty: Frame 15 years / Mechanical 3 years / Electrical 3 years / Labor 1 year
U618 Frame construction
The Nautilus U618 upright exercise bike is a light commercial fitness machine, designed to withstand a lot of wear within the premises of a gym club. It features quite a robust frame, able to support users up to 325 lbs (147.7 kg). Its structure is steel tubing. Most of the bars within the frame construction feature a black, industrial quality paint coating, highly resistant to corrosion.
The bike's construction integrates only a few plastic parts. These are the covers of the drive system, the covers of the base tubes, and the bottle/accessory tray which attaches to the console mast.
This Nautilus exercise bike offers excellent stability as both it's base tubes feature large, rubberized stabilizers. The rear stabilizers are adjustable, offering the possibility to perfectly level the bike on any flooring.
Although this upright bike is slightly larger than other similar models, it still isn't a considerable fitness machine. When fully assembled, it is 38.6″ (98 cm) long and 24″ (61 cm) wide, while its highest point (the top of the console) can reach 58.3″ (148 cm) above floor level. Therefore, it's a fitness machine that can fit a small apartment.
The Nautilus U618 upright bike isn't hefty. But still, when fully assembled, it weighs approximately 83 lbs, which is more than twice as the typical road bike. This weight adds to its overall stability. However, the bike isn't difficult to transport once assembled. Its front base tube integrates a set of wheels that allow you easily change its location.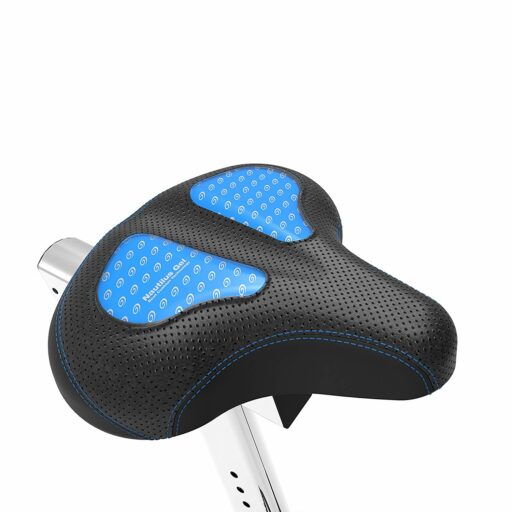 Seat and handlebar
The Nautilus U618 upright exercise bike features a seat with more comfort factors than the U616 model. To begin with, it's a Nautilus Gel seat, which integrates two gel cushioning elements, one on each side, for an equal weight dispersion. It's a highly durable synthetic leather, also having a contoured surface to promote healthy blood circulation.
The seat can be adjusted in four directions, up, down, forward, and backward. Its upright post has 14 adjustment positions, offering an adjustment span that can accommodate users between 5'0″ and 6'7″ (153 – 201 cm).
However, users shorter than 5'3″ (160 cm) may find it challenging to adopt a fully seated and completely leaned forward position. But they should have no problem exercising while holding the handlebar in various other ways.
With regards to the handlebar, the one supplied with the Nautilus U618 is 2-way adjustable. It has a T-knob in the middle, which allows the adjustment of its angle. A sheet of Urethane almost entirely covers the handlebar to deliver a comfortable and secure grip.
It integrates several elements that other bikes don't offer, such as large elbow rests and resistance controls. It also features stainless steel EKG pulse sensors so that the console can read your pulse. However, the console is also telemetric.
U618 Drive System
The Nautilus U618 upright bike features a belt drive system, using a heavy-duty v-belt resistant to stretching. It comes with a reasonably heavy flywheel for an upright bike; it weighs 30 lbs (13.6 kg), delivering a steady momentum and a smooth pedaling motion.
It's a free-spinning flywheel, which means that the pedals won't continue spinning if you stop pedaling. This also means that if you pedal in reverse, you will get no resistance.
This exercise bike has a heavy-duty crankset, with solid steel crank arms. Even though it's not a spin bike, it should be able to support less heavy users in standing up pedaling routines. However, workouts of these sort or spin workouts are not recommended to carry out on this exercise bike as this may lead to severe wear and tear. It is, after all, an upright bike, not a spin bike, designed for seated workouts.
The crank arms come with weighted pedals that feature adjustable straps for maximum foot stability. They have standard threads; thus, you can easily find replacements for them, basically in any bike shop.
Resistance System
This Nautilus upright bike features a motorized magnetic resistance system. This means it requires a connection to a power circuit to make available any resistance. Its operational voltage is 9VDC / 1.5A.
An AC power adapter is (included) with the bike, rated 100V-240V 50/60Hz Input, 9VDC, 1500mA Output. Class 2. The cable of the adapter plugs into the machine close to its front base.
The bike's resistance is adjustable from the control unit, or the controls integrated into the left and right handlebars. The resistance system consists of a servo motor and a magnetic element.
As you select a specified resistance level from the console, the servo motor will adjust the position of the magnetic brake pad to the flywheel, resulting in more or less drag.
The console also has several pre-set workouts. So, if you exercise by using one of them, the bike will adjust its resistance automatically.
The bike offers 25 distinctive resistance settings. The lowest setting (1) delivers almost no resistance, being perfect for users who require rehab training. Conversely, the highest resistance settings (23-25) offer the possibility to undertake intense workouts for strength and endurance development.
U618 Console
This exercise bike comes equipped with a SightlineTM tilting console, almost identical to the one on the Nautilus R618 recumbent bike. It features two LCDs that integrate LED backlight for easy reading. The top display is more extensive and shows the selected goal, the profiles of the current workout, its name, and your heart rate interval.
The lower screen is smaller and displays time, speed, distance, RPM, resistance level, calories burned, and heart rate. Speed can be calculated in both MPH and km/h, while the range is in both miles and kilometers.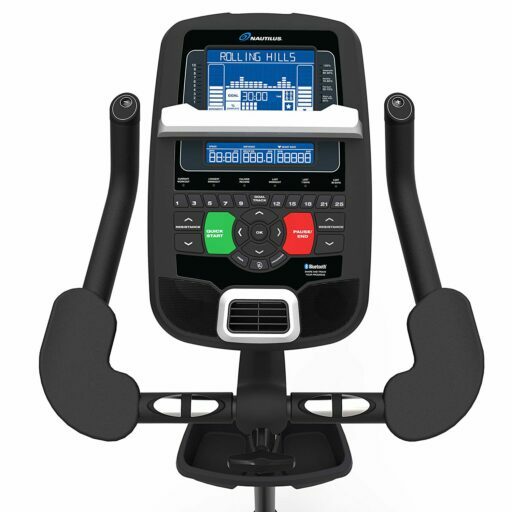 The console unit is telemetric. Additionally, the wireless HR chest strap is (included). It can track your pulse via the included Bluetooth HR chest strap transmitter, but you can also use the EKG sensors within the handlebar for pulse reading.
The console makes available four user profiles; each profile records the workout results of the users. Each user can set up their profile by inserting personal data such as height, weight, age, gender, and name. Thus, the unit will provide a more accurate estimation of the calories burned or the user's current fitness level.
Training Programs
The U618 has 29 Nautilus Training programs — including preset programs for heart rate training, interval training, and weight loss as well as customizable training options. It gives you the possibility to set up goals for time, distance, and calories. There's also a Fitness Program, a Recovery Program, and an HR control program with four levels of difficulty.
The console unit is Bluetooth enabled. Therefore, you can sync it with your tablet, laptop, or smartphone to benefit from a better interface and stats tracking via the online Nautilus Trainer app. Via Bluetooth, you can also instantly transfer your workout data into your Nautilus Connect or MyFitnessPal account.
The console, however, has a USB port as well. So, in case you won't be using the Bluetooth feature, you can still transfer your workout data into your account via USB. The USB port also works as a charging port for your smartphone or tablet.
Amenities
The bike's console unit comes with a 3-speed workout fan, sound system, and media tray. The workout fan, although not too overpowering, does generate a little cooling if it's the case.
The media tray is placed right under the large LCD; it's large and wide enough to accommodate any tablet or smartphone. The sound system is compatible with most MP3 players, smartphones, and tablets, consisting of two speakers at the lowest corners of the console.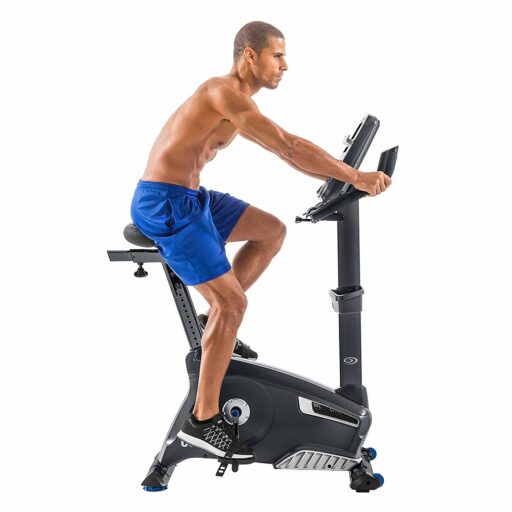 U618 Assembly and Maintenance
The body of the bike comes fully assembled. Therefore, you only need to attach the base tubes to the main body, the console mast, the seat tube, the seat, pedals, and the console, connecting the wires.
This shouldn't take more than an hour. The manual delivered with the bike provides clear instructions for the assembly, while the required tools are (included).
For maintenance, it is recommended to periodically inspect the bike for loose bolts and parts, and retighten them if necessary. Also, keep the bike dust and moisture-free. The internal parts come pre-lubricated from the factory and shouldn't require any further lubrication for an extended time.
Pros
It has a solid construction, supporting even stand up pedaling workout routines;
Elegant, motivating design;
4-way adjustable seat;
2-way adjustable handlebar;
Resistance controls integrated into the handlebars;
EKG pulse sensors integrated into the handlebars;
Large seat with gel inserts for maximum comfort;
Large elbow rests;
Smooth and quiet drive;
25 levels of resistance;
29 workout programs;
Goal tracking;
Bluetooth console, compatible with the Nautilus Trainer online app, and wireless workout data transfer into your Nautilus Connect or MyFitnessPal account;
The console is telemetry enabled;
Wireless HR chest strap included;
Several amenities, such as 3-speed fan, sound system, media tray, USB charging port, bottle holder;
Easy to assemble;
Maintenance-Free;
Excellent warranty pack.
Cons
A tablet placed on the media tray will cover the top, larger display.
Nautilus U618 Upright Bike Summary
The Nautilus U618 Upright Bike is a fitness machine pretty close to the commercial standards. It offers 25 levels of eddy current resistance, superior micro-adjustability, 29 workout programs, a Bluetooth enabled console with numerous other features and an impressive combination of comfort factors.
Although it's an upright bike, it can support high-intensity training. It is perfect for a wide array of cardio workouts, interval workouts, strength and endurance development, recovery training, and of course, weight loss. Finally, it costs several $100s less than a commercial upright bike, offering an excellent value for the price.
I hope you found this article helpful and informative. If you have anything that you'd like to share or any opinions about my website, please do speak up. I look forward to your comments, questions, and the sharing of ideas.
Recommended articles:
Please follow and like us: