If you're looking for an elliptical trainer with an impressive library of workouts to choose from, the NordicTrack Commercial 14.9 Elliptical might be what the doctor ordered. The Commercial 14.9 Elliptical has more to offer than just a fancy console- notable specs include a 32 lb flywheel, commercial-grade solid steel frame, and one of the best warranties you're going to find anywhere.
Another way to challenge yourself on this trainer is by using the incline, which ranges from 0 – 20 degrees. The incline is not the same as resistance (resistance makes you work harder and harder to push the pedals down when running). Instead, the incline changes the slope of your elliptical pathway. This helps you to cross-train different muscle groups and get a better workout overall.
And you also get 26 levels of resistance – more than most elliptical trainers give you at this price point. So there's lots of room to grow with this machine. You also get adjustable foot-pedals. These give you three different toe-heel angles so you can choose the best fit for you.
With a 10″ HD touchscreen display and 35 built-in workouts to choose from, this elliptical is one of the most hi-tech options in its price range. But in case you want more, the large display also pairs perfectly with iFit, giving you access to unlimited, trainer-led workouts.
Learn more in my complete review below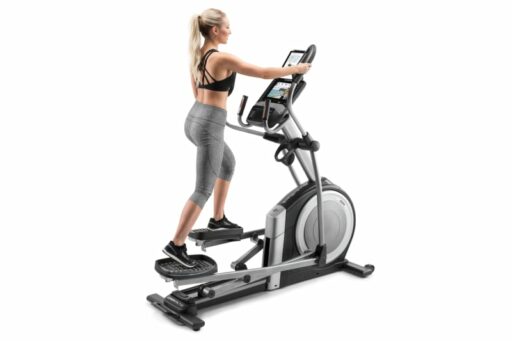 Product: NordicTrack Commercial 14.9 Elliptical
Price: For a great deal on this elliptical, merely go here on Amazon
Warranty: In-home Warranty: Frame Lifetime  /  Parts 6-years /  Labor 3-years  (see the commercial warranty below)
My rating: 8.25/10
Amazon Affiliate Disclosure: I may earn commissions on purchases made through links in this post.
Details and Specifications
Dimensions: 64.5″ L x 26″ W x 80.25″ H
Machine weight: 250 lbs
Maximum user weight capacity: 350 lbs
Step-Up Height: 12″
Flywheel: 32 LBS
Programs: 35
Adjustable Stride Length: 17″ – 19″
Incline: 0-20 degrees
Compact / Folding: No
Fan: Autobreeze Fan
In-home Warranty: Frame Lifetime  /  Parts 6-years /  Labor 3-years
Commercial Warranty: 10-Years Frame / Parts 2-Years  / Labor 1-Year
Features
10″ HD touchscreen display- the large HD screen is one of this elliptical's most impressive highlights. It pairs perfectly with iFit, although it works equally as well with all the other built-in workout programs.
Thirty-five workout programs- this machine is loaded with workouts. If you decide against the optional iFit subscription, you'll still have access to a boatload of workout options.
iFit compatibility- iFit is a fitness app that gives you unlimited access to workouts, which are lead by professional trainers. You can also track all your workout data, access scenic trails, and more. NordicTrack includes one free year with purchase. After that, you'll have to pay a monthly subscription fee to access (you can still use this elliptical without an iFit subscription).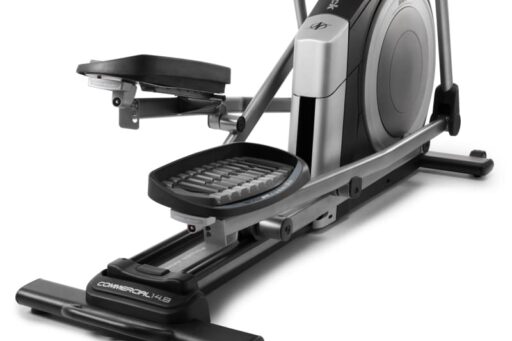 One-touch controls- the one-touch buttons allow you to set your resistance and incline settings instantly. This comes in handy if you like to switch between intensities often during your workouts (like during interval training).
Bluetooth speakers- the built-in Bluetooth speakers allow you to sync your smartphone and jam out wirelessly during your workouts.
Multi-grip handles- the handles are large and offer different grip options. You can also adjust the resistance and incline settings from the handles.
An HR chest strap monitor included- NordicTrack includes a free chest strap monitor, giving you more accurate heart rate readings during your workouts.
Adjustable pedal angle- you can adjust the pedal angle for optimal comfort or to help emphasize specific muscle groups. I believe this plays a part in the adjustable stride length too.
Cooling fan- yup, there's a fan, pretty standard.
Integrated tablet holder- the tablet holder is above the massive display screen, so you won't have to block that gorgeous display to watch Netflix.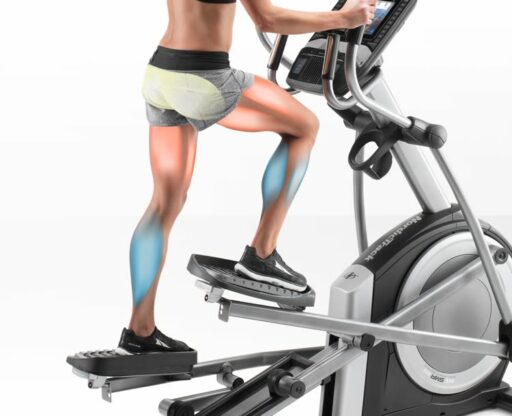 14.9 Frame
The NordicTrack Commercial 14.9 Elliptical comes with commercial-grade steel construction. It is a machine built to last, and it is exceptionally comfortable to use. The machine itself weighs about 200 lbs fully assembled, giving it a pretty solid base. You shouldn't have to worry about the machine moving around or wobbling during use.
Also, the elliptical comes equipped with more substantial sized adjustable pedals that have an additional cushioning layer with the aim to lower the impact on your ankle joints and knees during the workout.
Softtouch (TM) multi-positional upper-body grips help keep you balanced and comfortable when working the muscles of the upper and lower body. The handles are large and offer different grip options. You can also adjust the resistance and incline settings from the handles.
The commercial 14.9 elliptical also provides a smooth running motion due to the Silent Magnetic Resistance (SMR) technology. Thus, the elliptical design is immensely ergonomically-sound regardless of its front-drive design.
Also, the NordicTrack Commercial 14.9 elliptical features the use of a double roller track design. This makes the rollers stable on the tracks with no chance of breaking or coming off the rails during intensive workouts.
Stride Length
I think stride length is the first thing you should consider when choosing a new elliptical. The fact is, if the stride length is too short for you, you're not going to be comfortable. And if your new elliptical isn't comfortable, you aren't going to use it.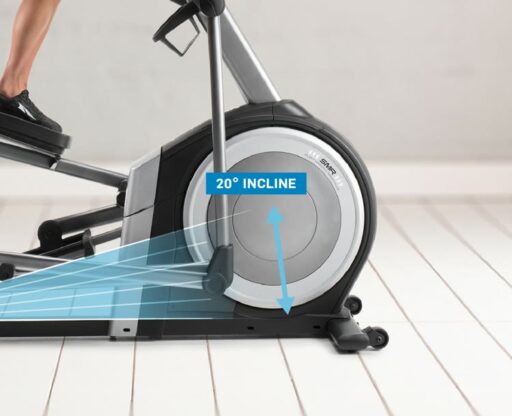 Most high-quality ellipticals come with at least a 20″ stride length. At this size, people of most heights can stretch out comfortably during their workouts (meaning they don't feel like they have to shorten their stride).
We're all different shapes, and even an elliptical with a 20″ stride length is bound not to fit everyone- people under 5'3 ″ or significantly over 6′ for example. The Commercial 14.9 elliptical comes equipped with an adjustable stride length between 17-19″ (depending on the ramp setting).
At this price range, you should expect at least a 20″ stride length. At 19″, folks under 6′ tall probably aren't going to miss the extra inch, but taller people should think hard about this. The stride length is smaller than I'd like, but the frame is heavy-duty and robust enough to handle users up to 350 lbs safely.
14.9 Flywheel
The flywheel is another vital spec I suggest you consider when comparing ellipticals. With ellipticals, much like spin bikes, when it comes to flywheels- more substantial is usually better.
The idea is that heavier flywheels build up more momentum as they start spinning. This momentum helps the wheel continue turning between pedal strokes, reducing the lag or choppiness that can occur mid-stroke.
A heavier flywheel should be able to provide more overall resistance than a lighter one can too- after all, there's more weight to push. Nice ellipticals should have at least a 20 lb flywheel. At this weight, you know there's going to be enough mass to get that wheel spinning smoothly.
The Commercial 14.9 comes with a 32 lb flywheel, which is massive for any price range. This is a reasonably heavy flywheel that contributes to a very smooth and natural elliptical motion. And when you pair this with 26 levels of magnetic resistance, you have the perfect recipe for an elliptical that challenge even the most gifted athletes.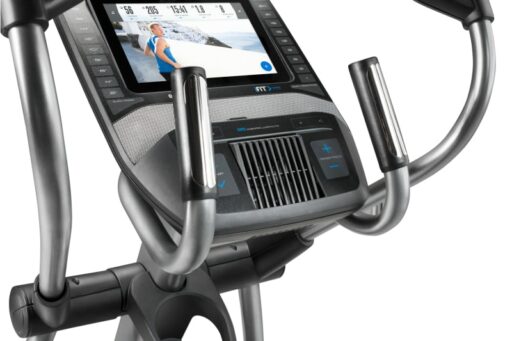 It makes you feel like you are running in the air. This sense of floating on air distinguishes a quality cross trainer from cheap machines. And it further reduces stress to your joints by eliminating jolting motion. This heavy flywheel is going to make for a smooth pedal action during your workouts.
Speaking of resistance levels- more is better because it gives you more control over your intensity. It may not change the overall resistance the machine is capable of providing. Still, it does allow you to increase or decrease the intensity in smaller intervals, allowing you to fine-tune the intensity.
This elliptical also comes with power-adjustable incline settings up to 20° for even more workout intensity. Changing the incline setting also allows you to focus on specific leg muscles more than others (for example, higher inclines tend to focus on glutes).
Overall, the Commercial 14.9 scores highly in the flywheel department. The extra-heavy flywheel and magnetic resistance system are ideal for a smooth, powerful workout.
Console
To start, the NordicTrack Commercial 14.9 Elliptical comes with an excellent 10″ HD Smart touchscreen display, and this is the hub for many of the Smart features. It is a large screen that is easy to read, and you can quickly check your stats, including Calories, Distance, Pulse, Resistance, Time, Speed, Cadence, and RPM.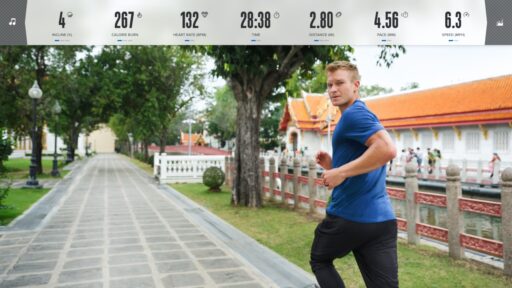 You get a generous selection of workout programs that target weight loss, incline, and resistance training.  Also included is a  free heart rate strap so you can continually monitor your heart rate.
Create customized workout programs at your account at iFit.com. Based on your fitness goals like losing weight and getting in shape, your personalized workouts download onto the Commercial 14.9, and they control the resistance and incline of the machine.
Each program lasts over a defined period and is progressive. The training includes audio coaching to motivate you further. After each work out your stats are downloaded to your iFit account so you can review your progress.
Through Google Maps, you can map out routes, and your elliptical will simulate the terrain. You can watch your progress with street scenes on Google Maps. Once again, your stats download to your iFit Live account for review.
Also, iFit Live offers a series of videos of famous landscapes, and like the Google Map feature, as you progress, the NordicTrack Commercial 14.9 elliptical trainer will simulate the terrain. There is an additional cost for iFit Live.
This console also has an Android browser. Although the Internet is on board, you might want access to your apps too. This elliptical has a secure holder for your tablet computer.
The NordicTrack Commercial 14.9 is iPod-compatible and comes equipped with a jack and Intermix Acoustics 2.0 speakers. There's also an adjustable workout fan with one-touch controls. Efficientlykeeping you cool while you're breaking out in a sweat.
14.9 Assembly and Maintenance
Putting the Commercial 14.9 elliptical together is pretty straightforward. I think NordicTrack does an excellent job with the instruction manual- there are written directions and large images for each step along the way. And the written instructions make sense, which is a nice touch.
That said, this thing is massive, so you should have a second person to help (especially for making sure you get this machine to its final destination before even starting assembly). I'd expect to spend at least 2 hrs getting the job done.
In terms of maintenance, there isn't much to be done. The internal parts and the unit's joints are pre-lubricated from the factory and shouldn't require further lubrication for many years of use. Therefore, you only have to check for loose bolts and parts from time to time, remove the dust from the unit, and keep liquids away from the console.
Pros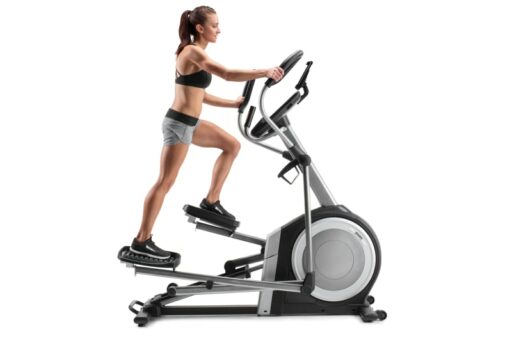 32 lb flywheel;
26 levels of magnetic resistance;
0-20° of power incline;
350 lb weight capacity;
10″ HD touchscreen display;
35 built-in workout programs;
19″ Power Adjustable Stride;
SMR™ Silent Magnetic Resistance
iFit compatible;
One-touch controls;
Bluetooth speakers;
Adjustable pedal angles;
Multi-grip handles;
An HR chest strap monitor included;
EKG Grip Pulse;
Includes 1-Year NordicTrack iFit® membership;
AutoBreeze™ Workout Fan;
Out-of-the-box Assembly;
Water Bottle Holder;
Front-Mounted Transport Wheels;
Integrated Accessory Tray;
Great warranty.
Cons
Only a 19″ stride length;
NordicTrack's customer service has a reputation for being difficult.
NordicTrack Commercial 14.9 Elliptical Summary
The Commercial 14.9 is NordicTrack's most high-end front-drive elliptical to date. For the price, it offers an impressive combination of hi-tech features and performance specs. I think its most remarkable features are its 32 lb flywheel and its warranty- both of which will be tough to beat in any price range.
This elliptical also has a ton to offer in the workout department. If you're looking for an elliptical with loads of workout options, it's going to be tough to find a better option. NordicTrack has designed one of the best-in-class ellipticals here. Overall, Commercial 14.9 is a smart buy.
I hope you found this article helpful and informative. If you have anything that you'd like to share or any opinions about my website, please do speak up. I look forward to your comments, questions, and the sharing of ideas.
Related articles: