Compared with upright stationary bikes, recumbent bikes like the NordicTrack Commercial VR21 allow less stress on your back and lower body. You lean back and pedal with your legs extended in front of your body — not beneath it — for lower impact cross-training.
The VR21 offers quite a sturdy construction and an impressive range of features, including Bluetooth and online connectivity. Specifically, with the NordicTrack VR21, you'll get 32 built-in workout apps, 25 digital resistance levels, 23-pound effective flywheel, iFit Coach compatibility, an integrated tablet holder, and more.
The NordicTrack Commercial VR21 recumbent bike seat looks similar to comfortable office chairs with high backs for support. The seat back on the VR21 is ventilated (mesh material), and the whole seat can be adjusted vertically and horizontally to fit different riders.
If the apps don't do it for you, you also have the option of attaching your tablet to enjoy your content of choice while working out. Additionally, if you have a subscription to iFit Coach, you'll have access to virtually unlimited workout programs to help keep you on track towards achieving your fitness goals.
Learn more in my complete review below
Product: NordicTrack Commercial VR21 recumbent bike
Price: For a great deal on this bike, merely go here on Amazon
Warranty: Frame 5 years / Parts 2 years / Labor 2 years
My rating: 8/10
Amazon Affiliate Disclosure: I may earn commissions from purchases made through links in this post.
Details and Specifications
Assembled dimensions: 59L x 22W x 52H inches (150L x 56W x 132H cm)
Assembled weight: 127 lbs (58 kg)
Supported weight: 275 lbs (125 kg)
Flywheel weight: 20 lbs (9 kg)
Seat: 2-way adjustable
Resistance: Motorized magnetic, 25 levels
Exercise meter: 32 programs, Bluetooth enabled, iFit capable
Amenities: Sound system, cooling fan, tablet holder, bottle holder
Warranty: Frame 5 years / Parts 2 years / Labor 2 years
VR21 Frame construction
This NordicTrack exercise bike features a precision-welded steel frame, coated with a corrosion-resistant and scratch-resistant paint. The color used for the paint finish is black. Furthermore, most of the bike's metallic frame is also sealed by ABS covers, which not only provide extra protection for the structure and the internal parts; they also add an aesthetic touch. The only metallic element of the frame construction that is not steel is the adjustment rail of the seat. This part is the aluminum-made.
The frame has a step-through design. Thus, it offers easy access to the seat, an excellent feature for any users with disabilities or elderly users.
This exercise bike excels in its stability. There are large rubberized stabilizers on both its bases. The ones at the rear are also adjustable, allowing a perfect leveling for the trainer on any flooring.
The unit is relatively heavy. It weighs approximately 127 lbs (58 kg), which is more than twice the average weight of a recumbent road bike. Furthermore, this weight plays an essential role in its stability.
Despite its weight, though, the unit isn't too difficult to relocate once assembled. Its front base has large transport wheels while the rear base features a lifting handle. By using the front wheels to move the bike, you will be handling less than half of its total weight.
In terms of dimensions, this recumbent exercise bike is relatively large. It's 59″ (150 cm) long, and 22″ (56 cm) wide. However, NordicTrack recommends leaving at least two feet of clearance all around it for safe operation and ease of access.
Seat and handlebars
The NordicTrack Commercial VR21 comes with an adjustable seat. The seat is attached to a durable aluminum rail, which offers quite a bit of travel for it; you can lock it into a position closer or farther from the pedals. Therefore, the bike can accommodate users between 5'0″ – 6'5″ (153 – 196 cm).
The seat integrates approx. 2″ (5 cm) of foam padding, providing optimal comfort. The backrest, on the other hand, is not padded; it's made of flexible nylon material and features a ventilated design. Thus, it provides a firm and healthy lumbar support.
In case you're wondering, the backrest doesn't recline. You cannot adjust it separately from the seat. Also, the whole seat assembly doesn't have any angle-adjustability, such as the seat of the 3G Cardio Elite RB.
The NordicTrack VR21 features two sets of handlebars. One is attached to the console mast; these handlebars integrate pulse sensors. The other handlebar set is connected to the seat assembly and moves along with it on the adjustment rail. The seat handlebars don't have pulse sensors, and this may be considered a minus.
But on the other hand, the bike's console is telemetric; it can read your pulse via an HR chest strap transmitter. Both handlebars have rubberized grips for added comfort and optimal hand adherence.
VR21 Resistance
The NordicTrack VR21 features an automatic eddy current resistance system. This means that the bike's resistance is only adjustable from the console, and to make the console operational, you have to connect the bike to a power circuit. A power adapter with several plug adapters for different types of plugs is (included) with the bike.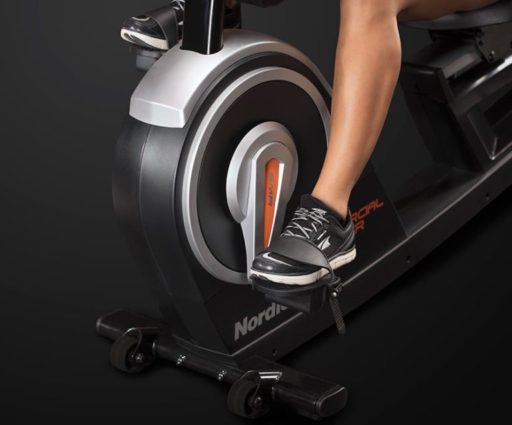 The resistance system consists of a small servo motor and a magnetic brake. As you select a specific resistance level on the console, the motor will adjust the position of the restraint to the flywheel, increasing or decreasing tension.
Also, the console features several workout programs, and by choosing to exercise by using one of those programs, the machine will automatically adjust its resistance.
This exercise bike offers 25 distinct levels of resistance. Thus, the first ones are reasonably light, great for recovery training, or warming up. The top resistance levels, on the other hand, offer the possibility to perform intense workouts that simulate a steep climb and provide a higher burn.
Drive System
The central element to focus on with regards to the bike's drive system is the flywheel. The NordicTrack VR21 features a mid-range wheel with a balanced, perimeter-weighted structure. It weighs 20 lbs (9 kg) and delivers smooth, steady motion, with a reasonably consistent momentum.
Like most exercise bikes with magnetic resistance, this one features a belt drive. It uses a durable, stretch-resistance belt, offering a silent, vibration-free motion. Also, as opposed to a chain transmission, it doesn't require lubrication, so you don't have to go through the hassle of removing and re-attaching the covers every few months.
The bike features a durable, 3-piece crankset. The crank arms are steel-made but have a plastic cover for extra protection and aesthetic touch. They are weighted pedals that have adjustable straps to provide maximum foot stability during pedaling. The pedals have standard threads, so you can easily find replacements for them if needed.
The bike's Q-Factor (spacing between the pedals) is not specified. However, it's similar to the one of a road bike, offering a comfortable foot positioning, without generating extra lateral stress on the knees.
VR21 Control unit
The NordicTrack Commercial VR21 recumbent exercise bike features a console that offers an impressive array of features. It has a 5″ LCD with LED backlight and significant digits, easy to read. It tracks all the important workout metrics, including time, distance, speed, RPM, calories, and pulse.
There are both metric and imperial unit settings for distance and speed. Also, when it comes to pulse reading, you can either use the integrated sensors or a wireless HR chest strap (not included), as the console is telemetric.
The console is iFit enabled. This means that you can sync it with your phone, tablet, or laptop to communicate with the iFit app. This way, you can directly stream your workout data into your iFit account, to keep a better track of your progress.
Also, the iFit app offers several other features that the console itself doesn't have. To use iFit, you will need an active subscription, which is not (included).
In case you don't want to use iFit, the console still has 32 workout programs to keep you motivated. They divide into three main categories, for calorie burning, intensity, and performance. When using one of the preset workout programs, the console will auto-adjust the resistance. You can create your programs or adjust the existent ones. Also, you can select goals for some of the workout metrics, such as distance, calories, or time.
The bike's console has several integrated amenities. To begin with, it has a sound system that is compatible with most smartphones, tablets, or MP3 players. It has an audio jack to connect your device and play your music through the integrated speakers, which provide a slightly better sound than the average speakers of a tablet or phone.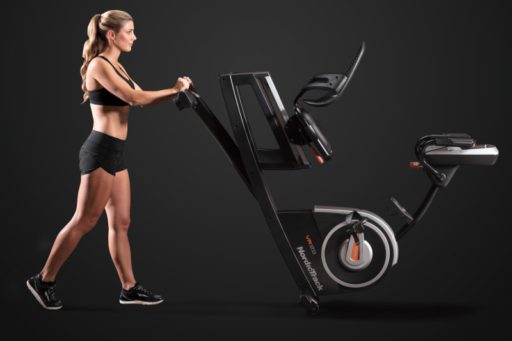 VR21 Assembly and Maintenance
The core of the bike is pre-assembled. However, there still are quite a few pieces to add. You will have to attach the primary base tubes, the seat with its backrest and handlebars, the console mast, the front handlebars, the console, the pedals, and several covers.
This may take more than an hour. Some of the tools required for the assembly are (included), but you will also need a Phillips screwdriver and an adjustable wrench. Also, the manual provides precise assembly instructions.
Since it's a belt-drive bike with a magnetic resistance system, internal maintenance is almost inexistent. Unless an inner part sustains damage and requires replacement, you won't ever need to remove the flywheel or pulley guards.
As for the external maintenance, all you have to do is keep the bike clean, periodically check the bolts and other parts and re-tighten them if necessary, and keep liquids away from the console.
Pros
Durable, commercial-grade construction;
The aesthetic design which can also be a motivation factor;
Adjustable stabilizers on the rear base;
Transport wheels at the front;
Transport handle at the rear base;
Cushioned and contoured seat;
Flexible, breathable, and durable backrest;
Adjustable seat;
Pulse sensors in the front handlebars;
Motorized magnetic resistance system with 25 settings available;
Very smooth, almost silent belt drive;
Balanced, perimeter-weighted, mid-range flywheel for a consistent momentum;
Weighted pedals with adjustable straps;
A large LCD with backlight;
32 preset programs for cardio, intensity, and performance;
The console is telemetric and iFit enabled;
Countdown settings for time, distance, calories, and heart rate;
Sound system included;
Multiple speed cooling fan included;
Tablet holder included;
Bottle holder included;
Maintenance-Free;
Excellent warranty.
Cons
The HR chest strap is not (included);
A tablet placed on the tablet holder will cover the program controls;
The cooling fan is not extremely powerful.
NordicTrack Commercial VR21 Recumbent Bike Summary
The NordicTrack Commercial VR21 is a motorized magnetic recumbent bike, offering 25 resistance settings, 32 workout programs, and an iFit enabled console. It also has several amenities, including a sound system, a cooling fan, and a tablet holder.
Although it doesn't have an extreme weight capacity (only 275 lbs), it's still a durable bike and offers great workout possibilities. Also, it's perfect for light to medium cardio training, muscle toning, intervals, and weight loss. For example, you can burn up to 4-500 calories per hour on it. I recommend this bike to beginners and seniors who are looking for a low-impact workout.
I hope you found this article helpful and informative. If you have anything that you'd like to share or opinions about the content on my website, please do speak up. I look forward to your comments, questions, and the sharing of ideas.
Recommended articles:
Please follow and like us: