The NordicTrack GX 4.7 Recumbent Bike is designed to incorporate various features you would find on a commercial bike at a reasonable price. All those who are looking for a feature-rich cycle that makes your ride as enjoyable and comfortable as possible should consider this version of Nordictrack bike.
The bike offers a challenging workout session with 22 magnetic resistance levels meant to cater to people with different levels of fitness. You can choose from 24 workout apps, including 12 speed and 12 calorie workout apps.
iFit compatibility is one of the essential features of this Norditrack bike version. You can view a Google Map on your phone or tablet as you pedal and the bike's resistance automatically changes to match what you see. It is possible to use Google maps training routes from any corner of the world.
The console of this bike is feature-rich and provides the user with several choices for workouts. The large 5-inch screen displays relevant performance data like distance, speed, time, calories burned, and pulse. Responsive single touch controls allow easy adjustments of resistance.
Learn more in my complete review below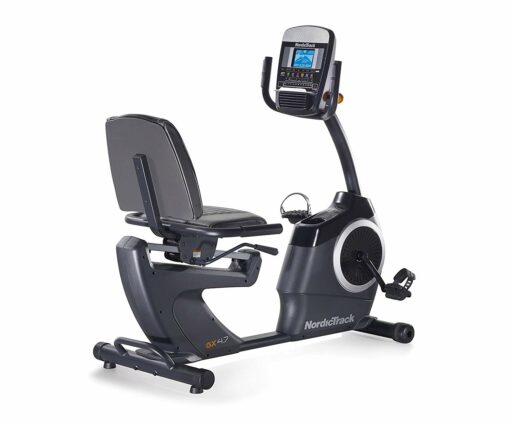 Product: NordicTrack GX 4.7 Recumbent Bike
Price: For a great deal on this bike, merely go here on Amazon
Warranty: Frame lifetime / Brake lifetime / Parts 1 year / Labor 1 year
My rating: 8/10
Amazon Affiliate Disclosure: I may earn commissions on purchases made through links in this post.
GX 4.7 Frame construction
The NordicTrack GX 4.7 features a steel frame, combining ovalized, rectangular, and cylindrical tubes in its structure. All the steel bars come with a durable paint finish which is resistant to abrasion and corrosion.
However, several parts also have ABS covers for extra protection. For example, the drive and resistance elements, as well as the base frame of the seat have ABS covers.
The bike has a step-through design. Thus, it promotes a more accessible entry and exit, an aspect which can be quite important for users with specific disabilities or elderly users.
Compared to other exercise bikes, the NordicTrack GX 4.7 is relatively large. With the seat extender back, it is approx. 57″ (145 cm) long, and 25.4″ (65 cm) wide, while its highest point is the top of the console which reaches approx. 50″ (126 cm) above floor level. Also, NordicTrack recommends leaving at least two feet of clearance all around the unit for safe usage and ease of access.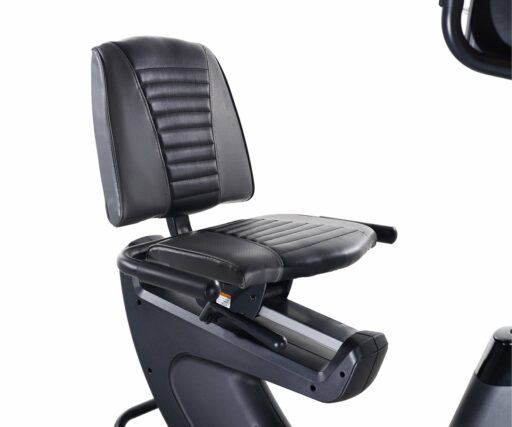 The fully assembled bike weighs over 100 lbs (45 kg); all of this weight adds to its overall stability. But on the other hand, the unit is not too difficult to move. Its rear base features a lifting handle while it's front support comes with transport wheels. Plus, its rear base has a set of adjustable stabilizers with rubber pads.
Seat and handlebars
This NordicTrack exercise bike features a seat designed for comfort. Its bottom part and its backrest are both padded with 2″ of foam material. Also, their upholstery is durable vinyl material designed to last for many years of use.
The seat is adjustable. It is attached to a rail system and can move forward or backward. This means you can easily adjust its position while you are seated by merely pulling the lever on its right side.
The slide rail of the seat offers a decent adjustment range. In other words, the bike can accommodate users between 5'0″ and 6'5″ (153 – 196 cm). Also, the seat is durable enough to support users up to 300 lbs (136 kg).
The backrest cannot be adjusted independently from the rest of the seat. Also, it doesn't recline, and its height is not adjustable such as the backrest of the Diamondback 910SR bike.
The bike comes with two sets of handlebars. One set is attached to the seat assembly. It offers standard, rubberized grips; the distance between them is approximately 18″ (45 cm).
The other set of handlebars is attached to the console assembly. It offers several positions of angle adjustment. Also, due to the location of the console mast, the front handlebar comes close to the user. Therefore, using the front grips does not result in an awkward posture.
The front handgrips integrate metallic EKG sensors. Therefore, if you hold on to them, the console can monitor your pulse. It's important to mention that the console is not telemetric. It cannot track your pulse through a wireless transmitter, only through the sensors integrated into the front handgrips.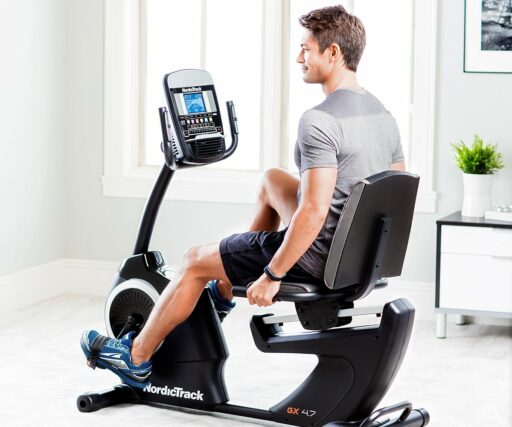 GX 4.7 Drive and resistance
The NordicTrack GX 4.7 has a 15 lbs (6.8 kg) flywheel. It has a balanced construction, made to deliver a consistent momentum and a smooth pedaling motion. The bike's internal drivetrain uses a poly-v, heavy-duty rubber belt.
Therefore, you don't have to go through the hassle of lubricating it every month. Also, the pedaling motion is almost entirely silent and vibration-free.
The bike features an automatic eddy current resistance system. This means that the bike's resistance is only adjustable from the console, and the unit requires an external power source. A US standard power adapter is (included) with the bike.
The resistance system consists of a small servo motor and a magnetic brake. As you select a specified resistance level on the console, the motor will adjust the position of the brake to the flywheel, increasing or decreasing tension.
Also, the bike's console has several internal programs, so when using one of these preset programs, the bike auto-adjust the resistance.
There are 22 resistance levels available. The first ones are relatively light, great for recovery training or warming up. The top resistance levels, on the other hand, offer the possibility to perform intense workouts that simulate a steep climb and provide a higher burn.
Last but not least, the bike comes with a heavy-duty crankset featuring solid steel crank arms and large, non-slip pedals. Each pedal has a weight-element which enables it always to turn face-up when you remove your foot from it. Also, both pedals have adjustable straps.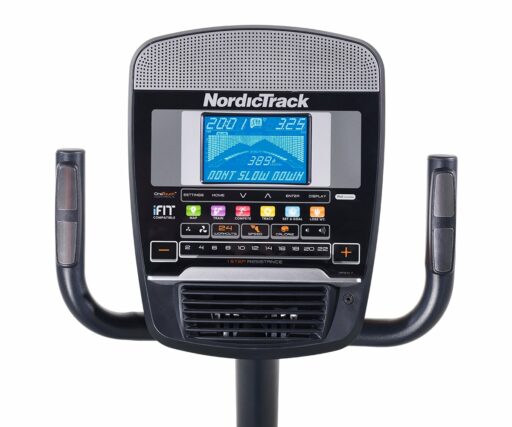 Console
This NordicTrack exercise bike includes a console that offers a wide array of features. First of all, it has a 5″ LCD with an integrated blue LED backlight for superior readability. The display tracks all the important workout metrics, including time, distance, speed, calories, resistance, and pulse. Speed and distance can be either imperial or metric units.
The My Trail function available with many other NordicTrack consoles is also (included). This application shows the distance as a 1/4 mile (400 m) track and counts all the laps that you have completed. Plus, you can select goals for time, distance, and calories.
As I've mentioned above, the console is not telemetric. This means it can only track your pulse through the integrated pulse sensors. It cannot communicate with any Polar or ANT wireless HR chest strap transmitters.
The bike's console is iFit capable. This means you can opt for a wireless iFit module that connects to the console. With an iFit module and an iFit membership, you can connect your bike to your WiFi network to stream your workout into your iFit account.
This allows you to track your progress online. Also, iFit makes available various other features. The list includes custom programs, workout programs based on virtual GoogleMaps trails, and the possibility to compete with other users.
A USB port is also available on the console. Therefore, you can save your workout data on a flash drive and export it into your iFit account without an iFit module.
On the other hand, if you choose not to opt for an iFit module, the console still has you covered. It has 24 preset workout programs. Each program has its own specific. Some are interval oriented, and others aim to help you burn more calories or maintain a constant pulse rate, while others focus on intensity and performance. Needless to say, when using one of the onboard programs, the console will auto-adjust the resistance.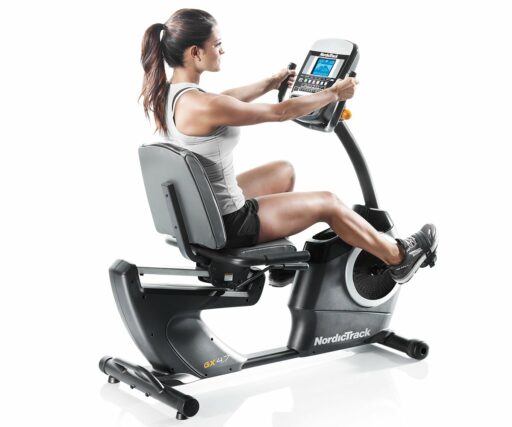 Amenities
The console has several integrated amenities. To begin with, it has a sound system which consists of two speakers placed at the top of the unit. This sound system is compatible with most smartphones, tablets, or MP3 players.
It has an audio jack to connect your device and play your music through the integrated speakers, which provide a slightly better sound than the average speakers of a tablet or phone.
There is also a cooling fan and a tablet holder. The cooling fan is at the bottom of the unit. It is relatively large, so it provides decent cooling and has several speed settings. And finally, the tablet holder is placed right above the fan; it's large enough to accommodate any tablet.
GX 4.7 Assembly and Maintenance
The main body of the bike with the resistance elements and the seat adjustment system comes pre-assembled. Therefore, you only need to attach the front and rear base bars, the console mast, the seat cushions, the handlebars, the console, the pedals, and several small covers.
This shouldn't take more than an hour. The included manual provides step-by-step assembly instructions, and an essential toolkit is also (included).
Maintenance doesn't require much. You should wipe the sweat off the bike with a piece of cloth and keep liquids away from the console. Also, periodically inspect the bike for loose bolts and parts.
Details and Specifications
Assembled dimensions: 56.8L x 25.4W x 49.8H inches (145L x 65W x 126H cm)
Flywheel weight: 15 lbs (6.8 kg)
Supported weight: 300 lbs (136 kg)
Seat: 2-way adjustable
Resistance: Motorized magnetic, 22 levels
Fitness console: 24 programs, iFit capable
Amenities: Sound system, cooling fan, tablet holder, bottle holder
Warranty: Frame lifetime / Brake lifetime / Parts 1 year / Labor 1 year
Pros
The heavy-duty frame can support users up to 300 lbs (136 kg)
The anesthetic design which can also be a motivation factor;
Step-through frame;
Adjustable stabilizers on the rear base;
It has a lifting handle on the rear base;
Transport wheels at the front base;
Cushioned and contoured seat;
Lever-based, quick adjustment mechanism for the seat;
Integrated pulse sensors;
Motorized magnetic resistance system with 22 settings available;
Very smooth, almost silent belt drive;
Balanced, 15 lbs flywheel for a consistent momentum;
Weighted pedals with adjustable straps;
Large LCD console with backlight;
The console is angle-adjustable;
24 preset programs;
USB port;
Sound system included;
Multi-speed fan included;
Tablet holder included;
Bottle holder included;
Little maintenance required;
Fairly easy to assemble;
Excellent warranty.
Cons
The console is not telemetric;
An iFit module is not (included);
iFit membership is not (included);
A tablet placed on the media holder will cover most of the console controls.
NordicTrack GX 4.7 Summary
The NordicTrack GX 4.7 is a recumbent bike designed for home use. It features a motorized magnetic resistance system with 22 settings and an iFit capable console with 24 preset programs. It has a durable frame with a weight capacity of 300 lbs.
It's a mid-range exercise bike, great for various types of training, including recovery, light to medium cardio training, muscle toning, building stamina, and for losing weight. And finally, it is not exactly the most affordable bike. However, it still is at least a few $100 cheaper than a commercial-grade model, offering excellent value for the price.
I hope you found this article helpful and informative. If you have anything that you'd like to share or any opinions about my website, please do speak up. I look forward to your comments, questions, and the sharing of ideas.
Recommended articles:
Please follow and like us: