The NordicTrack Treadmill Desk Platinum is well-made for its purpose: a light or moderate workout to keep you moving while working. If your goal is to exercise while working, then this is an excellent investment.
This latest model of the NordicTrack Treadmill Desk comes with an adjustable incline of up to 10%, a feature that was not available with the previous model. The motor of the treadmill has increased to 3 CHP, and the speed goes up to 8 MPH.
A 3-window LCD shows your speed, and calories burned, distance and incline. It also displays your heart rate if you're using the EKG grips. This treadmill does not come with any pre-loaded programs, but it is iFit-enabled, so you can get workout programs through iFit that will be accessible via your smartphone or laptop.
With the generous desktop space, you will be able to rest both devices on the desk, a nice bonus. The especially great thing about both versions of the Nordictrack treadmill desk is that it can be adjusted from a treadmill desk to a sitting or standing desk in just a few steps.
Learn more in my complete review below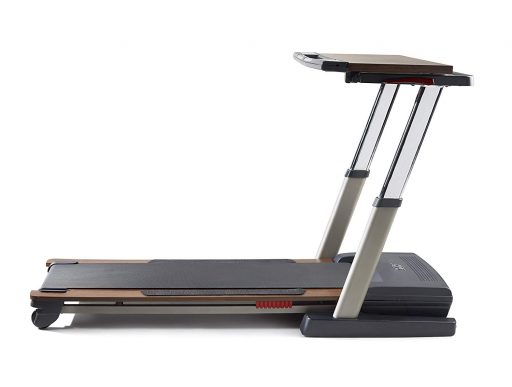 Product: NordicTrack Treadmill Desk Platinum
Price: For a great deal on this desk/treadmill, merely go here on Amazon
Warranty: Frame lifetime / Motor lifetime / Parts 2-years / Labor 1-year
My rating: 7/10
Amazon Affiliate Disclosure: I may earn commissions from purchases made through links in this post.
Details and Specifications
Motor:  3.0 HP
Incline: 0 – 10%
Running Area:  18″ X 60″
Folding: Yes
Top Speed:  8 MPH
Weight Capacity:  350 LBS
Dimensions:  77″ L x 40.5″ W x 48.7″ H
Warranty: Frame lifetime / Motor lifetime / Parts 2-years / Labor 1-year
Platinum Overview
While most treadmill desks are very basic, this one has a lot of great features that make it an excellent option for those who need to get some work done while they work out.
The feature I like best about the Platinum is this treadmill desk can do double-time as a regular office desk. The deck has a SpaceSaver® design, which makes it easy to fold upward, and the desktop remains horizontal. The surface even has a power-adjustable height. Now it's easier than ever to make the most of your workspace.
The tread belt is 18″ x 60″, an upgrade from the base model, so if you want to walk or jump up to the top speed of 8mph, there is plenty of room to work out. The deck is well cushioned, and you can raise or lower the large desk surface to achieve the perfect height for your needs. Another nice feature on the Platinum includes a power-adjustable 10% incline.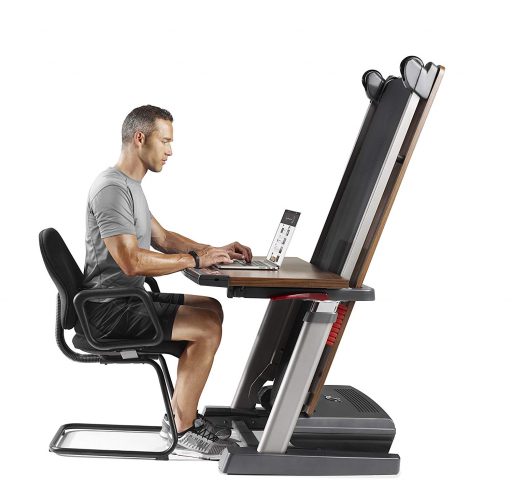 The 3.0 CHP motor is strong and quiet so that you can work without any loud distracting noises, even at the higher speed levels. One of the excellent features on the Platinum is the capability to go up to 8mph, which is twice as fast as you can typically go on a treadmill desk.
NordicTrack includes iFit Bluetooth capability on this one. This means you can have access to several specially designed workout programs, tracking, and sharing, as well as Google maps, which enable you to pick any location in the world and watch the trail unfold in front of you while you work out. iFit requires a yearly subscription that's (sold) separately.
Platinum Features
Adjustable sitting and standing/space saver desk: The adaptable NordicTrack Treadmill Desk Platinum transforms from a treadmill with a desk to a regular office (sitting or standing). As it transitions to a desk, it folds up and incorporates NordicTrack's space-saver design, making storage relatively convenient.
Desktop Display:  the 3-Window LCD makes it easy to read your workout stats.
Work Surface: The desktop is generous in size (40" x 18") and sturdy, it will fit a laptop and a couple of devices, or whatever your immediate needs might be.
USB Charging station: Located in the desk is a USB charger – convenient for keeping smartphones and devices charged.
iFit-compatible: With an iFit subscription, you can enjoy custom programs through Google Maps that take you on virtual walks or runs anywhere in the world.
Track/Belt: The track is 18"x 60", a little longer than the regular NordicTrack Treadmill Desk. This is helpful for those who are taller and have longer legs.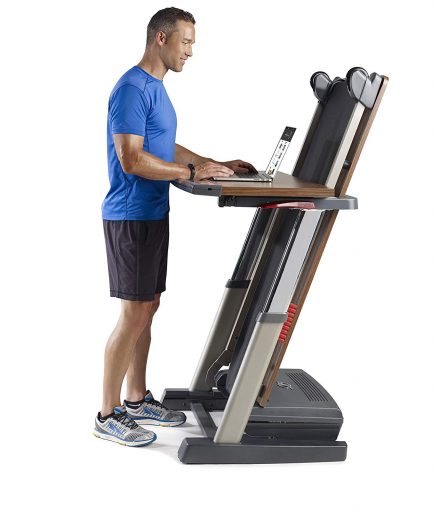 Quiet Work Zone: The motor on the NordicTrack Desk Treadmill is silent; the Platinum upgrade has a 3.0 CHP motor with 2.5" non-flex rollers.
Pros
Stylish with a woodgrain laminate and steel finish
Quiet motor 2.6 CHP
Track: 18" x 60" is a good size for walking and working
Large work surface/desk – 40" x 18."
Adjustable Desk – accommodates different heights
EKG pulse heart rate monitor
Integrated LCD desktop display built into the desk, to monitor the basics and control speed.
iFit-enabled
USB charging station
Space saver design – it folds up to work as a standing desk, a great way to accommodate for limited space.
Cons
iFit subscription sold separately
NordicTrack Treadmill Desk Platinum Summary
If you need to get some work done while you work out, the NordicTrack Treadmill Desk Platinum is the right choice. It's less than $1,500 on sale and comes with a powerful motor and a generously sized runner's deck.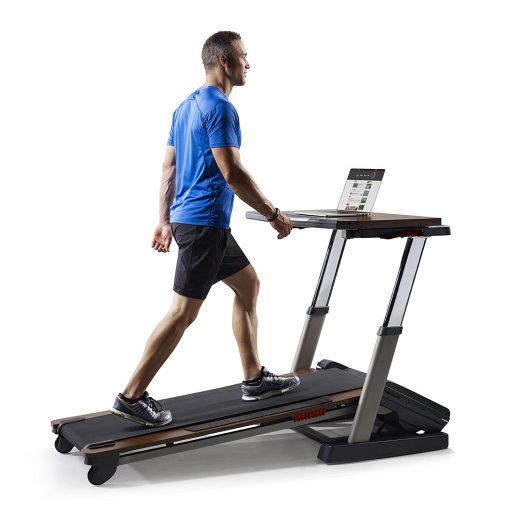 You also can use it sitting or standing, and it's easy to adjust to any height you'd like.  It has a power incline that you don't find very often on a desk treadmill, as well as a reasonable speed.
Lastly, you can take a break from your workout and tap into all of the great features of iFit, which breaks the monotony of regular exercises. This one is worth looking into if you're interested in a treadmill desk.
I hope you found this article helpful and informative. If you have anything that you'd like to share or opinions about the content on my site, please do speak up. I look forward to your comments, questions, and the sharing of ideas.
Recommended articles:
Please follow and like us: