Ergonomically designed and with full-commercial components, the Octane Fitness Airdyne ADX Fan Bike allows you to work out as hard as you want to! For this purpose, the high-quality AirdyneX Fan Bike utilizes a large 27" 26-blade performance fan wheel and a single-stage belt drive for instant activation that combine to deliver smooth and consistent momentum.
This particular inertia drive system ensures not only smooth motion but safe and quick transitions from sprints to stops. With the Airdnye ADX's air/fan resistance, you are in total control of your workout. Your efforts go directly into generating resistance as air/fan resistance works on the premise that the faster/harder you pedal, the more intense the resistance becomes, effectively allowing for unlimited resistance levels.
With its moving handlebars, the AirdnyeX Fan Bike enables you to work both your upper and lower body in unison, or you can rest your feet on the stationary foot-pegs to isolate an upper body workout.  The moving handlebars feature multi-grip positions so you can find the most comfortable hand-placement for you or work different muscle groups depending on hand-placement.
To help keep you motivated, the AirdyneX Fan Bike comes with an easy-to-use Tachometer that visually displays how hard you're working out.  It features an easy-to-view LCD screen that displays motivating workout stats and offers a variety of HIIT and target workouts.
Learn more in my complete review below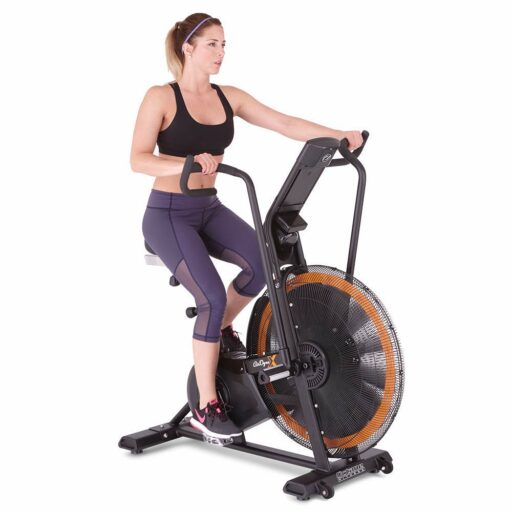 Product: Octane Fitness Airdyne ADX Fan Bike
Price: For a great deal on this bike, merely go here on Amazon
Warranty: Frame 10 years / Parts 3 years / Labor 6 months
My rating: 9.5/10
Amazon Affiliate Disclosure: I may earn commissions from purchases made through links in this post.
ADX Frame construction
The Octane Fitness AirdyneX features commercial-grade construction. Its frame is heavy-duty steel tubing, and double-coated with a rust-resistant and abrasion-resistant paint finish. The colors used are black, except for the perimeter of the drive fan, which is orange, and the seat post/slider, which has a chrome finish.
The Octane AirdyneX is not an extremely large fitness machine. However, it's assembled footprint is approx. 55″L x 26″W (140 x 66 cm), and on top of that, it is recommended to allow at least two feet of clearance all around it for safe and unhindered operation. Its highest point is at the top of the console and stands above floor level at approximately 53 inches tall.
Since it's a gym-grade trainer, the Octane Airdyne X also has a reasonably heavy construction. When fully assembled, it weighs approximately 113 pounds. Due to this weight, stability isn't an issue for the bike even if you're close to its maximum (350 lbs) weight capacity. On top of that, both its bases integrate adjustable stabilizers with large rubber pads. Thus, you should be able to level the unit on any flooring perfectly.
Despite its weight, to move the bike to a storage place after your workout shouldn't be a problem. It's front base has two transport wheels, so by using these wheels when relocating it, you won't be handling its total weight.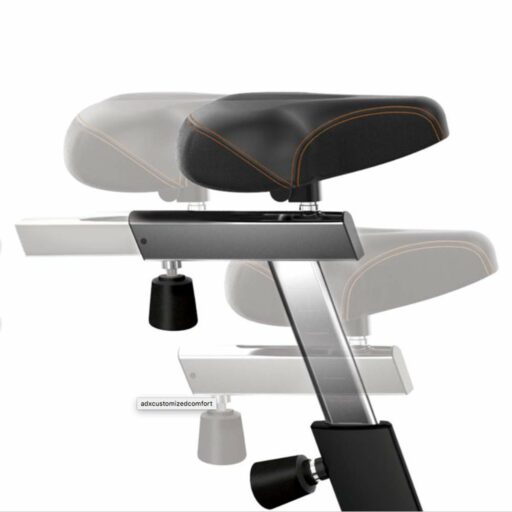 Even though it's not a spin bike, the frame construction of this Octane Fitness exercise bike features a reinforced stepping pad above the crank. This feature gives you the possibility to perform specific exercises that most upright bikes can't support.
Seat & handlebars
The Octane Fitness AirdyneX fan bike comes with a saddle designed to deliver much more comfort than most spin bike seats. It's a medium-sized seat which integrates a generous layer of padding. Plus, its upholstery an extremely durable vinyl material that can last a lifetime.
The seat not only offers up/down adjustment, but it has a horizontal slider that permits fore/aft adjustment. Therefore, the bike provides a biomechanically correct positioning for users between 5'0″ and 6'7″ (153 – 201 cm). Also, as we've mentioned above, the seat bar is durable enough to support users up to 350 lbs (159 kg).
Just like any other fan bike, the Octane AirdyneX features only mobile handlebars. They connect to the bike's main pulley via a linkage arm concealed by the belt and pulley guard. Thus, they will continue to move for as long as you pedal. Or for as long as the flywheel is moving.
They cannot move independently from the pedals, nor can they be locked in place. However, due to the front foot resting pegs, you can exercise only by using the handlebars.
The bike's handlebars feature multi-grip handles, a feature that gives you the possibility to add diversity to your workouts. The handgrips are coated with a sheet of high-density foam, to provide optimal comfort.
ADX Drive & resistance
The bike's primary drive and the resistance element is the 26-blade fan. This is the only element responsible for the unit's strength. There aren't any magnetic brakes or other resistance elements. Also, the console doesn't have any resistance adjustment controls. It's purely a training meter. Therefore, the resistance generated depends solely on how hard or fast you pedal or move the armbars.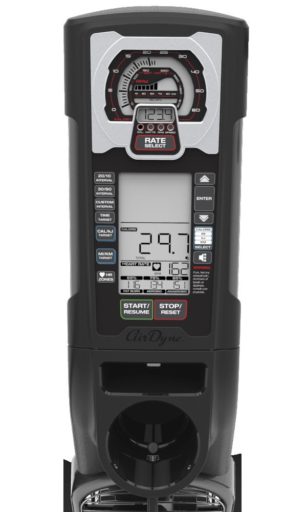 An important aspect with regards to the bike's drive system that we cannot overlook here is the noise generated. Like most air resistance fitness machines, this Octane exercise bike creates a moderate level of noise, primarily when you engage in a more intense workout, and the fan spins at a higher speed.
However, as an example here, no matter how hard you pedal, the sound generated won't cover the sound of your TV on a pretty low volume setting.
The Octane Fitness AirdyneX fan bike uses a belt drive system. This type of transmission comes with a series of advantages. First of all, it generates less vibration than a chain drive. Second of all, it doesn't require lubrication, and finally, it delivers an extraordinarily smooth pedaling motion.
Since it's a heavy-duty bike, it comes with a robust crankset. The crank arms can support the user in standing up pedaling routines, even if they're close to the maximum weight capacity. The pedals are replaceable, featuring standard threads; they're a durable metallic alloy, designed to last a lifetime. They don't integrate SPD elements for spin shoes. However, a set of toe restraints for extra thrust (are included).
Console
The Octane AirdyneX includes an advanced console unit. It features two main displays. The top one is a tachometer, while the bottom one reflects the workout program's data.
The Tachometer Display situated at the top is divided into 60 segments to show calories-per-minute and Watts. It also indicates RPMs and speed. The Program Data Display shows the timer for the interval programs, the round of each interval, sprint and recover data, cumulative metrics (calories/kJ or distance in miles or km), heart rate metrics, battery indicator, and a volume indicator.
The console offers three main interval programs, these being 20/10 interval, 30/90 interval, and Custom interval, which allows you to create your own desired interval workout. There also are three main target setting programs. You can set up a target for time, calories, and distance. Of course, you can also consider the manual mode a workout program, that's why we've specified here that the bike has four programs, not three.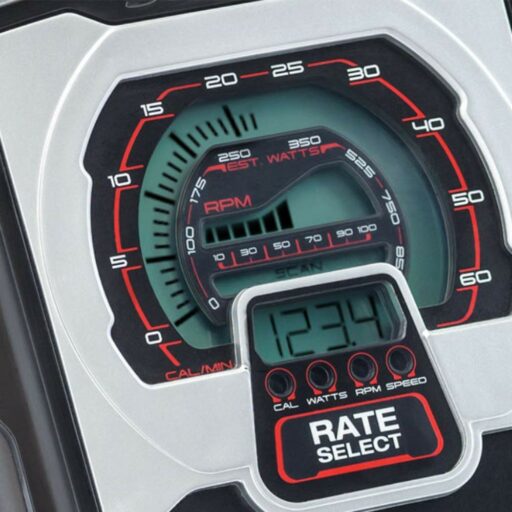 The console also has three preset HR intervals, 65%, 75%, and 85%. Also, it's a telemetric unit and can monitor your heart rate via an uncoded HR strap from Polar Electro or an uncoded Polar compatible model. This accessory (is not included), though.
The console calibration feature is another essential aspect that we need to cover here. The unit has a built-in temperature and pressure sensor, which automatically calibrates the resistance output for differences in air pressure (such as altitude). Also, the console provides a manual calibration procedure. Precisely, the Calibration procedure adjusts the console's calculations of resistance for differences in belt tension and bearing friction. Therefore, the unit can provide entirely accurate readings for your overall calorie consumption.
ADX Assembly & Maintenance
The main body of the bike, including the fan, the crank assembly, the drive system, and the seat post, comes pre-assembled. The elements that require assembly are the bike's base bars, the moving arms, the pedals, the seat, and the console. This shouldn't take more than one hour. The included manual is thoroughly made and provides excellent step-by-step assembly instructions. Also, a set of necessary tools required for the assembly (is included).
For maintenance, it's recommended to periodically dust the fan and check for loose bolts/parts. The belt and other internal parts shouldn't require any lubrication or maintenance for a long time. However, if the joints develop squeaking noises, some lubricants should solve the problem.
Technical Details and Specifications
Assembled dimensions: 55L x 26W x 53H inches (140L x 66W x 137H cm)
Assembled weight: 113 lbs (51.3 kg)
Supported weight: 350 lbs (159 kg)
Handlebars: Mobile
Seat: 4-way adjustable
Drive: Belt
Resistance: Air
Fitness meter: 3 interval workouts, 3 HR workouts, one manual
Included accessories: Bottle holder
Warranty: Frame 10 years / Parts 3 years / Labor 6 months
Power: via an AC adapter, Rated 120V 60Hz Input, 9VDC, 1500mA. However, it can also use 2 D-type batteries, which are (included).
Pros
Heavy-duty construction – can hold users up to 350 lbs;
Biomechanically correct design, promoting a natural exercising posture;
Adjustable stabilizers with rubber caps on both bases;
Transport wheels;
Foot step-pad for easy entry and exit or different workouts;
Foot resting pegs included;
Mobile arms with multi-grips for a wide variety of workouts;
Large padded seat;
4-way adjustable seat;
Can accommodate a wide range of users, between 5'0″ and 6'7″;
Durable metallic alloy pedals with toe restraints which can support the full weight of the user;
Air resistance system, great for interval workouts;
Advanced console with two main displays, one for the tachometer and one for the workout programs data;
Telemetric console – can read pulse via an HR Polar transmitter;
Two preset interval programs and one custom;
Three preset HR intervals;
Target setting functions;
Maintenance-Free;
Easy to assemble;
Excellent warranty.
Cons
No stationary handlebars;
Doesn't have a sound system;
No tablet holder;
HR chest strap not included;
No online connectivity.
Octane Fitness Airdyne ADX Summary
The Octane Fitness Airdyne ADX is a fan exercise bike featuring extremely sturdy construction, able to hold riders up to 350 lbs. It offers superior micro-adjustability and a well-cushioned seat.
Also, it comes with a highly accurate console with calibration possibilities, which keeps track of all your essential workout data and offers three interval programs, target value settings, and HR intervals.
It's an exercise bike for users of all levels, perfect for high-intensity interval training, but also recovery training. Furthermore, it's also great for endurance building, muscle toning, and weight loss. Regarding price, it's not the most affordable trainer. However, considering that it's a commercial-grade bike, it offers excellent value for the price.
I hope you found this article helpful and informative. If you have anything that you'd like to share or opinions about the content on my website, please do speak up. I look forward to your comments, questions, and the sharing of ideas.
Recommended articles:
Please follow and like us: