The top-of-the-line Octane Fitness Q47xi elliptical machine delivers health club quality, function, and results to your home gym. The Q47xi is one of the most advanced and technologically superior ellipticals made.
Designed to help you commit to and maintain a fitter lifestyle, they are built to last and perform exceptionally. With this in mind, the Q47xi comes with SmartStride, CROSS CiRCUIT, which is the ability to interact with your tablet via the Octane Fitness app, and a slew of challenging workouts!
Octane's trademark Workout Boosters, including X-Mode, GluteKicker, and ArmBlaster, add cross-training with various commands every few minutes to keep the heart pumping and muscles pushing. These add variety, motivation, and productive intervals. And higher intensity leads to better results and efficient, effective workouts that keep users coming back again and again.
The 30:30 program is an innovative new workout available exclusively on Octane Fitness elliptical machines. It motivates and challenges exercisers of all abilities. The 30:30 interval program was designed by Paul Robbins of Athletes' Performance to increase cardiovascular performance for elite athletes but works equally well for all exercisers.
Learn more in my complete review below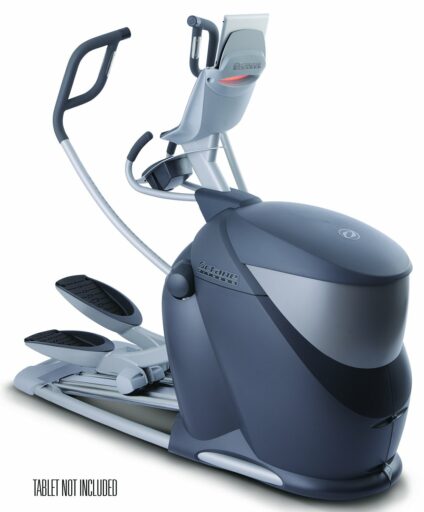 Product: Octane Fitness Q47xi Elliptical
Price: For a great deal on this elliptical, merely go here on Amazon
Warranty: Frame lifetime / Parts 5 years / Labor 1 year
My rating: 9.5/10
Amazon Affiliate Disclosure: I may earn commissions from purchases made through links in this post.
Q47xi Frame construction
The Octane Fitness Q47xi features a heavy frame with a total assembled weight of 290 lbs (132 kg). Most of its structure is thick steel tubing resulting in an extremely sturdy construction. This weight is also essential for the machine's overall stability. Even if the user is close to its maximum weight capacity, it won't move, rock, or wobble.
Plus, the base section of the frame is equipped with adjustable, rubberized stabilizers so you can perfectly level it on any surface.
This Octane Fitness elliptical trainer is relatively large. Its footprint is 72″L x 33.5″W (183 x 85 cm), and when in use, it requires an active area of 84″L x 37.5″W (213 x 95 cm), as the pedals will extend back, over the base of the frame. It's recommended to assign a workout area for the machine of at least 8′ x 4′ for safe and unhindered usage.
All the steel parts in the machine's construction come with corrosion-resistant and scratch-resistant paint. The color used is gray; however, the rails of the pedals feature a chrome finish.
The machine's frame features several anchor points for attaching elastic bands and other accessories. There are two anchor points at the rear part of the base, one anchor point at the front base, and one under the console. By attaching elastic bands to them, you can considerably diversify your workouts. The machine's console has several exercises that will prompt you to use elastic bands.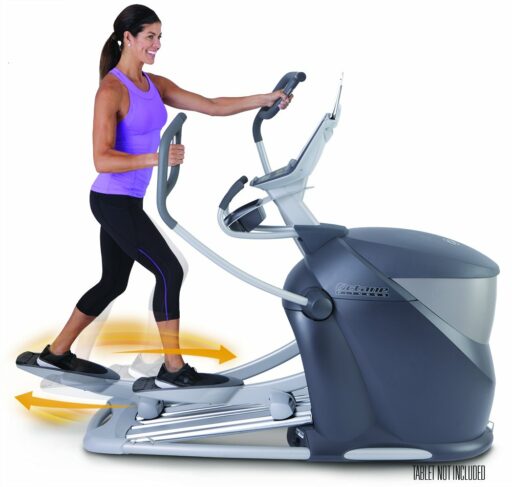 Pedals and Handlebars
This elliptical trainer features a specific pedal construction, quite different than other machines. The pedal arm and the pedal frame are one piece, with no welding or screws in between.
The tops of the pedals are a heavy-duty PVC material, with a Soft-Grip design, made to offer superior traction and stability. They can support users up to 300 lbs (136 kg). They are large and can accommodate athletic shoes of all sizes.
Each pedal arm comes with dual rollers, which integrate industrial grade, sealed ball bearings for smooth operation, and a lifetime lasting duty. The rails are concave, which eliminates the possibility of a roller to slide off them.
This elliptical trainer features two sets of handlebars, fixed and mobile. The portable arms integrate the pulse sensors. They also feature a multi-grip design; depending on your grip, you can put more or less focus on specific muscle groups. The fixed handlebars are simple. They do not have pulse sensors.
Elliptical path, stride, Q-Factor, and step-up height
The rails of the machine are set at an angle, though, so each ride has a slight feel of going up a soft ramp. But the elliptical path is horizontal with a design based on precise human biomechanics.
Thus, it delivers a supremely comfortable natural movement and flows, both forward and backward, without stress on the joints, which is ideal for all levels of exercisers.
Although this Octane elliptical doesn't have an incline system, it does have a feature that many other machines in this price range do not have. It's the adjustable stride, which ranges between 18″ and 26″ (46 – 66 cm).
It's Octane's SmartStride system, which automatically replicates your natural movement, analyzing and measuring your pace and direction.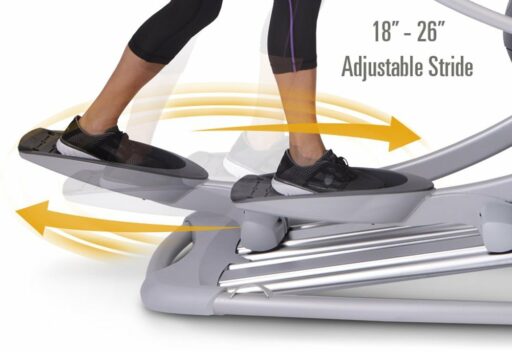 As your pace or direction changes, SmartStride adjusts to your stride length. Size-based programming allows you to set the starting forward stride length that best fits your leg length and fitness level.
The machine's pedals spacing (or Q-Factor) is 1.8″ (4.6 cm); it's quite narrow compared to other ellipticals. Thus, the lateral stress on your joints is less during the workout. Also, the pedals are relatively large, allowing you to position your feet on them in various ways, to achieve perfect comfort.
Last but not least, the step-up pedal height (distance between the top of the lowest pedal and floor) is 5″ (12.7 cm). Also, the maximum pedal elevation is approx — 10″ (25.3 cm). Therefore, to avoid any issues, make sure to assemble and use the machine in a room with a ceiling height that is at least 12-13″ (30-33 cm) higher than your height.
Q47xi Drive and resistance
The Octane Fitness Q47xi elliptical trainer features a silent belt drive, powered by a heavy-duty poly V belt, designed to last for many years of use. The flywheel, although not extremely heavy, it does have a mid-range weight, having most of its weight in its perimeter, to deliver a smooth motion.
The machine allows reverse pedaling; this means you can diversify your workout focusing on different muscle groups depending on the way you pedal.
In case you're wondering, the mobile arms cannot be locked. They will continue to move for as long as you pedal. Therefore, in case you don't want to move your arms during your workout, you will have to hold on to the fixed handlebars.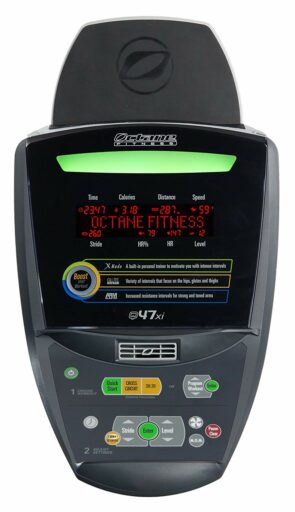 This Octane Fitness elliptical trainer features a motorized magnetic resistance system. This means it requires a connection to a power circuit for the resistance to become operational. The resistance is only adjustable from the console. Also, several console workouts will auto-adjust the resistance.
The machine's control unit offers 20 distinctive resistance settings. The first several levels deliver light workouts, perfect for warm-ups or recovery training. Conversely, the top 17-20 resistance settings provide quite a challenge, which makes them ideal for interval workouts, building stamina, and losing weight.
Console
The console is simple to navigate, whether you're choosing Quick Start or an advanced workout – or whether you're connecting to SmartLink. You select the level of technology you want to fuel your workout.
The Q47xi console accommodates your iPad with three placement options – Watch, Read, and Surf. The large display screen simultaneously displays all your workout data, and it also features multi-color SmartLight technology.
SmartLight signals how hard you're exercising, if you're in your target heart rate zone, and when to prepare for the next interval in a Workout Booster or CROSS CiRCUIT. Now that's smarter training.
Octane's exclusive Workout Boosters energize exercise with periodic intervals that deliver the ultimate in cross-training. They help to make workouts more effective and efficient. You follow the prompts such as the squat, lean back, pedal fast, and more to blast the entire body.
Workout app
The Octane Fitness app is a free workout app that helps link your fitness goals to real results! The app wirelessly connects to and controls your Octane machine from your mobile device. You can access a ton of programs that make workouts more efficient, useful, and motivating!
Take advantage of goal-based programs, workout tracking, live videos of CROSS CiRCUIT exercises and Workout Boosters, and a ton of extras that help you get – and stay – fit. With more than 225 activities and 35 workout plans, and CROSS CiRCUIT, the Octane Fitness app significantly broadens options for optimal conditioning.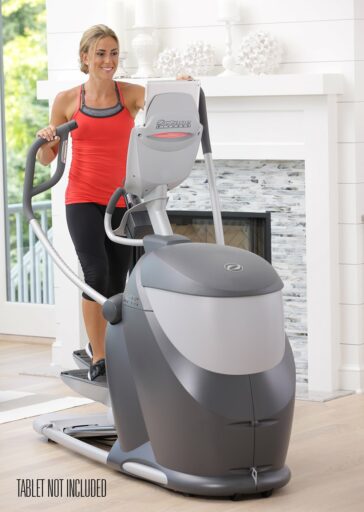 Select the muscle groups you want to target and the tools you want to use, and the app delivers an ideal regimen. With instructional and motivational videos, all you have to do is keep going. Plus, with easy app updates, you'll benefit from even more exercises and workouts over the years!
With the app, the Workout Boosters take on a whole new level of excitement with valuable video demonstrations, tips, and coaching. This virtual personal trainer pushes you to perform and adds variety and guidance to keep you progressing.
The app makes it easy to see and share your progress. It automatically stores your workouts and preferences and tracks your sweat session details – all in one convenient app!
You can monitor calories burned, time, distance, speed, heart rate, and more for today's workout, the past 30 days, or since you began using the app – for a quick, comprehensive view of your efforts.
Learn more about the Octane App
Compatible with Bluetooth 4.0; 4th generation iPad or later, iPad Mini 2 or later, iPhone 5 or later, iPod Touch 6th generation or later; running iOS 10.0 or later. Internet connectivity required for specific videos either through WiFi or mobile networks (GSM/3G/4G/LTE). Android Tablets running Android OS 5.0 or later, 1 GB of RAM (not compatible with Android phones).
Optional accessories
Octane Fitness offers several accessories for their ellipticals. This first to mention is the elastic band set. These bands can be attached to the anchor points of the machine. They offer the possibility to work your arm muscles performing biceps curls, pec flies, shoulder presses, etc. The set includes two Yellow bands for light resistance, two Red bands for mid-range resistance, and two Blue bands for more substantial resistance.
There's also a set of stationary pedals, which can be attached to the rear base of the machine. These footrests give you the possibility to only use the arms of the elliptical, or the elastic bands, without moving your legs.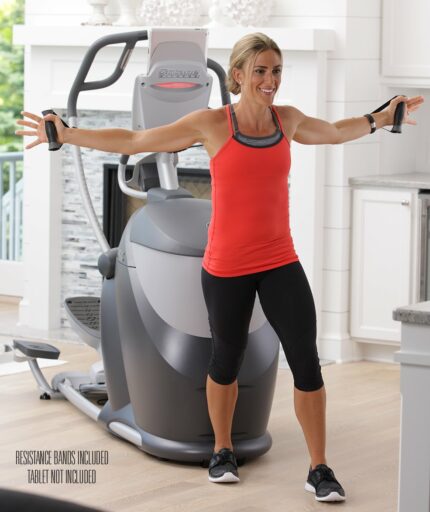 Q47xi Assembly and Maintenance
The core of the machine comes pre-assembled. All the internal parts are already in their place and shrouded by the guards. Therefore, the assembly only requires you to add the console mast, the moving arms, and the top covers of the drive system. The manual provides excellent step-by-step assembly instructions. Tools for assembly (are not included), though.
The primary maintenance aspect is keeping the rails clear of any debris or textile fibers, as they can induce damage either to the tracks or to the rollers. The machine's joints may require lubrication after a while, in case they begin to emit noises during usage. Other than this, it's recommended to periodically check for loose parts and re-tighten them if it's the case.
Details and Specifications
Assembled dimensions: 72L x 33.5W x 64H inches (183L x 85W x 163H cm)
Assembled weight: 290 lbs (132 kg)
Weight capacity: 300 lbs (136 kg)
Stride: Adjustable, 18 – 26 inches (46 – 66 cm)
Incline: No
Resistance system: Eddy current, 20 levels
Premium, high polished display screen
Bluetooth 4.0 and ANT+ connectivity
Console: 14 programs
72 workout programs with the free Octane Fitness app
Multi-color SmartLight feedback center
Simultaneously displays essential workout data
Three placement options for a tablet – watch, read, surf
Polar wireless heart rate compatible
Customized Workout Boosters
Warranty: Frame lifetime / Parts 5 years / Labor 1 year
Pros
Extremely sturdy machine;
Elegant, professional-looking design;
Decent weight limit – 300 lbs;
Adjustable levelers;
Perimeter weighted flywheel for a consistent momentum and smooth pedaling;
Multi-grip handlebars;
Bluetooth 4.0 and ANT+ compatible;
Polar wireless heart rate compatible;
Pulse sensors integrated into the mobile arms of the machine;
SmartStride system, with an automatically adjustable stride between 18″ and 26″;
Quiet operation, ideal for apartment use;
20 levels of eddy current resistance;
14 main workout programs;
3 Booster programs;
Free Octane Fitness app with 72 workout programs;
Safety locking function for the console and pedals;
Goal tracking functions for time, distance and calories;
Different optional accessories available, including stationary footrests and elastic bands for arms workouts;
Tablet holder and accessory tray included;
Little maintenance required;
Excellent warranty plan.
Cons
No incline;
No sound system;
Octane Fitness Q47xi Summary
The Octane Fitness Q47xi is an elliptical trainer featuring very sturdy construction, motorized magnetic resistance, automatically adjustable stride, and a console with 14 workout programs and 3 "Booster" programs. Elevate your workout with 72 programs on the free Octane Fitness workout app.
The Octane Q47xi is a club-quality elliptical trainer sold for home use. This premium elliptical trainer can provide a just-right cardio challenge for many years, no matter what your skill level. It supports upper body cross-training too, so it's effectively a home gym, not just a lower-body cardio trainer.
The trainer's resistance levels and programs make it an excellent choice for light to intense cardio workouts, interval workouts, endurance development, muscle toning, and weight loss. Finally, the Octane Q47xi is a rather expensive machine but does offer excellent value for the price.
I hope you found this article helpful and informative. If you have anything that you'd like to share or opinions about the content on my website, please do speak up. I look forward to your comments, questions, and the sharing of ideas.
Recommended articles:
Please follow and like us: