The Octane Fitness xR4x Seated Elliptical is one impressive-looking machine that does enable you to tone up your lower body, improve your overall fitness, and increase your activity level while sitting in a comfortable position.
The xR4x seated elliptical provides a full-body workout and burns 23% more calories and activates three times more muscles than a recumbent bike. The cushioned seat has a backrest for more significant support. It is fully adjustable to help you find the most comfortable position because there are 15 seat height positions and five tilt settings.
The defining feature that sets the xRide recumbent elliptical apart from recumbent bikes is Octane's 16″ PowerStroke technology. PowerStroke allows for optimal leg extension and power drive, delivering more muscle engagement. Due to its innovative design, xRide users demonstrate more activity in their glutes and have the potential for increased calorie burn during workouts.
Octane's trademark Workout Boosters, including X-Mode, Leg Press, and Chest Press, add cross-training with various commands every few minutes to keep the heart pumping and muscles pushing. These add variety, motivation, and productive intervals. And higher intensity leads to better results and efficient, effective workouts that keep members coming back again and again.
Learn more in my complete review below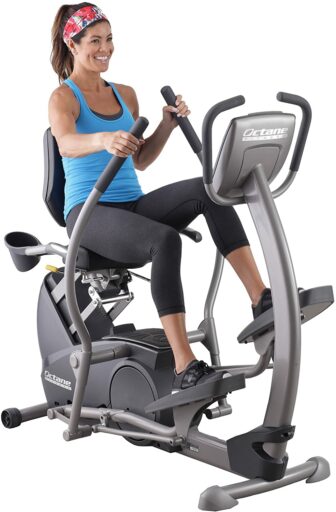 Product: Octane Fitness xR4x Seated Elliptical
Price: For a great deal on this hybrid, merely go here on Amazon
Warranty: Frame lifetime / Parts 3 years / Labor 1 year
My rating: 8.5/10
Amazon Affiliate Disclosure: I may earn commissions on purchases made through links in this post.
Details and Specifications
Assembled dimensions: 53L x 35W x 53H inches (135L x 89W x 135H cm)
Assembled weight: 196 lbs (89 kg)
Weight capacity: 300 lbs (136 kg)
Seat: 4-way adjustable
Handlebars: Mobile and fixed
Resistance system: Eddy current, 20 levels
Console: 6 programs, 3 boosters
Extras: Tablet shelf, bottle holders
Warranty: Frame lifetime / Parts 3 years / Labor 1 year
xR4x Frame construction
Although it's not a commercial machine, the Octane Fitness xR4x does have the construction of one. It features a frame made of steel tubing, with considerably sturdy and heavy construction. When fully assembled, it weighs approx. 196 lbs (89 kg).
All this weight is well-reflected into its overall stability. Differently put, the machine won't wobble or rock with you when exercising. On top of that, the front base features a set of adjustable levelers, concealed by two plastic covers.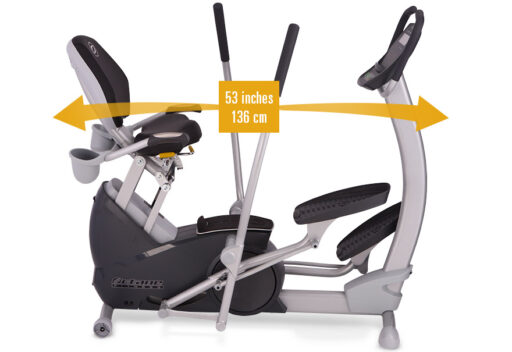 Despite its weight, the xR4x elliptical is fairly easy to move once assembled. Its rear base features rotating caps, which serve as transport wheels. However, keep in mind that the machine is not foldable.
With the frame fully assembled, its footprint is approx. 48″L x 22″W (122 x 56 cm), and its overall length / width are 53″L x 35″W (135 x 89 cm). So, the machine will require a minimum usage area of 5′ x 4′ (152 x 122 cm).
As I've mentioned earlier, all the parts in the machine's structural frame are steel-made. They feature a highly durable, industrial-grade powder coating, resistant to scratching and corrosion. The color used is gray, this being the only color available for this machine.
However, its construction does integrate several plastic parts. These are the covers of the drive system and several joint covers. The pedals are also a heavy-duty PVC material, but their bases are steel-made as well.
This Octane Fitness elliptical trainer doesn't have a step-through design. However, entry and exit are easy to achieve as the front part of the motor case features a durable step-up pad. This pad can also be used as support for your feet when you only want to use the mobile arms of the machine and not the pedals.
Seat and handlebars
The Octane Fitness xR4x recumbent elliptical trainer features a highly adjustable seat. It offers 15 adjustment positions for its height and five tilt adjustments. The adjustments are made by pulling the levers underneath.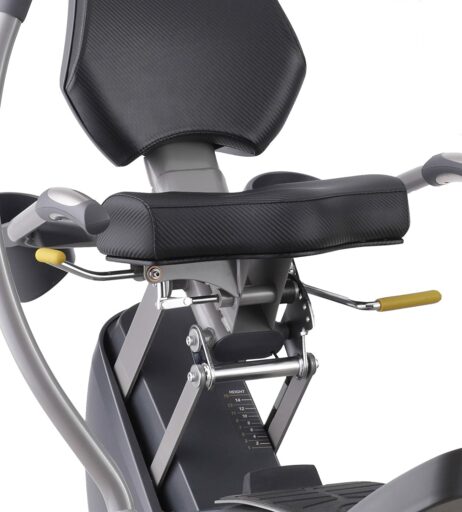 There's one for tilting and one for adjusting the height. Thus, the machine can accommodate users between 5'0″ and 6'6″ (153 – 198 cm) with no problem. Also, the machine has a maximum user weight capacity of up to 300 lbs (136 kg).
The backrest does not adjust independently from the seat, but due to the five tilt adjustment settings, you can change its angle. This can help you achieve either a more comfortable exercising position or focus your muscles differently.
The seat offers excellent comfort. Both the seat and the backrest integrate a consistent layer of cushioning. The upholstery is a highly durable vinyl material that can last a lifetime if not abused and treated with care.
And one last aspect to mention about the seat regards the two bottle holders. They attach to the rear bar of the seat's frame, and they're large enough to accommodate sports water bottles of most sizes.
When it comes to handlebars, this Octane fitness elliptical machine has three sets. Two are stationary, one attached to the seat assembly, and one attached to the front console mast. The grips of the seat handlebars come equipped with EKG pulse sensors, so by holding onto them, the console unit can monitor your pulse.
There's also a set of moving arms or handlebars which connect to the machine's pedal bars and crank system. Therefore, they will continue to run for as long as the pedals are moving. Also, they can only move alternately back and forth and cannot move independently from the pedals.
xR4x Drive system
The first aspect to mention here regards the machine's pedals. The Octane xR4x comes equipped with a set of durable pedals featuring a soft grip surface. They articulate, which means they adjust the position slightly as you pedal, to adapt better to your foot positioning.
They're also relatively large and allow you to position your feet on them in different ways to focus on various groups of muscles.
The joints between the pedals and the moving arms of the machine integrate heavy-duty, sealed, stainless steel ball bearings, which promote a very smooth motion. The internal transmission is a durable poly-v belt, which results in a tranquil drive. Also, another advantage of a belt drive is that the belt doesn't require lubrication.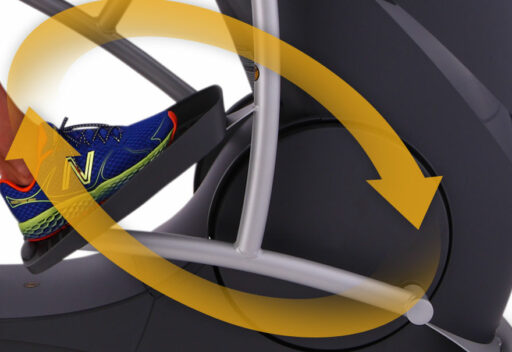 The flywheel weight is not specified, but according to the resistance and momentum it produces, we can safely say it's a mid-range flywheel. It's perimeter-weighted; thus, the pedaling motion is smooth and steady.
It's also bi-directional; in other words, you can pedal in reverse without losing resistance. One of the booster programs on the console will prompt you to pedal in reverse.
One vital characteristic to mention regarding the drive of this fitness machine is the Octane 16″ PowerStroke technology. This interests the machine's elliptical path, which is oblique, designed to deliver more muscle engagement.
Due to this aspect, you will benefit from more glute activity and produce a power output of up to 22% more than for the average recumbent bike.
Resistance system
The Octane Fitness xR4x elliptical trainer comes equipped with a motorized magnetic resistance system that consists of a small magnetic brake and a servo motor. This means that the resistance is only adjustable from the console.
And for the console to become operational, the machine must be connected to a power circuit (power cord and adapter included).
As you adjust the resistance from the console controls, the servo motor will change the position of the magnetic brake to the flywheel, which will result in more or less resistance. Also, some of the programs on the console will automatically adjust the resistance.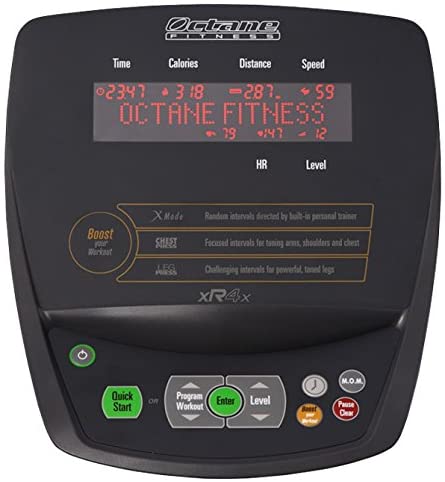 The machine makes available 20 distinctive levels of resistance. The first several ones promote light workouts, great for muscle toning, warm-ups or rehab training after surgery or injuries. The top 18-20 resistance settings deliver quite a consistent pedal resistance, offering the possibility to undertake more demanding cardio workouts and simulating a steep climb.
xR4x Console
The machine's console is somewhat similar to the one on the Q47x elliptical trainer. It features a LED-based display that indicates various workout metrics, including time, distance, speed, calories, and heart rate. Distance and speed are in both imperial and metric units.
However, it can only monitor your heart rate if you use the EKG sensors integrated into the seat handlebars. The unit is not telemetric and does not work with wireless HR chest strap transmitters. Also, it allows you to personal input data such as age and weight, to calculate your calories burned more accurately.
The console unit does not have online connectivity. However, it has six main workout programs, and three booster programs to keep you motivated. The main workouts are Manual, Random, Interval, Beginner, Distance Goal, Calories Goal.
Manual Program –
It's the machine's base program, one of the most preferred by users, the program which allows you just to pedal and adjust the resistance as you like during your workout;
Interval Program –
It enables you to design a custom workout of up to 4 alternating intervals, defining the desired duration and resistance for each interval;
Random Program –
It provides computer-randomized resistance variation with a virtually infinite number of combinations. It will give you a new course every time you select it;
Beginner Program –
Offers a 14-day planned workout sequence to help jump-start your exercise program. Each day's workout includes preset values for resistance level, time and a suggested speed;
Distance Goal Program –
It gives you the possibility to complete a virtual race with a distance readout that counts down from 6.2 miles (10 kilometers). The program has "hills" as well, to simulate a terrain variance.
Calorie Goal Program –
Offers a "flat course" workout until you have burned a desired number of calories. You can adjust resistance during this workout as you like, to burn more calories during a shorter time but with a higher intensity.
The Booster programs are specific to the Octane Fitness ellipticals. The xR4x has three exercise boosters, these being X-Mode, Chest Press, and Leg Press.
X-Mode –
It's a workout mode that chooses 1 of 6 challenges every minute. The challenges are Push-Legs, Pull-Arms, Push-Arms, Reverse, Fast, Resistance+. Each challenge has it's own specific, and the machine will guide you through it to benefit from a diversified workout.
Chest Press –
Although the term might remind of a bench press of fly press that you can perform on a weight stack machine or strength cage, it's not exactly like that. During the Chest Press booster, the machine will prompt you only to use the moving arms to focus chest, arms, and back muscles. Also, keep in mind that the mobile arms cannot be moved simultaneously in the same way as for a bar press.
Leg Press –
It's similar to the Chest Press booster, during the Leg Press booster, the console will prompt you only to use the pedals and not the mobile arms. Also, just as for the mobile arms, the pedals cannot be moved simultaneously in the same way, as for a conventional leg press in a leg press machine. So, the Leg Press booster is a workout that only involves pedaling.
The console features a MOM (Movement Management Mode) function. This is a safety function that disables the buttons and adds maximum resistance to the pedals, rendering the machine almost impossible to use. It's's designed to discourage small children from using experimenting on the elliptical.
One last feature to mention here regards the console tablet holder. It has a tablet shelf that can host tablets or magazines, to keep yourself entertained while exercising. However, as I've mentioned earlier, this elliptical does not have a Wi-Fi function or online connectivity, so you cannot transfer the workout data to an online fitness tracking website.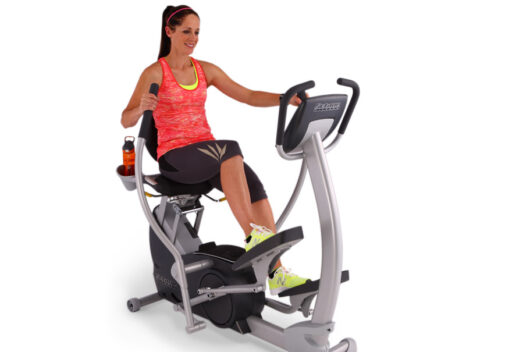 xR4x Assembly and Maintenance
Most of the machine comes pre-assembled. You only have to attach the backrest, the console mast, the moving arms, and the console. This shouldn't take more than half an hour. All the necessary tools are (included), while the manual provides precise assembly instructions.
This fitness machine doesn't require too much maintenance. All you have to do is keep it clean and periodically check for loose bolts and parts.
Pros
Extremely sturdy machine;
Elegant, professional-looking design;
Decent weight limit – 300 lbs;
Adjustable levelers;
Adjustable Seat with 15 height positions and five tilt positions;
Three sets of handlebars, one on the seat, one on the console mast, and one set of moving arms;
Pulse sensors integrated into the seat handlebars;
Large soft grip pedals;
Quiet operation, ideal for apartment use;
Perimeter weighted flywheel for a consistent momentum and smooth pedaling;
20 levels of eddy current resistance;
Six main workout programs;
3 Booster programs;
Safety locking function for the console and pedals;
Goal tracking functions for time, distance and calories;
Tablet holder and accessory tray included;
Little maintenance required;
Excellent warranty plan.
Cons
No online connectivity;
Doesn't have a cooling fan;
No sound system.
Octane Fitness xR4x Seated Elliptical Review Summary
The Octane Fitness xR4x is a seated elliptical trainer featuring a motorized magnetic resistance system with 20 levels and a programmable console with six standard programs and three booster programs. It has an ergonomic, 4-way adjustable seat.
It's perfect for recovery training, endurance development, and muscle toning, but also interval training and weight loss. And finally, it's not the most affordable machine but does offer exceptional quality and value for the price.
I hope you found this article helpful and informative. If you have anything that you'd like to share or any opinions about my website, please do speak up. I look forward to your comments, questions, and the sharing of ideas.
Related articles:
When it Comes to Exercise, I Think About How to get started
Creating a Home Fitness Workout Plan