The (L NOW) pooboo C590 Indoor Cycling Bike features a unique design. Its frame is heavy-duty steel that allows it to support up to 300lbs/136kgs. The framework also features an anti-scratch and anti-corrosive yellow and black paint finish. The colors are subtle and will blend perfectly into your home.
The pooboo C590 Indoor cycling bike also features a 49 lbs flywheel. When it comes to wheels, the heavier the flywheel, the better the resistance and stability. The 49-pound flywheel is on the front side of the bike. The manufacturer has installed a sweat guard to protect it against sweat.
Another feature I like about this spin bike its magnetic resistance system. This system is maintenance-free and provides enough resistance for every type of athlete; beginners, intermediate, and pros. This system is also friction-free and quiet.
When it comes to the seat, the pooboo C590 comes with a four-way adjustable seat. This seat is full and comfy. The C590 exercise bike comes with 4-position grip handlebars, which are great for different riding positions. Unfortunately, you can only adjust vertically.
Learn more in my complete review below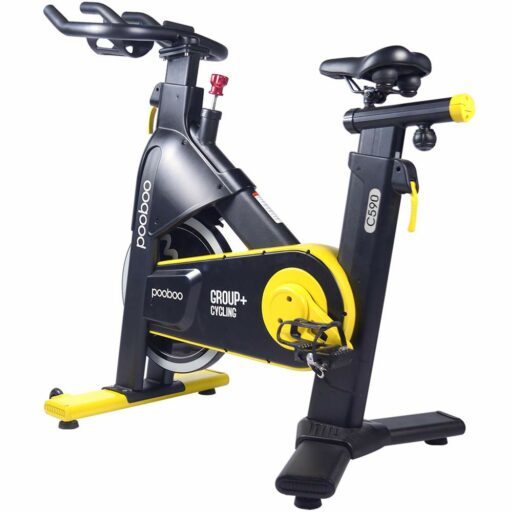 Product: (L NOW) pooboo C590 Indoor Cycling Bike
Price: For a great deal on this bike, merely go here on Amazon
Warranty: 1 year
My rating: 9.75/10
Amazon Affiliate Disclosure: I may earn commissions on purchases made through links in this post.
C590 Frame construction
The pooboo C590 features a triangular frame made of thick, ovalized steel tubing. Its exact net weight isn't specified, but the fully assembled unit weighs more than 120 lbs (54 kg). This is more than three times the weight of the average road bike and adds to the cycle's overall stability.
Despite its weight, once assembled, it is relatively easy to move. Its front base is equipped with a set of large silicone wheels that facilitate its relocation. Also, both base bars of the bike has adjustable, rubberized stabilizers that allow you to level it on any floor perfectly.
As opposed to most other spin bikes, the pooboo C590 has three levelers on the rear base for improved stability.
Most of the bike's frame comes coated with a black paint finish, except for the front base, which is yellow. The paint finish is highly resistant to corrosion and abrasion. Several parts of the bike have ABS covers as well. For example, the belt guard and the braking system guard are of durable ABS plastic.
Compared to other indoor cycling bikes, the pooboo C590 isn't much more massive. With the frame fully set up, it is approx — 51″ (129 cm) long, and 22″ (56 cm) wide. Its maximum height (with the handlebar fully extended) is approx — 46″ (116 cm).
Seat
The pooboo C590 includes a saddle designed for improved comfort. Its top is made of durable polyurethane material, thicker at the rear, to provide extra cushioning. It is contoured, featuring a longitudinal groove for improved breathability. Plus, it has two suspensions springs at the back, which allow it to adapt to the user's movement during seated workouts slightly.
It's also important to mention that the seat attaches to its slider via a standard, collar-based system. Therefore, if you will ever want to replace it, compatible options should be widely available in any bike shop.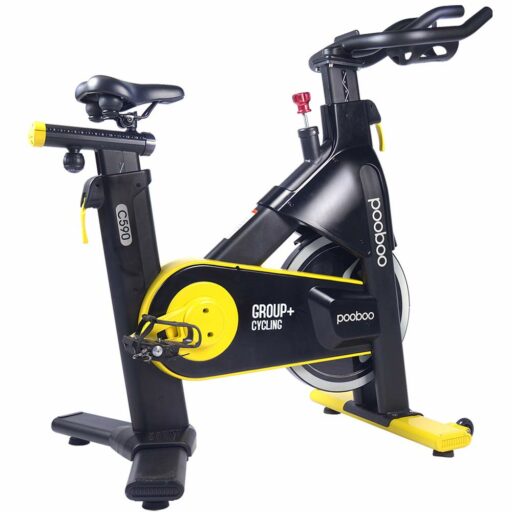 The seat is four-way adjustable (up, down, forward, and backward). Its upright post has multiple adjustment positions, while the horizontal slider adds several extra inches of front-to-back adjustment. Therefore, the bike can accommodate users up to 6'5″ (196 cm) with no problem. Also, the seat can support users up to 300 lbs (136 kg).
C590 Handlebars
The pooboo C590 features a handlebar similar to the C580 model. It has a multi-grip design. It doesn't have drop-down grips but does integrate a set of curved aero bars. These promote a comfortable race grip. The section between the aero bars features a small shelf that can serve as a phone or tablet holder while their front section integrates a bottle holder.
The bike's handlebar is coated by a layer of polyurethane to provide a secure and comfortable grip. However, as opposed to other indoor cycling bikes, it does not have pulse sensors. Therefore, in case you want to monitor your pulse during your workout sessions, you will have to use a separate device. A fitness console is not (included) either.
As opposed to the seat, the handlebar only offers two-way adjustability (up, down). Its upright post has an adjustable span of several inches.
Both the seat and upright handlebar posts have a lever-based adjustment system. This promotes a rapid adjustment. Conversely, the horizontal slider comes equipped with a turn-knob.
Resistance system
The pooboo C590 features a manual magnetic resistance system. Thus, it doesn't require an external power source. Also, it doesn't include a console, so it cannot adjust the resistance automatically.
The bike's resistance system consists of a magnetic pad attached to the tension knob on the main bar of the frame. By turning this knob clockwise, the magnetic pad moves closer to the flywheel, which results in more magnetic pull. This increases pedaling difficulty.
As opposed to other spins with a magnetic resistance system, the pooboo C590 doesn't have pre-determined tension levels on the adjustment knob. You turn the knob until you pedaling difficulty.
The tension knob also fulfills the purpose of an emergency brake. You can press it down to immediately stop the flywheel from spinning. This may be necessary as the pedals continue to turn for as long as the wheel is spinning.
C590 Drive system
The first element to cover here is the bike's flywheel. The pooboo C590 comes equipped with an extra-heavy, 49 lbs (22.2 kg) flywheel. Due to this weight, the bike provides a very consistent momentum. Plus, the wheel is perimeter-weighted for improved inertia, quite an essential requirement for spinning workouts.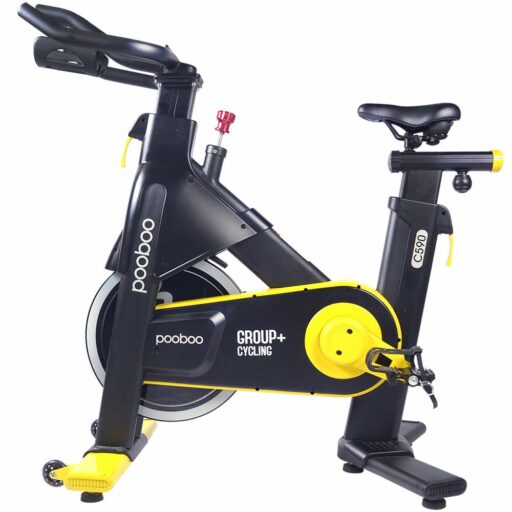 The flywheel is bi-directional. Differently put, it allows you to pedal in reverse. However, it is not possible to coast on this exercise bike, so when pedaling in reverse, you will get the same resistance as when pedaling forward.
The bike comes equipped with a belt drive system. This type of drivetrain comes with several advantages. First, you don't have to go through the hassle of lubrication. Second, the pedaling motion is whisper-quiet. And third of all, a belt generates less vibration than a chain.
Since it's a bike made for all types of spin workouts, the pooboo C590 comes equipped with a heavy-duty crankset. Its crank arms are thicker and broader than for regular bikes, and the pedals are metallic. Therefore, they can support the full weight of the user with no problem, as long as they don't exceed the specified 300 lbs (136 kg) weight capacity.
Last but not least, the included pedals are equipped with adjustable toe cages so you can correctly secure your feet during exercising and benefit from extra thrust. The pedals do not integrate SPD elements for spin shoes. However, they have standard 9/16 threads, so compatible replacements are widely available.
C590 Assembly and Maintenance
The main body of the bike with the drive and resistance elements comes pre-assembled. You only have to add the two base bars, the seat, the handlebars, and the pedals. The task is far from being complicated and shouldn't take more than 30 minutes.
The manual provides pretty clear assembly instructions, and a set of necessary tools is (included) with the bike. However, due to the weight of the bike, two persons may be needed, at least until assembled.
Once assembled, maintenance doesn't require much. Its transmission doesn't need lubrication. You only have to keep the unit clean, and periodically check for loose parts.
Details and Specifications
Assembled dimensions: 50.9L x 22.2W x 45.6H inches (129L x 56W x 116H cm)
Shipping weight: 130 lbs (59 kg)
Flywheel weight: 49 lbs (22.2 kg)
Weight capacity: 300 lbs (136 kg)
Seat: 4-way adjustable
Pedals: With toe cages
Drive: Belt
Resistance: Magnetic
Fitness console: Not included
Extras: Bottle holder, tablet holder
Warranty: 1 year limited
Pros
Commercial-grade frame construction;
High weight capacity – 300 lbs (136 kg);
Aesthetic design;
Adjustable stabilizers on both bases;
Transport wheels on the front base;
4-way adjustable seat;
2-way adjustable handlebar;
Comfort saddle with rear springs and a contoured PU top;
Extra-heavy 49 lbs flywheel with a perimeter-weighted design;
Heavy-duty crank, able to support any user up to the maximum listed weight, in upright pedaling position;
Heavy-duty pedals with toe cages for foot stability;
Multi-grip handlebar with long aero bars;
Tablet support included;
Bottle holder included;
Whisper-quiet, maintenance-free belt drive system;
Easy to assemble;
Little maintenance required.
Cons
No fitness console;
No pulse reading function.
pooboo C590 Summary
The (L NOW) pooboo C590 is an indoor cycling bike featuring a commercial-grade construction. It's equipped with an extra-heavy (49 lbs) flywheel, a magnetic resistance system, and offers superior micro-adjustability. With this in mind, it's designed for all types of spin workout.
It's perfect for intense cardio training, interval training, strength and stamina development, muscle toning, and weight loss. It's not exactly one of the most affordable bikes but offers excellent value for the price.
I hope you found this article helpful and informative. If you have anything that you'd like to share or any opinions about my website, please do speak up. I look forward to your comments, questions, and the sharing of ideas.
Recommended articles: