If you are looking to bring commercial-grade exercise equipment into your home then this Precor EFX 835 Crosstrainer Elliptical review might help. This is real gym equipment – this actual model is one of the most popular ellipticals used in gyms and hotels around the world – and now you can have it at your home!
The Precor EFX 835 Crosstrainer is a self-powered unit, and it comes with fully adjustable CrossRamp angles that span from 10 to 35 degrees, moving handlebar, a total of 15 pre-set workouts which are made to fit everyone's workout plan, up to 20 resistance levels for variety in your exercise, as well as workout telemetry in the shape of a built-in heart rate monitor with Smart Rate technology.
By choosing the right combination of pre-programmed workout routines and resistance levels, you can vary your exercise and achieve the results you desire much faster.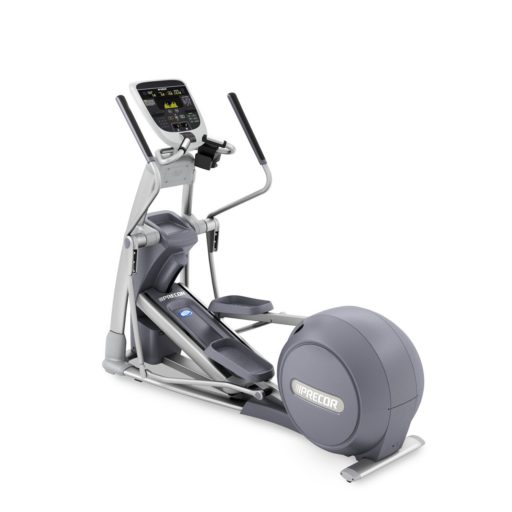 Learn more in our complete review below…
Product: Precor EFX 835 Crosstrainer Elliptical
Price: For great deals on this elliptical, merely go here on Amazon
Warranty: In-home Lifetime frame and welds, ten years parts and wear items, 1-year labor
My rating: 10/10
Affiliate Disclosure: We may earn commissions from purchases made through links in this post.
Precor Technology Helps
As we mentioned, this model employs Precor's CrossRamp technology (fully automatic) which allows you to change the height of the elliptical path along which your feet travel, granting a more natural motion and a more intensive workout. Also, Variable Stride Geometry is there to help you work out your lower body more efficiently by targeting specific muscle groups.
In addition, perhaps the most significant benefit you get with an elliptical trainer is the low-impact motion which relieves strain and stress on your joints, and it is taken to a new level with the EFX 835.
Their patented low-impact EFX motion is as close as it can be to a natural, fluid movement and it has the lowest rate of perceived exertion when compared to similar systems which are used for cardiovascular exercises.
Also, this motion is designed in such a way that it helps your feet maintain constant contact with foot pedals, which is essential for reducing impact and strains.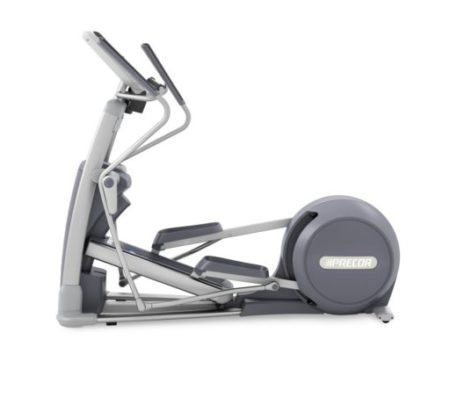 Workout Programs
The EFX 835 Elliptical also helps you fine-tune your workout. In particular, it provides you with vital exercise data gathered by the machine. In addition, all of this data is displayed on a streamlined LED panel on the central console which lets you control every significant aspect of your training.
It gives you readouts such as resistance level, the angle of the CrossRamp, distance traveled, the number of strides per minute, or a total number of strides, average speed, calories burned per minute/hour, heart rate, the time elapsed/remaining and many more.
You can also select one of the preset programs – manual, interval, cross-country, gluteal, custom, hill climbing, fitness test, cross training or basic HRC programs.
In addition, the level of detail and the range of dedicated programs with this machine take it to a whole new level and is a significant reason why people decide to invest in this quality of elliptical. With this in mind, it's for the very keen elliptical user intending to use it on a regular basis. Furthermore, this is not a hobby trainer!
Console Features
Electronic Readouts: Resistance Level, CrossRamp Level, Distance, Strides / Min, Total Strides, Calories, Heart Rate, Time Remaining, Time Elapsed, % Complete, Time in Zone, Segment Time Remaining, Average Speed (strides per min), Calories / Min, Calories / hour, Watts, METS, Target HR, Average HR, Stride Length
Numeric Keypad: Yes
Motion Controls: Yes
QuickStart: Yes
Tactile Dome Keys: Yes
Units Selection: Metric or U.S. Standard
Console Language(s): English, French, German, Spanish, Dutch, Italian, Russian, Portuguese, Chinese, Japanese, Korean
Maximum Workout Time: Unlimited
Maximum Pause Time (Pause): 30 seconds
Preset Workouts:
15 programs accessed directly by 6 buttons:
Manual
Interval
Interval
Total Body Interval
Variety
Cross Country
1 Gluteal
2 Gluteal
Custom
Performance
Hill Climb
Fitness Test
1 Cross Training
2 Cross Training3 Cross Training
Navy Fitness Test
Heart Rate
Basic HRC
Weight Loss
Muscle Monitor: Shows muscle recruitment related to change in CrossRamp
Electronic Readouts: 21
Features and Specifications:
Dimensions: 80 by 32 by 68 inches (L x W x H)
Unit Weight: 340 pounds
CrossRamp Technology lets you target specific muscles or all major muscle groups by adjusting the cross-ramp angle
The patented low-impact EFX motion is smooth and natural, making your workouts more comfortable
Patented movement allows heels to remain in contact with foot pedals, reducing muscle, tendon stress
Ergonomic moving handlebars let you tone and condition your entire body
Reversible pedal rotation
Accessories holder
Integrated transport wheels
Moving handlebars for a total-body workout
20 resistance levels
Touch and telemetry heart rate monitoring
Lifetime frame and welds, ten years parts and wear items, 1-year labor

What Others are Saying – Online Reviews
This elliptical has excellent user reviews posted online by people who have bought it. The machine was universally praised for many aspects, but the buyers were unanimous that it is one of the most reliable machines they have ever had the pleasure of using.
The reviews match the projected reliability of the manufacturer itself, and you would be hard-pressed to find any of the competing models that can outlast the Precor EFX 835.
I highly recommend trying one before you decide they are too expensive.
People also seem to like the console and the preset programs which cater to experienced hardcore users. Lastly, it just looks good!
This model from Precor is very, very good but no elliptical trainer is without its flaws. Since this is a commercial grade elliptical trainer it can be quite noisy which is something that might not bother you when you're at the gym, but you tend to notice if you're at home. But, then again, the noise is always associated with commercial models, and it is not exactly deafening!
==>Click here to read verified amazon user reviews<==
Pros:
Smooth and natural movement
Excellent build quality with a sleek modern design
Outstanding reliability and stability
The machine is self-powered, so there is no need for an electrical outlet
Advanced LED panel gives you a lot of useful information
Advanced preset programs
Cons:
The price tag
The machine can make some noise
Precor EFX 835 Crosstrainer Elliptical Summary
Simply put, the Precor EFX 835 Crosstrainer Elliptical is THE top of the line. Moreover, I haven't found an elliptical machine for home use that can beat it regarding quality, ride, and features.
Therefore, make no mistake this is commercial, gym quality and not intended for hobby or occasional use. To get value for money from this price range, you need to be a serious and dedicated user.
It costs as much as a small car but if you want the best it can be worth every cent. Nonetheless, can you get a good workout on something cheaper? Absolutely! Will you notice any difference when using this machine? Absolutely! Accordingly, worth it for pro users who want the best for years to come.
I hope you found this article helpful and informative. If you have anything that you'd like to share or any opinions on any of the content on my site, please do speak up. I look forward to your comments, questions and the sharing of ideas.
Note: Thank you for all the support you've given to our website. I truly appreciate it.
Recommended articles:
Please follow and like us: