The ProForm 905 CST Treadmill has a lot going for it. It comes with a large running surface, a strong motor, and a ton of pre-programmed workouts to choose from. It also comes with one of the industry's best shock absorption systems, and it folds for storage.
The 905 CST comes with a 3.0 CHP motor. When it comes to home treadmills, we should expect the motors to be anywhere between 2.0-4.0 CHP. Stronger is better because it means the motor won't have to work as hard during use (which also means it should last longer).
The 905 CST has a running surface of 20″ x 60″. This treadmill is off to a good start with this operating surface size. ProForm equipped the 905 CST with its patented ProShox Cushioning system, which will significantly reduce the compression forces through your legs.
The ProForm 905 CST has 30 built-in workouts. With this many workouts to choose from, I don't see how anyone could get bored on this machine. Also, like all ProForm machines, this treadmill is compatible with iFit. This workout app gives you access to unlimited workouts led by professional personal trainers.
Learn more in my complete review below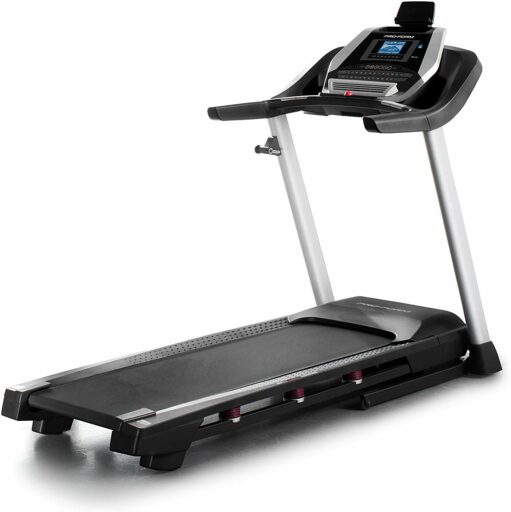 Product: ProForm 905 CST Treadmill
Price: For a great deal on this treadmill, merely go here on Amazon
Warranty: Frame Lifetime/ Motor lifetime / Parts 3 years / Labor 1 year
My rating: 8/10
Amazon Affiliate Disclosure: I may earn commissions on purchases made through links in this post.
Details and Specifications
Assembled dimensions: 79L x 37W x 61H inches (201L x 94W x 155H cm)
Tread belt dimensions: 60L x 20W inches (152.4L x 51W cm)
Shipping weight: 224 lbs (101.6 kg)
Supported weight: 350 lbs (158.7 kg)
Motor: 3.0 CHP
Incline: Automatic, 0%-12%
Deck cushioning: ProShox (3-cell)
Speed range: 0.5-12 MPH
Console: 30 workout programs, Bluetooth, and iFit enabled
Extras: Sound system, cooling fan, tablet holder, accessory trays
Warranty: Frame Lifetime/ Motor lifetime / Parts 3 years / Labor 1 year
905 CST Frame
The ProForm 905 CST has a heavy-duty steel frame construction with an assembled weight that exceeds 200 lbs. This weight plays quite an essential role in its overall stability. Which is also enhanced by the adjustable levelers in its front base. Despite its weight, the unit is not too difficult to handle. Its front base frame comes with a set of transport wheels which facilitate its relocation.
This ProForm treadmill is not extremely large in comparison to other models. However, it still takes approx. 79″L x 37″W (201 x 94 cm) of floor space. It's advisable to assign a workout surface for it of at least two feet on each side and at least three feet at the rear of the deck for safe operation.
On the other hand, the ProForm 905 CST features a folding frame. Its deck can be folded up and locked in an upright position via the latch on the left console mast.  The 905 CST does not have a hydraulic assist system for unfolding the deck. When unfolding it, you will have to lower it yourself. Also, if you're wondering, the machine's length is reduced by approx — 2/3 when the deck is locked in an upright position.
The machine's steel frame is double-coated with a chip-resistant and rust-resistant paint finish. The base of the frame is black, while the console masts are silver, these being the only colors available for this unit. Also, the side rail covers, as well as the motor cover and several other small covers are durable ABS material.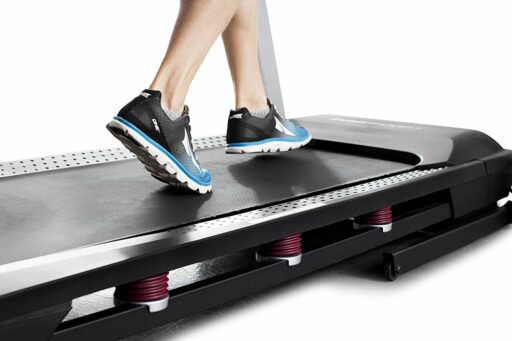 Deck
This ProForm treadmill features a highly durable deck; it can support users up to 360 lbs (~159 kg). It uses an industrial-grade rubber belt which provides a 60″L x 20″W (152.4 x 51 cm) running surface which should accommodate users comfortably up to 6'5″ (196 cm), promoting a natural stride and a correct leg extension.
The belt rolls over two precision-machined 1.9″ (4.8 cm) crowned rollers. The crowning not only improves the rollers' grip on the belt, but it also prolongs the lifespan of the belt.
Like other ProForm treadmills, the ProForm CST 905 has the ProShox™ deck cushioning system. It consists of three pairs of spring cells, which can reduce up to 25% of the stress on the joints. Thus, a run or walk on this treadmill results in less workout-related pain and gives you the possibility to exercise for a more extended time.
905 CST Incline & step-up height
The ProForm 905 CST treadmill comes with a motorized incline system. This means you can only control the incline from the console, while the unit has a connection to a power source. Also, since the console has several onboard programs that use the incline, it can adjust the incline automatically, depending on the program in use.
The incline system consists of a small lift situated under the front section of the deck. As you adjust the incline from the console controls, the lift will slowly elevate the front part of the deck.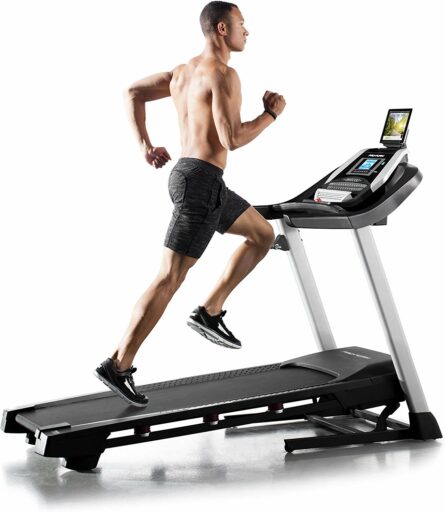 The console makes available 12 incline levels and adjustment increments of 1%. There are two types of incline controls on the console, for gradual incline adjustment and quick incline adjustment. The quick incline keys cover all the 0% – 12% settings.
When it comes to the deck's step-up height, the running surface is approx. 8″ (20 cm) above floor level. Also, by setting the incline to its maximum position, the front part will reach a height of approx. 13.5″ (34 cm) above floor level. Therefore, it's advisable to install and use the machine in a room with a ceiling height that is at least 15″ (38 cm) higher than your height.
Motor
As I've mentioned earlier, the ProForm 905 CST comes with a 3.0 CHP motor, designed to support long-distance running workouts without overheating or losing performance. It also comes with a small flywheel, which is meant to reduce vibration and improves stability, delivering a very smooth motion of the belt.
The motor offers a speed range between 0.5 MPH and 12 MPH. Just as for the incline, the console features controls for gradual speed adjustment and quick speed adjustment (from 1 to 12 MPH). The continuous adjustment keys offer the possibility to adjust the resistance in increments of 0.1 MPH and 0.5 MPH.
By pressing one button repeatedly, the speed of the belt will be fixed in increments of 0.1 MPH, while when pressing and holding the button, the speed adjustment will increase to 0.5 MPH. This is quite a useful feature as you can easily find the most comfortable pace for your workout.
The motor of the 905 CST treadmill is not extremely noisy. For example, it won't cover the sound of your TV on a moderate volume setting. However, the cadence will be heard, especially if you engage in a more demanding workout.
905 CST Console
The ProForm CST 905 console is not much different than the one of the 705 CST. It has a 5″ LCD with blue LED backlight and significant digits for improved readability. The display covers all the essential workout metrics, including time, distance, number of vertical feet climbed, speed, incline, calories, and heart rate. It also has an intensity bar, which indicates the relative intensity level of your workout. And of course, the mid-section of the display shows the grid of the workout program in use.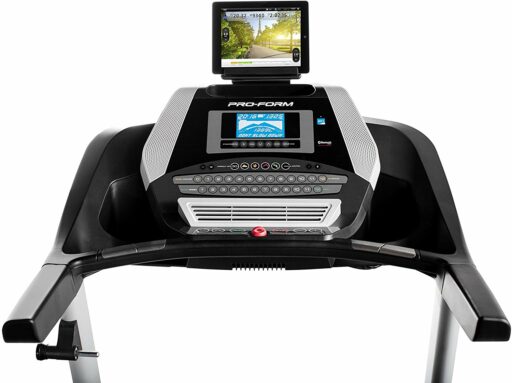 The console offers miles and MPH settings for distance and speed, but they can also display in metric units. Also, for distance, there is a "My Trail" function, which shows the distance traveled as a race track of 1/4 miles (400 m) and keeps the count of your fully completed laps.
The console is telemetric. It can track your pulse rate via a Bluetooth HR chest strap transmitter. This accessory is (included) with the treadmill. However, there also are EKG sensors incorporated into the front handlebars.
The console is iFit enabled. This means you can sync it with any smartphone, tablet, or laptop that has the iFit app installed to stream your workout data to your iFit account directly. An iFit membership is not included with the treadmill, though.
There are 30 workout programs on the machine's control unit. They divide into four categories, each category having its button. The categories are Incline, Speed, Intensity, and Calories burned.
Each workout program displays as a segmented grid. One speed setting and one incline setting are programmed for each segment. During the workout, the profiles on the speed and incline tabs show your progress.
Amenities
In terms of amenities, the unit's console integrates a sound system, a cooling fan, a tablet holder, and two accessory trays. The sound system consists of two large speakers, one on each side of the unit. The console has an audio jack input so you can connect it to your phone, tablet, or MP3 player and listen to your music through the integrates speakers. There are also volume controls available on the console.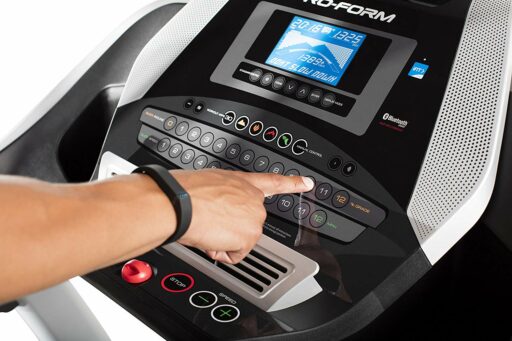 The cooling fan is at the bottom of the unit. According to various users, this cooling fan is considerably more potent than for the previous model. It has several intensity settings.
The tablet holder is at the top of the console unit. It has a non-slip surface, being large enough to accommodate any tablet. And finally, the two accessory trays are placed one on each side of the console. They're relatively large so that they can store a wide array of hydration bottles, or other small accessories.
905 CST Assembly & Maintenance
Most of the treadmill comes pre-assembled. In other words, the deck with its belt, drive and incline motors, cushioning system, and other elements, comes completely assembled. All you have to do is attach the console masts and the console.
This may take up to an hour, but it's far from being a difficult task. Plus, the manual provides clear assembly instructions, and an essential toolkit for assembly is (included) with the treadmill.
Like for most treadmills, the belt requires periodic lubrication. However, it's pre-lubricated, so it shouldn't need further lubrication for an extended time. The running belt should be wiped clean with a damp cloth after every workout to prevent any small objects or textile fibers from being dragged into the motor or the rollers.
Pros
Sturdy frame construction;
High weight capacity – can support users up to 350 lbs;
Space-saving design (the deck folds up);
Transport wheels on the front base;
Adjustable stabilizers on the front base;
ProShox cushioning, with three suspension cells on each side;
Motorized incline with a range between 0% – 12%;
3.0 CHP motor offering speeds up to 12 MPH;
Speed is adjustable increments of 0.1 MPH, allowing you to find the perfect pace for your workout;
EGK pulse sensors integrated into handlebars;
Telemetric console – can read pulse from any Bluetooth Smart HR chest strap transmitter;
HR chest strap included;
Bluetooth and iFit enabled;
30 workout programs;
Sound system included;
Cooling fan included;
Tablet holder included;
Accessory trays included;
Quiet operation;
Fairly easy to assemble;
Little maintenance required;
Excellent warranty.
Cons
No user profile settings;
The iFit membership is not (included) with the treadmill.
ProForm 905 CST Summary
The ProForm 905 CST is a heavy-duty, motorized treadmill, featuring a 3.0 CHP drive motor, 12 levels of automatic incline, and 30 programs on the console. It is Bluetooth Smart, and iFit enabled, so you can directly stream your workout data online. It also has a folding design.
It's a great trainer for light to intense cardio workouts, interval training, stamina development, and weight loss. It's not the most affordable running machine but does have an excellent price/quality ratio.
I hope you found this article helpful and informative. If you have anything that you'd like to share or any opinions about my website, please do speak up. I look forward to your comments, questions, and the sharing of ideas.
Related articles: