If you have seen a review on the ProForm Cardio HIIT Pro Trainer before, you would have noticed words like "revolutionary, feel the burn, hybrid stepper, etc." used to describe the equipment. No doubt, the unit is all of that, and you will learn more about the machine, therefore do not go away.
It's very sturdy, regardless of the intensity of your exercise. The machine is always firm and stable, despite its compact dimensions. The ProForm Cardio HIIT Pro Trainer comes with an advanced touch screen console and 26 magnetic resistance levels to meet any exerciser's needs.
This unit is the combination of a stepper and elliptical machine functionalities, which make it unique. It does not impact the back or every other joint in the body harshly. Instead, this unit combines a smooth 10″ vertical elliptical path with the powerful upper-body movements that simulate stepping while boxing to boost your body's metabolism and burn calories in the entire workout session.
However, ProForm Cardio HIIT Pro Trainer is not for everyone. Due to its high-intensity training, individuals with heart issues are advised not to use it. This powerful machine gives both cardio and strength workouts.
Learn more in my complete review below!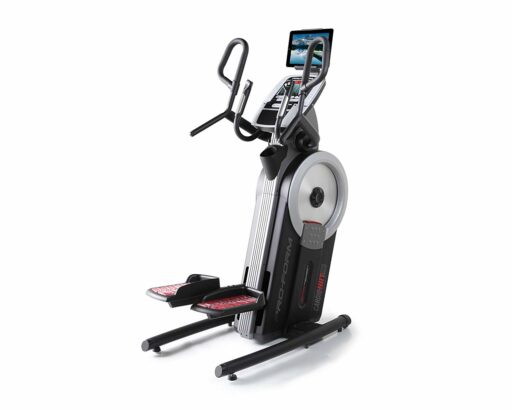 Product: ProForm Cardio HIIT Pro Trainer
Warranty: Lifetime for Frame / 5 Years for Parts / 2 Years for Labor
My rating: 8.75/10
Affiliate Disclosure: As an Amazon Affiliate Program participant, I earn commissions on purchases made through links in this post. Full disclosure
Details and Specifications
Dimensions: 39″L x 25:W x 66.7″H
Assembled Weight: 220
Maximum user weight capacity: 350 pounds
Power adapter included
Console tracks Calories and calories per hour, distance, miles, and kilometer, Heart rate, Resistance level, RPM, Time elapsed and remaining, and the vertical distance you have pedaled
10″ touchscreen
34 preset programs
26 resistance levels
30 lb flywheel
Adjustable Media Rack included
Heart Rate Chest Strap included
Water bottle holder included.
Transport wheels included
Foot Levelers included
Warranty: Lifetime for Frame / 5 Years for Parts / 2 Years for Labor
Pro Resistance
This Proform elliptical has a 26 resistance level. It's two more than the First Cardio HIIT Trainer. Eddy Current Magnetic is the best type of resistance because the parts don't wear out, and the operation is quiet.
One of the reasons the ProForm Cardio HIIT Trainer Pro is quieter than the Bowflex machine is the type of resistance. The Bowflex features a fan wheel, which is pretty loud for inside an apartment or condos.
The resistance is enough to challenge all levels of athletes. You can also change the resistance levels from multiple places.
The resistance is adjustable from the handlebars, controls at the bottom of the console, and quick buttons on the console's sides. So, you don't need to take your hands off the grips to change tensions during an intense workout.
Drive mechanism and design 
HIIT Trainer Pro features a 30-lb flywheel, and you can pedal both forward and reverse to engage different muscle groups. In addition, HIIT Trainer Pro features an adjustable belt mechanism, which means it rarely needs maintenance, and it's easy to adjust if needed.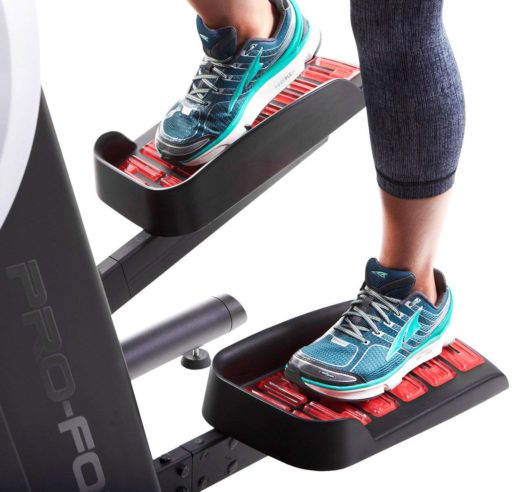 The operation on HIIT Trainer Pro is very smooth and quiet compared to Bowflex. In addition, the compact design makes this cardio machine perfect for home use. You can keep and use it both in apartments and condos without bothering neighbors.
Furthermore, the commercial solid steel construction is durable and stable, and the excellent warranty verifies it. Despite standing vertically, it's very sturdy, and there is no wobbling during the intense cardio training.
Pro Incline and stride
Fixed 10 inches vertical and 5 inches horizontal elliptical path makes the ProForm Cardio HIIT Trainer Pro a two-in-one machine. The incline offers a challenging workout for professional athletes, as well.
Similarly, like all the traditional ellipticals, the HIIT Training Pro gives you a zero-impact experience to prevent joint and back stress. This mixed motion offers cardio and also helps to build strength.
Note: Both the incline and the stride are fixed and can't be adjusted.
Handlebars and pedals
Multi-functional handlebars allow you to have four different grips. ProForm Cardio HIIT Trainer Pro offers the variety to stay motivated and exercise longer on the machine. The stationary handlebars are perfect for working on your lower body and core.
However, the moving handlebars allow you to do a full-body workout and burn more calories. The stationary handlebars have built-in controls and heart rate sensors, as well. You can change resistance and music volume without getting your hands off the machine.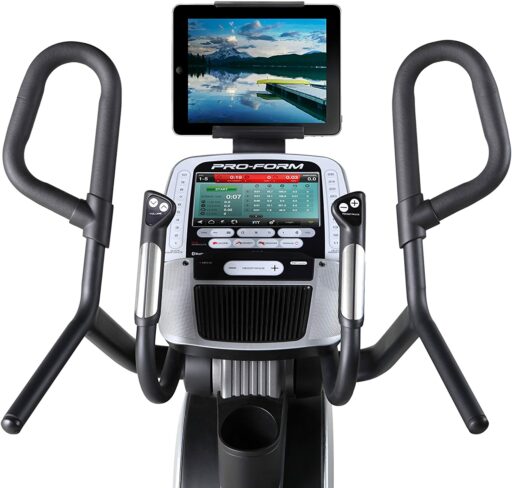 Note: The upper part of the moving handlebars is inconvenient to hold for people below 5.3″.
The HIIT Trainer Pro has two oversized non-slip cushioned pedals to accommodate any foot size. The large scale provides stability and allows you to change the foot positions to how you feel comfortable.
Pro Console
The console's functionalities are one reason that makes HIIT Trainer Pro unique compared to all the competitors. It's a 10 inches smart HD touchscreen with a built-in Web browser.
The console connects to WiFi and Bluetooth, and it's compatible with the iFit App, MP3, and iPod devices.  You can watch YouTube videos and search through your favorite websites while on the fly. You can also quickly check your workout stats with a swipe on the screen.
The data provided on the screen keeps you motivated throughout the whole session. However, it's also one reason the HIIT Trainer Pro price is $500 more expensive than the HIIT Trainer.
Note: The iFit subscription is not (included), and you need to spend extra if you want it. I wouldn't subscribe to it as the machine has enough workouts and functionalities. Plus, you can browse countless YouTube interval videos and enjoy the cardio exercise.
ProForm Cardio HIIT Trainer elliptical doesn't have a user profile built in the console, so; you can't save your daily workout data in the HIIT Trainer. However, you can track and keep your workout data on the iFit app.
Specifically, there are 34 preset workouts on this machine, which is enough to keep you exercising for an extended period without getting bored.
Amenities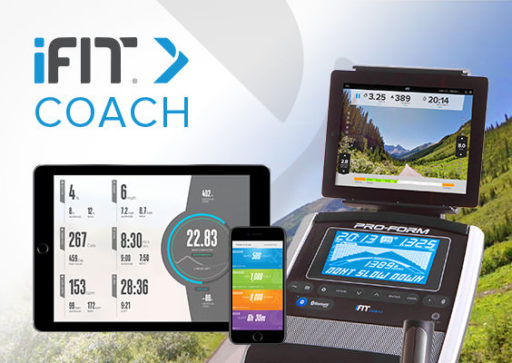 The console offers a good quality sound system and a cooling fan. You have the option to keep the fan off or turn it on during the workout. You can also plug in your iPod or MP3 to the console and listen to your music through the machine's built-in dual speakers.
Pro Shipping and Assembly
The shipping cost of the ProForm Cardio HIIT Pro Trainer depends on where you are buying the unit. Amazon ships this machine for free, but that may not be the case with other retailers.
Assembling the unit is relatively easy as it is (shipped) with the significant components preassembled. Besides, it comes with a comprehensive instruction manual that would walk you through the process of assembly. However, you are going to need a second person to help you.
Pros
26 levels of resistance to help a wide range of users with different abilities to achieve their goals
Multi-grip handlebars
The thirty-pound flywheel makes the machine operate smoothly, sturdy, and can compete with club-quality performance.
The Pedals are well cushioned and large enough to ensure comfort during a workout.
It has thirty-four preset programs designed to help users achieve their fitness goals.
It has contact sensors and a wireless Bluetooth Smart heart rate chest strap.
10″ touch screen with web browser allows you to track your workout progress and experience extensive interactive tours with Google Maps.
A two-way fan to keep the user cool through the entire workout session
Water bottle holder that will help a user keep water handy for hydration during the whole workout session.
2″ speakers are device compatible, which will allow the user to get entertained during a workout by listening to the quality sound of music.
It has got a media or tablet holder that won't interfere with the data screen or monitor.
It's compact and has got transport wheels that would make moving and storage easy.
It supports 350 pounds of maximum user weight.
Cons
May is not the best for those that are seeking low-intensity workouts;
Short intervals with resistance aren't (included) with the Proform HIIT Pro.
ProForm Cardio HIIT Pro Trainer Summary
In brief, the ProForm Cardio HIIT Pro Trainer is an impressive machine and great for those looking to get their fitness goals tackled head-on. Thus, the ProForm High-intensity interval trainer can deliver remarkable results in a short time for committed exercisers.
You can gain HIIT benefits with little to no impact on your body, unlike some other types of HIIT. Furthermore, Proform Cardio HIIT Pro Trainer comes with high-end functionalities, a suitable price, and an excellent factory warranty.
Accordingly, as the name implies, it typically drills the body and raises the heart rate, which is unsuitable for hypertensive people. Consult with your physician if you have any health condition before use.
I hope you found this article helpful and informative. If you have anything you'd like to share or opinions about the content on my website, please speak up. I look forward to your comments, questions, and the sharing of ideas.