Are you looking for a beginner treadmill? The ProForm Performance 800i is a great option to consider. The ProForm Smart Performance 800i is an excellent treadmill for walking and jogging. For the more serious runner, it will not be challenging enough with the motor power of just 2.75 CHP.
The incline of 10 % is the usual standard range and actually on the low end, but the -2% decline rounds it out to tone and strengthens additional muscles.  Also, the 800i running deck itself is a decent size. The length is similar to the standard used in commercial gyms, which means it will fit most everyone's stride.
The 800i has an almost endless supply of workout sessions at your disposal via the 50 that comes built-in along with the iFit app. There are enough programs to motivate and keep you active on the treadmill, pushing you to new levels.
The 14-inch full-color capacitive touch display may not seem like a big deal these days with 22" screens coming out. But this is a good size that is large enough to read and follow your stats and instructors. The EKG Grip Pulse Sensor allows you to monitor your heart rate without having to break your stride or concentration.
Learn more in my complete review below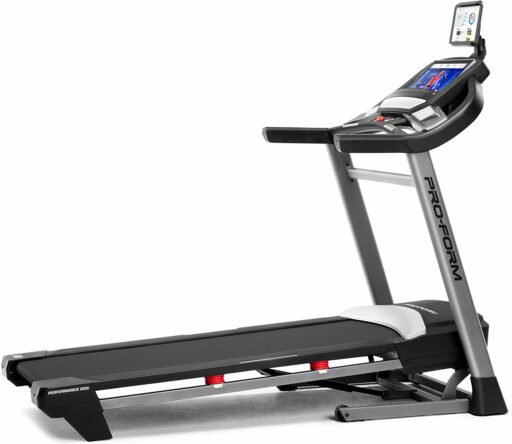 Product: ProForm Performance 800i Treadmill
Price: For a great deal on this treadmill, merely go here on Amazon
Warranty: Frame lifetime / Motor lifetime / Parts 3 years / Labor 1 year
My rating: 8.5/10
Amazon Affiliate Disclosure: I may earn commissions on purchases made through links in this post.
Details and Specifications
Assembled dimensions: 76.2L x 33.5W x 57.6H inches (193.5L x 85W x 146H cm)
Tread belt dimensions: 60L x 18W inches (152L x 45W cm)
Shipping weight: 223 lbs (101 kg)
Weight capacity: 315 lbs (143 kg)
Motor: 2.75 CHP
Speed range: 0.5 – 12 MPH
Incline/Decline: -2% to 10%
Deck cushioning: ProShox Cushioning
Console: 50 programs, iFit membership included
Extras: Sound system, cooling fan, tablet holder, accessory trays
Warranty: Frame lifetime / Motor lifetime / Parts 3 years / Labor 1 year
800i Frame
The ProForm Performance 800i features a deck and overall construction; it's a machine rated for a user weight capacity of 315 lbs (143 kg). Its frame is steel tubing combining ovalized with polygonal bars. All the steel bars in its construction are double-coated with a corrosion-resistant paint finish. The color used is gray, this being the only color available for this ProForm treadmill.
Of course, the machine also integrates several ABS parts. For example, the covers of its rear feet, the side rails, the motors cover, and the dashboard that incorporates the console are ABS made.
The fully assembled machine is considerably heavy; it weighs over 200 lbs (90.7 kg). This weight contributes to the unit's overall stability. You can be sure that this treadmill won't rock or move even if you're running at the highest speed.
This means the transport of the boxed machine requires at least two people. However, once the unit assembled, it can be easily relocated by only one person because its front base integrates a set of transport wheels.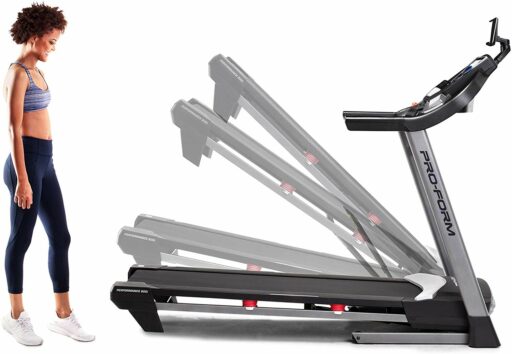 The 800i model is a reasonably large trainer. It is approximately 76″ (193 cm) long, and 33″ (85 cm) wide. Plus, it is advisable to allow at least three feet of clearance at the rear of the deck, and at least two feet of clearance on each side of the machine for safe usage.
Deck
The Performance 800i treadmill deck is foldable for improved storage possibilities. With the deck folded up, the depth of the machine reduces to approx. 1/3. The folding mechanism features a hydraulic cylinder, which slowly lowers the deck when you unfold it to prevent damage.
The machine's deck comes with the ProForm ProShox cushioning system. It has two significant cushioning elements on each side and several other internal smaller cushions. Therefore, it keeps the workout impact to a minimum, considerably reducing the workout-related pain.
The ProForm Performance 800i offers a running surface of 60″L x 18″W (152 x 45 cm). Therefore, it can accommodate users up to 6'5″ (196 cm) with no problem, allowing a complete range of motion.
It uses a heavy-duty rubber belt designed to offer superior adherence. Also, the running platform integrates relatively large (1.6″) crowned rollers with sealed ball bearings for continuous and steady belt traction.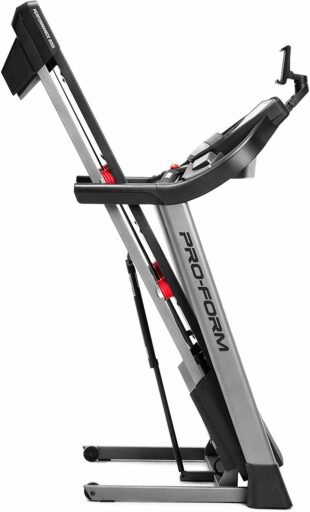 800i Incline, decline, and step-up height
The ProForm 800i treadmill comes with an automatic incline/decline system. This means you can adjust the slope of the deck while using the machine. Also, some of the console preset programs automatically adjust the slope of the deck if selected.
The unit's incline/decline system consists of a small lift and a smaller motor, placed at the front of the deck. When the incline is adjusted, the lift slowly elevates the front of the deck. Conversely, if a setting is selected, the lift element lowers the front of the deck below the 180° level.
The machine offers ten levels of incline and two levels of decline. The incline/decline increments are 1%. The console makes available controls for gradual incline/decline adjustment, but also has quick selection controls from -2% decline to 10% incline.
The step-up height of the deck is approx — 9″ (23 cm). Also, with the incline set at maximum, the front of the deck rises by a few extra inches. Therefore, to avoid any ceiling issues, it's recommended to use the machine in a room with a ceiling that is at least 20″ (51 cm) higher than your height.
Drive motor
The ProForm Performance 800i treadmill has a 2.75 CHP Mach Z commercial motor. It is designed to withstand prolonged usage without overheating or losing performance even if used at the highest speed settings. It also comes with a small flywheel to provide extra inertia and a steady movement for the belt.
The unit's motor provides a speed range between 0.5 MPH and 12 MPH. You can adjust the belt speed gradually in increments of 0.1 MPH from the +/- controls on the right of the console. However, just as for the incline, the console offers quick selection controls for speed, from 1 MPH to 12 MPH.
Although the Mach Z motors of most ProForm treadmills offer industrial quality, they're relatively quiet. This applies to the Performance 800i. The machine itself doesn't generate too much noise when in use. However, when running at higher speeds, and depending on your weight, the cadence will still be heard.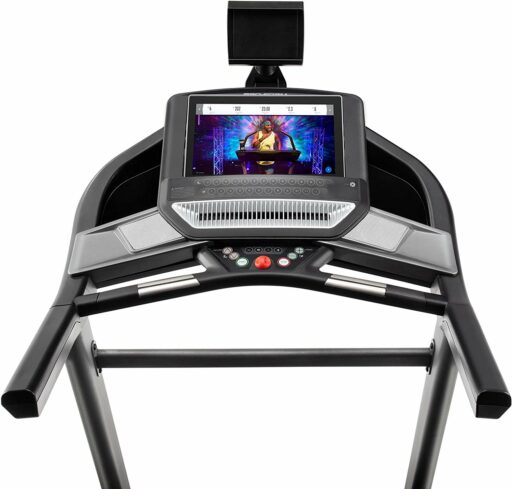 800i Console
To begin with, it has a 14″ LCD with touchscreen technology and LED backlight. It is iFit enabled, and the machine comes with a free iFit membership for one year. The console has built-in WiFi so you can connect it to the house WiFi hotspot to access your iFit account to view training videos or run by following a virtual path.
In case you're wondering, you cannot install apps on the console (such as Netflix or Hulu), but it does have a browser app built-in, so if it's WiFi connected, you can browse the web or watch YouTube videos.
Since the console has a touchscreen display, it doesn't have too many buttons. It only has Start/Stop controls, gradual and quick selection speed and inclines controls, buttons for volume control, and buttons for fan speed control. The rest of the functions, such as program selection, goal selection, etc., are done by touchscreen.
The console display tracks all the important workout metrics, such as time, distance, pulse, calories, speed, and incline. Speed and distance are set to English units by default, but there is also the option for metric units.
Also, the console does not have Bluetooth, so it cannot communicate with any Bluetooth HR chest straps. Thus, to benefit from a pulse reading, you have to hold on to the integrated pulse sensors.
In case you don't want to use iFit workouts, or if you don't want to renew your membership, the console has 50 built-in programs. These cover all types of exercises, from very light to intense, programs designed for burning extra calories, improving stamina, or interval workouts.
Amenities
Among other notable features, the console of the ProForm Performance 800i also has a built-in sound system, a cooling fan, a folding tablet holder, and two accessory holders. The sound system is compatible with any MP3 player, smartphone, or tablet. There is an AUX port on the console to which you can connect your device via cable (there's no Bluetooth connection for it), so you can play your music through the integrated speakers.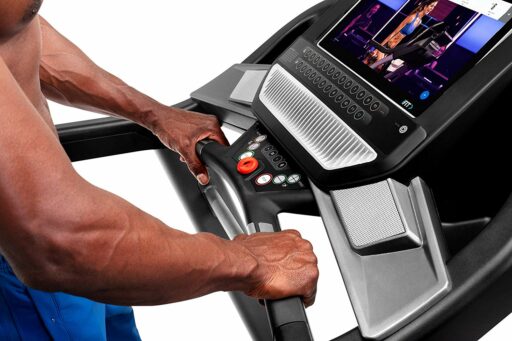 The cooling fan is at the bottom of the console; it has several speed settings. The folding tablet holder is placed at the top of the console, but you can also place your tablet on the small edge above the quick speed and incline controls. And finally, the two accessory holders are spacious enough to accommodate any hydration bottle or other small accessories.
800i Assembly and Maintenance
The treadmill's deck with the motors, belt, rollers, and other parts comes pre-assembled. You only have to attach the two upright bars, the reinforcement bar between them, and the console.
This shouldn't take more than an hour. The included manual offers clear assembly instructions and schematics. Also, a set of essential tools for the task is (included) with the machine.
The unit's belt comes with a high-performance lubricant. Therefore, it shouldn't need any further lubrication for an extended time. So, for maintenance, you should only keep the belt clean and check for loose or damaged parts from time to time.
Pros
Sturdy deck – can support users up to 315 lbs;

ProForm Performance 800i Treadmill (tablet sold separately)

Folding frame, space-saving design;
Soft-drop, hydraulic folding mechanism;
Transport wheels on the front base;
ProShox deck cushioning for minimal impact;
Motorized incline, 0% – 12%
Two levels of decline, -2% and -1%;
Industrial-grade 2.75 CHP motor;
Speed range between 0.5 and 12 MPH;
Speed can be adjusted increments of 0.1 MPH, allowing you to find the perfect pace for your workout;
Quick keys for speed and incline;
Pulse reading function;
14″ touchscreen console;
Built-in WiFi;
A built-in browser that allows you to surf the web or view YouTube videos;
iFit connectivity;
One-year iFit membership included;
50 built-in workout programs;
Various amenities such as cooling fan, speakers, tablet holder, and accessory trays;
Tools for assembly and belt adjustment are (included);
Quiet operation;
Fairly easy to assemble;
Little maintenance required;
Excellent warranty.
Cons
No Bluetooth connectivity;
No USB charging port.
ProForm Performance 800i Summary
The ProForm Performance 800i is a heavy-duty treadmill made for home-use, featuring a 2.75 CHP motor, automatic incline, and decline, and a touchscreen console with 50 programs and iFit connectivity. It also includes 1-year of iFit membership.
It's an excellent trainer machine for light to intense cardio workouts, interval training, muscle toning, and weight loss. In all, it's a solid piece of equipment and offers outstanding value for the price.
I hope you found this article helpful and informative. If you have anything that you'd like to share or any opinions about my website, please do speak up. I look forward to your comments, questions, and the sharing of ideas.
Recommended articles:
NordicTrack T 8.5 S Treadmill | 50 Preset Workouts