Whether your home treadmill priorities include strong basics or fun extras, you'll likely find the ProForm PRO 9000 Treadmill impressive. This model comes with the same 4.25 CHP motor that's on marathon trainer treadmills, and it has ProForm's best display: a high-def 10" touchscreen.
The PRO 9000 comes with uphill/downhill training with a power incline; it has high-quality belt rollers for smooth and quiet operation, and it includes workout guidance and digital entertainment support.
Professional workout guidance is at your fingertips, with 40 training apps programmed into the console. Each workout program can adjust the 9000's belt speed and incline to support specific goals. Choose from four goal-orientated categories: speed, weight loss, incline training, and intensity.
Additionally, the PRO 9000 treadmill console is iFit Coach enabled for unlimited personal training (membership required). You can take advantage of customized individual training plans, virtual outdoor training along Google Maps routes, HD video workouts, automated stats tracking, and more.
Learn more in my complete review below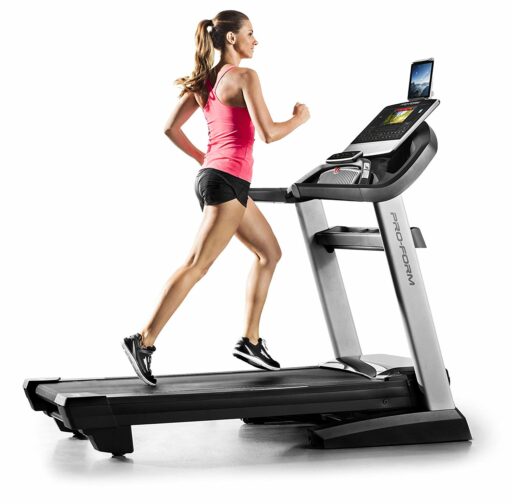 Product: ProForm PRO 9000 Treadmill
Price: For a great deal on this treadmill, merely go here on Amazon
Warranty: Frame lifetime / Motor lifetime / Parts 5 years / Labor 2 years
My rating: 9.25/10
Amazon Affiliate Disclosure: I may earn commissions on purchases made through links in this post.
Details & Specifications
Assembled dimensions: 77L x 39W x 70H inches (196L x 99W x 178H cm)
Tread belt dimensions: 60L x 22W inches (152L x 56W cm)
Assembled weight: 295 lbs (134 kg)
Supported weight: 300 lbs (136 kg)
Motor: 4.25 CHP Mach Z
Incline: Automatic, 0-15%
Decline: Automatic, -3% – 0%
Deck cushioning: ProShox
Speed levels: 0-12 MPH
Console: 40 workout programs, iFit enabled
Amenities: Sound system, cooling fans, accessory trays, tablet holder
Warranty: Frame lifetime / Motor lifetime / Parts 5 years / Labor 2 years
PRO 9000 Frame
Since it's a machine pretty close to light-commercial grade level, the ProForm PRO 9000 has quite a durable construction featuring a high-grade steel frame. However, it does integrate several ABS parts, as well.
For example, the side rail covers, the rear and front base covers, the motor cover, and the console dashboard are not metallic. They do not reduce the machine's overall sturdiness, though, as their role is only protective or cosmetic. The unit PRO 9000 has a maximum user weight capacity of 300 lbs (136 kg).
The machine has a folding design. The deck can be folded up, its folding mechanism integrating a hydraulic lift-assist system that facilitates the folding/unfolding of the deck. With the deck folded up, the machine's length reduces by approx. 2/3, while its total height gains a few inches.
The fully assembled unit is not exactly light. It weighs approximately 295 lbs (134 kg). Therefore, it is recommended to be carried and constructed by at least two people. However, once assembled, its transport is eased by the small wheels integrated into the rear part of the front base frame. So, as long as you can lift and handle a weight of at least 45 lbs (20 kg), you should be able to move the folded and assembled unit without a problem.
One last aspect with regards to the unit's metallic frame that we're going to cover here is the paint finish. The ProForm PRO 9000 comes with a rust-resistant and abrasion-resistant paint. The color used for the base frame is black, while the color of the paint finish on the console masts is metallic gray.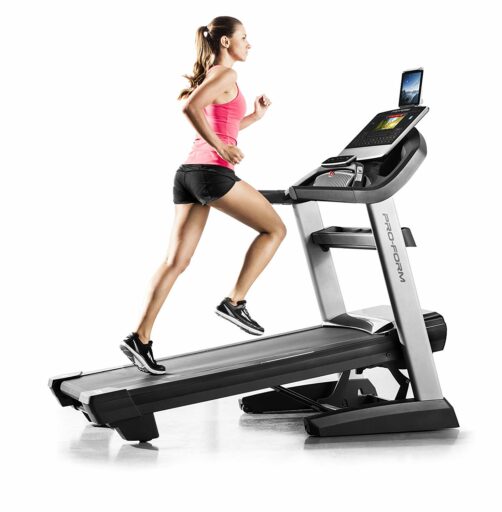 Deck
The machine's tread belt offers a running platform of 60″L x 22″W (152 x 56 cm), the most significant ProForm treadmill running surface. It provides plenty of space for a complete and satisfying stride length, even for users taller than 6'5″ (196 cm). It uses a heavy-duty 2-ply belt, resistant to stretching, which provides a high adherence during running.
The PRO 9000 has two broad 2.5″ balanced and crowned rollers, which not only provides excellent traction and stability for the belt, they're designed to prolong its lifespan. They integrate industrial-grade ball bearings for smooth motion and long-lasting performance.
The unit's deck comes with the ProShox cushioning system. For this machine, it consists of two more abundant cushioning elements on each side. However, as opposed to other ProForm treadmills, the ProShox parts are concealed by the side rails.
Nonetheless, the machine provides a running platform that absorbs up to 25% of the shock of each foot strike, resulting in a much pleasant ride and less pain in your hips, knees, and ankles.
PRO 9000 Incline, decline & step-up height
The ProForm PRO 9000 comes with an automatic incline/decline system. This means the incline or decline is only adjustable from the unit's console. Also, specific preset programs will auto-adjust the incline or decline if selected.
The unit's incline/decline system consists of a small lift and motor placed at the front of the deck. As you select a specific incline or decline level from the console, the engine will power the lift to provide the incline or decline specified.
There are 15 levels of incline available, and three levels of decline. The incline/decline increments are 1%. The console has buttons for gradual increase or decrease, but there also are quick selection keys for the 0, 1, 2, 3, 4, 6, 8, 10, 12, 15 incline settings, and -3, -2, -1 decline settings.
At 0% incline, the deck provides an elevation of approx. 10.5″ (27 cm) above floor level. With the slope set at maximum, the front of the deck rises by approx. 6 extra inches (15 cm). Therefore, to avoid any ceiling issues, it's recommended to use the machine in a room with a ceiling that is at least 20″-22″ (51-56 cm) higher than your height.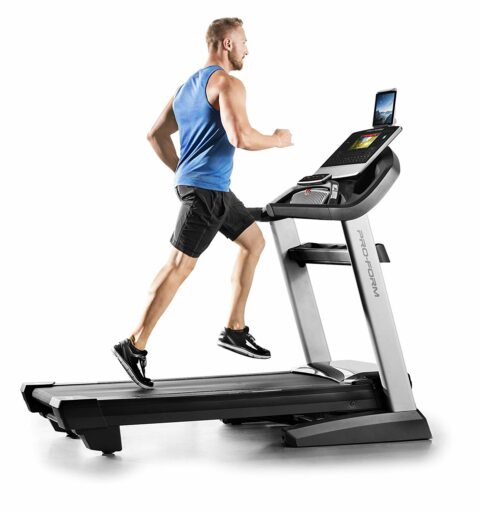 Motor
The ProForm PRO 9000 has an industrial-grade Mach Z 4.25 CHP motor. It's a motor that can provide high and constant performance for prolonged workouts with no problem.
Even if you're close to the maximum weight capacity, and even if you use the highest speed settings, the motor shouldn't overheat or lose performance. A small flywheel is also equipped onto the engine to enhance motion stability and to reduce vibration.
The speed range provided by the machine's motor is between 0.5 and 12 MPH. The speed is only adjustable from the machine's console. Just as for the incline and decline, there are buttons for gradual adjustment and quick selection adjustment. The quick-start buttons cover all the speed settings from 1 to 12 MPH.
The arrow keys for the gradual speed adjustment are bi-functional. If pressed once, they will adjust speed by 0.1 MPH; if you press and hold a key down, the tread belt's velocity will change in increments of 0.5 MPH. The fact that you can adjust speed in increments of 0.1 is quite a plus, as you can easily find the most comfortable pace for your workout.
The motor itself does not produce a high level of noise. It's pretty quiet. But just as for any other treadmill, your running cadence will generate some noise. Differently put, in an apartment building, your neighbors will hear you running.
Last but not least, the treadmill requires a standard 120V circuit. It comes with a standard power cord with a grounding pin for American-type outlets, not an AC adapter. It's recommended the use of a surge suppressor. However, this is (not supplied) with the box. The power cord plugs into the machine at the front base. There's also an ON/OFF switch function.
PRO 9000 Console
The ProForm PRO 9000 offers an impressive range of features. It comes with a 10″ touchscreen LCD with LED backlight, which is similar to a tablet. However, it does not have all the functions of a tablet. For example, it does not have a built-in web browser or other apps. It only uses integrated workout programs and iFit applications.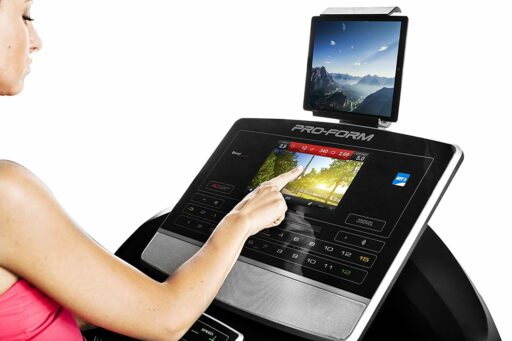 In terms of fitness metrics, the console unit tracks time, distance, the number of vertical feet you have climbed, calories, and pulse. Of course, it also indicates the current speed and incline settings, while the mid-section shows the profiles of the program in use. There's also
There are both metric and English unit settings available. In other words, you can have the speed reading in km/h or MPH, while the distance in km or miles. For the distance traveled, there is also a race track function. This shows the range as a track of 1/4 miles (400 m) and counts the laps that you complete.
The front handlebar under the console comes with pulse sensors. The unit can track your pulse via a Bluetooth wireless HR chest strap, as well.
Workout Programs
There are 40 workout programs available on the console. Some of these programs have an interval structure, others focus on a high-calorie burn, others will help you build stamina, and several are for weight loss.
One of the best features of the machine's console is its iFit compatibility. It has Wi-Fi connectivity and can directly connect to your Wi-Fi to access your iFit account.
If you have an iFit account and an active subscription, you can instantly stream your data into your online iFit profile. This way, you can keep a better track of your progress. On top of that, iFit gives you the possibility to run on virtual paths downloaded via Google Map, compete with other iFit users, and a whole bunch of other excellent features.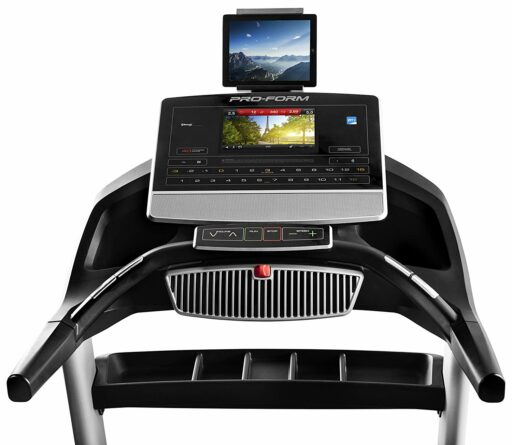 Amenities
The console features several amenities, as well. First of all, it has an integrated sound system that is compatible with most MP3 players, smartphones, and tablets.
Therefore, you can play your music through these speakers to benefit from a higher sound quality than the one offered by your phone or tablet speakers. There are volume touch buttons on the right side of the console.
As opposed to other ProForm treadmills, this one comes with dual workout fans. The two fans are placed one on each side of the console; they're relatively large, and they provide significant cooling power. There are several fan speeds available as well, the controls for this are at on the bottom-left section of the console.
A tablet holder is (also included). It can be attached to the top part of the console so that your tablet won't cover the controls or the console display. Plus, there are several accessory trays molded into the console dashboard. This gives you the possibility to store your water bottle, TV remote control, keys, phone, or other small stuff.
PRO 9000 Assembly & Maintenance
The deck of the treadmill, along with the incline and drive motors, the belt, and all the other elements, comes pre-assembled and attached to the metallic base frame. So, the assembly only requires you to attach the front base covers, the two console masts, the console, and the side handlebars.
This shouldn't take more than one hour. The manual provides all the necessary instructions and schematics, and some of the tools (Allen wrenches) required for the assembly (are included).
Just as for any treadmill, maintenance requires the periodic lubrication of the belt. However, all ProForm treadmills come pre-lubricated, so they shouldn't need any lubrication for a while. The belt must be kept clean to prevent any small objects or textile fibers from getting caught into the motor. Also, it's recommended to periodically check the integrity of the machine, look for loose bolts and parts and re-tighten them if necessary.
Pros
Light commercial construction, 300 lbs weight capacity;

ProForm PRO 9000 Treadmill (tablet sold separately)

Folding deck, with a soft-drop assist mechanism;
ProShox cushioned deck;
Motorized incline and decline;
Commercial-grade motor, 4.25 CHP;
Largest ProForm running surface – 60″L x 22″W;
Up to 12 MPH speed;
Speed increments of 0.1 and 0.5;
Large, crowned rollers, 2.5″ for superior traction and a prolonged belt lifespan;
2-ply, commercial quality belt, stretch-resistant;
Large LCD console with touchscreen navigation;
40 built-in workout programs;
Trail distance function;
Goal setting functions;
iFit enabled, which opens superior progress measuring possibilities, a wide array of custom workouts, running via Google Maps, competing with others, and more;
Bluetooth HR chest strap compatible;
A Bluetooth wireless HR chest strap is (included);
Sound system compatible with most smartphones, tablets and MP3 devices;
Dual cooling fans;
Tablet holder included;
Multiple accessory trays;
Quiet machine;
Fairly easy to assemble;
Little maintenance required;
Excellent warranty.
Cons
An iFit membership is not (included) with the machine;
No browser or any other apps on the console rather than iFit and the treadmill programs.
ProForm PRO 9000 Treadmill Summary
The ProForm PRO 9000 is a treadmill equipped with a 4.25 CHP motor, a motorized incline/decline system, a large LCD touchscreen console, and has a wide array of preset workout programs.
It has the largest ProForm running platform, and the deck also folds up to provide better storage possibilities. It's an excellent machine for users of all levels, for light to intense cardio workouts, stamina development, muscle toning, and weight loss. In all, it offers excellent value for the price.
I hope you found this article helpful and informative. If you have anything that you'd like to share or opinions about my website, please do speak up. I look forward to your comments, questions, and the sharing of ideas.
Recommended articles:
Please follow and like us: