The ProForm X-Bike Duo is a convertible exercise bike for beginners. Depending on its seat position, it works as an upright or recumbent exercycle. Making the change involves repositioning the seat. This space-saver is smaller than typical home exercise bikes and also folds for storage.
This bike is loaded with 14 classic training programs and is ready for iFit Coach personal training. Additionally, the X-Bike Duo has 14 digital resistance levels allowing you to start easy and progress to intense. Each level is smooth, frictionless, and silent with the patented SMR™ Silent Magnetic Resistance. It allows you to adjust your training intensity without interrupting your workout or anyone around you.
The ProForm X-Bike Duo comes with an easy-to-use console that's angle adjustable for easy viewing. It has a large LCD screen that displays motivating workout stats as you exercise, including RPM, speed, distance, time, and calories. I also like the bike's compatibility with Bluetooth HR chest straps for wireless heart rate monitoring.
The X-Bike Duo has a large cushioned seat that is comfortable to sit on over longer exercise sessions, and it can be adjusted vertically for height. The X-Bike Duo offers quite an impressive range of features for a foldable bike made for home use.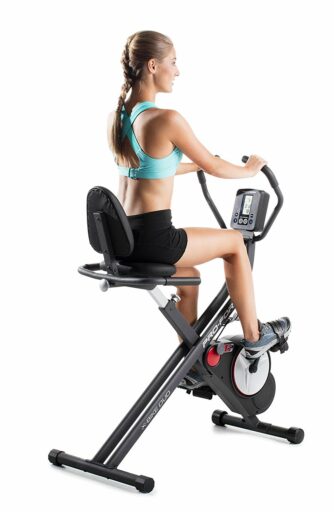 Learn more in my complete review below
Product: ProForm X-Bike Duo Exercise Bike
Price: For a great deal on this hybrid, merely go here on Amazon
Warranty: Frame 5 years, Parts 90 days
My rating: 8/10
Amazon Affiliate Disclosure: I may earn commissions on purchases made through links in this post.
X-Bike Frame
The ProForm X-Bike Duo features an X-type frame. The part with the seat and the drive system goes through the two parallel bars of the mainframe piece. These two frame parts are pre-connected in the middle. Also, the two parallel bars of the central section is slightly curved at the top, to provide better positioning for the handlebar.
The bike's frame is steel tubing. It's a bit heavier than other exercise bikes of this type. It weighs approx. 60 lbs (~27 kg) with the frame entirely set up, a weight that adds extra stability. It's also durable enough to support users up to 250 lbs (113 kg).
The frame offers three central positions. These are recumbent, upright, and folded. With the frameset to the recumbent position, the bike is approx. 48″ (124 cm) long, and 20.25″ (51 cm) wide, while for the upright position, the bike's length is only 40.25″ (102 cm). Of course, it is recommended to leave at least two feet of clearance all around it for ease of access.
The rear base tube comes with polygonal stabilizers. These can rotate, allowing you to level the unit if the floor is irregular. The caps of the front base rotate as well and can be used as wheels to facilitate the bike's relocation.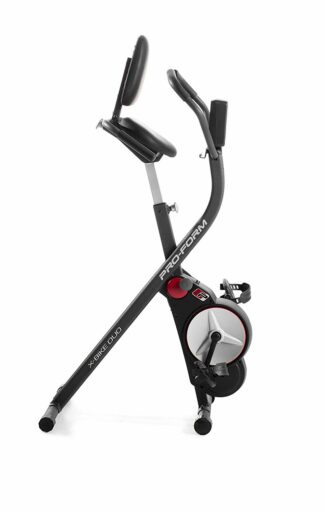 The bike's frame has a corrosion-resistant and chip-resistant paint finish. The color used is black, with the "ProForm" logo painted white, the only exception being the seat post, which has a silver color finish.
Seat and handlebars
The ProForm X-Bike Duo comes with a reasonably large seat. The seat pad is approx. 13″ (33 cm) wide and 9.5″ (24 cm) deep, while the backrest is approx. 2″ (5 cm) narrower. They both have a thick layer of cushioning and durable vinyl upholstery.
The seat is only two-way adjustable. Its main post offers nine adjustment positions. Thus, the bike should accommodate users between 5'0″ and 6'3″ (153 – 190 cm). The seat does not recline.
However, it allows you to adjust its angle depending on the position you want to use the bike, recumbent, or upright. Also, the backrest is non-adjustable; its backbone is part of the seat assembly.
The bike comes with two sets of handlebars, one at the front, the other attached to the seat assembly. They both have rubberized grips. Also, they're non-adjustable. Furthermore, none of them has pulse sensors, but the console does have a Bluetooth pulse reading function.
X-Bike Resistance and drive
The ProForm X-Bike Duo has a motorized magnetic resistance system. It consists of a magnetic brake and a servo motor. This means the bike needs a connection to a power outlet. The resistance is only adjustable from the console. Also, if a workout program is in use, the bike will auto-adjust the pedal resistance, depending on the segment of the program.
The bike makes available 14 resistance levels. The first level delivers a very light pedaling difficulty which makes the bike great for users who require recovery training, or for elderly users. Conversely, the 14th level of resistance provides an extra challenge, allowing you to burn more calories, improve stamina, or achieve a high BPM in a shorter time.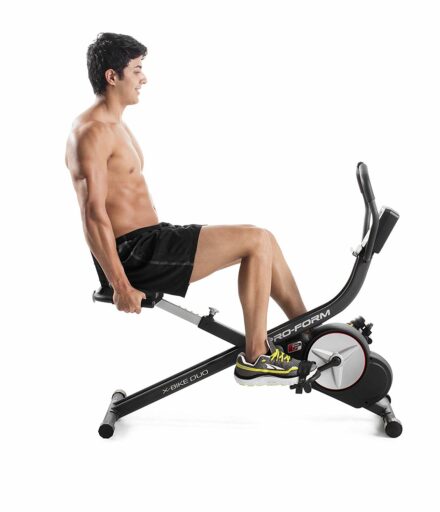 The weight of the internal flywheel is not specified. But considering the overall weight of the bike, it probably doesn't weigh more than 20 lbs (9 kg). It has a balanced structure and provides an exceptionally smooth pedaling motion. It is bi-directional, so you can pedal in reverse if you want on this bike.
However, it does not have a freewheel, the pedals continue to move for as long as the flywheel is spinning, and you cannot coast on it.
The bike's drivetrain uses two parallel v-belts. Therefore, maintenance is not necessary as it would be the case for a chain drive system. Also, the pedaling motion is tranquil, while vibration during pedaling is zero.
The bike comes with a durable crankset. However, since it's not a spin bike, it is not made for standing up on the pedals. The pedals are a durable ABS material; they feature a textured surface and adjustable straps so you can correctly secure your feet on them. And finally, they're weighted, so they always turn face-up if you remove your feet from them.
Console
The bike's console features an LCD similar to the one on the ProForm 135 CSX upright bike. However, it does not have an LED backlight. It has three sub-sections. The top section shows speed in revolutions per minute (RPM), the power output in watts, and your heart rate when you use the handlebar sensors. It also shows the resistance level for a few seconds when you change it.
The display shows each one of these metrics for several seconds. Also, if you will be using an HR chest strap (sold separately), the top screen will indicate your pulse.
The middle section shows the distance and time. Both imperial (miles) and metric (kilometers) units are available for distance. And finally, the bottom section shows speed and calories burned. Just as for the range, speed can be set either to metric or imperial units.
The console is iFit ready and has Bluetooth connectivity. This means you can sync it with a tablet that has the iOS or Android iFit App to use the extra features offered by it. By using the iFit App, you can track your progress online, compete with other users, or even ride on a virtual trail based on GoogleMaps. Of course, this requires an iFit membership, which is not (included) with the bike.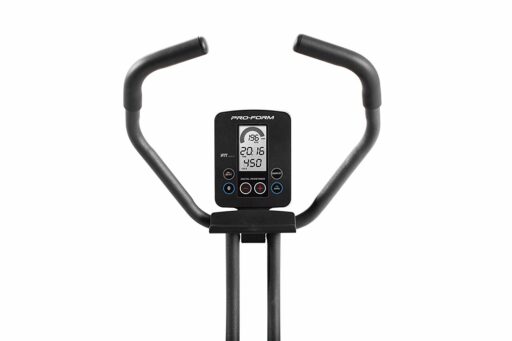 In case you don't want to opt for an iFit membership, the console has its own 14 built-in workout programs. These cover a variety of workouts. Some provide an interval layout, others have a "hills" or "peak" layout, while others are great for losing weight.
X-Bike Assembly and Maintenance
The two main pieces of the frame are pre-connected in the middle. The drive and resistance elements are already attached to the bottom part of the seat tube. Therefore, you only need to unfold the frame, add the seat, the handlebars, the console, and the pedals.
This shouldn't take more than 20-30 minutes. A set of essential tools is (included) with the bike. Also, the manual provides excellent step-by-step assembly instructions and schematics.
Once the bike is fully set-up, its maintenance doesn't require much. You only need to remove the dust from the frame, keep liquids away from the console, and periodically look for loose bolts and parts.
Details and Specifications
Assembled dimensions: 40.25L x 20.25W x 49H inches (102L x 51W x 124H cm)
Assembled weight: 60 lbs (27 kg)
Supported weight: 250 lbs (113 kg)
Seat: 2-way adjustable
Pedals: With straps
Resistance: Eddy current, 14 levels
Console: 14 programs, iFit Coach ready
Warranty: Frame 5 years, Parts 90 days
Pros
Sturdy frame – can support users up to 250 lbs;
Foldable, great for a small apartment;
It has dual functionality;
Small footprint when fully assembled;
Transport wheels included;
its large seat is for optimal comfort, offering 2-way adjustability;
Padded backrest for extra lumbar support;
Two sets of handlebars, one at the front, one integrated into the seat frame;
Weighted pedals, with adjustable straps;
Eddy current resistance with 14 difficulty levels available;
its operation is smooth and quiet;
The console can track time, distance, speed, RPM, calories, and pulse;
EKG integrated handlebar pulse sensors;
Goal settings for time, distance, and calories;
14 preset workout programs;
Bluetooth enabled and iFit ready;
Tablet holder included;
Easy to assemble;
Very little maintenance required.
Cons
No bottle holder;
No backlight on the console;
iFit membership is not (included).
ProForm X-Bike Duo Summary
The ProForm X-Bike Duo is a 2-in-1 exercise bike, offering the use as a recumbent bike or as an upright bike. It comes with an automatic magnetic resistance system with 14 levels, and a Bluetooth console with 14 workout programs. The console is also iFit ready. However, iFit requires a membership that costs approximately $1.00 a day.
The X-Bike Duo is designed for light cardio training, muscle toning, stamina development, and weight loss. It's also quite affordable for a programmable exercise bike, offering excellent value for the price.
I hope you found this article helpful and informative. If you have anything that you'd like to share or any opinions about my website, please do speak up. I look forward to your comments, questions, and the sharing of ideas.
Recommended articles:
Please follow and like us: