ProGear 225 is a compact and folding design magnetic upright bike for a great cardiovascular workout at home, with a dual transmission flywheel for more resistance and challenge and a three-piece cranking system for a smooth and consistent pedaling motion.
The 225 offers eight levels of a magnetic tension control system that lets you vary the intensity of the workout. You can get the experience of cycling in different terrains by changing the tension levels. It has a dual transition flywheel that provides higher resistance workouts with consistent pedaling motion.
There is an LCD that shows the distance you have covered, the number of calories you have burned, the speed at which you are cycling, and other relevant information. Additionally, the ProGear 225 has integrated heart pulse sensors in the handlebars to monitor your heart rate while exercising. However, the console is not telemetric and won't work with an HR chest strap.
It has an ergonomically contoured seat cushion that is easily adjustable to accommodate users of different heights. Due to the ergonomic design of the seat, you won't feel any back pain even if you cycle for long hours. The handlebars have a multi-grip design, and each handle has a rubber foam layer to provide you the ultimate comfort.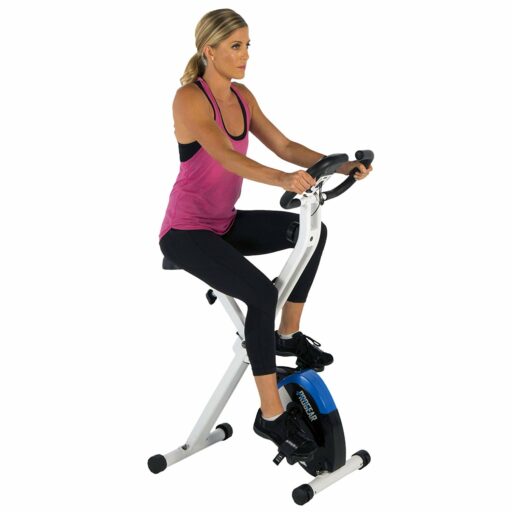 Learn more in my complete review below
Product: ProGear 225 Folding Upright Bike
Price: For a great deal on this bike, merely go here on Amazon
Warranty: 1 year limited
My rating: 9/10
Amazon Affiliate Disclosure: I may earn commissions on purchases made through links in this post.
Details and Specifications
Assembled dimensions: 32L x 17.5W x 46H inches (81L x 44.5W x 117H cm)
Assembled weight: 34.8 lbs (15.7 kg)
Supported weight: 220 lbs (100 kg)
Seat: 2-way adjustable
Pedals: With straps
Resistance: Magnetic, eight levels
Fitness computer: Included
Warranty: 1 year limited
225 Frame
Just as many other folding upright bikes, the ProGear 225 is one of the most basic models that you can find at the moment. But it features a frame made of steel tubing, coated with corrosion-resistant paint. The only color available for this exercise bike is white.
Even though the ProGear 225 has a folding frame, it also has a minimal, fully setup footprint. It only takes 32″L x 17.5″W (81 x 44.5 cm) when in use; therefore, it's an excellent choice for a small apartment or room.
The frame has an "X" structure, with the two main pieces joined in the middle, and with the frame folded, the bike's footprint is reduced to 19″L x 17.5″W (48 x 44.5 cm), while its height gains approx. 9″. In regards to the bike's weight capacity, this ProGear model can only support riders up to 220 lbs (100 kg).
When it comes to weight, this exercise bike is far from being heavy. It weighs only 34.8 lbs (15.7 kg) when fully assembled, which means almost anyone should be able to handle it or relocate it without any help. Plus, the front base tube comes with rotating caps, which fulfill the role of transport wheels. The rear base caps have a polygonal shape; they also turn and serve as stabilizers.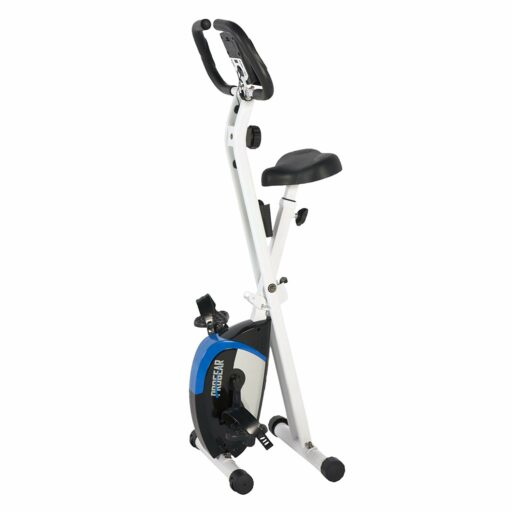 Seat and handlebars
The ProGear 225 foldable magnetic upright bike comes with a 2-way adjustable seat. Its vertical post features several adjustment positions and can accommodate users between 5'1″ and 6'0 ″ (155 – 183 cm). The saddle is a rubber foam material, with a contoured surface.
It's relatively wide, delivering optimal comfort for all upright workouts. The adjustment bar is a triangular plate to which the saddle is attached. It's a standard seat, and a replacement is available if needed.
The bike's handlebars are non-adjustable. They have a multi-grip design, each handle featuring a rubber-foam layer to deliver optimal comfort and a secure grip. Also, the handlebars integrate an EKG pulse sensor, and the console supplied with this bike can track pulse.
225 Resistance and drive
The ProGear 225 upright bike has a manual magnetic resistance system. It consists of a small magnetic brake attached to the tension knob under the handlebar through a steel wire. As you turn the knob, you change the position of the magnetic brake to the flywheel, which increases or decreases the resistance on the pedals.
This ProGear exercise bike offers eight levels of resistance, with each level marked on the tension knob. The first levels deliver a light tension, while the top, 7-8 gives you the possibility to undergo a more intense cardio training. But as a general idea, this exercise bike is not exactly meant for highly tough cardio workouts.
The ProGear 225 comes with a balanced, perimeter-weighted flywheel, which delivers a smooth and steady pedaling feel. The wheel is not extremely heavy. Its weight is not specified, but it should be somewhere around 8-10 lbs.
Due to this fact, it won't generate such a consistent momentum as a spin bike or an upright bike with a heavier flywheel. The flywheel is not bi-directional, which means you won't benefit from any resistance if you pedal in reverse.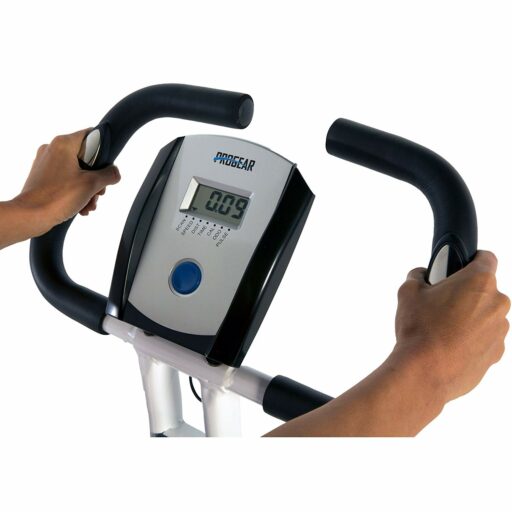 Just like most bikes with magnetic resistance, this ProGear model features a belt drive system. It uses a robust, stretch-resistant belt, which generates almost no noise when pedaling. Also, as opposed to a chain drive, it doesn't require any lubrication.
The bike has a 3-piece crank with steel arms. However, even though this part is quite robust, standing up while pedaling is not recommended. The bike doesn't offer the stability of a heavy spin bike.
The pedals have standard threads so you can easily find replacements for them if needed. They're weighted (self-leveling), they feature a surface with lugs for superior adherence, and they come with adjustable straps.
Console
The ProGear 225 comes with a pretty basic console, but it a pulse reading and has an odometer function, which other similar units don't have.
Thus, we can say it's a bit more inclusive. It can track speed, distance, total distance (ODO), time, calories burned, and pulse. It has a SCAN function that rotates all the fitness metrics keeping each one on-screen for several seconds.
However, you can also select one of them to view all the time if you want. For the unit to track your pulse, you will have to hold onto the pulse sensors integrated into the handlebars. The console is not telemetric.
The fitness computer is pretty easy to use. It has only one button. It turns on when you push the button, or when it detects flywheel movement.
The monitor shuts off after several minutes of inactivity on the bike. To completely reset them, remove the batteries from the unit. It uses 2 AAA-type batteries, which are (included).
225 Assembly and Maintenance
Most of the bike comes pre-assembled. The internal parts (flywheel, brake pad, crank, belt) are already attached to the frame and encased by the plastic covers. The two main frame parts are pre-connected in the middle, so basically, you will only need to connect the seat, the handlebars, the console, and the pedals.
Since it's a belt-driven bike, with magnetic resistance, its internal parts don't need any maintenance. Maintenance requires you to wipe the dust from the frame and console, and from time to time, check if the bolts still hold tight in place.
Pros
Solid and stable frame design, able to hold 220 lbs of user weight;
Space saver, folding design;
Small footprint when fully assembled;
Multi-grip handlebar;
Pulse sensors integrated into the handlebar;
Magnetic resistance system, virtually wear-free, supplying eight distinctive levels of tension;
A console included, capable of tracking time, speed, distance, total distance, calories, and pulse;
Batteries for the console are (included);
Phone/accessory holder included;
Smooth belt drive;
Its operation is quiet;
Easy to assemble;
Very little maintenance required.
Cons
No tablet holder;
No bottle holder;
The calorie burned reading is not too accurate;
The console display isn't backlit.
ProGear 225 Summary
The ProGear 225 is a foldable magnetic upright bike, featuring a quiet belt drive, eight levels of manual magnetic resistance, and a fitness computer that can track time, distance, speed, calories, and pulse.
It's a bike for light to medium cardio training, muscle toning, stamina building. Additionally, it can also help you lose weight if you train with the highest resistance settings for at least 30 minutes per day. In all, this exercise bike offers excellent value for the price,
I hope you found this article helpful and informative. If you have anything that you'd like to share or any opinions about my website, please do speak up.
I look forward to your comments, questions, and the sharing of ideas.
Recommended articles: