With a 19.8 (9 kg) flywheel, the Reebok SL8.0 Elliptical pushes your stamina, taxing your legs without pounding your joints. Uniquely designed, the elliptical's four manual incline levels, 24 levels of motorized resistance, and 12 pre-set workout programs help to vary your training sessions, boosting the intensity for more challenging workouts.
Allowing you to monitor and control each stride, the SL8.0 features a seven window LED display. The top larger window shows the program grid, while the six more negligible windows track calories burned, time, speed/RPM, pulse, distance, and Watts/resistance level. In addition, the fixed handlebars on either side of the console integrate hand pulse sensors to facilitate HRC training.
Compatible with the Reebok Fitness App, the Bluetooth-enabled console syncs wirelessly to your phone or tablet. Thus, helping to track, monitor, and plan your workouts. In addition, the Fitness App allows you to train from anywhere on earth through Google Maps or Street View.
The Reebok SL8.0 Elliptical offers total comfort for enhanced performance with cushioned footplates and dual-action D handles. The SL8.0 shallows and extends each 18-inch (45.6 cm) stride for more fluid motion and stabilized performance compared to rear-driven trainers.
Learn more in my complete review below!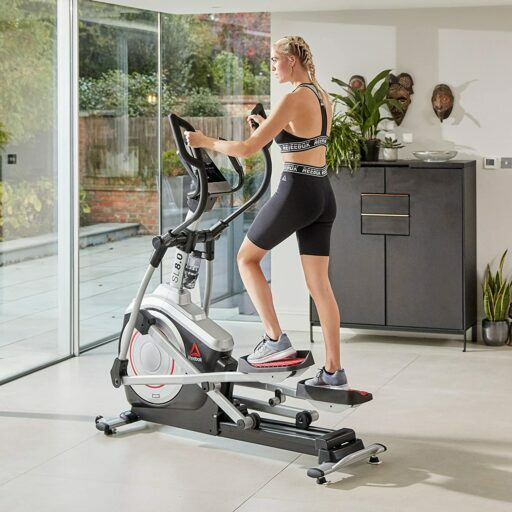 Product: Reebok SL8.0 Elliptical
Price: For a great deal on this elliptical, merely go here on Amazon
Warranty: Frame 25 years / Motor 10 years / Electronics and Parts 2 years / Labor 2 years
My rating: 8/10
Affiliate Disclosure: As an Amazon Affiliate Program participant, I earn commissions on purchases made through links in this post. Full disclosure
Details and Specifications
Assembled dimensions: 70.4L x 29.1W x 72.4H inches (179L x 74W x 184H cm)
Shipping weight: 224 lbs (101.6 kg)
Flywheel weight: 19.8 lbs (9 kg)
Weight capacity: 286 lbs (130 kg)
Stride: 18″ (45.6 cm)
Resistance: Eddy current, 24 levels
Incline: Manual, four levels
Console: 12 pre-set programs, four user profiles, 4 HR programs, goals, Bluetooth
Extras: Sound system, workout fan, USB port, bottle holder
Warranty: Frame 25 years / Motor 10 years / Electronics and Parts 2 years / Labor 2 years
SL8.0 Frame construction
The Reebok SL8 elliptical features a heavy-duty steel frame combining oval, rectangular, and cylindrical tubing in its construction. All the steel bars come coated with a durable, corrosion-resistant, and abrasion-resistant paint finish, light gray. Also, most of its base frame and the drive and resistance elements have ABS guards.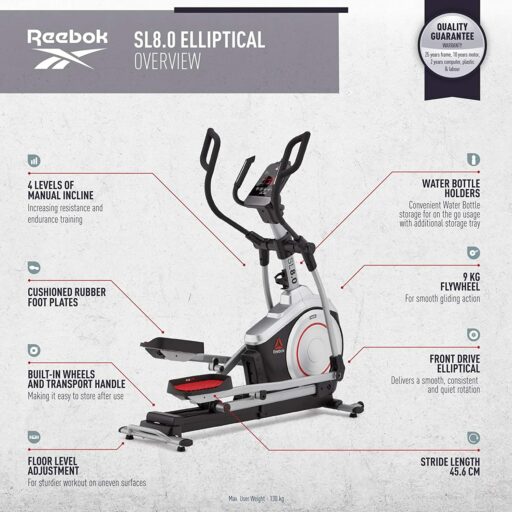 The fully assembled machine is relatively large. It is approx 70.4″ (179 cm) long and 29.1″ (74 cm) wide. Plus, it is advisable to leave at least two feet of clearance all around it for easy access and safe usage. Thus, it may not fit too well in a small room or apartment.
The Reebok SL8.0 is pretty heavy. Its net weight is over 200 lbs (90 kg), so two persons should carry and assembly the machine.
However, one person can transport the elliptical; its rear base has a lifting handle and its front base features a set of transport wheels. Using these to move the elliptical, you won't be handling more than 30% of its total weight.
It's also important to note that the unit's overall weight is essential in its stability. So you can be sure that it won't rock or move even if you engage in a high-intensity workout. Plus, its two base stabilizers come equipped with adjustable levelers.
Handlebars and pedals
This Reebok elliptical trainer comes equipped with two sets of handlebars, one fixed and one mobile. The fixed handlebars attach directly to the machine's front mast, and ABS guards cover their connection. They don't have any adjustment system. However, they do integrate metallic pulse sensors.
The mobile handlebars have a multi-grip design. Their extended grips have a layer of high-density foam for improved comfort; however, they don't have resistance controls or pulse sensors.
They attach to the middle section of the machine's front mast and the pedal bars. Their joints have high-grade ball bearings for smooth motion. Also, all the joints of the moving arms have ABS guards for extra protection.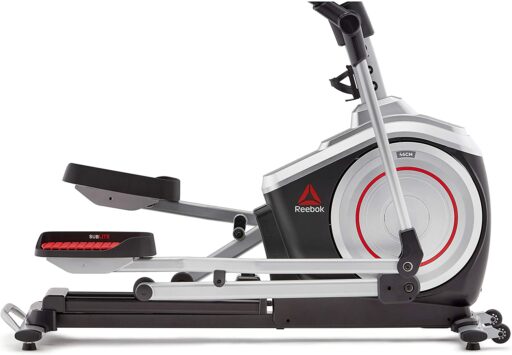 The pedal bars and the base section of each pedal are steel-made. However, the pedal trays are durable thermoplastic material. They are pretty solid, rated for a maximum user weight capacity of 286 lbs (130 kg).
The pedals don't have any extra suspension springs, articulations, or adjustment features. However, they are pretty significant, so they should accommodate athletic shoes of all sizes. They feature high-density foam, textured inserts, and improved foot grip. They also have front and inner side guards for extra stability and a more secure foot positioning.
SL8.0 Incline, stride, and elliptical path
One of the essential features available with the Reebok SL8.0 elliptical trainer is its manual incline system. This is similar to the incline feature of the Schwinn 430.
The front section of the pedal rail system connects to the machine's front unit in 5 positions. The incline increments are 20%, 15%, 10%, 5%, and of course, there's also the option of 0% incline.
The incline mechanism involves a large button pressed to unlock and lock the unit's rail system. Since the incline system is manual, you cannot adjust it while you are on the pedals. Also, the console cannot automatically change it.
The angle of the elliptical path changes depending on the selected incline level. For example, with the incline set to 0%, the elliptical path is almost entirely horizontal.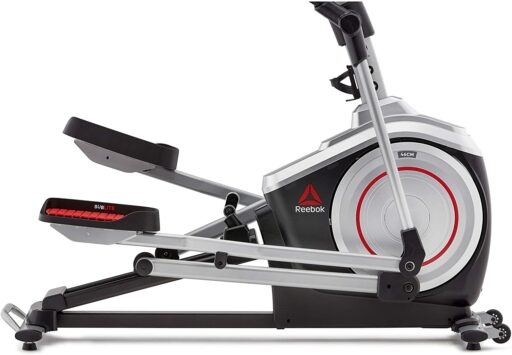 In contrast, the elliptical path is inclined forward by a few degrees, with the angle set to its maximum level. Therefore, with a higher incline, the pedaling motion resembles a descent on a soft ramp.
The machine offers 18″ (45.6 cm) of stride. This is a stride of average length. It means that the SL8.0 elliptical should accommodate users up to 6'1-6'2″ (184 – 187 cm) with no problem, providing a satisfying range of motion. Taller users can use this elliptical, but they may not benefit from a complete range of motion.
One last aspect to note is the machine's pedal height. The lowest pedal position is approx. 9″ (23 cm) above floor level. Conversely, at their highest position, with the incline set to the maximum position, the pedals reach approx. 23″ (58.4 cm) above floor level.
Therefore, it is advisable to place and use the machine in a room with a ceiling at least 25″ (63.5 cm) higher than the tallest user.
Resistance and drive
The Reebok SL8.0 elliptical machine comes equipped with a motorized magnetic resistance system. This means you have to connect it to a power source to adjust the resistance. However, it also means that the trainer can automatically adjust the resistance, and the console makes several preset workout programs available. A 9V power adapter comes included with the machine.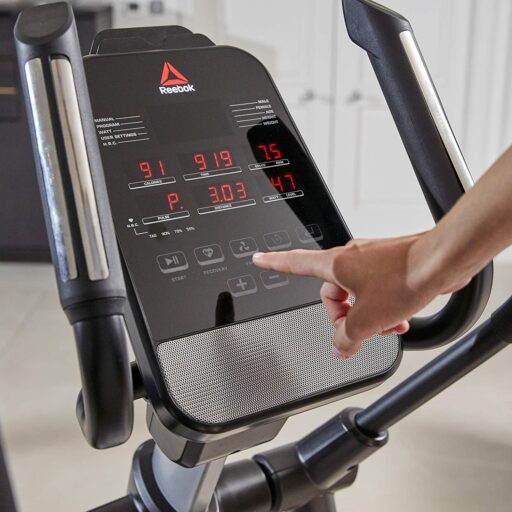 The resistance system consists of a servo motor and a magnetic brake. As you adjust the console's resistance or make automatic resistance adjustments, the motor will change the magnetic brake position to the flywheel, adding or reducing the pedaling difficulty.
The SL8.0 elliptical offers pretty decent micro-adjustability when it comes to resistance, with 24 difficulty levels available. The first few levels deliver little pedal tension, great for low-intensity cardio workouts or rehab training.
The highest (22-24) levels, on the other hand, provide considerably more resistance, excellent for anyone who wants a consistent workout and extra fat-burning possibilities.
Similar to most other magnetic resistance fitness machines, this Reebok elliptical features a belt drive system. It integrates a PJ6 poly-v rubber belt, which transmits the machine's pulley and flywheel.
Since the trainer uses a belt, not a chain, the drivetrain does not require periodic lubrication. Also, the pedaling motion delivers considerably less vibration.
Last but not least, the internal flywheel is pretty heavy for an elliptical. It weighs 19.8 lbs (9 kg) and has a perimeter-weighted construction for improved inertia. Thus, the machine provides a pretty smooth and consistent pedaling motion. It also permits pedaling in reverse.
SL8.0 Console
The Reebok SL8.0 elliptical trainer comes equipped with a pretty advanced and inclusive console. To begin with, it features a LED display with seven windows. The top larger window shows the program grid, while the six smaller windows indicate calories burned, time, speed/RPM, pulse, distance, and Watts/resistance level.
There are multiple programs available on the console. The first program is the Manual mode. This allows you to change the resistance freely as you exercise and set up workout goals for time, distance, calories, and heart rate.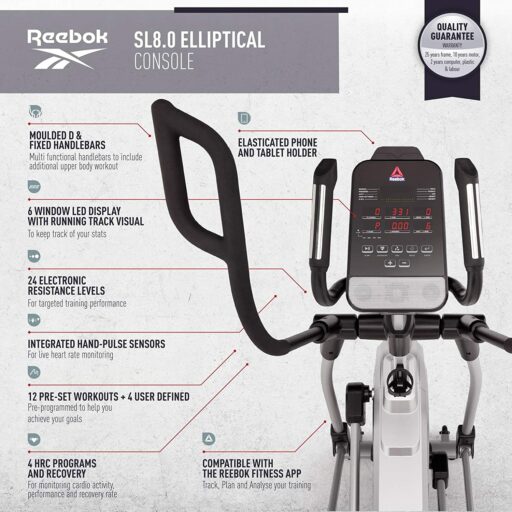 Next, there are 12 pre-set programs available. Each one has a specific segment layout to help you burn more calories, focus on improving cardiovascular shape, or perform an interval workout.
And finally, four HRC programs and a Watt mode are available. The pre-set HRC programs are 55%, 75%, and 90%, and there is also the custom target HRC. The Watt program allows you to select a target Watt value between 10 and 350. It will automatically adjust the resistance, depending on your speed, to keep you at the selected Watt value.
The console also has 4 User Profiles and a Recovery function. Each user can save their data (age, gender, height, weight, and program settings) for easy access at the start of the workout. The Recovery function counts your pulse at the end of your training and based on the result, it gives you a fitness rating between F1 (perfect) and F6 (poor).
Amenities
The console has built-in Bluetooth connectivity and is compatible with the Reebok fitness app. This app allows you to track your progress online, view your workout history, and even ride on a virtual trail created via Google maps and Street View.
Other notable console features are the sound system, the workout fan, and the USB port. The sound system consists of two small speakers integrated into the bottom corners of the console. You can connect your smartphone or tablet through the USB port on the console to play your music through the integrated speakers.
This will also charge your phone. The fan is right between the speakers. And finally, there is a device holder on the top of the fitness console.
SL8.0 Assembly and Maintenance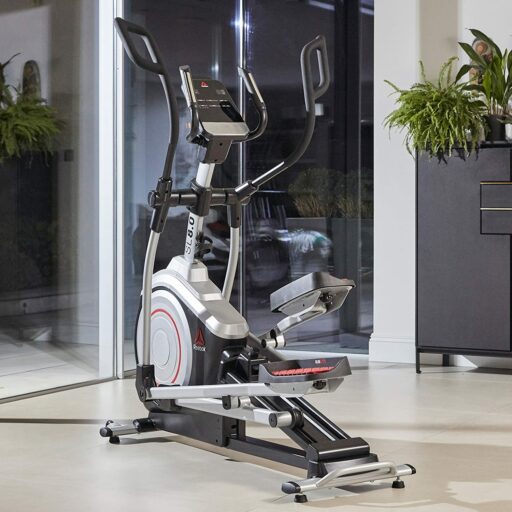 The base frame of the machine with all the drive and resistance elements comes pre-assembled. However, the rest of the parts do require user assembly. You will have to attach the two base stabilizers, the pedal arms, the pedals, the front upright post (or mast), the two moving arms, the fixed handlebars, the console, and multiple small covers.
This may take more than two hours of your time, but the process is not too complicated, and the manual provides step-by-step illustrated assembly instructions. All the necessary tools also come included with the machine.
The machine should be kept clean for maintenance, especially the rails, to prevent damage to the pedal wheels. If the joints become squeaky, some lubricant may be required. Other than this, you only have to check the integrity of the machine periodically.
Pros
Sturdy construction – can support users up to 286 lbs (130 kg);
Transport wheels on the front base;
Adjustable levelers on both base bars;
Fixed and mobile handlebars;
Perimeter-weighted internal flywheel for a steady and a more consistent pedaling motion;
Large pedals with rubber inserts for extra stability;
Manual incline with four levels (5%, 10%, 15%, 20%);
Eddy current, automatic resistance (24 levels);
Multi-function console featuring a 7-window LED display;
Pulse sensors and pulse reading function;
Multiple workout programs available (1 manual, 12 pre-set, 4 HRC, four goals, 1 watt);
Four user profiles;
Recovery function;
Bluetooth connectivity and compatibility with the Reebok Fitness app;
Device holder included;
Bottle holder included;
Sound system included;
Cooling fan included;
USB charging port;
Quiet operation;
Easy to assemble;
Little maintenance is required.
Cons
Not compatible with HR chest straps.
Reebok SL8.0 Elliptical Trainer Summary
The Reebok SL8.0 is a heavy-duty elliptical trainer made for home use. It comes equipped with a 24-level eddy current resistance system, a 4-level manual incline system, and a console with Bluetooth connectivity and multiple workout programs.
It excels in ergonomics and has a pretty decent 286 lbs (130 kg) maximum user weight capacity. Moreover, it's an excellent machine for light to intense cardio training, recovery training, interval training, muscle toning, stamina development, and weight loss.
I hope you found this article helpful and informative. Would you please speak up if you have anything you'd like to share or any opinions about my website? I look forward to your comments, questions, and the sharing of ideas.