You may have ignored air bikes in the past, but you should pay attention to the Schwinn Airdyne AD Pro. This bike can give you a solid upper and lower body workout. As its name suggests, the Schwinn Airdyne AD Pro is a professional exercise bike that meets all the gym-grade fitness machine requirements.
The AD Pro's resistance comes from air generated by your pedaling. So, for example, the harder you pedal, the higher the intensity; slower pedaling means less resistance. Therefore, no matter your fitness level, you can get a challenging workout.
The Schwinn Airdyne AD Pro combines high quality with simplicity. It comes with a console that monitors the necessities, and it has nine built-in programs for various fitness levels. In addition, you can track your progress and results based on speed, time, distance, calories burned per minute, RPM, and watts.
The Schwinn Airdyne AD Pro is one of the best air bikes on the market and has a price to reflect the quality and brand. It is well made and has a small footprint that makes it work in just any home gym. In addition, its compact size comfortably accommodates riders of all sizes with multi-position handlebars, an adjustable seat, and a weight capacity of 350 lbs.
Learn more in my complete review below!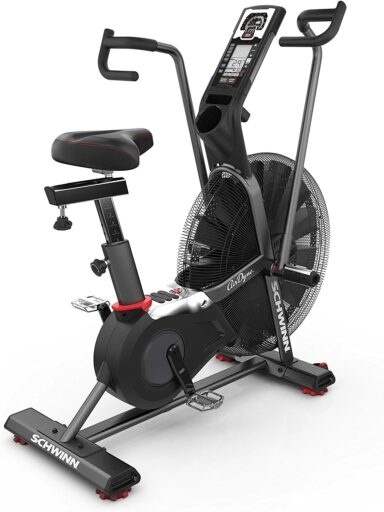 Product: Schwinn Airdyne AD Pro
Price: For a great deal on this bike, merely go here on Amazon
Warranty:  Frame 10 years / Parts 2 years / Electronics 2 years / Labor 6 months
My rating: 9/10
Affiliate Disclosure: As an Amazon Affiliate Program participant, I earn commissions on purchases made through links in this post. Full disclosure
Details and Specifications
Assembled dimensions: 53L x 26.5W x 53H inches (137L x 67W x 137H cm)
Assembled weight: 113 lbs (51.3 kg)
Supported weight: 350 lbs (159 kg)
Handlebars: Mobile
Seat: 4-way adjustable
Drive: Belt
Resistance: Air
Fitness console: 9 programs
Included accessories: Bottle holder,
Warranty: Frame 10 years / Parts 2 years / Electronics 2 years / Labor 6 months
AD Pro Frame construction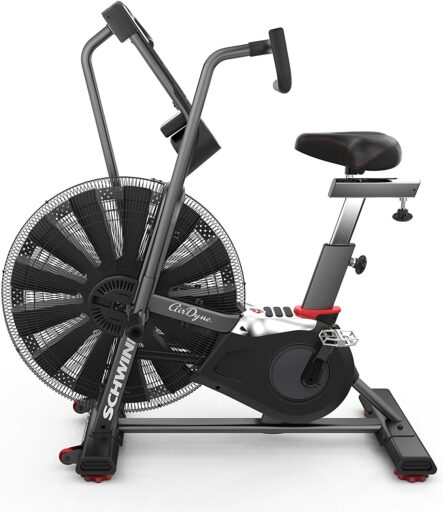 The Schwinn Airdyne Pro features exceptionally sturdy construction, meeting just about any gym standard. It can support up to 350 lbs (159 kg) riders, not just seated workouts. It can also withstand standing-up pedaling routines.
Most of its frame is steel. Therefore, it's pretty heavy, with a net assembled weight of 113 lbs (51.3 kg). This weight, though, is a plus. It adds a lot of stability to the built machine.
Also, both of its bases come with adjustable levelers, which means you can achieve perfect stability on any flooring. The stabilizers also have large, rubberized pads to protect your floors from damage. However, just for any other massive fitness machine, it is advisable to place it and use it on a rubberized mat.
The bike's front base comes equipped with transport wheels to facilitate its relocation. As a result, when moving the fully assembled bike, you will be handling less than half of its total weight.
I must mention two essential elements here: the footpegs and the footstep pad. Just like the Marcy Air 1, this Schwinn model features two front foot resting pins, which you can use if you want to only exercise by using the handlebars.
This feature is helpful as it allows you to put some diversity into your workouts. The footstep pad usually is found in spin bikes, which means that the Airdyne Pro can support several spin workouts, including the footstep elements.
The frame features a durable, corrosion-resistant, and scratch-resistant powder coating dark gray finish. However, the seat post and its horizontal slider have a chrome finish.
Seat and handlebars
This Schwinn exercise bike comes with a relatively large and consistently cushioned seat. Its upholstery combines highly durable vinyl and synthetic materials. It also has a longitudinal groove to promote airflow and healthy blood circulation. Therefore, it's one of the most comfortable upright bike seats.
The seat offers 4-way adjustability (up, down, forward, and backward). In addition, its vertical post has ten adjustment holes, and the horizontal slider also has several. Thus, the bike can comfortably accommodate users between 5'0″ and 6'7″ (153 – 201 cm) with no problem.
Like most air resistance bikes, the Schwinn Airdyne Pro features only mobile handlebars. As a result, they connect to the bike's main pulley via a linkage arm concealed by the belt and pulley guard.
Thus, they do not move independently from the pedals. They also do not lock to remain stationary as you pedal. In other words, whenever you pedal, the arm bars will move as well.
The arm bars offer multiple grips, which is quite a plus as you can put a bit of diversity into your workouts. In addition, their handgrips come coated with a sheet of high-density foam to provide optimal comfort.
AD Pro Resistance and drive
However, like most fitness machines with air resistance, the bike generates a dynamic response. For example, the strength increases with how fast and hard you pedal. Therefore, it meets the needs of beginners or persons who require recovery training.
However, on the other hand, when pedaling and using the arms at full speed, the resistance generated will meet elite athletes' needs, offering the possibility to perform advanced interval workouts.
This Schwinn exercise bike uses only one belt, not two like other models for driving elements. Therefore, the pulley directly puts the fan in motion, providing a more challenging workout.
The bike's crank assembly is different than other bikes as well. It uses two crank links, one on each side, to which the crank arms are connected. The crank components are steel-made and can support users in standing-up pedaling workout sessions with no problem.
Even though it's mostly an upright bike, this Schwinn Airdyne model can support a wide array of workouts similar to spin workouts.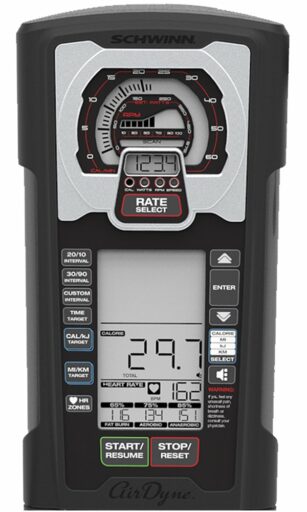 The pedals supplied with the bike are also highly durable and made of metallic alloy. Unfortunately, they do not have straps, toe cages, or SPD clips for spin shoes. However, they have standard threads, so compatible pedals are widely available if you want to replace them.
One last aspect to note is the noise generated by the bike's air resistance fan. This Schwinn model creates more noise than a fully magnetic resistance bike. However, it generates considerably less noise compared with the Assault Fitness AirBike Elite. So, as a general idea, the bike's fan's sound is similar to the sound made by a massive electric fan.
Console
The Schwinn Airdyne Pro comes with an advanced console. It features two main displays. The top one is a tachometer, while the bottom, a large one, interests the workout program data.
The top Tachometer Display divides into 60 segments to show calories per minute and Watts. It also indicates RPMs and speed. The Program Data Display shows the timer for the interval programs, the round of each interval, sprint and recover data, cumulative metrics (calories/kJ or distance in miles or km), heart rate metrics, battery indicator, and volume indicator.
The console offers three main interval programs: 20/10 interval, 30/90 interval, and Custom interval, which allows you to create your own desired interval workout. There also are three main target-setting programs. You can set up a target for time, calories, and distance.
The console also has 65%, 75%, and 85%, and the console has three preset HR intervals. It's a telemetric unit and can monitor your heart rate via an uncoded HR strap from Polar Electro or an uncoded Polar compatible model. Unfortunately, this accessory does not come with the bike.
An important aspect that needs mentioning here regards the console calibration. The unit has a built-in temperature and pressure sensor, which automatically calibrates the air pressure (such as altitude).
Also, the console provides a manual calibration procedure. The Calibration procedure adjusts the console's calculations of resistance for differences in belt tension and bearing friction. Therefore, the monitor can provide accurate readings for your overall calorie consumption.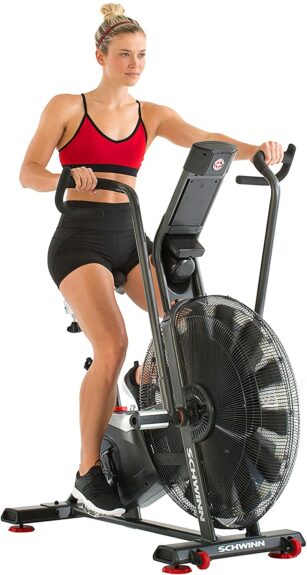 The fitness console uses an AC adapter, rated 120V 60Hz Input, 9VDC, 1500mA. However, it can also use 2 D-type batteries, which do not come with the bike.
AD Pro Assembly and Maintenance
The core of the bike comes already assembled. Therefore, you will only need to mount it on the base stabilizer bars, add the moving arms, the pedals, the console mast assembly, the foot resting pegs, and the seat.
Therefore, it shouldn't take more than 30-40 minutes. Furthermore, all the tools required for the construction come with the bike. Also, the manual provides pretty consistent assembly instructions.
Since it's a belt-drive bike, it doesn't require transmission maintenance. Instead, the care needed for this bike is a periodic check for loose bolts and parts and retighten them as necessary.
Pros
Extremely sturdy frame – can hold users up to 350 lbs;
Professional-looking design, an aspect that can serve as a good motivation factor;
Adjustable levelers on both bases;
Transport wheels;
Footstep pad frame elements included;
Foot resting pegs included;
Mobile arms with multi-grips for a wide variety of workouts;
Ergonomic, consistently padded seat;
4-way adjustable seat;
Comfortably accommodates a wide range of users, between 5'0″ and 6'7″;
Highly durable pedals, which can support the total weight of the user;
Air resistance system, great for interval workouts;
Advanced console with two main displays, one for the tachometer and one for the workout programs data;
Telemetric console – can read pulse via an HR Polar transmitter;
Three main interval programs;
Three preset HR intervals;
Target setting functions;
Maintenance-Free;
Easy to assemble;
Excellent warranty.
Cons
Pedals do not have any straps;
An HR chest strap does not come with the bike;
No online connectivity.
Schwinn Airdyne AD Pro Summary
The Schwinn Airdyne Pro is an air resistance upright bike featuring extremely sturdy construction, holding riders up to 350 lbs. Accordingly, it offers excellent micro-adjustability and a consistently cushioned, full seat. In addition, it comes with a highly accurate console that keeps track of all your essential workout data and offers three interval programs, target value settings, and HR intervals.
In short, it's an exercise bike for users of all levels, perfect for high-intensity interval and recovery training. Furthermore, it's great for endurance building, muscle toning, and weight loss. And finally, it may not be the most affordable bike, but its price/value ratio is excellent.
I hope you found this article helpful and informative. Would you please speak up if you have anything you'd like to share on the topic or any opinions about my website? I look forward to your comments, questions, and the sharing of ideas.
Please note: Before starting any exercise program, you should consult your physician to determine if you have any medical or physical conditions that could put your health and safety at risk or prevent you from using the equipment properly. In addition, your physician's advice is essential if you are taking medication that affects your heart rate, blood pressure, or cholesterol level.