The Schwinn IC3 Indoor Cycling Bike doesn't disappoint. With a heavy flywheel, solid frame, and fully adjustable seat/handlebars, the IC3 has earned its way into the best spin bike in its price class discussion.
The IC3 comes with a 40 lb flywheel, which is very respectable for the price range and plenty heavy to provide a smooth ride experience. It will take a little more energy to get it moving from the start with the heavier weight and take a bit more power to slow it down (but there's the brake too).
The resistance is adjustable by turning a dial and increasing or decreasing contact with a felt pad. Therefore, it allows infinite resistance, but it isn't as smooth as magnetic. Higher-end bikes usually use magnetic resistance because it is smoother, quieter, and virtually maintenance-free.
The Schwinn IC3 does have a small fitness console, and it isn't incredibly sophisticated, although it does offer something most in this price range don't- wireless heart rate monitoring. However, the HR chest strap is (sold) separately. Otherwise, the monitor is pretty standard. It displays time, distance, calories, and RPM.
Learn more in my complete review below!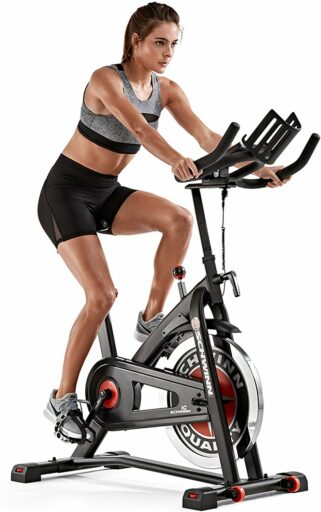 Product: Schwinn IC3 Indoor Cycling Bike
Price:  For a great deal on this bike, merely go here to Schwinn.com
Warranty: Frame 10 years / Electronics 2 years / Parts 2 years / Labor 1 year
My rating: 8.75/10
Affiliate Disclosure: As a Nautilus and Schwinn Partner Program participant, I earn commissions on purchases made through links in the post. Full disclosure
Details and Specifications
Assembled dimensions: 48.7L x 21.2W x 49.8H (124L x 54W x 127H cm)
Assembled weight: 101 lbs (46 kg)
Flywheel weight: 40 lbs (18.1 kg)
Supported weight: 300 lbs (136 kg)
Handlebars: 4-way adjustable
Seat: 4-way adjustable
Drive mechanism: Belt
Resistance: Friction, felt-pad
Fitness console: Time, speed, distance, calories, pulse, SCAN
Extras: Bottle holder, tablet holder
Warranty: Frame 10 years, Electronics 2 years, Parts 2 years, Labor 1 year
IC3 Frame Construction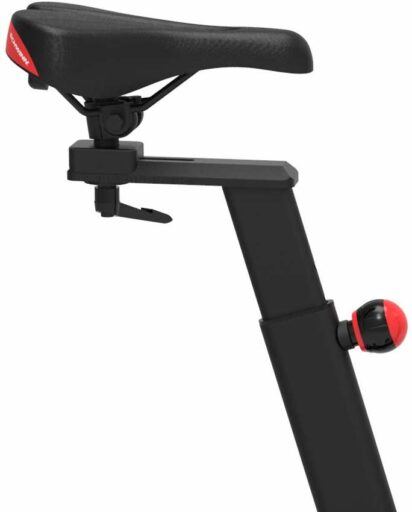 The Schwinn IC3 features an all-steel frame construction to support all kinds of spin workouts. The joints between the frame bars are precision-welded, creating an impressive overall sturdiness. In addition, all the steel parts in the bike's construction come double-coated with a durable black paint finish, resistant to corrosion, chipping, and scratching.
The only non-metallic parts in the bike's construction are the belt guard and several other small covers. In addition, most of the frame steel bars are oval, a feature that bolsters the unit's overall toughness and improves its aesthetics.
A small horizontal bar is between the upright seat tube and the oblique frame tube, serving as a step-up bar. This feature can help entry and exit, but specific spin workouts also require it.
The Schwinn IC3 isn't a colossal trainer. It's approx. 49″ (124 cm) long and 21″ (54 cm) wide when fully assembled. Also, the highest point of the handlebar can reach approximately 50″ (127 cm). Thus, the bike can fit well, even in a small room or apartment. However, keeping at least two feet of space all around it is advisable for safe entry, exit, and operation.
This Schwinn bike is more substantial than the average road bike or mountain bike. The fully assembled frame weighs approximately 101 lbs (46 kg). All this weight improves its stability. However, the adjustable levelers on both its base bars enhance its stability. These allow you to stabilize the unit on any floor correctly.
The front base bar has a set of transport wheels. Thus, relocating the trainer once you have finished your workout shouldn't be a problem.
Seat and handlebars
The seat supplied with this Schwinn exercise bike is similar to most indoor cycling bike saddles. Although it does integrate cushioning elements, especially at the rear, and has a longitudinal groove for superior airflow, it's not a seat made for comfort. Therefore, if you're new to spinning, you may feel slightly uncomfortable for the first several workout sessions.
However, its attachment system to the slider is standard, so more comfortable, compatible replacements for this seat are widely available. Also, you can improve its comfort via a gel seat cover.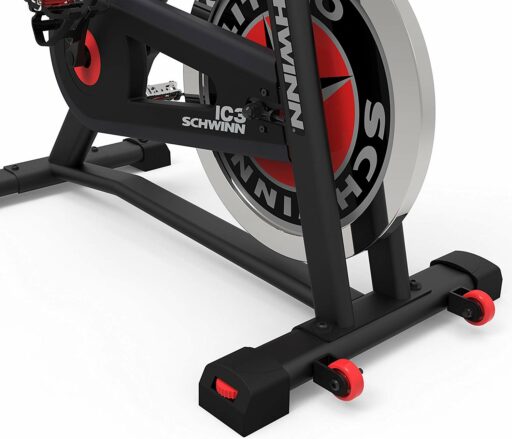 The bike's seat is 4-way adjustable. Its vertical bar offers seven adjustment positions. In addition, the seat connects to a horizontal slider, which also provides several inches of adjustment. Therefore, the bike can accommodate users between 5'0″ and 6'5″ (153 – 196 cm) without any problem, delivering a complete leg extension.
The handlebar features a multi-grip design. It's fully padded to provide superior comfort and a secure grip. In addition, it integrates a small loop aero bar in the middle to which the console and the bottle holder are attached; this bar provides an additional, close parallel grip. The handlebar is 4-way adjustable, up, down, forward, and backward, like the seat.
IC3 Drive System
Unlike the older Schwinn IC2, the IC3 model has a heavier flywheel. It has a 40 lbs (18.1 kg) inertia-enhanced wheel, delivering consistent momentum and a smooth, steady pedaling motion. It's also bi-directional, allowing you to pedal in reverse if you want to put diversity into your workout.
The bike's transmission uses a poly-v rubber belt, which is highly durable and resistant to stretching. Like any other belt drive system, it comes with several advantages. First, it generates less vibration than a chain; second, it doesn't require periodic lubrication; third, the pedaling motion is almost silent.
Another essential element of the drive system is the crankset. The Schwinn IC3 integrates a heavy-duty, 3-piece crankset with solid steel arms. It supports a maximum user weight of up to 300 lbs (136 kg) and all the spin workouts. If you don't exceed this weight, you should pedal while standing up on the pedals without any problem.
The pedals are also highly durable and made of metallic alloy. They come with toe cages on one side and SPD clips for spin shoes. They also have standard 9/16 threads, so compatible options are widely available if you need to replace them.
Resistance System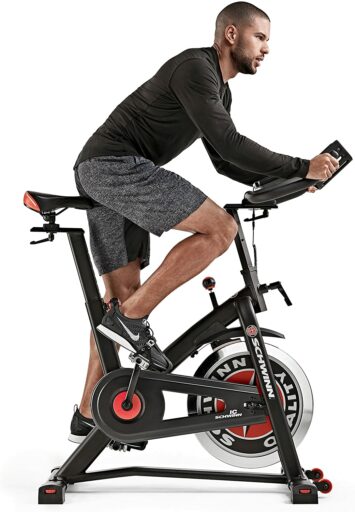 Like many other spin bikes, the Schwinn IC3 model has a friction resistance system consisting of a felt brake pad attached to the mainframe bar and connected to the turn knob.
The pad comes in contact with the flywheel in a top-down manner; as you tighten the resistance dial, it delivers more friction increasing the drag and the overall pedal resistance.
The bike's resistance system is exclusively manual. It doesn't require a power source, and the unit's console does not control the bike's brake.
The tension knob doesn't have any levels marked on it. Instead, you turn right or left until the pedal tension is adequate for your training. The knob also fulfills the function of an emergency brake. It integrates a steel spring and allows you to instantly press it down if you want to stop the flywheel.
IC3 Console
A fitness console is quite a plus for an indoor cycling bike. Unfortunately, some commercial models don't include this accessory. The Schwinn IC3 has a fitness console that offers more than the average basic unit. First, it has a 6-panel LCD, which shows Average RPM, time, distance, speed, RPM, calories, and pulse.
For distance, there are both imperial and metric units. Unfortunately, the bike doesn't have integrated sensors for pulse reading. Still, the console has an internal sensor that can read the pulse transmitted by a heart rate chest strap that operates in the 4.5kHz – 5.5kHz frequency interval.
There are goal settings available for time, distance, and calories. You can select a target for each of these metrics so that the console will count down from zero. This feature offers the possibility to keep better track of your progress.
The console is pretty easy to use. It has four buttons: Mode, Reset, Up, and Down. The Mode button toggles ON/OFF the unit's SCAN function. The Speed and RPM values rotate on the middle right panel when the SCAN function is on.
The Mode button also covers the selection function for the unit's metrics. The Up/Down arrow buttons allow you to increase/decrease value when setting up a workout goal. And finally, the reset button clears the time, distance, and calorie values to zero.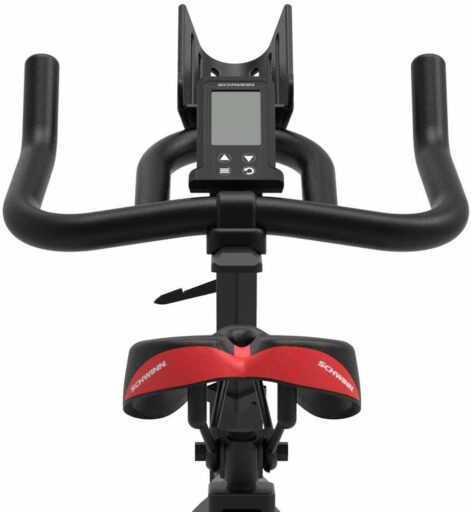 The console has a sleep mode which will enter after 4 minutes of inactivity on the bike. It doesn't have any power button, so it starts when you push any buttons or detect flywheel movement. It's battery-powered and requires 2 AA batteries.
IC3 Assembly and Maintenance
The Schwinn IC3 comes partially assembled. The flywheel, belt, crank, and resistance elements are already attached to the frame. The parts that require assembly are the bike's bases, the seat with its post, the handlebar with its post, the pedals, and the fitness console.
Therefore, it shouldn't take more than 30 minutes of your time. All the tools needed for the assembly come with the bike, and the manual provides clear step-by-step assembly instructions.
Since the bike has a belt drive system, its transmission doesn't require lubrication. However, the brake pad may need a silicone lubricant if it squeaks when in contact with the flywheel. Other than this, it's advisable to keep the bike clean, periodically check for loose parts, and retighten them as needed.
Pros
Sturdy steel frame – can support users up to 300 lbs;
Bases with adjustable, rubberized levelers;
Transport wheels on the front base;
4-way adjustable handlebar with a multi-grip design;
4-way adjustable seat;
Friction resistance system;
Inertia-enhanced, 40 lbs flywheel for a smooth pedaling motion and solid momentum;
Heavy-duty crank made for spin workouts;
Dual-sided pedals with toe cages and SPD clips;
Smooth and quiet belt drive, great for apartment use;
Multi-panel LCD fitness console included;
Goal setting functions for time, distance, and calories;
The bottle holder included the following;
Tablet holder included;
Easy to assemble;
Little maintenance is required;
Excellent warranty.
Cons
The fitness console doesn't have an LED backlight;
An HR chest strap does not come with the bike.
Schwinn IC3 Indoor Cycling Bike Summary
The Schwinn IC3 is an indoor cycling bike built for all spin workouts. It features a standard friction brake, belt drive, and a telemetric fitness console that can track time, distance, speed, RPM, Average RPM, calories, and pulse. In addition, it offers superior micro-adjustability as both its seat and handlebars are 4-way adjustable.
In short, it's an excellent cycle for interval training, strength and stamina development, muscle toning, and weight loss. Finally, it's quite an affordable trainer for its quality and versatility; it's one of the best indoor cycling bikes available.
I hope you found this article helpful and informative. Would you please speak up if you have anything you'd like to share on the topic or any opinions about my website? I look forward to your comments, questions, and the sharing of ideas.
Please remember that you should consult your physician to determine if you have any medical or physical conditions that could risk your health and safety or prevent you from using the equipment properly. In addition, your physician's advice is essential if you are taking medication that affects your heart rate, blood pressure, or cholesterol level.