The SNODE E20i Magnetic Elliptical works smoothly and quietly thanks to its belt drive and magnetic resistance system coupled with a 22lb inertia flywheel. The machine's rear-drive system also features a heavy-duty Cross Crank for added stability.
The SNODE E20i Magnetic Elliptical is a sturdily built machine with a compact design (just 24″ wide x 47″ long) that's ideal for homes where space is limited. The compact SNODE E20i Elliptical Machine offers a 13.78″ stride length and features large non-slip footplates for safety, which can be worked in forward or backward motion.
To keep you challenged, the SNODE E20i features 16 levels of electronic, magnetic resistance, which are easy to adjust via a simple-to-use turn dial knob. It's suitable for people of all ages and fitness levels. With this in mind, the SNODE E20i offers 12 workout programs ranging from beginner to advanced and sporty.
The SNODE E20i Magnetic Elliptical comes with a digital LCD console with an eye-protection Blu-ray screen for easy viewing of real-time workout data. Stats displayed include time, speed, distance, calories, and pulse. Also, the SNODE E20i's console features Bluetooth Smart technology and is compatible with the free iConsole App for online tracking and additional training.
Learn more in my complete review below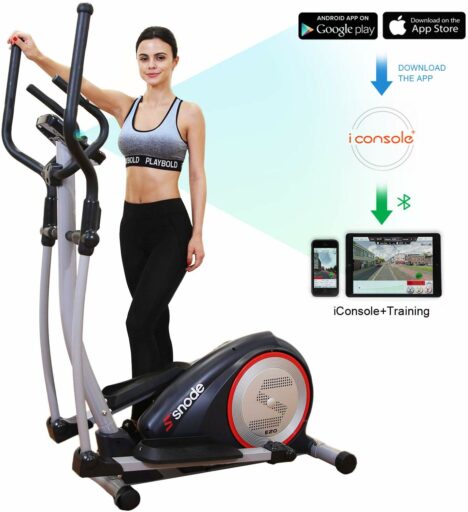 Product: SNODE E20i Magnetic Elliptical
Price: For a great deal on this elliptical, merely go here on Amazon
Warranty: 1 year limited
My rating: 8/10
Amazon Affiliate Disclosure: I may earn commissions on purchases made through links in this post.
Details and Specifications
Assembled dimensions: 47L x 24W x 61H inches (119L x 61W x 155H cm)
Assembled weight: 77.2 lbs (35 kg)
Flywheel weight: 22 lbs (10 kg)
Supported weight: 265 lbs (120 kg)
Stride: 13.7 inches (33.5 cm)
Incline: No
Resistance: Motorized-magnetic, 16 levels
Console: 12 programs, BMI, Recovery, Bluetooth & iConsole compatible
Extras: Tablet holder
Warranty: 1 year limited
E20i Frame
The SNODE E20i features a durable steel frame made of thick steel tubing. However, it isn't a super-heavy machine; with the fully assembled frame, it weighs only 77.2 lbs (35 kg). It's also space-saving; it is only 47″ (119 cm) long, and 24″ (61 cm) wide, so it shouldn't need a usage area larger than 70″L x 60″ (178 x 152 cm). Thus, it can fit pretty well into a small room or apartment.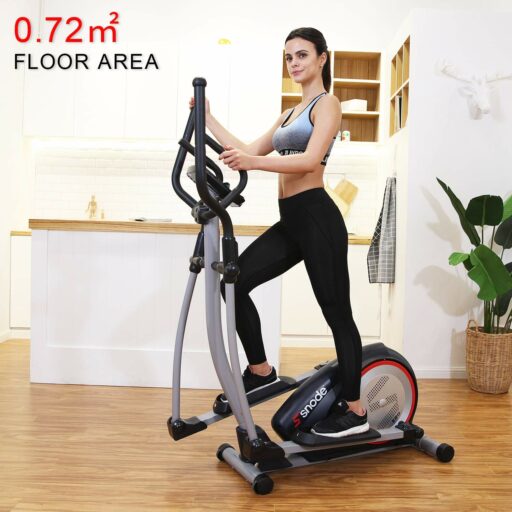 The machine's frame is coated with a rust-resistant paint finish, gray in color, this being the only version available. Of course, the unit also integrates several ABS parts in its construction. For example, the covers of the drive and resistance elements, the joint covers, and several other small covers are a tough ABS plastic, black/gray.
The unit's rear base is equipped with a set of polygonal caps that can rotate and serve as levelers. Conversely, the front base integrates two small wheels which facilitate the relocation of the elliptical. If you're wondering, the E20i does not fold. Once assembled, it can only be stored as it is.
Handlebars and pedals
The SNODE E20i comes equipped with two sets of handlebars. One set is fixed, the other is mobile. The fixed handlebars are directly attached to the main upright bar of the machine. They integrate HR pulse sensors.
The mobile arms connect to the pedal bars; therefore, they do not lock, so they will continue to move for as long as you pedal. They feature long, rubberized grips, with rounded grips at the top.
The machine's pedals are made of heavy-duty ABS material. They are designed to support users up to 265 lbs (120 kg) and feature a non-slip surface but do not integrate any additional cushioning or any articulation.
Furthermore, they are large enough to accommodate athletic footwear of all sizes and have side guards for extra foot stability. They do not have a position adjustment system, though.
E20i Stride, elliptical path, and step-up height
Since it's a small footprint elliptical, the SNODE E20i also has a rather short, 13.7″ (33.5 cm) stride. Therefore, it can accommodate users comfortably between 4'5 ″ and 6'1″ (135 – 185 cm). Taller users should also be able to use this machine, but their range of motion will be limited. The stride length is stationary; it's not adjustable.
The SNODE E20i does not have an incline system. Therefore, the angle of its elliptical path cannot be adjusted. The unit's elliptical path is oval-shaped and slightly inclined forward. Thus, a ride on this machine resembles a descension on a soft ramp or hill. This puts more focus on the glutes and helps with the toning of your thighs.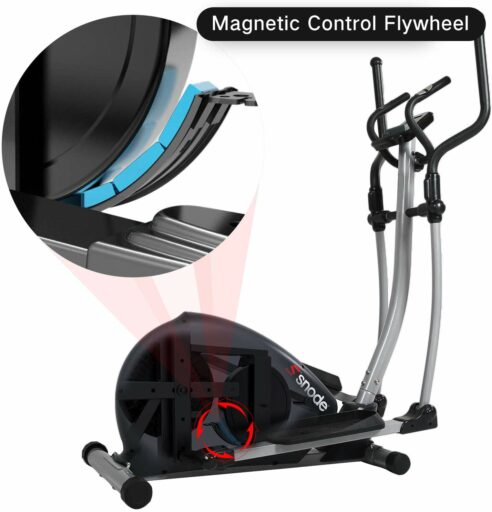 The step-up pedal height is approx. 6″ (16 cm), while at their highest point, the pedals reach approx. 12″ (32 cm) above floor level. Therefore, it is advisable to use this elliptical in a room with a ceiling that is at least 15″ (38 cm) higher than your height.
Drive and resistance
The SNODE E20i integrates a fairly heavy flywheel for a small machine. It weighs 22 lbs (10 kg), it has a balanced structure, and comes designed to provide a smooth and steady pedaling motion. It is also bi-directional. Therefore, you can pedal in reverse if you want. This gives you the possibility to add diversity to your workouts.
This SNODE E20i elliptical comes equipped with an automatic magnetic resistance system. This means you have to connect it to a power source. An adapter with a power cord is (included) with the elliptical.
It also means that the resistance is only adjustable from the console, and the console can automatically adjust the resistance as well if certain programs are in use.
The unit's resistance system consists of a magnetic bracket attached to the flywheel assembly and a servo motor. Therefore, when you adjust the resistance, the motor changes the position of the brake to the flywheel, increasing or decreasing the pedaling difficulty.
The machine offers 16 levels of resistance. The first level is relatively light, offering the possibility to train on a basic level. This is great for users who require recovery training, users with certain disabilities, or elderly users. Conversely, the top resistance levels provide a more pedaling difficulty, great for anyone who wants a more consistent training regimen.
In most cases, the elliptical trainers or exercise bikes equipped with a magnetic resistance system have a belt transmission. The SNODE E20i does not make an exception. It integrates a durable, stretch-resistant belt, so it doesn't need any lubrication. It also delivers a gentle, vibration-free pedaling motion.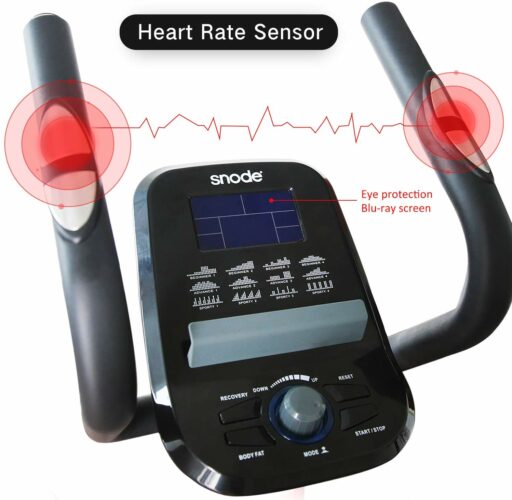 E20i Console
The machine's console has an LCD divided into seven sub-sections. It shows time, distance, speed, calories, and pulse. However, it is not telemetric, though, so it can only read your pulse rate through the integrated sensors. It does not work with any HR chest straps or wrist straps.
There are 12 preset programs divided into three categories. These are Beginner, Advanced, and Sporty. Each program has several difficulty settings that you can select before launching it.
Recovery and BMI functions are also available. The BMI function offers you the possibility to calculate your body fat percentage based on your weight, height, and gender. The Recovery function requires the usage of the pulse sensors at the end of your workout.
It measures how long it takes your pulse to return to normal after the workout and based on the result, it will give you a fitness rating between F1 (excellent) and F6 (poor). These two functions have their quick selection buttons on the console, while for the selection of the other programs, you will have to use the dial/button in the middle.
The console also has a Bluetooth function. Therefore, you can sync it with your smartphone or tablet to stream your workout data directly into your online fitness account. It is compatible with the iConsole App for iOS and Android systems. This App will help you keep track of your progress online and offers a few extra features.
Last but not least, the console does not have a speaker, a cooling fan, or a USB port for your device, but does have a tablet holder. The holder is above the unit's controls and is large enough to accommodate any tablet.
E20i Assembly and Maintenance
The main body of the machine comes pre-assembled. You only have to attach the two base bars, the console mast, the console, the fixed handlebars, the mobile arms, the pedals, and several other small parts. The manual provides clear assembly instructions, and a basic toolkit is also (included) with the elliptical. The assembly process is far from being complicated and shouldn't take more than an hour.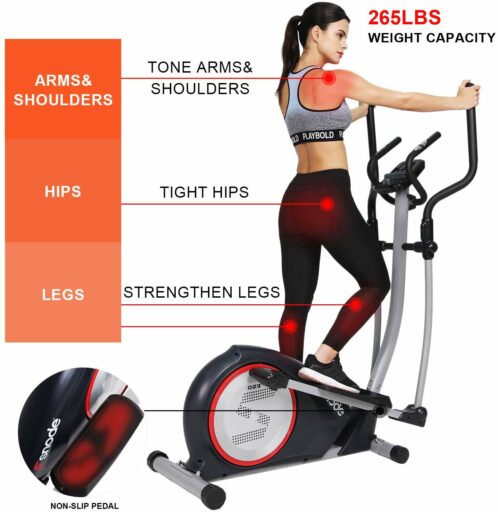 Once fully assembled, you don't have to worry too much about maintenance. The internal components shouldn't need any lubrication or any maintenance for a long time. So, you have to keep your elliptical clean, keep liquids away from the console, lubricate the joints if it's the case, and periodically check for loose bolts.
Pros
Sturdy construction – can support users up to 265 lbs;
Adjustable stabilizers on the rear base;
Transport wheels on the front base;
Fixed and mobile handlebars;
Reasonably heavy (22 lbs) flywheel for a consistent momentum and smooth pedaling;
Extra-large, non-slip, durable pedals;
16 levels of eddy current resistance;
Multi-window LCD console to show all the workout metrics simultaneously;
LED backlight on the console display;
The console can track time, distance, speed, pulse, and calories burned;
12 workout programs;
Recovery function included;
BMI function;
Bluetooth function and compatibility with the iConsole App for iOS and Android;
Tablet holder included;
Quiet operation;
Easy to assemble;
Little maintenance required;
Decent warranty.
Cons
The calories reading isn't too accurate;
A tablet placed on the console will cover its display.
SNODE E20i Summary
The SNODE E20i is an elliptical trainer made for home use. It features an automatic magnetic resistance system with 16 tension levels and a console with 12 workout programs, BMI, Recovery, and Bluetooth functions.
It has a pretty sturdy construction and a small footprint, great for apartment use. It's an excellent machine for a low-impact cardio workout, interval training, recovery training, stamina development, and weight loss. And finally, it's one of the most affordable ellipticals with an automatic resistance system and online connectivity.
I hope you found this article helpful and informative. If you have anything that you'd like to share or any opinions about my website, please do speak up. I look forward to your comments, questions, and the sharing of ideas.