The SNODE FIR 8722 Spin Bike is a 2019 release that features an ergonomic design, smooth and quiet rides, stays stable and does not wobble in different postures, and has a sturdy and durable construction. It has a robust double orbit rail base frame and a maximum user weight capacity of 287 pounds.
The 30 lb flywheel will get the max stability inertia forcing momentum in your legs. It feels like riding outdoors with high-quality flywheel. You can adjust the magnetic resistance via the tension knob on top of the mainframe tube. This magnetic resistance bike needs almost no maintenance, and you will enjoy a smooth and quiet ride during your exercise session.
The smart digital display panel shows the standard indicators of calories, distance, speed, time, odometer, and pulse through the integrated handle sensors on the handlebars. There is a convenient tablet holder for you to put your smartphone or tablet for entertainment purposes or following workout videos.
The handlebars can be adjusted up and down, and the leather padded seat up and down (vertically), and forward and back (horizontally). It comfortably accommodates a user up to 6'3″ tall with these adjustments. Your feet will stay put and in place with the adjustable toe cages on the anti-slip foot pedals.
Learn more in my complete review below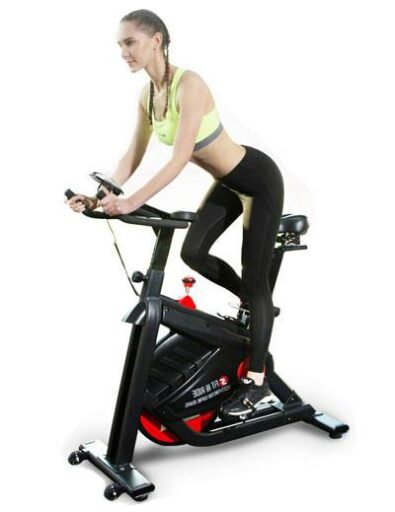 Product: SNODE FIR 8722 Spin Bike
Price: For a great deal on this bike, merely go here on Amazon
Warranty: 1 year limited
My rating: 9/10
Amazon Affiliate Disclosure: I may earn commissions on purchases made through links in this post.
Details & Specifications
Assembled dimensions: 45L x 20W x 45H inches (114L x 51W x 114H cm)
Assembled weight: 90 lbs (41 kg)
Flywheel weight: 30 lbs (13.6 kg)
Supported weight: 287 lbs (130 kg)
Handlebars: 2-way adjustable
Seat: 4-way adjustable
Drive mechanism: Belt
Resistance: Magnetic
Fitness console: Time, speed, distance, odometer, calories, pulse scan
Accessories: Tablet holder, bottle holder, elbow rest pads
Warranty: 1 year limited
8722 Frame construction
Although it has a rather bulky aspect, the SNODE 8722 isn't extremely heavy like other indoor cycling trainers, such as the Body-Solid ESB250, for example, which weighs over 145 lbs. It does weigh approx. 90 lbs (41 kg), though, which is more than twice the weight of any road bike. Therefore, this exercise bike provides superior stability.
The unit's low center of gravity also contributes to its overall stability. Plus, both its bases have adjustable, rubberized levelers. The bike is relatively easy to move once assembled. Its front base has a set of wheels that facilitate its relocation.
Needless to say, since the bike is designed to support most spin workouts, its frame is made of steel tubing. The frame features quite a different design than most other spin bikes. It's not a V-frame, nor a triangle frame. Its longitudinal base section is composed of two bars which hug the flywheel at the front, while the seat tube and the handlebar tube connect directly by the main bar of the frame.
All the steel parts in the bike's construction, including the seat and handlebar posts, as well as the flywheel, feature black powder coating which is resistant to corrosion and abrasion. Plus, the two large side belt covers provide extra protection to some of the frame and the top part of the flywheel.
The SNODE 8722 isn't a huge bike. With the frame fully assembled, it is approximately 45″ (114 cm) long, and 20″ (51 cm) wide. Thus, it shouldn't need a usage area larger than 70″ x 60″ (177 x 152 cm).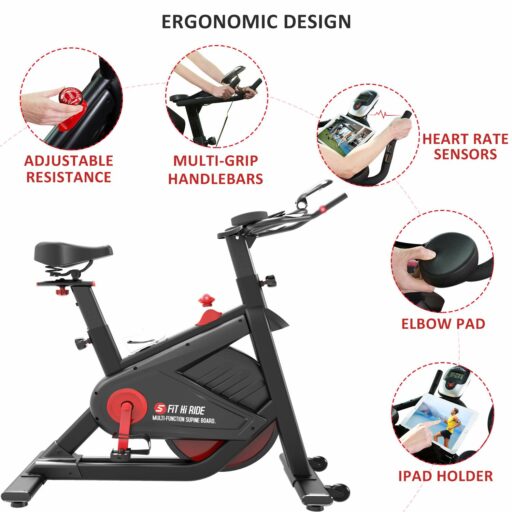 Seat and handlebars
The SNODE FIR 8722 indoor cycle comes with a 4-way adjustable seat. Its upright post features multiple adjustment positions, while its horizontal slider also offers several inches of front to back adjustment.
Therefore, it can accommodate users between 5'0″ and 6'4″ (153 – 193 cm) with no problem. Also, the seat is designed to support users up to 287 lbs (130 kg).
The bike's saddle provides superior comfort. It's considerably more substantial and thicker than the average slim seat that many other spin bikes have.
It integrates a consistent layer of foam cushioning and has a set of two suspension springs at the rear for extra shock absorption. Plus, it features a longitudinal cutout, which improves the airflow under the user preventing overheating.
The SNODE FIR comes with a multi-grip handlebar. It provides at least four grips, including standard, parallel, aero, and race. Additionally, it has a center loop aero bar to which you can attach the fitness console. It is entirely covered by a layer of rubber foam material to provide a secure grip.
The bike's handlebar features a set of elbow rests, a feature that not many exercise bikes include. A tablet holder also attaches to the top of the handlebar post. Plus, the side grips of the handlebar include two metallic pulse sensors.
As opposed to the seat, the handlebar is only 2-way adjustable. It does not have a horizontal slider. Both the seat and the handlebar are straightforward to adjust. The large adjustment knobs are easy to grip and turn so that you can set the bike to your size in less than a minute.
8722 Resistance System
The SNODE FIR bike has a magnetic resistance system, similar to the Efitment IC033 bike. It integrates a magnetic brake pad, which connects to the tension knob on top of the mainframe tube. By turning the knob clockwise, the magnetic brake moves closer to the flywheel, which increases the overall drag, adding pedaling difficulty.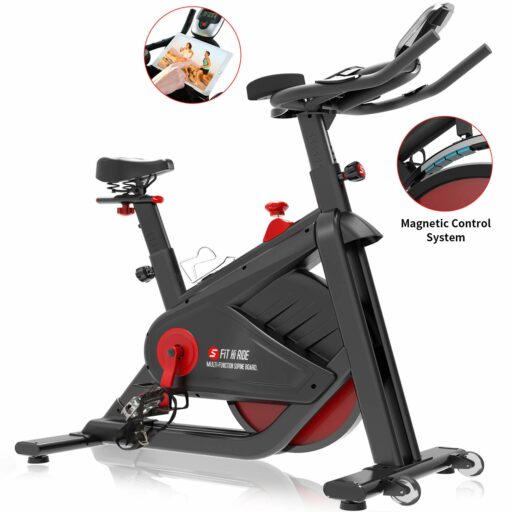 Since the bike's resistance system involves magnets, the resistance elements do not touch. This not only results in smoother pedaling motion but it also considerably reduces the noise generated by the spinning of the flywheel. Differently put, the pedaling action is almost entirely silent.
The resistance system is manual. This means the bike does not integrate a servo motor; it does not adjust the resistance automatically and does not require an external power source. The only power supply required is by the fitness console, which is battery powered (2 AAA batteries).
The bike's tension knob does not have any pre-determined resistance settings or clicks. You turn it until you get the pedal resistance you desire. It does have the emergency brake feature, though; you can press it down to immediately stop the flywheel from spinning.
The bike comes with a 30 lb (13.6 kg) flywheel, which is perimeter-weighted for higher inertia, great for spin workouts. It is bi-directional; thus, you can pedal in reverse if you want.
Drive System
Like most other exercise bikes with a magnetic resistance system, the SNODE FIR features a belt drive system. It integrates a 5-slot, high-traction belt, which is highly resistant to torsion and abrasion. Just like any belt drive system, it does not require lubrication.
As I've mentioned earlier, this exercise bike is for spin workouts. Therefore, it has a highly durable crankset, with solid steel crank arms and metallic pedals. Therefore, as long as you do not exceed the 287 lb (130 kg) maximum weight capacity, you should be able to pedal while standing up with no problem.
The included pedals do not have SPD clips. They come with adjustable toe cages. However, they have standard 9/16 threads, so replacements for them are widely available.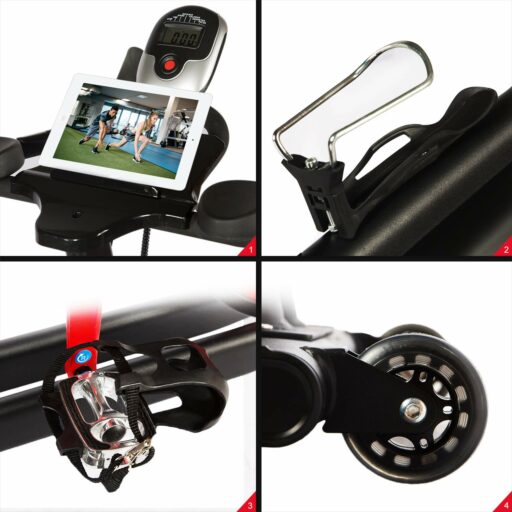 Last but not least, the bike's Q-Factor (distance between the pedals) is 200 mm (7.8″). This is a bit wider than for most road bikes, but far from being wide enough to result in lateral stress for the knees when pedaling.
8722 Console
The SNODE 8722 bike comes with a fitness console. Its LCD tracks time, distance, total distance, speed, pulse, and calories burned. The unit is elementary to use. It features only one button. By pressing it repeatedly, you can select one of the values to be shown all the time on the display.
You can also choose its Scan function, and with it set ON, all the metrics will rotate, each one appearing on screen for a few seconds. The unit's button can also serve as a reset button. You can press it and hold it for a few seconds to clear all the values on the console to zero.
Concerning the pulse reading function, the unit is not telemetric. This means it cannot track your pulse through a wireless HR chest belt. To benefit from a pulse reading, you can only use the integrated sensors.
As I've mentioned above, the fitness console is battery-powered. It requires two AAA batteries. It starts up when you press the button or when you begin pedaling, and also has a sleep mode to which will enter after a few minutes of inactivity on the bike.
8722 Assembly and Maintenance
The main body of the bike comes already assembled. All the drive and resistance elements are already attached to the mainframe and concealed by the side ABS covers.
Therefore, you only need to connect the two base stabilizers, the seat post, the seat, the handlebar post, the handlebar, the pedals, the fitness console, and several other small parts. This shouldn't take more than one hour. All the tools needed for it are (included), and the manual provides precise assembly instructions.
Since the bike has a belt drive system, its transmission does not require lubrication. Once assembled, it doesn't require too much maintenance at all. You need to keep it clean and periodically check for loose parts.
Pros
Fairly sturdy frame – can hold users up to 287 lbs;
Aesthetic design and compact construction;
Transport wheels included;
Adjustable stabilizers on both bases;
4-way adjustable seat;
2-way adjustable handlebar;
Cushioned saddle with a longitudinal groove for extra breathability and comfort;
Multi-grip handlebar with elbow rests;
Smooth, almost silent belt drive;
Metallic pedals with toe cages and standard threads;
Perimeter-weighted flywheel for high inertia;
No friction, magnetic resistance system;
Fitness console included – it can track time, distance, total distance, speed, calories, and pulse;
The bottle holder comes included;
Tablet holder included;
Easy to assemble;
Assembly tools come included;
Little maintenance required.
Cons
No LED backlight on the fitness console;
No SPD clips on the pedals.
SNODE FIR 8722 Summary
The SNODE FIR 8722 is an indoor cycling trainer made for spin workouts. It comes with a magnetic resistance system, a 30 lb flywheel, and a high-comfort seat. Moreover, it offers superior micro-adjustability and has a pretty sturdy construction for home use. It also includes a basic fitness console.
In all, it's an excellent bike for high-intensity cardio workouts, interval training, stamina and strength development, and of course, for burning a lot of calories.
I hope you found this article helpful and informative. If you have anything that you'd like to share or any opinions about my website, please do speak up. I look forward to your comments, questions, and the sharing of ideas.
Related articles: