The Sole E95 Elliptical Machine is my pick for the top machine in its class. It is one of those pieces of fitness equipment that feels like a much pricier item. The E95 features a heavy 27-lb flywheel that provides stability and comfortable momentum. In addition, its near-silent drive system offers both forward and reverse elliptical action.
With a fully adjustable ramp angle from level to 20 degrees, you'll be able to work every little muscle in your legs while doing it entirely without a knee-crushing impact. In addition, the onboard computer features a commercial-grade 10.1-inch LCD TFT display. The data feed shows your heart rate, calories, pace, distance achieved, time of workout, incline degrees, and resistance level.
Many elliptical trainer models provide proper aerobic training and an excellent cardiovascular shape for light and medium training levels. But heavy-duty ellipticals are out there, made for professional training and consistent weight loss, and the Sole Fitness E95 is one of them.
This elliptical training machine perfectly balances quality and design, supplying the perfect setting for long-distance running training and superior cardio. It's also a heavy-user-oriented exercising machine, an excellent choice for an elliptical if you want to lose weight.
Learn more in my complete review below!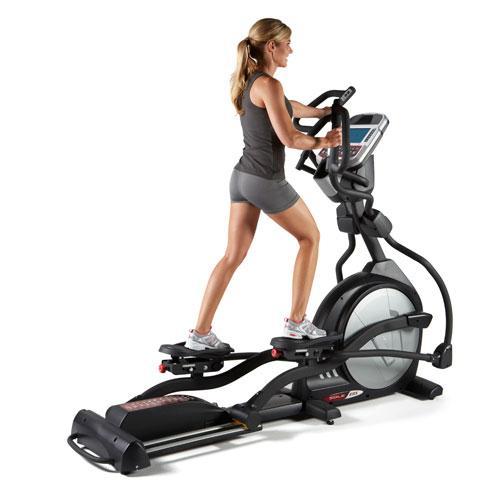 Product: Sole E95 Elliptical Machine
Price:  For a great deal on this elliptical, merely go here on Sole Fitness.com
Warranty: Frame: Lifetime/Parts & Electronics: 5 years/Labor: 2 years
My rating: is 9/10
Affiliate Disclosure: As a participant of the Sole Fitness Affiliate Program, I earn commissions on purchases made through links in the post. Full disclosure
Details and Specifications
Assembled dimensions: 83L x 27W x 62H inches (211L x 68.5W x 158H cm)
Product weight: 236 lbs (107 kg)
Flywheel weight: 27 lbs (12.3 kg)
Supported weight: 400 lbs (181.5 kg)
Stride: Adjustable, 20 to 22 inches (51 to 56 cm)
Incline: Automatic, 0-20°
Footplates: Articulating, adjustable
Handlebars: Mobile (with incline and resistance digits) and fixed (with pulse sensors)
Brake system: Eddy's current
Resistance: Adjustable, 20 levels
Progress Tracking Console: 10 workout programs
Bottle/Accessory holder: Yes
Media Tray: Yes
Speakers: Integrated into the console
Warranty: Frame lifetime / Parts 5 years / Electronics 5 years / Labor 2 years
E95 Frame
The Sole E95 elliptical trainer features a substantial, 2-piece steel frame. As a result, its overall weight reaches 236 lbs (107 kg), enhancing its stability.
It is one of the few available ellipticals designed to support users up to 400 pounds (181.5 kg) without any problem, without losing stability or breaking. However, due to this fact, it has a relatively large footprint, 27″ (68.5 cm) in width and 83″ (210.8 cm) in length, which requires quite a bit of room for adequate exercising.
The frame has three bases, each equipped with levelers to ensure maximum stability on any flooring. The front plate features two transport wheels engaged when the rear of the machine gets lifted. The rear base features a handle for easy lifting.
Handlebars
Both mobile and fixed handlebars are non-adjustable. However, they have a multi-grip design, which should offer a comfortable posture for any user. In addition, the machine's movable arms curl to prevent even the tallest user from touching them with their knees as they work out.
The fixed handlebars feature pulse sensors, while the free ones incorporate digits for quick incline and resistance adjustment. In addition, both types of handlebars are nicely padded with rubber foam to ensure a comfortable, anti-slip grip, even if your hands become sweaty during your workout.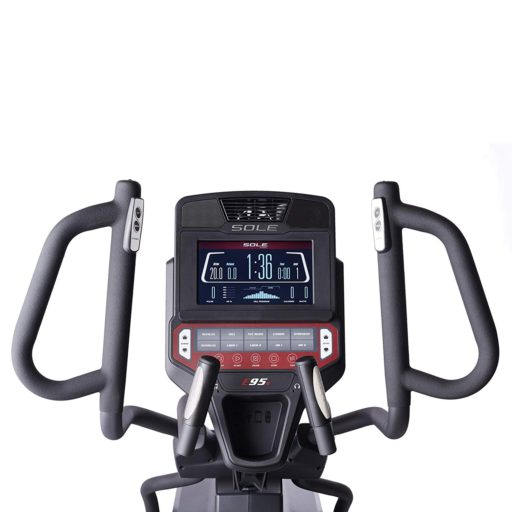 E95 Incline system
An essential aspect of this Sole elliptical is the automatic incline mechanism. First, it's attached to the rear part of the machine. It allows a maximum of 20° incline, dramatically adding to your training diversity. In addition, you can put more pressure on specific muscles by adjusting the slope, obtaining a better focus on your workouts.
As the incline increases, you will feel your knees rise higher with every step, increasing the range of motion and involving more muscle fibers.
The incline system features double, heavy-duty rails on each side, and four polyurethane rear wheels, ensuring a stable feel and reducing the pedals' side-to-side movement.
The incline mechanism is automatic and adjustable via the console of the mobile arms keys. For instance, this is a great feature, as you can adjust the incline while actively exercising without stopping. On top of that, the console includes programs that automatically change the incline, alternating and combining different slopes with different resistance levels.
By adjusting the incline, you also change the stride. For example, the E95 from Sole Fitness is one of the ellipticals with a reasonably long stride, which is adjustable from 20″ to 22″ (51 to 56 cm).
In other words, this elliptical trainer can offer an optimal stride even to taller users, up to 6'6″ (198 cm). But, on the other hand, it might not be too suitable for users under five feet (152.4 cm) tall.
Pedals
The Sole E95 elliptical has 15″ (38 cm) long pedals wide enough to accommodate feet of all shapes and sizes. In addition, they have a slight inward tilt to fit perfectly to your leg/foot positioning, rendering a perfect posture and reducing the impact on all leg articulations to zero.
Each footpad has three adjustment levels – 0°-5°-10°, allowing you to select the position you find more suitable for your training. This feature significantly eliminates the toe numbness effect or sore Achilles tendons, which may occur during prolonged workouts.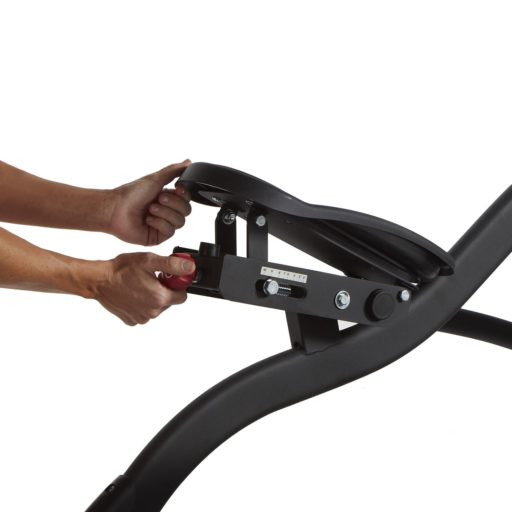 The pedals render an elevation of the user up to 22″ (51 cm). Thus you should add about two feet (61 cm) to your height to determine the required ceiling height.
E95 Drive and brake system
This elliptical exercising machine features an electromagnetic brake system. In other words, it requires an electric current and a power source for the resistance to become operational.
The box includes a six-foot (183 cm) Power cord with a plug (not adapter), fit for any standard American 110V outlet. The power connector for the wire is near the unit's front base, on the left side. It also features a 1/0 power button.
The Sole E95 elliptical offers 15 levels of resistance. The resistance adjusting is done exclusively from the console, or the machine's mobile arms are fully automatic.
The machine's drive system features quite a heavy flywheel for an elliptical trainer. It's aluminum-made and weighs 27 lbs (12.3 kg), providing a smooth and steady workout with a significant rotation and plenty of resistance for users of all levels. It also adds quite a bit to the final weight of the machine, improving its stability.
Console and amenities
Although it's not the most advanced console you can find in a high-end elliptical trainer, this machine's console has much to offer. First, it features a 10.1″ TFT LCD, backlit (blue), to facilitate its reading even during low lighting conditions.
The display can indicate various values, such as distance, speed, time, calories burned, laps completed, RPM, pulse, incline, resistance level, and program used. It offers ten programs, including six standard, two custom, and two heart rates. In addition, the console features keys for gradual and quick incline and tension adjustment and separate keys for each program.
The Sole E95 is compatible with most MP3 players, smartphones, or tablets, featuring audio and headphones. In addition, the upper part of the console features two speakers, a great feature to have in case headphones or earplugs may be inconvenient for you during workouts. The upper part of the console also includes a small fan to keep you fresh during high-intensity workouts.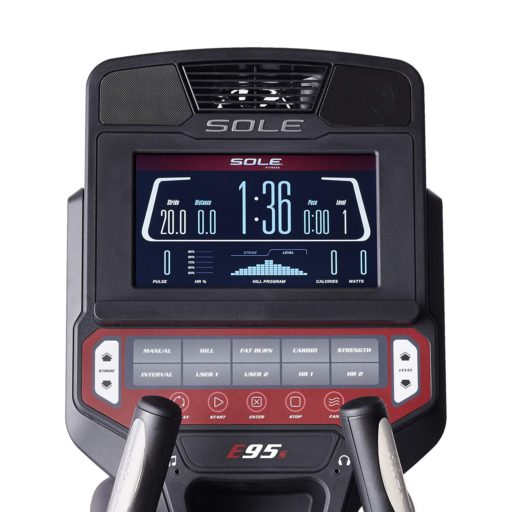 The tablet and bottle holder are two other very useful features on this elliptical trainer's console device. The tablet holder is placed just above the console's main keyboard, while the bottle holder comes to finish the lower part.
The console has a tilt mount. Therefore you can adjust it to the right angle to benefit from a perfect view of the LCD or your tablet.
Finally, the console is telemetry enabled, and the trainer includes an HR chest strap to monitor your pulse.
E95 Assembly and Maintenance
The Sole Fitness E95 is quite a complex exercising machine, not exactly easy to put together. Even though the box includes a comprehensive manual providing detailed, step-by-step guidance for the assembly process, it can still take more than 2 hours to put together.
You must not forget to screw in place, all the joints and the rails require lubrication with a PTFE lubricant, and the machine is quite heavy. So you might want to assemble it on a mat in the same place you want to use it, and another person may also be required.
The elliptical drive and brake system are pre-assembled, sealed in their plastic enclosure, and attached to the frame's front part.
The assembly requires you to attach the two main pieces of the structure, add the bases, main handlebar post, arms, lateral legbar, and footplates, connect the incline and resistance wires, and finally, the console. The box also provides the tools for assembly.
Also, since this Sole elliptical trainer is heavy, it's best to place it on a mat to avoid damaging flooring and ensure maximum stability.
When it comes to maintenance, the drive system doesn't require any. The joints of the machine require periodic re-tightening and lubrication. The rails need cleaning before and after each workout. Therefore, it avoids damage to the wheels or nicks into the tracks and ensures a smooth ride. They're aluminum-made, not steel. Therefore dirt, sand, or other hard particles may cause permanent damage, resulting in thumping during use.
Pros
20″ to 22″ stride, power-adjustable;
27-pound flywheel;
Ten workout programs, including custom;
10.1″TFT graphic screen;
Option to integrate mobile devices as a workout display;
Bluetooth syncing with mobile fitness apps;
Heart rate control;
Wireless pulse compatible;
HR chest strap included;
It has integrated pulse sensors on stationary handles;
Moving armbars;
We have an integrated tablet holder;
Bluetooth audio speakers;
USB charging port;
It comes with a cooling fan and a water bottle holder;
Competitive warranty and excellent customer service.
Cons
Not ideal for users with short strides;
Not compact.
Sole E95 Elliptical Machine Summary
If you're looking for a heavy-duty, gym-class elliptical trainer, the Sole E95 is on your list. Not only it's a tremendous exercising machine for muscle toning, aerobic, and rehabilitation exercises, but it also provides the required setting for professional training and long-distance runs. Accordingly, it supports heavy users without any problem and can help you burn up to 7-800 calories per session, making it an excellent machine for losing weight.
It eliminates any impact on the joints and back and offers a quiet, smooth, stable, full-body workout. It's an exquisite combination of quality, power, and design, an investment that you won't regret.
I hope you found this article helpful and informative. Would you please speak up if you have anything you'd like to share on the topic or any opinions about my website? I look forward to your comments, questions, and the sharing of ideas.
Please remember that you should consult your physician to determine if you have any medical or physical conditions that could risk your health and safety or prevent you from using the equipment properly. In addition, your physician's advice is essential if you are taking medication that affects your heart rate, blood pressure, or cholesterol level.