The Sole TT9 Non-Folding Treadmill is a "connected" fitness machine with a 10.1″ TFT touchscreen as its control panel. The touchscreen has web apps, plus the treadmill has Bluetooth for sharing workout data. You can wirelessly export your workout numbers to the Sole Fitness app or third-party apps such as iHealth.
A commercial AC motor powers the belt at speeds from 0.5 to 12 mph. The motor has 4.0 continuous horsepower and provides quiet operation. The workout area is slightly above average in size, measuring 22" wide x 60" long.
The TT9 has 15 power incline settings and six decline settings to diversity training. Workout programs automate the incline/decline, or users can override the settings — contact heart rate sensors (are included). The TT9 is also compatible with wireless heart rate monitors. However, the HR chest strap doesn't come with the treadmill.
The Sole TT9 treadmill workout programs automate the speed and incline/decline. The TT9 Treadmill has ten preset workout programs. The amenities on the console include cooling fans, bottle holders, storage areas, an integrated tablet holder, Bluetooth audio speakers, and a USB charging port.
Learn more in my complete review below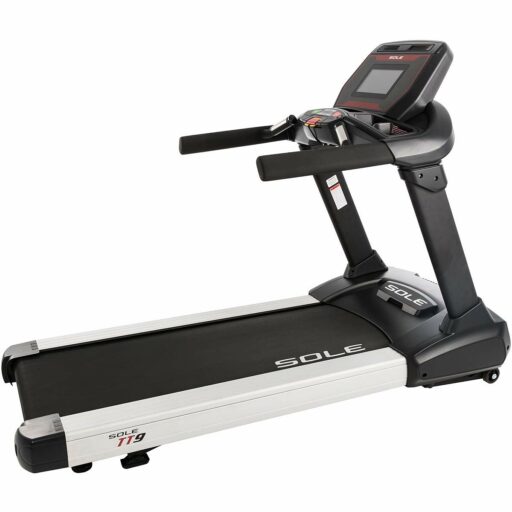 Product: Sole TT9 Non-Folding Treadmill
Price: For a great deal on this treadmill, merely go here on Amazon
Warranty: Frame lifetime / Motor lifetime / Deck lifetime / Electronics 6 years / Labor 3 years (see commercial warranty below)
My rating: 9.75/10
Amazon Affiliate Disclosure: I may earn commissions on purchases made through links in this post.
Details and Specifications
Assembled dimensions: 84L x 36W x 58H inches (213L x 91W x 147H cm)
Assembled weight: 397 lbs (180 kg)
Supported weight: 450 lbs (204 kg)
Running surface: 60L x 22W inches (152L x 56W cm)
Deck cushioning: Cushion Flex Whisper Deck
Motor: 4.0 CHP
Incline range: -6% – 15%
Speed range: 0.5-12 MPH
Console: 14 programs, Bluetooth connectivity
Amenities: Sound system, cooling fans, accessory trays
Warranty:
-Residential: Frame lifetime / Motor lifetime / Deck lifetime / Electronics 6 years / Labor 3 years
-Light Commercial: Frame lifetime / Motor 5 years / Deck 5 years / Electronics 3 years / Labor 1 year
TT9 Frame
The Sole TT9 features an extremely durable construction offering a high user weight capacity. The base frame and deck can support users up to 450 lbs (204 kg), which is quite impressive even for a commercial-grade machine.
Its structure is made of thick steel tubing but also has several ABS parts that protect the motor, side rails, and other components. The machine's steel parts come with a corrosion-resistant and abrasion-resistant paint; the color used is black, this being the only color available for the TT9 (at least for the moment).
The Sole TT9 treadmill is considerably large. Fully set up, it takes approx. 84″L x 36″W (213 x 91 cm) of floor space. Plus, you should allow at least two feet of clearance on each side, and at least three feet of clearance at the rear of the deck for safe usage. Thus, the machine may not exactly be the best choice for a small room or apartment. Also, it's important to mention that this Sole treadmill does not have a folding mechanism.
It weighs approx — 397 lbs (180 kg). Therefore, its transport and assembly require at least a few people. All of this weight plays a crucial role in its overall stability and sturdiness. You can be sure that the unit won't rock, wobble, or move even if you engage in a more demanding workout.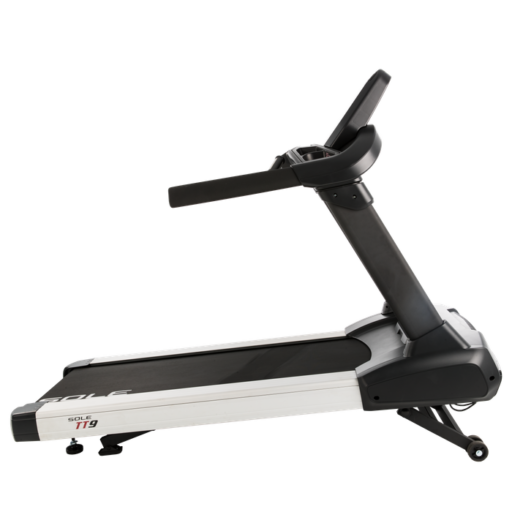 The unit's front base features a set of wheels that play an essential role in the machine's incline; they can also serve as transport wheels.
Also, the rear plate has two adjustable levelers with large rubber pads, which give you the possibility to perfectly level the unit on any floor. It is recommended, though, to place it and use it on a rubber mat as its weight may eventually take its toll on your floor.
Deck
The Sole TT9 treadmill offers a running surface of 60″L x 22″W (152 x 56 cm). Therefore, it can accommodate users comfortably up to 6'5″ (196 cm), promoting a full range of motion and a healthy stride.
It uses a multi-ply belt featuring two rubber layers over a middle PVC layer with a nylon backing that rolls over the deck and rollers.
The rubber layers provide durability and high adherence for the runner; the PVC layer prevents the belt from stretching, while the nylon layer delivers a static-free running surface.
The rollers used in the construction of the TT9 running surface are 3″ in diameter (up from the 2.75″ of the TT8). They have a crowned design to provide a better grip and a prolonged lifespan for the belt. They integrate sealed ball bearings to give a smooth motion and are equipped with copper ground wires to reduce static.
Last but not least, the deck integrates the Cushion Flex Whisper shock absorption technology. It incorporates multiple concealed cushion elements which reduce the impact on your joints by up to 40%. Thus, a run on this treadmill is considerably easier on your joints and back.
TT9 Incline, decline, and step-up height
The Sole TT9 comes with an incline system and a decline system, each one having its motor. Since they are motorized, adjustments are only adjustable from the console.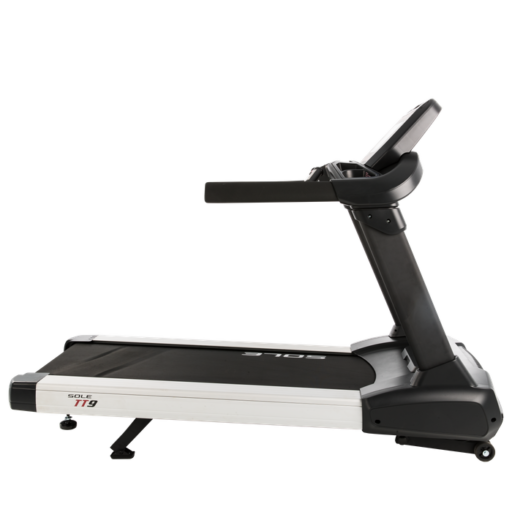 The incline system enables the front metallic base of the machine to lift the front part of the deck. It offers an incline range between 0% and 15%. The declining system features a similar lift but placed at the rear of the deck.
When in use, it can lift the back part of the deck by up to 6%. Therefore, by alternating incline and decline workouts, you can put a lot of diversity into your workouts.
The front control pad comes with incline and declines keys. The console, however, does not have keys for quick incline adjustment. But on the other hand, some of the onboard programs do use incline and decline, so they will automatically adjust the ramp of the deck.
When the unit's deck is entirely horizontal, it stands at approx. 10.5″ (27 cm) above floor level. With the incline set at maximum, the front of the deck rises by approx. 6 extra inches (15 cm).
Therefore, to avoid any ceiling issues, it's recommended to use the treadmill in a room with a ceiling that is at least 20″-22″ (51-56 cm) higher than your height.
Motor
The Sole TT9 treadmill integrates a commercial-grade 4 CHP motor. It's a motor that can provide high-performance during the longest-running sessions, even if you are close to the 450 lbs (204 kg) maximum weight capacity. Also, it has a 10 lbs (4.5 kg) flywheel, which perfectly stabilizes the rotation and motion of the belt.
The unit's motor provides a speed range between 0.5 MPH and 12 MPH. The speed is adjustable from the machine's console only. Just as for the incline, the console keypad only offers buttons for gradual speed adjustment. The console's touchscreen allows for further changes.
The arrow keys for the gradual speed adjustment are bi-functional. If pressed once, they will adjust speed by 0.1 MPH; if you press and hold a key down, the tread belt's velocity will change in increments of 0.5 MPH. The fact that you can adjust speed in increments of 0.1 is quite a plus, as you can easily find the most comfortable pace for your workout.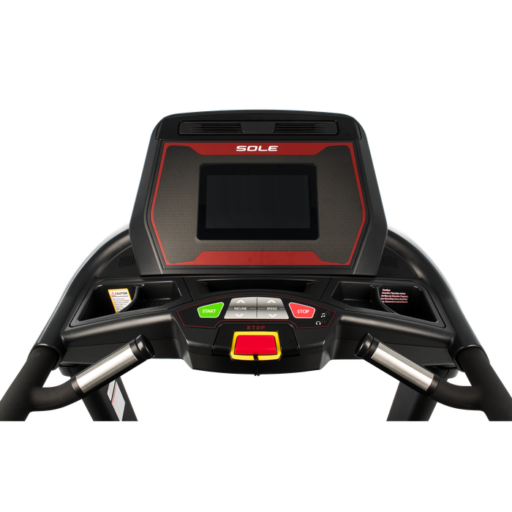 The machine's motor is relatively quiet. But just as for any other treadmill, your running cadence will generate some noise. Differently put, in an apartment building, your neighbors will hear you running.
TT9 Console
The Sole TT9 treadmill comes with a multi-function console. To begin with, it has a 10.1″ TFT diagonal LCD with an LED backlight. It has a touchscreen interface and responds to the same commands as a tablet or smartphone. Its interface is highly intuitive and very easy to use.
Each application and program can easily be accessed directly on the screen. Therefore, the console of the machine has decidedly few other buttons, these being only the ones for speed and incline gradual adjustment, and for the Start/Stop functions.
The console display indicates the most crucial workout metrics, including time, distance, calories burned, heart rate, pace, and more. It also has an integrated message board that provides tips and guidance through the details of any workout. This makes the usage of the machine very easy and helps you use it at its full potential.
The speed and distance values are in both metric and imperial units. For heart rate, sensors are integrated into the front grips of the machine or through a wireless HR chest strap. However, the HR chest strap is not included and must be purchased separately.
Workout Programs
The console has ten preset programs built-in its memory — these are regular workouts that meet the most common training needs of any athlete.
The next two are custom programs. They give you the possibility to create and customize your workout with your own desired incline, decline, speed, and duration settings.
The console also makes available two heart rate programs that adjust the speed of the belt depending on the setup HR interval and your heart rate. Of course, there's also the Manual mode, which gives you the possibility to run by adjusting the incline, decline, and speed as you like throughout your workout session.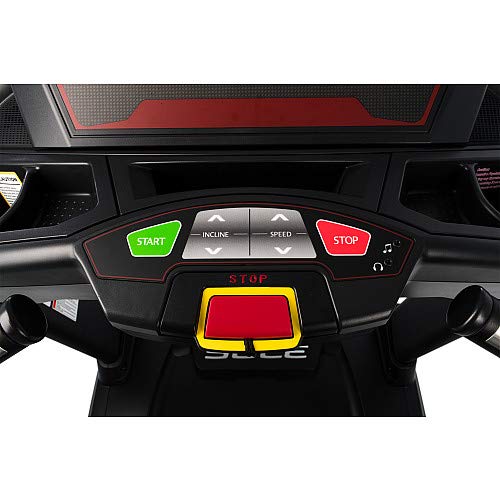 The Sole TT9 also has Bluetooth connectivity. This allows you to sync the machine's console with your smartphone or tablet to track your workout data on the Sole app for free. It can also communicate with various other apps such as Fitbit, Record, Apple Health, or Mapmyrun.
Amenities
In terms of amenities, there is the sound system, the cooling fan, and the multiple accessory trays. The sound system is compatible with most smartphones, tablets, or MP3 players. The audio jack is on the front keypad on the right.
The cooling fans are two in number. They're above the console display. They're large enough to produce enough air current to keep you fresh during the most intense workouts. And finally, the ABS dashboard of the console features multiple compartments where you can store your hydration bottle, TV remote control, smartphone, or other accessories.
TT9 Assembly and Maintenance
The machine's deck with all its motors and other parts comes already assembled. All you need to do is attach the two side upright bars, the console and connect the wires. This shouldn't take more than an hour.
The manual provides clear instructions for the task, and all the tools (are included). But it is essential to mention that this may require at least two people because most of the parts (especially the deck) are quite heavy.
For maintenance, it is recommended to keep the running belt clean and periodically vacuum under the deck to prevent the accumulation of dust. Just like most other Sole treadmills, the TT9 has a low-friction deck, which is pre-waxed, so it shouldn't need any lubrication for a long time.
But if lubrication may be required, the manual provides all the instructions for it. Other than this, it is recommended to check the machine for any loose bolts and parts periodically.
Pros
Extremely sturdy, light-commercial construction;
Superior weight capacity – can support users up to 450 lbs;
It comes with the Cushion Flex shock absorption system;
Large running surface – 60″ x 22″ for a wide range of users;
The multi-ply belt for high-adherence and a static-free running experience;
3″ crowned rollers with sealed ball bearings;
Industrial grade 4.0 CHP motor;
10 lbs flywheel on the motor for superior motion stability;
Speed range up to 12 MPH;
Speed adjustment increments of 0.1 MPH;
Automatic incline system with a range between 0% and 15%;
Automatic decline system with a range between -6% and 0%;
10.1″ TFT LCD console with a touchscreen interface;
Ten preset workout programs;
Two custom workout programs;
2 HR workout programs;
Bluetooth connectivity;
Compatible with the Sole Fitness app or other apps such as Fitbit, Record, Apple Health or Mapmyrun;
Telemetric console – can read your pulse through an HR chest strap;
Pulse sensors integrated into the front grips;
Sound system included;
Workout fans included;
Multiple accessory trays;
Fairly easy to assemble;
Little maintenance required;
Excellent warranty.
Cons
An HR chest strap is not (included);
No USB port.
Sole TT9 Treadmill Summary
The Sole TT9 is a light-commercial treadmill equipped with a 4.0 CHP motor, a motorized incline/decline system, a large LCD touchscreen console with 14 workout programs, and Bluetooth connectivity. Its deck has integrated Cushion Flex shock absorption and can support users up to 450 lbs.
It's an excellent running machine for users of all levels, for light to intense cardio workouts, stamina development, muscle toning, and weight loss. It is not one of the most affordable treadmills but offers excellent value for the price.
I hope you found this article helpful and informative. If you have anything that you'd like to share or opinions about my website, please do speak up. I look forward to your comments, questions, and the sharing of ideas.