The Spinner L7 Lifestyle Series Indoor Bike, released in 2017, is an authentic Mad Dogg Athletics spin bike. It shares many similarities with the Spinner L3 that I've previously reviewed here, but this model offers a few extra features. With this in mind, it's equipped with a heavier flywheel and provides superior micro-adjustability to the handlebar.
It features rust and sweat-resistant, powder-coated steel frame supporting up to 250-pounds maximum user weight. It has a 36-lb perimeter-weighted flywheel and drivetrain that provides the smooth and authentic road bike feel.
Moreover, it has Dual-Sided SPD-compatible pedals, and a large wedge designed commercial handlebar offering micro-adjustability for a more comfortable grip. Furthermore, the Narrow Q factor and incremental fore/aft saddle adjustability make for a comfortable and ergonomic fit.
SPINtv puts the power of a studio legacy boasting more than 250,000 Spinning instructors worldwide straight into your home. An ever-growing online library of unique rides streams directly to your Wi-Fi-enabled TV or favorite mobile device. SPINtv offers a diverse selection of routines, training styles, and durations led by world-class Spinning instructors.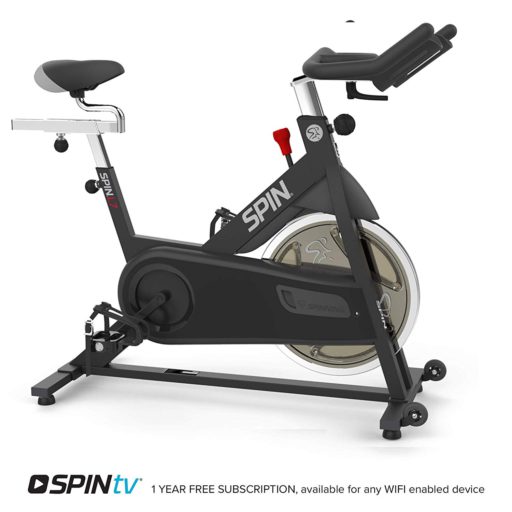 Learn more in my complete review below
Product: Spinner L7 LifeStyle Series Indoor Bike
Price: For a great deal on this bike, merely go here on Amazon
Warranty: 1 year limited
My rating: 7.5/10
Amazon Affiliate Disclosure: I may earn commissions from purchases made through links in this post.
Details and Specifications
Assembled dimensions: 48L x 18W x 42H inches (122L x 47W x 107H cm)
Assembled weight: 100 lbs (45.3 kg)
Flywheel weight: 36 lbs (16.3 kg)
Supported weight: 250 lbs (113.3 kg)
Handlebars: 4-way adjustable
Seat: 4-way adjustable
Pedals: Dual-sided
Drive mechanism: Chain
Resistance: Friction, felt-pad
Console: No
Accessories: Dual bottle holder, four workout DVDs
Warranty: 1 year limited
L7 Frame
The Spinner L7 is an indoor cycling trainer designed for spin workouts. It features a durable frame made of steel tubing and double-coated with a rust-resistant and abrasion-resistant paint finish. The colors used are black for most of the metallic structure and white (or light gray) / red for the SPIN logo. The seat and handlebar posts and sliders have a chrome finish, though.
There are several ABS parts in the bike's construction, as well. They are mostly covers and only have a protective or cosmetic role, without affecting the overall sturdiness of the bike. Among them, we can count the chain cover and the lateral covers of the flywheel.
Although the bike is not extremely heavy, it does weigh approximately 100 lbs (45.3 kg), which is more than twice the weight of the average road bike. This weight improves stability; you can be sure that the trainer won't rattle or move even if you execute one of the most intense workouts. The unit isn't difficult to transport as it's front base has transport wheels.
The adjustable levelers also enhance the bike's stability on each one of its bases. These stabilizers have large rubber caps and provide an excellent grip on the floor.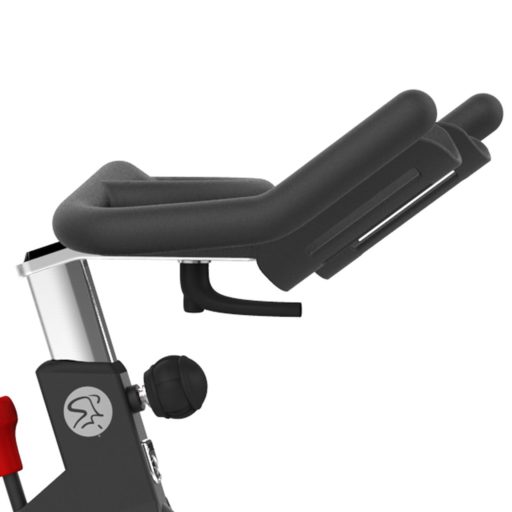 The Spinner L7 is not an extremely large fitness machine. With all the parts assembled it only takes approximately 48″ x 18″ (122 x 47 cm) of floor space.
Also, with the handlebar fully extended upright, its height reaches approximately 47″ (119 cm). It is recommended to assign a usage space for it of at least 75″L x 50″W (190 x 127 cm) to be able to perform any workout without any hindrance.
L7 Seat and handlebars
The Spinner L7 trainer comes with a standard saddle. It integrates a layer of padding and a durable vinyl top. It's designed for optimal comfort but should provide slightly more comfort thana spin seat.
It has a standard attachment system, which makes it easily replaceable in case you want a larger or more cushioned one. Also, you can improve its cushioning with a gel seat cover.
The whole seat assembly is quite durable; it's rated for a user weight capacity of 250 lbs (113 kg). The seat is 4-way adjustable; its upright post offers several adjustment positions while the horizontal slider provides several more inches of fore/aft travel. Therefore, the bike can accommodate users between 5'0″ and 6'4″. (153 – 193 cm).
The L7 model comes with a 4-way adjustable handlebar. It offers several inches of upright and horizontal adjustability. It has a multi-grip design with a middle loop-type aero bar to which the dual bottle holder is attached.
It's urethane dipped to provide a comfortable, secure grip. However, it does not have pulse sensors, and the bike doesn't include a console. So, if you would like to keep an eye on your pulse during your workout, you will have to use a separate device.
L7 Drive system
The Spinner L7 has a slightly heavier flywheel than the L1 and L3 models. It weighs 36 lbs (16.3 kg) and has a perimeter-weighted construction to provide more aggressive inertia. Also, this type of flywheel construction delivers a steadier pedaling feel.
Since the bike doesn't have a coaster brake, it allows you to pedal in reverse. And when driving in reverse, the resistance will remain constant, given by the amount of friction the brake pad applies on the flywheel.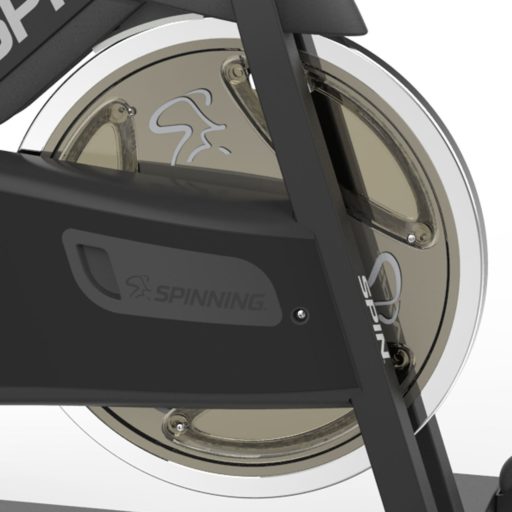 The bike integrates a durable crank assembly. It features solid steel crank arms that can support standing up on the pedals, as long as the user doesn't exceed 250 lbs (113.3 kg).
The pedals are a durable metallic alloy. They're dual-sided, featuring SPD clips for spin shoes on one side, and toe cages for athletic shoes on the other. They also have standard 9/16 threads, so you can easily find compatible replacements for them if needed.
One last aspect to mention here with regards to the bike's pedals is the Q-Factor. This exercise bike has a reasonably narrow Q-Factor (spacing between the pedals), of approximately 150 mm. For this purpose, it promotes a natural positioning of the feet on the pedals, which eliminates the lateral stress on the knees and ankles.
In terms of transmission, this exercise bike uses a chain. A chain drive comes with two main advantages. One, it's highly durable; with the proper maintenance, it can last a lifetime.
And two, it's a standard bike chain, so in case you need to replace it, you can find one in any bike shop. Of course, the main drawback of a chain drive is that it requires lubrication, but this can be done quickly and without removing the chain guard.
L7 Resistance system
Like many other spin bikes, the Spinner L7 comes with a friction resistance system. It consists of a small felt-based brake pad attached to the main bar of the frame and the tension dial on top of it.
By turning the dial clockwise, you can tighten the pad onto the flywheel, increasing friction along with the pedal resistance. Since it's a manual resistance system, the bike doesn't require a power source.
The unit's tension dial doesn't have pre-determined resistance settings or "clicks" as most bikes with magnetic resistance. You tighten the knob until you obtain the pedal tension adequate for your training.
The dial also acts as an emergency brake. You can press it down to instantly stop the flywheel from spinning. This may frequently be necessary as the pedals continue to turn for as long the wheel is spinning.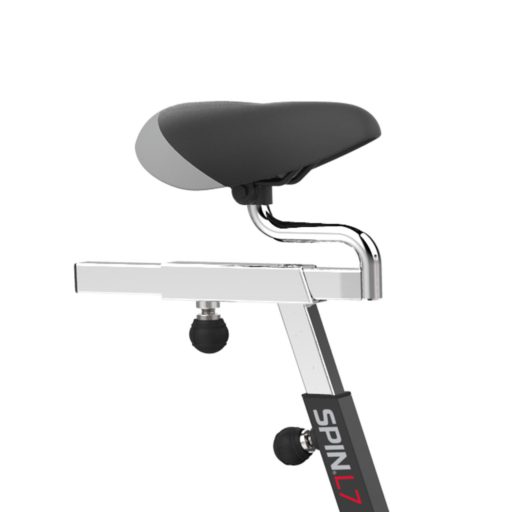 Extras
This spinning trainer doesn't include a console. The main accessories included with it are the dual bottle holder and a set of four DVDs that cover most spin workouts.
The bottle holder attaches to the loop aero bar on the handlebar assembly. It is spacious enough to accommodate most types of water bottles.
The included DVDs are Ultimate Energy, Train and Tone, Turn and Burn, and Maximum Results workouts. They cover various spin workouts.
If you've never been to a spin class before, the exercises on them are quite educational, motivational, and entertaining. They generate the atmosphere of a real spin class, and will considerably help with your results.
L7 Assembly and Maintenance
Most of the bike comes pre-assembled. The drive and resistance elements are already attached to the mainframe. You only need to add the bike's base stabilizing bars, the seat with its post, the handlebar and its post, and the pedals.
The box includes a basic set of tools for assembly, and the manual provides precise assembly instructions. Thus, the task should not take more than 20 minutes.
For maintenance, since the bike has a chain drive system, the lubrication of the chain is required. It should be done every few months to prevent the chain from rusting. For this, standard bike chain oil is advisable.
Also, the brake pad may require lubrication, if it generates a burnt smell or a squeaking noise when in contact with the flywheel. For this, silicone lubricant is advisable.
Pros
Sturdy steel construction – can support users up to 250 lbs;
Rubberized levelers on all bases;
Transport wheels included;
Stepping pad element above the crank;
Heavy-duty, dual-sided pedals, with SPD clips on one side and toe cages on the other;
Comfortable, narrow Q-Factor, reducing stress on knees;
4-way adjustable seat;
4-way adjustable handlebars;
Quiet, smooth and durable chain drive;
Inertia-enhanced flywheel;
Limitless resistance settings;
Dual bottle holder included;
Four free DVDs with different spin workouts included;
Little maintenance required;
Easy to assemble.
Cons
Spinner L7 LifeStyle Series Summary
The Spinner L7 is a home-use spin bike but does offer sturdy construction, similar to a light commercial one. It has a 36 lb flywheel, a highly durable crank with dual-sided pedals, friction resistance, and standard chain drive.
It offers superior micro-adjustability; both seat and handlebars are 4-way adjustable. Thus, it's an excellent trainer for all kinds of spin workouts, from light to intense, interval training, stamina development, and weight loss. In all, it's a trainer with an excellent price/quality ratio.
I hope you found this article helpful and informative. If you have anything that you'd like to share or any opinions about my website, please do speak up. I look forward to your comments, questions, and the sharing of ideas.
Recommended articles:
Please follow and like us: