The Spinner P1 features a more compact frame with new, smoother design lines than its predecessors from the S and L series. It's a heavy-duty frame made of steel, with lightweight aluminum seat and handlebar sliders. It comes with a rust-resistant, scratch-resistant, and sweat-resistant paint finish, gray in color, with the Spinning logo painted in a lighter gray shade.
The P1 features a chain drive and a durable crankset similar to race bikes. It is designed to support users up to 350 lbs (159 kg), and this applies to the crank and pedals as well. Furthermore, the P1 comes with a set of high-grade metallic pedals. They're dual-sided, featuring toe cages on one side and SPD clips on the other.
The flywheel is relatively heavy; it weighs 40 lbs (18 kg), and it's perimeter-weighted, to deliver high inertia, which is excellent for spinning. It provides smooth and stable motion, and it's also bi-directional. Also, the P1 spin bike has a standard friction resistance system.
The Spinner P1 comes with a standard slim spin seat. Similarly, like other spin bike seats, it's not comfortable during seated workouts. However, the seat is easily replaceable, though. It has a standard connection system to its slider. It's also a 4-way adjustable, designed to accommodate users of all sizes. The bike's handlebar features a multi-grip design. It's urethane-dipped for a superior grip.
Learn more in my complete review below
Product: Spinner P1 Indoor Cycling Bike
Price: For a great deal on this bike, merely go here on Amazon
Warranty: 1 year limited
My rating: 8.25/10
Amazon Affiliate Disclosure: I may earn commissions from purchases made through links in this post.
Details and Specifications
Assembled dimensions: 49L x 20.5W x 42H inches (124L x 52W x 107H cm)
Assembled weight: 108 lbs (49 kg)
Flywheel weight: 40 lbs (18 kg)
Supported weight: 350 lbs (159 kg)
Handlebars: 2-way adjustable
Seat: 4-way adjustable
Pedals: Dual-sided
Drive: Chain
Resistance: Friction, leather pad
Console: No
Accessories: Dual bottle holder, four workout DVDs, 1-year free subscription to SPINtv
Warranty: 1 year limited
P1 Frame construction
The Spinner P1 is an exercise bike designed for spin workouts. It features a highly durable frame with commercial development and an impressive weight capacity of 350 lbs (159 kg). The main chassis of the bike is thick steel tubing with precision-welded connection points. However, the seat and handlebar posts are aluminum-made. Also, the bike's construction contains a few ABS parts, the most notable being the chain cover.
The mainframe is coated with solid paint finish, "Warm Silver" in color. This paint finish is sweat-proof, highly resistant to corrosion, and abrasion. Of course, the aluminum posts and sliders have their natural polish.
The frame section above the crank is durable enough to be used as a stepping element. Although it doesn't have a pad on top, and it's slightly oblique, it can serve as support for the spin workouts that require you to step-on and step-off the frame.
The fully assembled bike is relatively heavy. It weighs approx. 108 lbs (~49 kg). This is more than twice the weight of the average mountain bike. Therefore, the bike offers outstanding stability without rocking or wobbling, even if you engage in the most demanding spin workouts.
The large, rubberized, and adjustable stabilizers add to the P1's stability. Plus, once assembled, the bike is quite easy to relocate and handle because its front base integrates a set of large silicone wheels.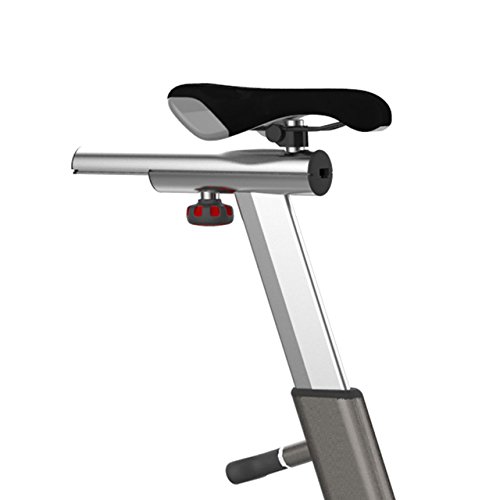 One last aspect to mention here regards the bike's dimensions. This spin bike is approximately 49″ (124 cm) long, and 20.5″ (52 cm) wide. Thus, it doesn't take as much space as compared to other fitness equipment. However, it is recommended to assign an area of at least 70″L x 50″W (178 x 127 cm) for it, for easy access and unhindered operation.
Seat & handlebars
The Spinner P1 indoor cycling bike comes with a slim and rounded spin seat. Now, this type of saddle may not be too comfortable for users new to spinning. It's not a bike seat made for comfort; plus, since it's a spin bike, you should be pedaling while standing up for at least a part of your workout.
But the bike's saddle has a standard attachment system. Thus, replacement options for it are widely available. Also, you can add comfort to it via a gel seat cover.
The seat is 4-way adjustable (up, down, forward, backward). Its upright post offers multiple adjustment positions, while its front-back adjustment slider can also travel for a few inches. Therefore, the bike is designed to accommodate users up to 6'6″ (198 cm), promoting a complete and satisfying leg extension.
Since this is the most basic trainer of the Spinning Performance series, its handlebar only offers upright adjustability. However, the handlebar offers several inches of up-down adjustment.
The handlebar features a wedge design keeping the bars secure and stable. It has an integrated loop aero bar and offers a multi-grip design. It's fully covered by a layer of urethane (or other similar material) to supply a comfortable and secure grip.
P1 Resistance system
Just like the Spinner L3 of the LifeStyle series, the P1 features a friction resistance system. The resistance element is a leather pad that connects to the frame at the top of the flywheel. The tension knob is on top of the main tube of the frame.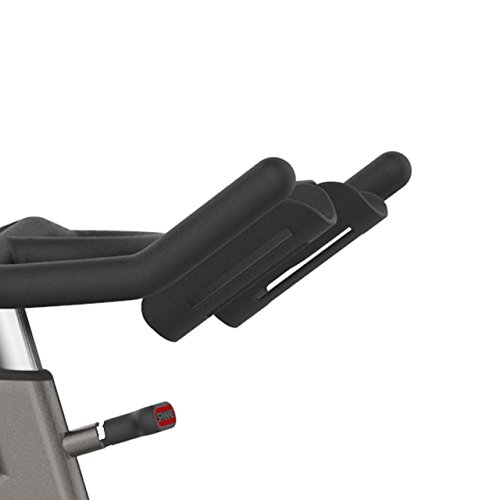 This resistance system is entirely manual. By turning the knob clockwise, the brake pad applies more friction to the flywheel, which results in greater pedaling difficulty. There are no tension levels marked on the knob. You can tighten the pad on the wheel up to the point you can no longer pedal.
The bike's tension knob doubles as an emergency brake. You can press it down to immediately stop the flywheel from spinning. This may be required in some instances, especially if pedaling at high speed, as the pedals will continue to turn for as long as the flywheel is spinning.
Drive system
Concerning the bike's drive system, there are several elements that we must cover here. The first one is the flywheel. The Spinner P1 comes with a hefty, 40 lbs (18 kg) flywheel, which has a perimeter-weighted structure. Differently put, it's a high-inertia flywheel designed for spinning workouts. It supplies a steady motion and a great ride experience.
Since it's a spin bike, the Spinner P1 comes with a highly durable crankset. Specifically, its solid steel crank arms and metallic pedals can support users up to 350 lbs (159 kg) in full standing up position, and for any spin workout.
The pedals are dual-sided. They have adjustable toe cages on one side and SPD elements on the other. They also have standard 9/16″ threads, so you can easily find replacements for them if it's the case.
Last but not least, the bike's transmission uses a chain. It's a standard bike chain that can last a lifetime with proper care. You can also easily find a replacement for it, if needed, in any bike shop.
Accessories
This spin bike doesn't include a console but does come with several notable accessories. The first to put on the list is the dual bottle holder integrated into the handlebar. This is a "gravity-based" bottle holder; each bottle slot is large enough to accommodate any hydration bottle.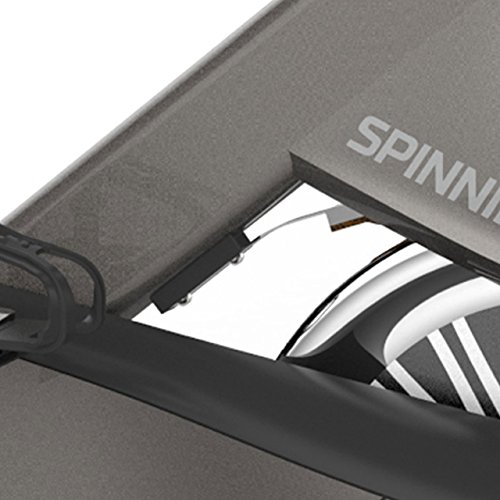 The bike includes a set of four DVDs with spin workouts. In case you've never been to a spin class before, the exercises on them are quite educational, motivational, and entertaining.
They're quite significant to train with, and they generate the atmosphere of a real spin class, and will considerably help with your results. The DVDs include Ultimate Energy, Train and Tone, Turn and Burn, and Maximum Results workouts.
Last but not least, the Spinner P1 comes with a free, 1-year subscription to SPINtv, which is an online library of instructor-led spin workouts that you can stream any time you want on your tablet or smartphone.
P1 Assembly & Maintenance
The core of the bike comes pre-assembled. In other words, the flywheel, the chain drive, the brake system, and the crankset are pre-assembled to the mainframe.
Therefore, for assembly, you'll need to attach the base stabilizers, the seat, the handlebars, and the pedals. This task shouldn't take more than 20 minutes; the included manual provides all the necessary instructions, and some of the required tools (are also included).
For maintenance, it's recommended to lubricate the chain periodically. The manual provides instructions for it. Other than this, it's recommended to check for loose or broken parts from time to time, to replace or re-tighten them.
Pros
Commercial-grade frame construction;
High weight capacity – 350 lbs (159 kg);
Sweat-proof paint finish;
Rubberized levelers on all bases;

Spinner P1 (tablet and holder sold separately)

Transport wheels included;
Dual-sided pedals with toe cages and SPD elements;
2-way adjustable handlebars;
4-way adjustable seat;
Quiet, smooth and durable chain drive;
Inertia-enhanced flywheel;
Limitless resistance settings;
Dual bottle holder included;
Four free DVDs with different spin workouts included;
SPINtv 1-year free membership;
Little maintenance required;
Easy to assemble.
Cons
Spinner P1 Summary
The Spinner P1 is a commercial-grade spin bike featuring a rock-solid frame with an impressive 350 lbs weight capacity. Also, it offers superior micro-adjustability, a high-inertia flywheel, friction resistance, and dual-sided pedals, and it can support any spin workout.
In particular, it's an excellent bike for high-intensity cardio training, interval training, stamina boost, and weight loss. And finally, it's not exactly an affordable unit but does offer exceptional quality for the price.
I hope you found this article helpful and informative. If you have anything that you'd like to share or opinions about the content on my site, please do speak up. I look forward to your comments, questions, and the sharing of ideas.
Recommended articles:
Please follow and like us: