The Spinner P3 Performance Series Indoor Cycling Bike is engineered with careful attention to detail to deliver a studio-level workout at the best possible value. The Spinner P3 Spin Performance Series is the perfect indoor cycling bike for sophisticated riders and athletes.
The P3 handlebar has micro-adjustments for greater customization and a better fit, while the new open-frame design employs oversized commercial-scale racetrack frame tubes for more exceptional durability. Also, the lightweight aluminum sliders and posts make the P3 easy to move and resistant to rust.
The P3 has a new contoured side fender crafted to help your stationary bike last even longer. The contoured design channels sweat and moisture away from the flywheel and drivetrain components to avoid moisture damage and rust, as does the powder-coated steel frame.
Plus, the P3 Performance Series bike features additional benefits for increased comfort and convenience. These include a proven leather brake pad for the best feel of any resistance system, a newly designed dual water bottle holder on the handlebars featuring an extensive center section large enough to fit a computer, phone, or tablet.
Learn more in my complete review below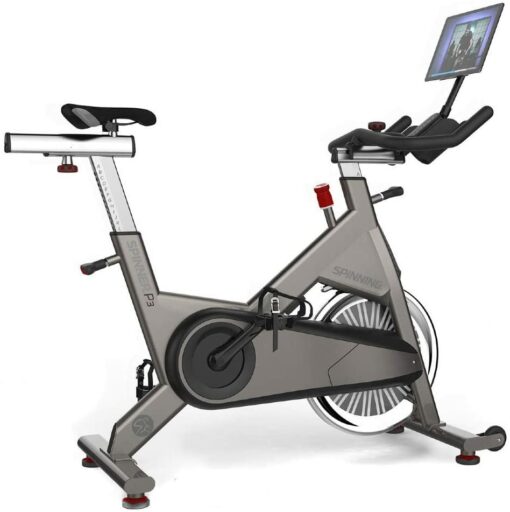 Product: Spinner P3 Indoor Cycling Bike
Price: For a great deal on this bike, merely go here on Amazon
Warranty: 1 year limited
My rating: 8/10
Amazon Affiliate Disclosure: I may earn commissions on purchases made through links in this post.
Details and Specifications
Assembled dimensions: 49L x 20.5W x 42H inches (124L x 52W x 107H cm)
Assembled weight: 111 lbs (50.3 kg)
Flywheel weight: 40 lbs (18 kg)
Supported weight: 350 lbs (159 kg)
Handlebars: 4-way adjustable
Seat: 4-way adjustable
Pedals: Dual-sided
Drive: Chain
Resistance: Friction, leather pad
Console: No
Warranty: 1 year limited
P3 Frame construction
As its name suggests, the Spinner P3 is an authentic spin bike, featuring a commercial-grade construction. It has a highly sturdy frame, designed to support any spin workout. The bike's main body is steel-made, while the handlebars and seat's posts and sliders are aluminum. The only important ABS part in its construction is the chain cover.
The bike's core frame is double-coated with a sweat-resistant, corrosion-resistant, and abrasion-resistant paint finish. The color used is "Warm Silver," this being the only color available for this bike (at least for now). The Spinning logo is on the sides of the bike in a lighter gray color. The posts and sliders of the seat and handlebars have their natural polish finish. Also, the flywheel is chrome plated.
The bike isn't huge compared to a rear-drive elliptical. However, it still takes approx. 49″L x 20.5″W (124 x 52 cm) of floor space. Also, it's advisable to have at least two feet of clearance all around it. Thus, enabling you to freely execute any spin workout, including those that require you to repeatedly step-off and step-on.
The Spinning P3 is a heavy-structure indoor cycling trainer. It weighs approx. 111 lbs (~50 kg). All of the weight increases its overall stability. Plus, it's base bars come with adjustable, rubberized levelers, which allow you to stabilize the unit on any floor correctly.
Despite its weight, the bike is relatively easy to move. Its front base features two large transport wheels. So, by leaning it forward on its wheels, you won't be handling more than 35-40 lbs of its total weight.
Seat & handlebars
The seat included with the Spinner P3 indoor cycling bike is for spin workouts. In other words, it has a slim structure with a rounded surface. It's not a very comfortable seat, especially for the users who are new to spinning.
But it has a standard connection system to its slider. Therefore, you can find a compatible replacement for it in any bike shop if you feel that it's too uncomfortable for you.
The seat is 4-way adjustable. Its post has multiple adjustment positions, while its slider also offers several inches of front-to-back adjustment. Therefore, the bike can accommodate a wide range of users, promoting a complete and healthy leg extension even for users up to 6'6″ (198 cm).
Just like the seat, the bike's handlebar is 4-way adjustable. This gives you the possibility to find the best posture for your size. The whole handlebar assembly has a multi-grip design, with a loop aero bar in the middle. A layer of high-density foam material covers it to provide a comfortable and secure grip.
Both the seat and the handlebar are adjusted very quickly. The large knobs are easy to grip and turn. So, in less than a minute, you can adjust the bike to your size.
P3 Drive system
The Spinner P3 is a chain drive bike. It uses a standard bike chain. Thus, the bike's transmission is highly durable. With proper care, it can last a lifetime. Also, in case it needs replacement, you can acquire a bike chain from any bike shop.
The bike's crankset is exceptionally durable, featuring two solid steel crank arms. The bike's weight capacity is 350 lbs (159 kg), which applies to the crankset and pedals. Therefore, as long as you don't exceed this weight, you can pedal while standing up with no problem.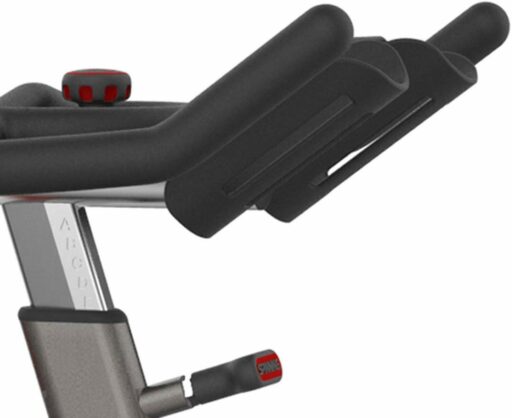 The pedals are a metallic alloy. They feature SPD clips on one side and adjustable toe cages on the other. Their exact Q-Factor (spacing between the pedals) is not specified, but it's a narrow Q-Factor, similar to road bikes. Therefore, a workout on this spin bike doesn't put any extra lateral pressure on your knees and ankles.
The bike comes with a 40 lb (18 kg) flywheel designed for spin workouts. It's perimeter-weighted, which means that it delivers aggressive inertia. It's also bi-directional; therefore, you can diversify your workouts by alternating normal pedaling with reverse pedaling sessions.
Resistance system
The Spinner P3 has a friction resistance system that consists of a leather brake pad attached to the tension knob on top of the frame's main bar. It's a manual action system; thus, you don't have to connect the bike to a power source.
By turning the tension dial clockwise, the brake pad adds more friction to the flywheel, which results in more incredible pedaling difficulty.
Since the bike doesn't have a derailleur like a road bike, it doesn't allow coasting. Differently put, the pedals will continue to spin for as long as the flywheel is spinning. Therefore, the tension dial doubles as an emergency brake. You can press it down to instantly stop the wheel from rotating.
Furthermore, it's advisable to use this emergency brake every time you need to stop. Or when you want to change the course of pedaling (form normal to reverse, or vice versa).
P3 Accessories
The Spinner P3 doesn't include a console, but there are several models compatible with it. However, there still are three notable accessories included with this exercise bike. First of all, there is a dual bottle holder that attaches to the handlebar. Its compartments are large enough to accommodate any hydration bottles.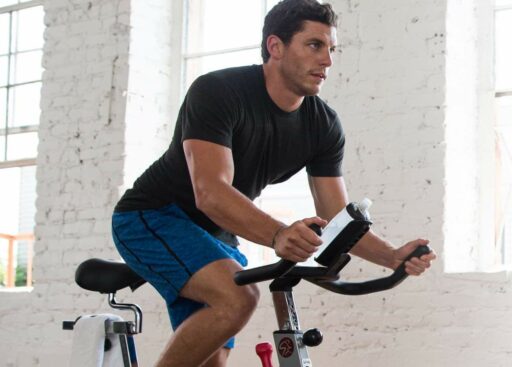 Second of all, there's a set of four DVDs with spin workouts, which are quite motivational and entertaining. They generate the atmosphere of a real spin class and will considerably help with your results. The DVDs include Ultimate Energy, Train and Tone, Turn and Burn, and Maximum Results workouts.
Finally, a 1-year membership to SPINtv is (included) with this spin bike. SPINtv is an online library of instructor-led spin workouts that you can stream any time you want on your tablet or smartphone.
P3 Assembly & Maintenance
Most of the bike comes pre-assembled. However, you still have to add the frame's bases, the seat, the handlebars, and the pedals. This shouldn't take more than 30 minutes, though. The manual provides pretty clear assembly instructions, and some of the tools required (are included).
The primary maintenance aspect is the lubrication of the chain. You can use any oil-based lubricant for it or use standard bike chain oil. Also, a periodic check for loose bolts and parts is advisable.
Pros
Heavy-duty frame for superior sturdiness and stability;
Professional-looking design;
Excellent weight capacity – 350 lbs;
Adjustable base stabilizers, with large rubber pads;

Spinner P3 Indoor Cycling Bike (tablet sold separately)

Transport wheels included;
Solid crank assembly;
Dual-sided pedals, with SPD clips on one side and toe cages on the other;
Comfortable Q-Factor;
4-way adjustable seat;
4-way adjustable handlebars;
Durable chain drive;
High-inertia flywheel;
Limitless resistance settings;
The bottle holder comes included;
Little maintenance required;
Easy to assemble.
Cons
It doesn't have a console.
Spinner P3 Summary
The Spinner P3 is a commercial-grade spin bike featuring a durable frame that can support users up to 350 lbs. It offers superior micro-adjustability, a high-inertia flywheel, friction resistance, and dual-sided pedals.
It will withstand any spin workout. Furthermore, it's an excellent bike for high-intensity cardio training, interval training, stamina boost, and weight loss. In all, it's a professional spin bike that offers superior quality for the price.
I hope you found this article helpful and informative. If you have anything you'd like to share or opinions about my website, please speak up. I look forward to your comments, questions, and the sharing of ideas.