The SportsArt C510 Indoor Cycling Bike takes the user above and beyond the experience of other indoor bikes. Feel a whole new level of energy and competition. With a precision machined flywheel, fully enclosed drive belt, and extra-wide base, the SportsArt C510 Indoor Cycling Bike offers an experience most users have never felt before.
The SportsArt C510 has simple adjustment levers that lock quickly for added security in gear adjustments. Thus, the rider can focus more on their workout than on getting the right fit for a ride. In addition, it features a multi-position resistance, an easy control knob, and an emergency stop for safety.
The SportsArt C510 Indoor Cycling Bike comes equipped with a whisper-quiet poly-v-belt that offers smooth and consistent motion for a better ride. In addition, the pedals have a standard toe cage and strap to prevent the foot from slipping off and injuring the user.
Product: SportsArt C510 Indoor Cycling Bike!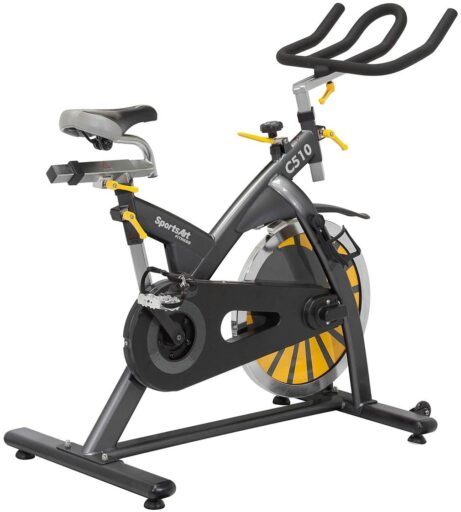 Price: For a great deal on this bike, merely go here on Amazon
Warranty: Frame 5 years / Parts 3 years / Wear items 1 year / Labor 1 year
My rating: is 9/10
Affiliate Disclosure: As an Amazon Affiliate Program participant, I earn commissions on purchases made through links in this post. Full disclosure
Details and Specifications
Assembled dimensions: 40.9L x 25.6W x 48.4H inches (104L x 65W x 123H cm)
Assembled weight: 116 lbs (53 kg)
Flywheel weight: 44 lbs (20 kg)
Supported weight: 330 lbs (150 kg)
Handlebars: 4-way adjustable
Seat: 4-way adjustable
Drive mechanism: Belt
Resistance: Magnetic
Fitness console: Not included (sold as an accessory option)
Frame 5 years / Parts 3 years / Wear items 1 year / Labor 1 year
C510 Frame Construction
The SportsArt C510 features a triangular frame with a slightly curved main oblique bar and a broader base for improved stability. In addition, it combines ovalized and rectangular steel tubes for extra sturdiness and enhanced aesthetics.
All the steel tubes of the mainframe are double-coated with a corrosion-resistant and chip-resistant paint finish except for the seat post, handlebar post, and flywheel, which have a chrome finish. The color used for the mainframe is dark gray with the "SportsArt" logo painted white, this being the only color available for this exercise bike.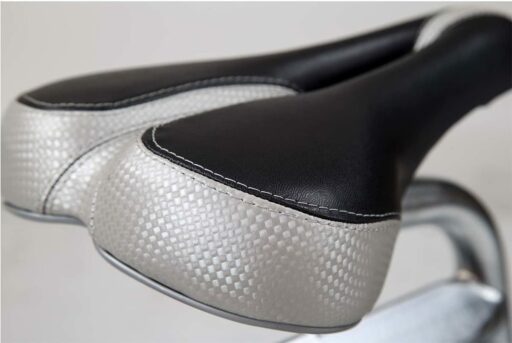 The C510 has a slightly wider base than other spin bikes. Its footprint is approx. 41″L x 25.6″W (104 x 65 cm), so it provides excellent stability. However, leaving at least 24″ (61 cm) of clearance around the bike is advisable for easy access.
Its ideal weight also improves the bike's stability. With all the parts assembled, the SportsArt C510 indoor cycle weighs approximately 116 lbs (53 kg), about three times the weight of the average road bike. Plus, both base tubes of the bike come equipped with adjustable stabilizers, which have large rubber pads for a better grip on the floor.
The bike isn't too difficult to move once assembled despite its weight. Its front base integrates two large silicone wheels, which ease its relocation. By using these wheels for moving the bike, you won't have to handle more than 30% of its total weight.
Seat and handlebars
The SportsArt C510 indoor cycling bike comes equipped with a race-type saddle. Although it's not extremely wide, it integrates a thick layer of padding, especially in its rear section. Its top is a durable vinyl material reinforced at the rear by a layer of synthetic fabric. It also has a large cutout in the middle for improved breathability.
The bike's seat is adjustable (up, down, front, back). In addition, its vertical post offers several adjustment positions, while its horizontal slider adds a few more inches of front-to-back adjustment. Therefore, the bike can accommodate users comfortably between 5'0″ and 6'4″ (153 – 193 cm). It is also durable enough to support users up to 330 lbs (150 kg).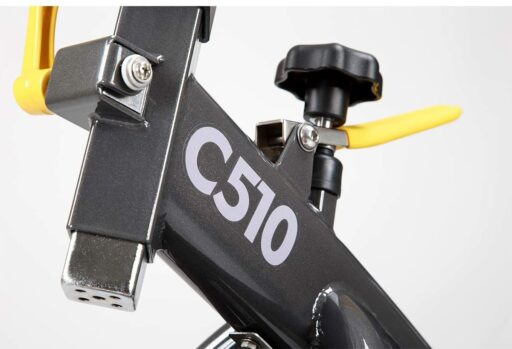 The SportsArt C510 indoor cycle comes equipped with a multi-grip handlebar. It offers a climbing crip, a racing grip, a standard grip, and an aero grip. The aero bar features extended grips to provide comfortable support for your elbows. In addition, the whole handlebar comes coated with a layer of rubber foam material for extra comfort. Unfortunately, the bike's handlebar does not have integrated pulse sensors.
Like the seat, the bike's handlebar is four-way adjustable, although its post and slider only offer a few positions. It's also important to mention that the seat and handlebar posts have a rectangular design, preventing them from turning sideways if not tightened properly.
C510 Drive system
First of all, the SportsArt C510 comes equipped with an extra-heavy flywheel. It weighs 44 lbs (20 kg) and has a perimeter-weighted design for aggressive inertia, excellent spin workouts, and a smooth pedaling motion.
As I've mentioned, the flywheel features rust-resistant chrome coating, while its side panels are ABS-made. Also, the connection points of the wheel to the bike's frame feature ABS guards.
The bike's flywheel is bi-directional. In other words, it allows pedaling in reverse. Nonetheless, coasting (or free-wheeling) is not possible on this bike as it would be possible on any road bike. That's because the pedals continue to spin for as long as the flywheel is spinning. Also, when pedaling in reverse, you will benefit from the same resistance level as when pedaling forward.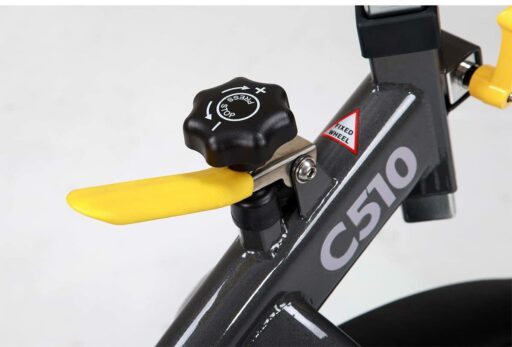 The bike comes equipped with a poly-v drive belt. The belt doesn't require any lubrication as opposed to a chain drive. Also, a belt drive system generates less vibration than a chain and contributes to the overall smoothness of the ride.
Since it's an exercise bike designed for spin workouts, the SportsArt C510 comes with a heavy-duty, three-piece crankset. In addition, it features long steel crank arms and metallic pedals. Therefore, it should support pedaling while standing up on the pedals with no problem.
The pedals feature adjustable toe cages but do not integrate SPD elements for spin shoes. However, their threads are standard (9/16), so you can always replace them with clipless pedals.
Resistance system
The SportsArt C510 indoor cycle comes equipped with a manual friction resistance system. Therefore, you don't have to connect it to a power source. However, since the resistance adjustment is manual, the bike cannot automatically adjust the resistance.
The bike's resistance system consists of a felt-pad brake attached to the tension knob on top of the main tube of the frame. When turning this knob clockwise, the brake pad applies more friction to the flywheel, which increases the pedaling difficulty.
The bike's resistance knob doesn't have pre-determined settings. Instead, you tighten it until you find the pedaling difficulty best suits you. As a general idea, you can tighten the brake to the point you can barely pedal.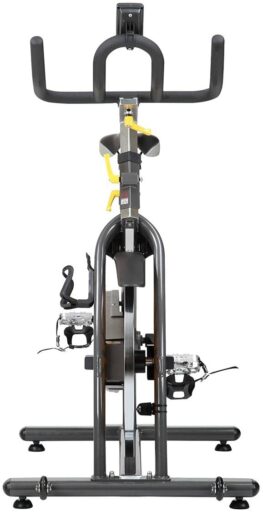 The resistance knob also features an emergency lever. You can immediately stop the flywheel from spinning by pressing this lever down. For example, if you are pedaling at high speed, stopping the wheel from the pedals may cause injuries.
One last aspect is the wear and tear of the bike's brake pad, which is pretty much characteristic of any friction-resistance spin bike. After a while (at least one year), the brake pad may require replacement. Also, if the brake pad squeaks when in contact with the flywheel, it may require lubrication with a few drops of silicone lubricant.
C510 Assembly and Maintenance
The main body of the bike comes pre-assembled. The flywheel, the belt, the crankset, and the brake are already attached. You only have to connect the two base bars to the mainframe, the seat post, the saddle, the handlebar post, the handlebar, and the pedals. Therefore, it shouldn't take more than 30 minutes of your time. The manual provides clear assembly instructions and all the necessary tools for the bike.
For maintenance, the bike's brake pad may need lubrication and replacement after it completely wears out. Besides this, you only need to keep the cycle clean, periodically check for loose bolts and parts, and retighten them as required.
Pros
Robust construction – can support users up to 330 lbs;
Elegant design;
Small footprint, an excellent choice for a cardio fitness machine if space is an issue;
Four-way adjustable seat and handlebars;
Multi-grip handlebar with extended aero grips;
Comfortable race saddle with a center cutout for extra breathability;
Robust crankset can support just about any spin workout;
Metallic pedals with toe cages and standard threads;
Friction resistance is virtually limitless;
Smooth and quiet belt drive;
Little maintenance is required;
Easy to assemble;
All the assembly tools are (included) with the bike.
Cons
A fitness monitor does not come with the bike;
No pulse reading function.
SportsArt C510 Indoor Cycling Bike Summary
The SportsArt C510 is an indoor cycling bike made for home use. It has a friction resistance system, an extra-heavy (44 lbs) flywheel, and a solid crankset with metallic pedals. In addition, it also offers superior micro-adjustability featuring a 4-way adjustable seat and handlebars.
It's an excellent stationary cycle for high-intensity cardio training, interval training, weight loss, stamina development, and muscle toning. It's not the most affordable bike, but it offers excellent quality.
I hope you found this article helpful and informative. Would you please speak up if you have anything you'd like to share on the topic or any opinions about my website? I look forward to your comments, questions, and the sharing of ideas.
Please note that you should consult your physician to determine if you have any medical or physical conditions that could risk your health and safety or prevent you from using the equipment properly. In addition, your physician's advice is essential if you are taking medication that affects your heart rate, blood pressure, or cholesterol level.