The Stamina 35-1405 ATS Air Rower is an affordable and efficient rower designed for your comfort and convenience. The 35-1405 has an angled and oversized sliding rail made of chrome that facilitates smooth and comfortable seat gliding. The durable steel frame makes the rower sturdy and robust, with a capacity to handle a maximum user weight of up to 250 lbs.
The Air Transfer System (ATS) on the Stamina 35-1405 is simple to operate. Simply pull harder to up the resistance and ease off for less. No matter your intensity, your stroke will feel smooth and efficient thanks to the padded rowing handle and a durable metal chain.
The 35-1405 features a multi-function LCD that tracks speed, distance, time, calories burned, stroke per minute (SPM), and row count for you to manage your workouts according to your preferences. It has a sizeable LED-backlit screen with a scan mode that displays each data set for approximately six seconds before moving onto the next set.
The Stamina 35-1405 ATS Air Rower comes designed to match your pace. The smooth-sliding, foam-padded seat is contoured to provide maximum comfort during movement on the seat rail. The textured footplates and adjustable nylon straps make this rower an excellent fit for users of all shapes and sizes.
Learn more in my complete review below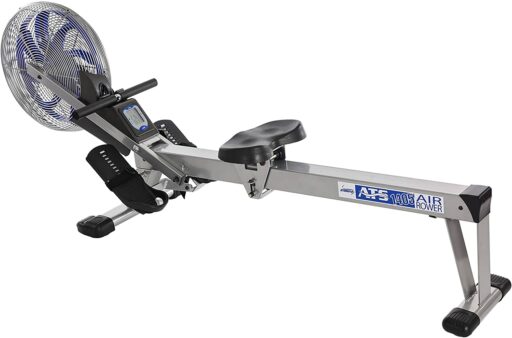 Product: Stamina 35-1405 ATS Air Rower
Price: For a great deal on this rower, merely go here on Amazon
Warranty: Frame 3 years / Parts 90 days
My rating: 8/10
Amazon Affiliate Disclosure: I may earn commissions on purchases made through links in this post.
Details and Specifications
Assembled dimensions: 78.5L x 19.75W x 31.5H inches (199L x 50W x 80H cm)
Product weight: 63 lbs (28.5 kg)
Supported weight: 250 lbs (113.3 kg)
Frame: Steel, foldable
Footrests: Adjustable, with straps
Resistance type: Air
Console: Basic
Warranty: Frame 3 years / Parts 90 days
35-1405 Frame
The frame is mostly steel, with a few acrylic parts (such as the caps on the bases and footrests). Since it's steel-made, it's pretty durable. All metallic parts have a chrome, shiny finish, giving the frame quite a nice look.
The frame only has two bases, both featuring rubbers stands on each end, to maximize the machine's stability, and of course, to prevent any damage to the floor. However, since the machine is not exactly light, and you'll be on top of it, it's always a good idea to place it on a mat.
Even though it's a bit less long than other rowers, it's still a pretty big machine, with an assembled footprint of 78.5″L x 20″W (199 x 50 cm). The frame is foldable. The front part with the fan can be folded backward, on top of the sliding rail. The folded rower cannot be stored vertically like other rowers. But still, when folded, its length becomes 46″ (117 cm), saving you some space.
The front base of the rower comes equipped with transport wheels. This makes it quite easy to move while in the folded position.
The gliding rail is also steel, and it's long enough to accommodate users up to 6'4 ″ (193 cm). However, even though it's steel-made, it can only support users up to 250 lbs (113.3 kg). So, this isn't precisely a heavy-duty machine, not designed for heavy-set users. The rail is slightly inclined, not fully horizontal. This results in a better workout for the legs and a faster recovery motion.
Seat and footrests
The seat equipped on the Stamina ATS 35-1405 is as comfortable as it gets. It's foam padded and features a molded, ergonomic design. It uses smooth sliding, ball bearing rollers to move across the rail.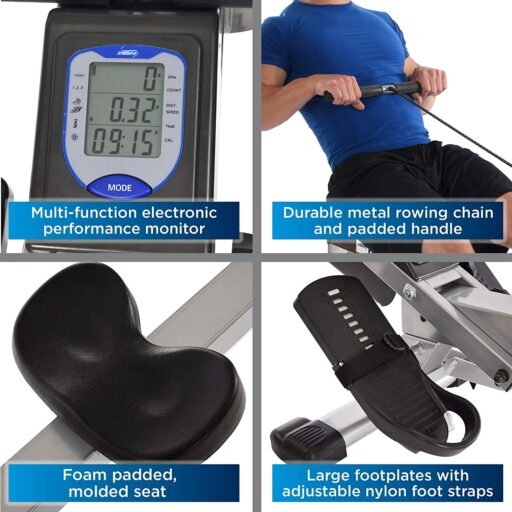 One last aspect regarding the frame components refers to the footrests. They're size-adjustable and can pretty much accommodate feet of all sized. They also feature heel guards and straps to secure feet in place during workouts.
35-1405 Resistance system
One important aspect regarding the resistance system of this Stamina rowing machine is the fact that there's no adjustability to the overall resistance. The rower does not feature an air damper like other models, and you cannot adjust the amount of air that enters and leaves the flywheel chamber to increase or decrease the overall resistance.
However, since it's an air rower and involves a fan-shaped flywheel, the resistance varies with each stroke, depending on how hard you pull. In other words, the consistency of your workout is related to the amount of strength you put into each stroke. Each rowing motion supplies a natural rowing feel, similar to rowing an actual boat.
Another essential aspect of being mentioned here is the level of sound emitted by this rower. Although it's not exactly a loud machine, like most air rowers, each stroke creates a "wooshing" sound, a bit louder than the sound made by water rowers or magnetic resistance rowers. Nonetheless, it's far from being loud enough to be heard by your neighbors in an apartment building, for example.
The drive system of this machine involves a chain, not a nylon strap. It's pretty similar to a bike chain, and you can be sure it will never wear out or break. The chain is attached to a simple, straight handlebar, which features a rubber foam grip, offering a comfortable and secure grip.
Console
The Stamina 35-1405 ATS air rower includes a console. Even though it's a pretty basic one, it does keep track of most values that anyone would want to know during their workout. It displays the number of strokes per minute (SPM) and total strokes (COUNT), distance, speed, time, and calories.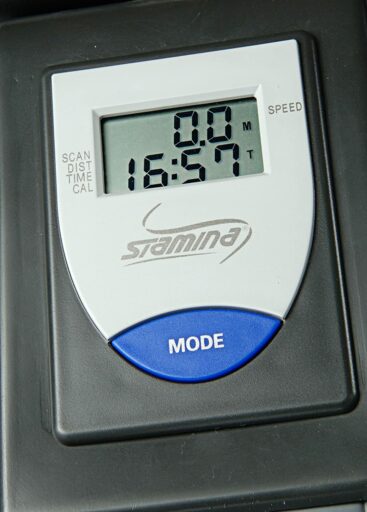 The console has only one button (MODE), and it's quite easy to operate. It's powered on by the movement of the seat or by pushing the button. It automatically shuts down after 4 minutes of inactivity on the rower.
When it shuts down, all values are saved, and if you want to reset them on your next workout, you have to hold down the button for several seconds. This performance monitor uses two AA batteries, which should be (supplied) with the machine.
35-1405 Assembly and Maintenance
The 35-1405 ATS rower does not come fully assembled. However, there aren't many parts to put together; the task is far from being complicated and shouldn't take more than half an hour. The fan is pre-assembled to the rail.
So you'll need to connect the rail to the front base, slide in the seat, attach the rear base, the footrests, and the console. The tools for assembly and a pretty comprehensive owner's manual come with the box.
Maintenance doesn't require much either. Since it's a chain-drive machine, the chain must be lubricated now and then. You must keep the rail clear of debris to prevent any damage to the rollers and rail itself. Also, make sure that no liquids reach the console, as it's not waterproof.
Pros
Steel frame, with pretty solid construction;
Leveling rubber feet to prevent floor damage;
Rail long enough for users up to 6'4″;
Space-saving, foldable frame;
Molded and padded seat, for comfortable workouts;
Extra smooth, ball bearing rollers;
Adjustable footplates;
Air resistance, supplying a natural rowing feel;
Chain drive made to last a lifetime;
The fitness console comes included;
Easy to assemble;
Easy to maintain;
Excellent price/quality ratio.
Cons
No damper for overall resistance adjustment. However, just as in any air rower, resistance is proportionally increased with the amount of strength you pull;
It doesn't monitor heart rate.
Stamina 35-1405 ATS Air Rower Summary
If you're looking for a quality and affordable air rower for home use, the Stamina 35-1405 ATS is one of the best choices you can make.
Even though it doesn't include all the bells and whistles a commercial-grade rower has, it most definitely can provide you with the training set you need for a consistent rowing workout. It's an excellent machine for your daily cardio, muscle toning, and stamina building. It has quite a sturdy construction and won't break so quickly, and it also won't break the bank.
I hope you found this article helpful and informative. If you have anything that you'd like to share or any opinions about my website, please do speak up. I look forward to your comments, questions, and the sharing of ideas.