The Stamina DT Pro Rower key features are a sturdy aluminum beam, a quiet hybrid air-magnetic resistance system with eight strength levels, and a programmable workout monitor. It has preset workout routines for heart rate targeting, endurance, strength, and fat burn, to name a few.
The DT Pro uses a combination of smooth air resistance and magnetic resistance to deliver full-body workouts. The magnetic brake offers eight distinct tension levels. Like any rowing machine, it helps improve heart health and overall strength at once — and unlike a treadmill or spin bike, it's gentle on your hips, knees, and ankles.
Stamina's DT Pro monitor's feedback is on Time, Distance, Calories, Count, Strokes per Minute, Watt, and Pulse. The preset programs are Rolling, Valley, Fat Burn, Ramp, Hill, Mountain, Interval, and Target Heart Rate. Each has a default running time of 30 minutes.
You can also save four programs on the computer. The format for these is ten intervals for which you can set the time and resistance level. At the end of any workout session, you can press the "Recovery" button for insight about your cardiovascular health.
Learn more in my complete review below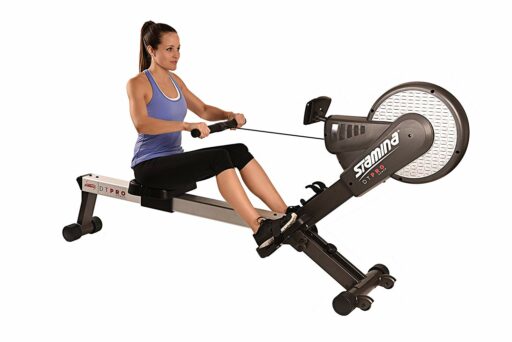 Product: Stamina DT Pro Rower
Price: For a great deal on this rower, merely go here on Amazon
Warranty: Frame 5 years / Parts 90 days
My rating: 8/10
Amazon Affiliate Disclosure: I may earn commissions on purchases made through links in this post.
Details and Specifications
Assembled dimensions: 89.75L x 20W x 40.5H inches (228L x 51W x 103H cm)
Assembled weight: 87 lbs (39.5 kg)
Weight capacity: 300 lbs (136 kg)
Frame: Steel & aluminum
Resistance type: Air & magnetic, eight levels
Console: 12 programs, recovery function
Warranty: Frame 5 years / Parts 90 days
DT Pro Frame construction
The Stamina DT Pro rower combines steel, aluminum, and ABS parts in its structure. The sliding beam is an aluminum alloy for the smooth motion of the seat. It's also relatively thick and has a maximum weight capacity of 300 lbs (136 kg), which is not bad for a home-use machine.
The rear stabilizer and the front part that sustains the fan are made of steel, while the covers of the flywheel and several other small parts are ABS made. The steel parts come with a corrosion-resistant paint finish, black. The aluminum rail does not have a paint finish, but aluminum is considerably more resistant to corrosion than steel anyway. The ABS covers are also black, with the Stamina logo written in white.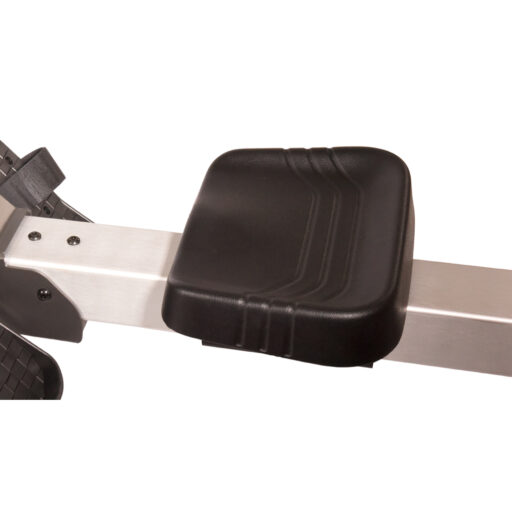 This rowing machine is relatively large, especially lengthwise. It is approximately 89.75″ (228 cm) long, and 20″ (51 cm) wide. Therefore, it can accommodate users up to 6'5″ (196 cm) with no problem, providing a complete range of motion and leg extension. The highest point of the machine is the flywheel casing, which stands at approx. 40.5″ (103 cm) above floor level.
The fully assembled unit is relatively heavy as well; it weighs approximately 87 lbs (39.5 kg). Therefore, it provides excellent stability. The unit does not have adjustable base stabilizers like some other rowers. So, it is recommended to place and use it on a mat.
The Stamina DT Pro is foldable. The rail with the seat can fold up, so the unit can rest on its front stabilizer and a small middle stabilizer. Both stabilizers come with transport wheels, so the rower can easily be moved when it is in the folded position. Also, with the rail folded up, its length is reduced to approx. 40%, so it offers better storage possibilities.
Seat
The Stamina DT Pro rower comes with a comfortable seat. Its top is a high-density foam; it's firm but not extremely hard. Its surface is contoured, and it features a rear and side border to prevent you from sliding backward during a harder leg push.
The base of the seat is a steel material. It integrates three sets of wheels which have internal ball bearings to provide smooth motion for the seat. Also, each wheel is rubberized on the outside to minimize noise.
It is essential to mention that the machine's seat stands at approx. 18″ (48 cm) above floor level. This can be quite a plus for elderly users or users with specific disabilities, as the machine provides easy entry and exit. Also, the rail is horizontal, which leads to a natural leg extension, similar to rowing a race boat.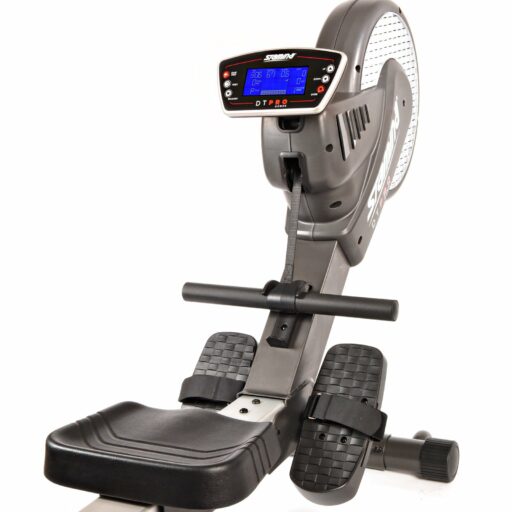 DT Pro Footrests & Pulling Handle
The machine's footrests are made of durable ABS material, while the plates to which they are attached are steel made. The trays are reasonably large and can accommodate athletic shoes of all sizes. They also have adjustable straps and small heel guards to provide excellent foot stability.
The footrests connect directly to the front part of the frame. They do not pivot as many other rowers. Their angle is approx — 45 ° for optimal foot positioning.
The unit's pulling handle consists of a short straight bar with rubberized grips. It is attached to a durable nylon strap. This strap is highly resistant to abrasion; it delivers smooth motion with less vibration than a chain like other models have. Plus, it does not require any lubrication.
It's important to mention that even though this rower has a pulse reading function, its pulling handle does not have pulse sensors. So, to benefit from a pulse reading, you will have to use a wireless HR chest strap.
Resistance system
The Stamina DT Pro is air and magnetic rowing machine. In other words, it uses a fan as the primary resistance generating element, but also has an internal magnetic system which gives you the possibility to increase or decrease the load.
The air resistance mechanism provides the rowing motion with a dynamic response. This produces a rowing sensation similar to rowing a boat through the water. Differently put, a harder pull enables the flywheel to spin faster, which results in increased resistance. This can be a plus for users who want to train on a professional level.
The magnetic brake offers eight distinct tension levels. The 1st level lets you use just the resistance provided by the machine's fan. The rest of the levels progressively add resistance, while the 8th setting considerably improves the tension promoting a very consistent workout.
Compared to other air rowers, the DT Pro is quieter. Of course, if you will engage in an intense and fast rowing session, the fan will be heard, but the level of noise is low; it won't cover the sound of your TV.
It's also important to mention that the magnetic brake is motorized. Therefore, the machine requires a connection to a power source. An adapter (is provided) for it. Also, the console can automatically control the resistance adjustment and provides several workout programs.
DT Pro Console
This Stamina rower comes with a mid-range console. It has a large LCD with blue LED backlight. The display has several sub-sections to show multiple workout readings at once. It tracks time, distance, calories, strokes per minute, total strokes, watts, and pulse. The central larger window shows the program grid.
The console does not have any online capabilities. However, it does offer 12 built-in workout programs to keep you motivated. The first program is the Manual Mode, which allows you to adjust the resistance manually from the controls on the console. The next six programs (from P2 to P7) are preset, offering various workout grids, such as Rolling Hills, Valley, Fat Burn, Ramp, Mountain, and Intervals.
The 8th program is the Heart Rate Control program. This requires you to wear the included HR chest strap. For this program, you select the desired heart rate zone, and the machine will auto-adjust the resistance depending on your pulse rate. If your pulse drops, the monitor will increase your resistance, and if your pulse exceeds the limit, the monitor will decrease it.
The next four programs (from P9 to P12) are User Programs. These give you the possibility to create and save four distinct programs or allow up to four different users to create and save their custom program.
For most of these programs, you can set up goals for time, distance, and calories burned. If a goal is selected, the console will countdown from the selected value until it reaches zero. This particular function allows you to increase your limit to improve continuously progressively.
Finally, the unit has a Recovery test. This also uses the pulse reading function. This particular extra program measures the amount of time that your heart takes to return to an average BPM after the workout. Based on it, it will give you a fitness rating between F1 (excellent) and F6 (poor).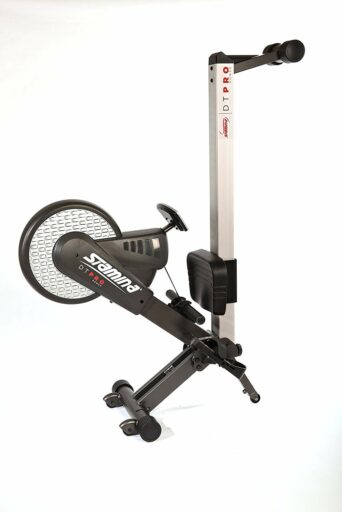 DT Pro Assembly and Maintenance
The resistance system of the machine comes pre-assembled, already attached to the front section of the frame. Therefore, you only need to attach the front base bar, connect the rail to the front part of the structure, add the seat, the rear base stabilizer, the footrests, and the console.
This shouldn't take more than 30-40 minutes. An essential toolkit for assembly (is included), and the manual provides step-by-step assembly instructions.
For maintenance, you can vacuum the fan if it collects dust. This doesn't necessarily require the removal of its covers. The rail needs to be clean so that the wheels of the seat won't sustain any damage from dirt, fibers, or other small objects. Also, it's recommended to periodically inspect the machine for loose bolts and parts, and re-tighten them if needed.
Pros
Sturdy frame – can support users up to 300 lbs;
Folding frame;
Transport wheels for easy relocation;
Contoured and padded seat;
Fixed footrests with adjustable straps;
Air resistance for a dynamic response;
There are eight levels of magnetic resistance for overall tension adjustability;
The advanced console indicates time, SPM, total strokes, watts, distance, calories, and pulse;
Wireless HR chest strap included;
12 workout programs (one manual, six preset, one heart rate and four users);
Recovery function;
Its operation is smooth and quiet;
Tools for assembly (are included);
Little maintenance required;
Easy to assemble.
Cons
Only imperial units for distance reading;
90-day parts warranty.
Stamina DT Pro Rower Summary
The Stamina DT Pro is an air and magnetic rower featuring a sturdy frame, with a thick aluminum rail, and a console with 12 available workout programs. Its magnetic brake offers eight levels of resistance while the fan delivers a dynamic response during rowing.
It's an excellent trainer for a full-body cardio workout, muscle toning, stamina development, and weight loss. It's a decent and more affordable alternative to a commercial-grade rower.
I hope you found this article helpful and informative. If you have anything that you'd like to share or any opinions about my website, please do speak up. I look forward to your comments, questions, and the sharing of ideas.
Recommended articles:
Please follow and like us: