The Sunny ASUNA 4100 exercise bike comes with a 40lb chrome flywheel. This is a heavy-duty flywheel that will stand the test of time. The heavier the wheel, the smoother the ride, and 40lbs are one of the heavier flywheels available. Sunny Health and Fitness have also made the flywheel a funky, vibrant color!
The resistance mechanism uses a small felt pad against the flywheel to increase or decrease drag.   This felt pad is relatively sturdy, but will probably need replacement at some point (can be ordered direct from the supplier).
The pedals provided with the ASUNA 4100 are reversible. If wearing cleats is your preference, there are SPD clips on one side of the pedal. If, however, you prefer to wear regular trainers, an adjustable foot cage comes on the other side of the pedal. These options reduce the risk of slippage when cycling and help improve power output.
The Sunny ASUNA 4100 Spin Bike comes with a fully adjustable seat, which can be adjusted up and down but also forward and aft. This allows most users to experience the most comfortable seating position throughout their workout.
Learn more in my complete review below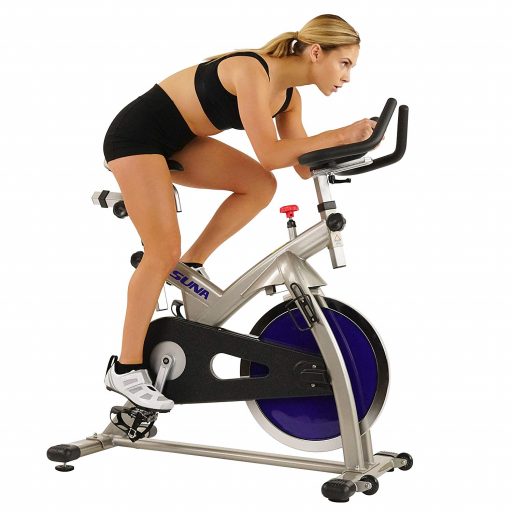 Product: Sunny ASUNA 4100 Indoor Cycling Bike
Price: For a great deal on this bike, merely go here on Amazon
Warranty: Frame 5 years / Parts 180 days
My rating: 8/10
Amazon Affiliate Disclosure: I may earn commissions from purchases made through links in this post.
Details and Specifications
Assembled dimensions: 41.3L x 25.5W x 51.2H inches (105L x 65W x 130H cm)
Assembled weight: 110 lbs (50 kg)
Flywheel weight 40 lbs (18 kg)
Supported weight: 285 lbs (129 kg)
Handlebars: 4-way adjustable
Seat: 4-way adjustable
Pedals: With toe cages, and cleats
Drive mechanism: Chain
Brakes: Direct-contact, top-to-down felt pad
Resistance: Adjustable
Bottle holder: Yes
Computer: No
Warranty: Frame 5 years / Parts 180 days
ASUNA 4100 Frame
Like most indoor cycling bikes, the ASUNA 4100 features a steel frame, pretty heavy, with a weight of 110 lbs (50 kg), to supply the required stability for intense workout routines. Most joints of the frame have welds, not attached with screws, which enforces its overall sturdiness.
The only two parts connected to the mainframe with screws are its bases. The frame is double-coated with corrosion-resistant paint, while the seat post, handlebar post, and flywheel have a chrome finish. Currently, the only available color for the frame is silver.
Compared with other fitness machines, this ASUNA model features a rather small footprint, taking only 41.3″L x 25.5″W (105 x 65 cm) of floor space. Thus, we can safely say that it makes an excellent choice for a small apartment or a small room.
Despite its tiny footprint, its stability is still significant since it's a bit wider than other models of this caliber, which matters a lot.
On top of that, the bike's bases feature adjustable feet, with rubber caps, which supply an excellent grip to the floor. The front base also has caster wheels, which ease the bike's handling and transport once it's fully assembled.
The only major plastic part within the composition of the frame is the chain guard. Several screws fix this part to the frame, and removable if you want to grease the chain.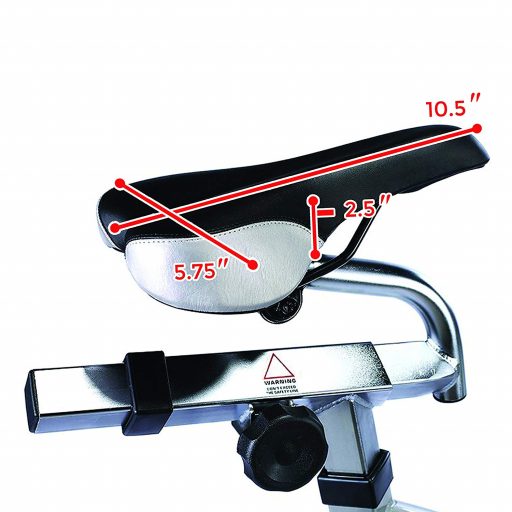 Seat and handlebars
Most bikes designed for spinning workouts don't offer an extremely cushioned and full seat. The ASUNA 4100 doesn't make an exception. The seat supplied with the bike is slim, contoured, and rather hard, similar to the seats of most race bikes. It features some padding, but not extreme.
Therefore, in case you're not used to cycling, you may experience some soreness after the first sessions. However, once you become accustomed to cycling, this problem should cease to occur. Nonetheless, the seat is pretty standard, and you can easily find a replacement or find a gel cover to fit.
The seat offers 4-way adjustability: up, down, fore, aft. Both the vertical and horizontal posts are square, which makes it virtually impossible to turn sideways during a more intense workout.
At the lowest setting, the distance between the seat and the lowest pedal is 29.5″ (75 cm), while at the highest setting, the length is 36″ (91.4 cm). Thus, the bike can accommodate users between 5′ – 6'5″ (152 – 195 cm) with no problem.
The handlebars are also 4-way adjustable, featuring a multi-grip design. It's a plus that the middle aero bars connect in the middle, as it makes it easier to attach a tablet holder to them. The whole handlebar assembly is covered by rubber foam material, to supply a more comfortable grip, preventing any damage to the hands, during prolonged workouts.
ASUNA 4100 Drive system
This exercise bike features a chain drive, which offers a higher durability than a belt-drive, also virtually impossible to stretch. It's a silent drive system, actually producing less noise than your average road bike, as it doesn't have a derailleur. While riding this bike, you will barely hear the chain and flywheel whirring sound.
The flywheel is quite heavy, with a weight of 40 lbs (18 kg), pretty close to the maximum flywheel weight specific to indoor cycling bikes. It's perimeter-weighted, offering a consistent momentum, and superior stability. It also eliminates the "stair-master" effect, which may arise in bikes with lighter flywheels, mainly with higher resistance settings.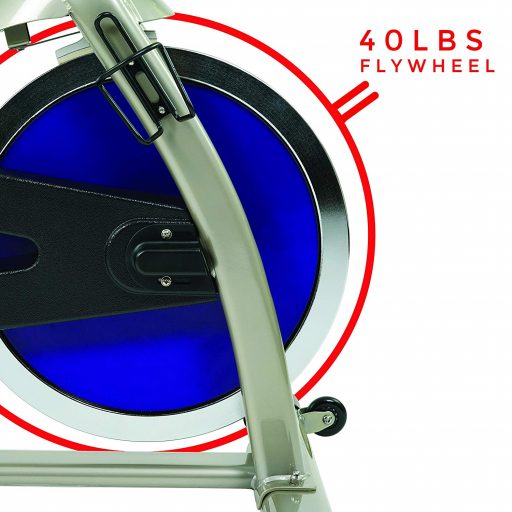 The crank assembly is similar to the ones you'll find on mountain bikes. It's a substantial part, using steel crank arms, which can hold the entire weight of the user with no problem. In other words, you'll be able to undergo full stand-up climb workouts without worrying that the crank will give up on you.
On top of that, the pedals are aluminum-made, with a hybrid design, incorporating cleats for spin shoes, but also featuring toe cages for regular, sports shoes.
One last aspect to mention regarding the bike's drive system is the fact that you can pedal backward. But when pedaling in reverse, the resistance persists. Also, keep in mind that the pedals will continue to spin while the flywheel is spinning. So, if you decide to pedal in reverse, it's best to use the emergency brake before starting this routine, to avoid any injuries.
Resistance system
The ASUNA 4100 exercise bike from Sunny Health & Fitness features a friction resistance system. It consists of a felt-pad, which comes in contact with the flywheel in a top-to-down manner.
To adjust resistance, you turn the knob situated on the main tube of the frame, until you find the strength satisfactory. The resistance knob can also be an emergency brake. In case you need to stop the flywheel quickly, you push it down.
There are no levels specified on the knob, as in magnetic resistance bikes. You can tighten the brake pad onto the flywheel up to the point you can barely pedal. Resistance can be adjusted as you drive.
Accessories
The only accessory included with this exercise bike that we can mention is a bottle holder. It comes attached to the right side of the fork. As insignificant as it may seem, it's still a plus, as having your water bottle at hand during your workout is quite convenient.
ASUNA 4100 Assembly and Maintenance
The assembly of the bike is as easy as it gets. The chain, flywheel, crankset, and brake come already attached to the frame. All you need to do is place the frame onto its rear and front stabilizers, add the seat and handlebars, and finally, the pedals. This shouldn't take more than 30 minutes.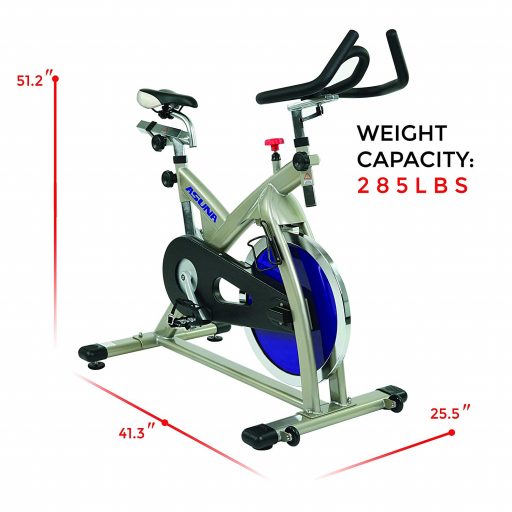 Since it's a chain-driven bike, for maintenance, you may need to grease the chain from time to time, mainly if the bike is in use daily. Also, the brake pad may require some lubrication. Especially when it's new, a brake pad may squeak a bit, and may not provide an even grip to the flywheel.
That's why it's best to add a few drops of silicone lubricant on its surface. Other than this, make sure the bike remains clean.
Pros
Solid frame, commercial quality construction;
Elegant design;
Small footprint, a great choice for a cardio fitness machine if space is an issue;
Superior micro-adjustability;
Solid crankset, can support just about any spin workout;
Hybrid pedals, with cleats for spin shoes, and with toe cages;
Friction resistance, virtually limitless;
Quiet, chain drive;
Little maintenance required;
Extremely easy to put together;
Excellent value for the price.
Cons
No fitness meter. But you can always purchase one separately.
Sunny ASUNA 4100 Summary
Although the ASUNA 4100 does indeed offer commercial quality in its construction, its overall user weight capacity is only 285 lbs., while the full commercial models typically have a maximum user capacity starting at 300 lbs. Thus, it would be fair to say it's only a light commercial bike.
But it costs about 50% less than a spin bike, which is excellent. Also, it can support any spin workout, does supply a unique training setting for high-intensity cardio, strength, and stamina training, and of course, it can help you shed some pounds.
I hope you found this article helpful and informative. If you have anything that you'd like to share or opinions about the content on my website, please do speak up. I look forward to your comments, questions, and the sharing of ideas.
Recommended articles: