Combine premium quality and the comfort and privacy of your home with the Sunny ASUNA 4300 Elliptical Trainer! It's constructed of high-grade steel making this elliptical fit for use in any gym or fitness studio. However, it has been made available for fitness enthusiasts' personal use.
When it comes to ellipticals, the belt drive is a critical factor to your workout. Belt Drives consist of a sturdy rubber belt used to transfer the power from pedals to the flywheel. Compared to a chain drive, a belt drive is smoother and quieter while providing an effective workout with adjustable intensity — less maintenance, more durable, and more efficient.
Tracking your progress on the AUNA 4300 is simple with the Digital Monitor screen! The heart rate monitor quickly tells you how fast your heart is beating and will help you exercise at the correct intensity for maximum results.
The ASUNA 4300 LCD monitor will showcase your time, speed, distance, calories burned, watts, and pulse. The display functions also track both pulse recovery, and BMI keeps your safety and health at the forefront of your low impact aerobic regimen!
Learn more in my complete review below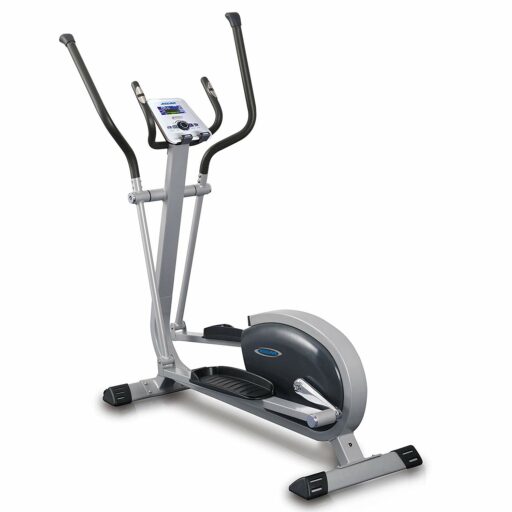 Product: Sunny ASUNA 4300 Elliptical
Price: For a great deal on this elliptical, merely go here on Amazon
Warranty: Frame 5 Years/Parts and Components 180 Days
My rating: 7.25/10
Amazon Affiliate Disclosure: I may earn commissions on purchases made through links in this post.
ASUNA 4300 Frame construction
The ASUNA 4300 elliptical is not an extremely large machine like other models. It takes only 57″L x 22″W (145 x 56 cm) of floor space, which means it should be easy to fit even in a smaller room. It has a simple, non-folding design. However, its frame is heavy steel tubing.
Its assembled weight is approx. 129 lbs (58.5 kg), which means it might require two people for receiving the package, unboxing and assembly.
On the other hand, though, when fully assembled, the machine is easy to handle and move as it's front base comes with caster wheels. Using these wheels for its relocation, you won't be managing more than half its total weight.
The ASUNA 4300 features triangular base tubes, which supply a lot of stability to it. They're finished with heat injected, plastic protective caps, and each one has a set of two rubberized foot stabilizers.
Therefore, considering its weight and its base tube construction, the machine offers excellent stability. It shouldn't move or wobble even if you engage in a more consistent workout.
All steel parts within the frame come with corrosion-resistant silver paint, this being the only color available for now. There are very few PVC parts in its construction, some of them being the base tube caps, the shrouds of the drive system, and the pedals.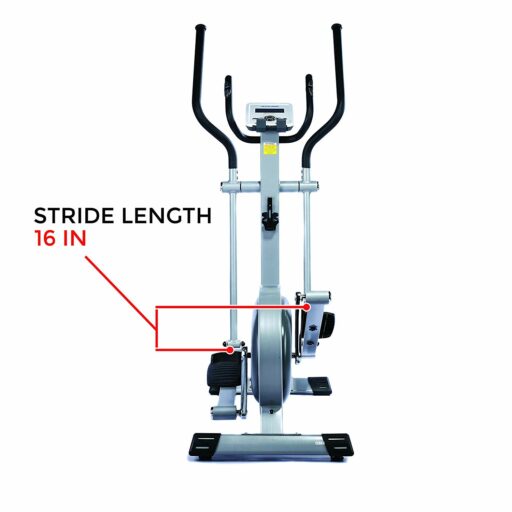 Handlebars and Pedals
The ASUNA 4300 features two sets of handlebars: mobile and fixed. Both types have a simple design, with extended grips, covered by a sheet of rubber foam material to provide superior comfort. The fixed handlebars also integrate stainless steel pulse sensors so that the console can track your heart rate.
The connection points of the mobile bars to the crossbar and the pedal bars combine ball bearings, to supply a smoother motion.
The machine's pedals are heavy-duty PVC material, able to withstand users up to 265 lbs (120 kg). Their surface is ribbed to provide superior adherence to your footwear, and slightly curved upward, supplying a more natural placement of the feet.
The pedals don't integrate suspension or articulation elements. However, the pedal bars have three positions in which you can secure them.
ASUNA 4300 Stride and step-up height
First of all, this machine does not have an incline system. However, it does offer a bit of flexibility when it comes to its stride length. As I've mentioned above, the pedal arms have three positions in which you can secure the pedals.
Therefore, depending on which set of holes you connect the pedals, you can have a 14″ (35.5 cm), 15″ (38 cm) or a 16″ (40.6 cm) stride.
However, the stride is not automatically adjustable. You'll have to unscrew the pedals and re-connect them in a different set of holes, to benefit from a different stride length.
Given the maximum stride length that you can achieve with this elliptical trainer, it results that it's a good fit for users up to 6'0″ – 6'1″ (178-180 cm). Taller users can, of course, use the machine as well, but they may find the stride a bit short.
The pedals are 8″ (21 cm) above floor level, at their lowest point. At their highest point, they're about 7-8 inches higher. Therefore, to avoid any ceiling height issues, it's best to place the machine for use in a room with a ceiling that's at least 20″ taller than your height.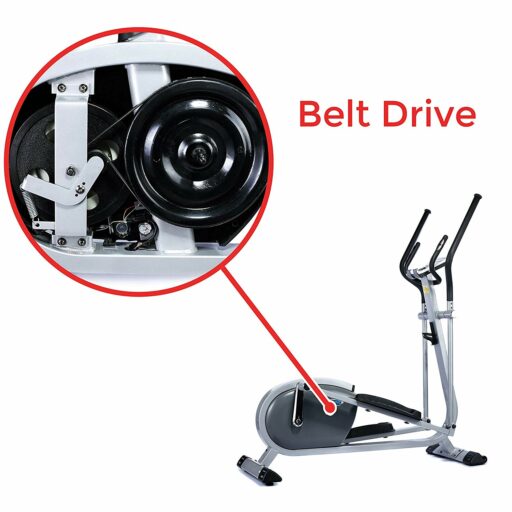 Resistance and drive
The Sunny Health & Fitness ASUNA 4300 elliptical machine features a motorized, electronically assisted resistance system. This means it requires to be connected to a power circuit so that you can adjust resistance. A power adapter comes with the machine, its cable connecting to the rear part of the elliptical.
Resistance is only adjustable from the machine's console. The resistance mechanism consists of a metallic, magnetic flywheel and a small servo motor. By selecting a specific resistance level from the console, the servo will adjust the magnets' pull on the wheel accordingly.
This elliptical trainer offers 16 levels of resistance. The lower resistance settings are relatively light, suitable for recovery training or elderly users, while the top levels do offer the possibilities of more intense workouts. But this is not a heavy-duty commercial grade machine, and as a general idea, it provides light to medium workout possibilities.
Since it's a machine with a magnetic resistance system, its transmission is belt-powered, using a J6(430) v-belt. This means that the machine's operation is smooth and quiet, almost silent and that the transmission doesn't require lubrication. Also, the flywheel equipped onto this elliptical is balanced, offering a consistent, steady momentum.
In case you're wondering, the ASUNA 4300 allows reverse pedaling, which doubles the number of workouts that are available on it. When pedaling in reverse resistance remains constant, given by the selected level on the console. Also, when pedaling backward, the console will continue to track your workout statistics.
Last but not least, this elliptical machine features a reasonably narrow Q Factor, offering a comfortable ride, without any extra lateral stress on the knees.
ASUNA 4300 Console
The console unit supplied with the ASUNA 4300 offers quite a bit more than the average one. To begin with, it has a reasonably full, multi-panel LCD, with integrated blue LED backlight. This means it can show multiple workout values on screen simultaneously, and offers excellent readability, even in poor lighting conditions.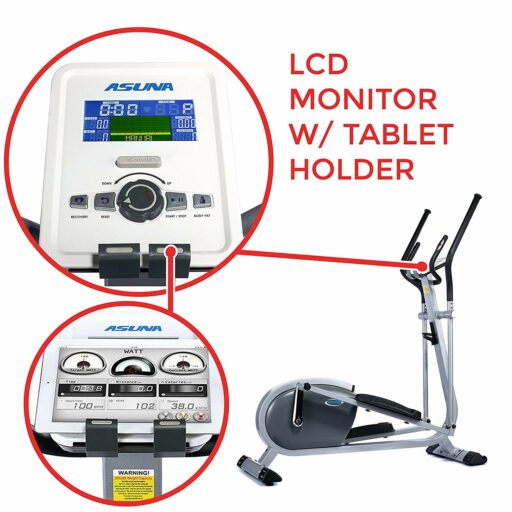 The display indicates time, speed, distance, calories, pulse, RPM, watts, and the selected resistance system. The unit can only read HR pulse via the sensors incorporated into the fixed handlebars. However, it is not telemetrically enabled and doesn't work with Polar or other wireless HR chest strap transmitters.
The console is straightforward to operate. By turning the big knob clockwise, it changes the resistance level. Recovery and Body Fat have their keys.
There's also a Reset key for clearing all the values on the console to zero. Also, it has a Stop/Start button, which is excellent to have if you need to interrupt your workout or alternate elliptical workouts with other exercises.
Navigation through the programs is done via the turn knob as well, and the selection of the desired program is made via the big iConsole button.
The computer comes on when you plug in the machine. It doesn't require any batteries, as it draws power from your power supply. It has a sleep mode in which will enter after 4 minutes of inactivity on the machine and no pulse reading. Once you move the pedals it exits sleep mods.
Last but not least, there's a tablet holder (or reading rack) feature integrated into the console. It can accommodate tablets of all sizes or can serve as a phone holder.
Workout Programs
It has five pre-set workouts plus the Manual mode. The exercises are Beginner, Advanced, Sporty, Cardio, Watt. Some of them have four levels of difficulty; for example, the Cardio mode offers 55%, 75%, 90%, and TAG (target HR).
The Manual mode gives you the possibility to workout freely, adjusting the resistance as you like during your workout. It also has goal settings for time, distance, and calories.
The console also has a Recovery function and a Body Fat function. The Recovery program rates your performance based on your pulse at the end of your workout, determining your level of fitness. The Body Fat program, as its name suggests, measures your BMI (Body Mass Index).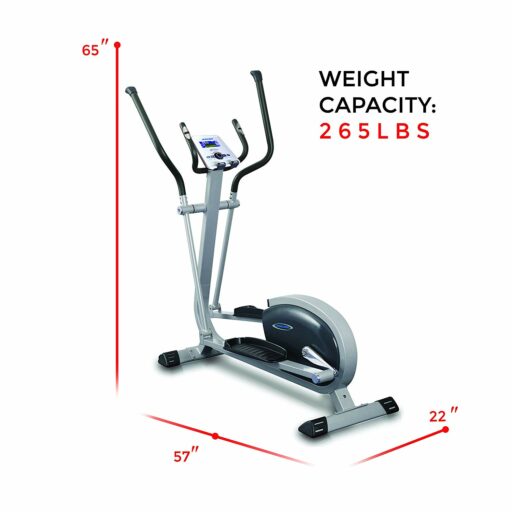 ASUNA 4300 Assembly and Maintenance
The ASUNA 4300 comes partially assembled. Differently put, the motor, flywheel, pulley, and crankset are pre-assembled. The parts that require assembly are the base tubes, console mast, mobile arms, pedal bars and pedals, fixed handlebars, wire connections, and console.
It's a straightforward task which anyone can do without too much hassle, and shouldn't take more than two hours. The supplied manual offers excellent assembly instructions. The tools required comes with the machine.
The internal parts of the machine do not require any maintenance. They're all pre-lubricated with industrial lubricants. Joints may require lubrication after a while, though. Other than that, a periodic check of the machine's bolts and fittings is advisable.
Technical Details and Specifications
Assembled dimensions:57 L x 22W x 65H inches (145L x 56W x 165H cm)
Assembled weight: 129 lbs (58.5 kg)
Weight capacity: 265 lbs (120 kg)
Stride: 14-16 inches (35.5-40.6 cm)
Handlebars: Mobile and fixed (with HR pulse sensors in the fixed handlebar)
Resistance system: Magnetic, electronically assisted, 16 levels
Console: 5 workout programs
Amenities: Bottle holder, tablet holder
Warranty: Frame 5 Years/Parts and Components 180 Days
Pros
Solid construction, high stability;
Fixed and mobile handlebars;
EKG pulse sensors built-in the fixed handlebars.
The balanced flywheel provides a smooth and steady pedaling motion with a consistent momentum;
The pedals come with three adjustment positions;
Easy-to-use console unit;
Sixteen levels of eddy current resistance.
Five pre-set workouts, some of them having several difficulty levels;
Recovery and BMI functions;
Goal settings for time, distance and calories;
It has a smooth and quiet operation;
Easy to assemble;
Little maintenance required.
Cons
A tablet placed on the media holder may block the view of the console display and the buttons;
No incline function.
Sunny ASUNA 4300 Elliptical Summary
The Sunny Health and Fitness ASUNA 4300 is a mid-range, rear-drive elliptical trainer, offering 16 levels of automatic magnetic resistance. The console provides five pre-set workouts, with several levels each, also including BMI and Recovery functions. It's a machine for beginners and intermediate users, giving light to medium workouts.
It's great for cardio training, recovery training, muscle toning, and weight loss. You can burn up to 5-600 calories per hour on this machine, depending on the program or resistance levels used. In all, it's not the most affordable elliptical, but does come with a reasonably decent price/value ratio.
I hope you found this article helpful and informative. If you have anything that you'd like to share or any opinions about my website, please do speak up. I look forward to your comments, questions, and the sharing of ideas.
Recommended articles:
Please follow and like us: