The Sunny ASUNA 4500 Rowing Machine is a high-end rowing machine to help fitness enthusiasts get in shape. What sets the ASUNA 4500 apart from other rowers is the smooth and quiet magnetic resistance. The Electronic Tension Control and the DMC- Drum Magnetic Control System allows for easy adjustments of resistance.
It has an aluminum and steel construction. It weighs 75 pounds, can carry a maximum user weight of 300 pounds, and measures 81 x 20 x 25.2 inches. It's a heavy-duty and sturdy unit that is portable with a folding design (35.5 x 20 x 48 inches) and the integrated transport wheels.
The ASUNA 4500 has those extra features of the higher class products, including the 12 integrated programs, 6 of which preset, 4-user set, target heart rate, and manual workout. There is a built-in pulse receiver, and with the included HR chest strap, it will help you monitor your heart rate for your health and safety.
The easy to read LCD panel shows the calories burned, and distance traveled, time, count, watts, strokes/min, and pulse. So, you can view different workout statistics and meet your goals faster by tracking your progress.
Learn more in my complete review below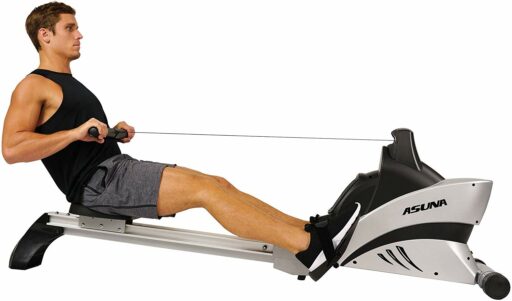 Product: Sunny ASUNA 4500 Rowing Machine
Price: For a great deal on this rower, merely go here on Amazon
Warranty: Frame 5 years / 180 days on parts and components
My rating: 7.75/10
Amazon Affiliate Disclosure: I may earn commissions on purchases made through links in this post.
Technical Details and Specifications
Assembled dimensions: 81L x 20W x 25.2H inches (206L x 51W x 64H cm)
Assembled weight: 86 lbs (39 kg)
Max. user weight: 300 lbs (136 kg)
Frame: Steel / aluminum
Footrests: Pivoting, with straps
Resistance type: Magnetic, 8 levels
Console: 12 built-in programs
Warranty: 5 years / Parts 180 days
ASUNA 4500 Frame 
The Sunny ASUNA 4500 rowing machine combines aluminum and steel elements in its construction. Its sliding rail is made of high-quality aluminum, while the part of the frame that hosts the resistance system, as well as the supportive front base are steel. However, the protective covers of the resistance elements are hard plastic, as well as the rear base.
This Sunny Health & Fitness rowing machine is rather large. When fully assembled, it is 81″ (206 cm) long, and 20″ (51 cm) wide. This means it can accommodate with no problem, users up to 6'5 ″ (196 cm). Its sliding rail and seat assembly have a load capacity of 300 lbs (136 kg).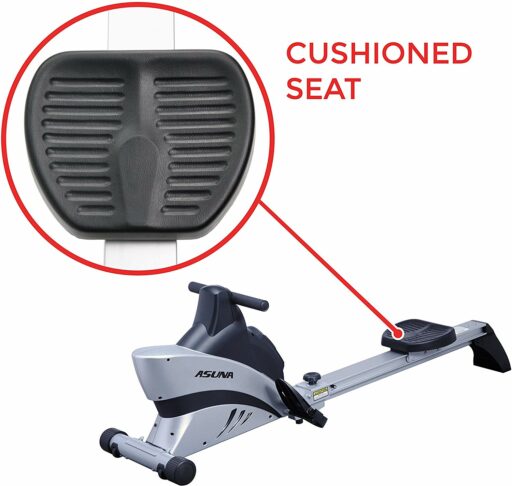 This fitness machine is not extremely heavy but does weigh over 75 lbs. This means it can be (assembled) with no problem by only one person. Its transport (once assembled) is also not too hard as the front base comes with two transport wheels.
The front base tube is finished with two plastic caps, while the rear PVC base features a rubber pad to improve stability.
As the title suggests, the ASUNA 4500 rowing machine features a folding frame. The sliding rail with the seat can be folded vertically to save space. When in a folded position, the machine's length is 35.5″ (90 cm), which is less than half, offering better storage possibilities.
Last but not least, all the steel parts of this ASUNA rowing machine feature a silver, scratch-resistant, and corrosion-resistant coating. The aluminum rail has its natural finish.
Seat, Footrest, and Pulling Handle
The seat features a metallic frame, which integrates six industrial quality rollers, which combine sealed ball bearings for smooth operation and a prolonged lifespan. The top of the seat features a thick layer of rubber foam material.
It features a rear ledge, a contoured design, and a ribbed surface, delivering excellent stability, adherence, and comfort. It's approx — 16″ wide, offering enough room for proper weight distribution.
The ASUNA 4500 rowing machine comes with two pivoting footrests. This means they will auto-adjust position slightly with each stroke, providing the best positioning for your feet for maximum comfort. They are large enough to accommodate athletic footwear of all sizes.
Also, they're equipped with adjustable straps and feature heel guards to keep your feet secure for the duration of your workout.
The machine's pulling handle is a simple, straight bar, with rubber-foam grips to prevent the formation of blisters on your hands during longer rowing sessions. It's attached to a heavy-duty nylon strap, which connects to the inner pulley system, which makes available the rowing motion.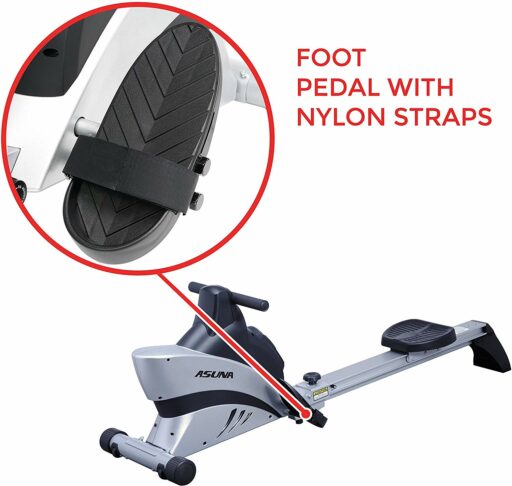 ASUNA 4500 Resistance System
The ASUNA 4500 rowing machine features a motor-assisted magnetic drum resistance system. This means it requires a connection to a power circuit to make available the resistance settings. An adapter is (supplied) with the unit.
The resistance system consists of a magnetic flywheel, a magnetic brake, and a small servo motor. Therefore, as you select a specific resistance level from the console, the motor will automatically change the position of the brake to the flywheel, resulting in more or less resistance.
Since it's an automatic rowing machine, its resistance is programmable. In other words, if you choose to exercise by using one of the custom programs, the opposition will adjust automatically.
The machine offers eight resistance settings. The first two resistance settings promote a light workout, while the top resistance levels give you the possibility to undertake consistent cardio training.
Drive System
When it comes to the machine's drive, there are quite a few aspects to be covered. First of all, along with the flywheel, the machine's drive system integrates several pulleys. The transmission from the main pulley to the wheel is via a heavy-duty rubber belt.
Therefore, the operation of the machine generates very little noise compared to an air rower. Also, the internal elements do not require any lubrication, or at least they shouldn't need for several years of use.
Since this is a magnetic rowing machine, the rowing feel is different from an air resistance rower or water resistance rower. It does not generate a dynamic response with each stroke. In other words, the resistance is the selected tension level and does not vary in case you stroke faster.
Thus, just like any other magnetic rowing machine, the ASUNA 4500 rower may not be the best choice for a professional athlete. However, it does promote a full-body cardio workout. On top of that, the stress on your leg joints is lower when rowing than when running.
ASUNA 4500 Console
The ASUNA 4500 is equipped with a versatile console unit, featuring a multi-panel LCD with blue backlight. Since the display has several panels for the workout values, you can view them all at once without needing to use a SCAN function to alternate them.
The unit can track time, distance, strokes-per-minute, total strokes (COUNT), calories, watts, and pulse. The machine itself doesn't have any pulse sensors. However, the console is telemetric and can read your pulse via an HR chest strap. This accessory is also (included) with the rower.
The console unit features 12 workout programs. The first program is the Manual Mode, which allows you to row freely, adjusting the resistance as you like during your exercising routine. The 2-7 programs offer preset workouts. The 8th program is the heart rate program that requires you to wear the HR chest strap transmitter.
The 9-12 programs are custom programs that give you the possibility to create your workout routine, adding values for time, count, distance, and calories.
The rower also has a Pulse Recovery function. This function is for after you've finished your workout. It measures the amount of time taken by your heart to return to the resting state. It gives you a rating between F1 (excellent) and F6 (poor).
The console is quite easy to operate. It only has five buttons. The arrow buttons (UP/DOWN) allow you to increase/decrease the rower's resistance. As well as navigate through functions, or adjust the segments of a workout program. The Enter button covers the selection/confirmation functions. The Start/Stop/Reset button allows you to initiate or pause your workout. And, to clear all the values on the console by holding it pressed for a few seconds. And finally, the Recovery button covers the Pulse Recovery function.
ASUNA 4500 Assembly and Maintenance
The ASUNA 4500 is quite easy to assemble. The console, flywheel, pulleys, and other resistance elements are pre-assembled. They come connected to the front part of the frame, encased by the plastic covers. Therefore, you will only have to connect the front base tube, the footrests, the rail, the seat. Lastly, secure the rear base into an upright position.
This shouldn't take more than 30 minutes. The manual offers all the necessary assembly instructions. The tools required for the assembly are also (included).
Maintenance doesn't require too much hassle either. Since it's a magnetic resistance machine, there's no wear and tear on the braking system. So, you don't have to worry about replacing brake pads.
The maintenance requires you to keep the seat rail free of any debris that might cause damage to the rollers. Also, if it begins to squeak, some silicone-based lubricants should solve the problem.
Pros
Solid and sturdy frame, able to support users up to 300 lbs;
Aesthetic design;
Folding frame;
Transport wheels;
Pivoting footrests for a custom foot position during every stroke;
Contoured and padded seat, for optimal comfort;
Automatic magnetic resistance with eight levels;
12 workout programs;
Goal setting functions for time, distance, count, and calories;
The HR chest strap is (included);
Tranquil machine;
Little maintenance required;
Decent warranty.
Cons
Resistance doesn't generate a dynamic response as air rowers or water rowers.
Sunny ASUNA 4500 Summary
The Sunny ASUNA 4500 is a magnetic rowing machine featuring a steel-aluminum construction, with a space-saving design. It's a sturdy rower, being able to support users up to 300 lbs. Additionally, it has a telemetric console with 12 workout programs, and an HR chest strap is also (included).
It's a machine for users of all levels. Moreover, it's excellent for light to intense cardio workouts, recovery training, interval training, muscle toning, and weight loss. In all, it's a pretty decent fitness machine and costs quite a bit less than most other commercial rowers.
I hope you found this article helpful and informative. If you have anything that you'd like to share or any opinions about my website, please do speak up. I look forward to your comments, questions, and the sharing of ideas.
Recommended articles: