The Sunny ASUNA 5150 Magnetic Bike is a 'commercial-grade' bike, which means it is one of the highest quality products that Sunny has developed. This bike is, therefore, similar in build and structure to the type of bikes you would find in a commercial gym.
The frame of the ASUNA 5150 is made from heavy-duty steel and has been built to withstand years of use. This frame accommodates cyclists of all heights and forms, with a user capacity of up to 350 lbs. It is heavy and sturdy and will not move or slip during a workout.
This commercial-grade exercise bike comes with a 37.5lb steel and aluminum flywheel. This is a heavy-duty flywheel that will stand the test of time. More importantly, cycling the ASUNA 5150 Bike will feel like cycling outdoors. This ASUNA bike provides a smooth, natural ride with no clunking or jerky movements.
The ASUNA 5150 Bike uses micro-adjustable magnetic resistance technology  (when the knob is turned clockwise or anti-clockwise, more/fewer magnets pass over the flywheel), subsequently increasing or decreasing drag. This allows resistance levels to be altered subtly without awkward or clunky gear changes.
Learn more in my complete review below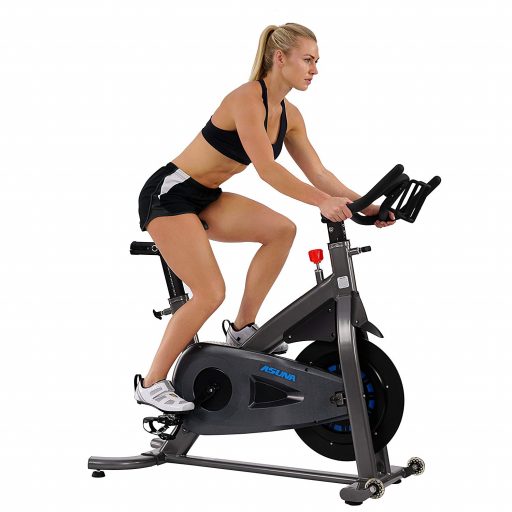 Product: Sunny ASUNA 5150 Magnetic Indoor Cycling Bike
Price: For a great deal on this bike, merely go here on Amazon
Warranty: Frame 5 years / Parts 180 days
My rating: 7.5/10
Amazon Affiliate Disclosure: I may earn commissions from purchases made through links in this post.
ASUNA 5150 Frame construction
Most gym grade spin bikes feature a frame made of steel tubing, and the ASUNA 5150 doesn't make an exception. It's built on a heavy-duty frame, approximately three times heavier than a mountain bike, with a total assembled weight of 112 lbs (50.8 kg).
This weight plays an essential role in the bike's overall stability. Differently put, this exercise bike can support all kinds of spin workouts, without wobbling or tipping to the side.
Both bike's bases have adjustable, rubberized foot levelers. These can help you achieve maximum stability for the bike, even if you don't place it on a rubberized mat, also offering a certain degree of protection for the floors.
But still, since the bike is not exactly light, it's recommended to place it on a mat. This will also prevent sweat or oil from the chain (if it was recently lubricated) to drip onto the floor.
The front base tube integrates a set of silicone wheels. Thus, the bike is easy to relocate. By leaning it onto its front wheels, you will handle less than half its total weight.
This Sunny Health & Fitness exercise bike doesn't take a lot of space. It's only 49″ (125 cm) long, and 23″ (59 cm) wide. Therefore, it can easily fit even in a smaller room.
Finally, the frame comes with corrosion-resistant and scratch-resistant paint. The colors used are gray for the mainframe and black for the seat and handlebar posts. The flywheel is also black, with a touch of cerulean blue. The ASUNA logo is also blue. These are the only colors available for this model at the moment.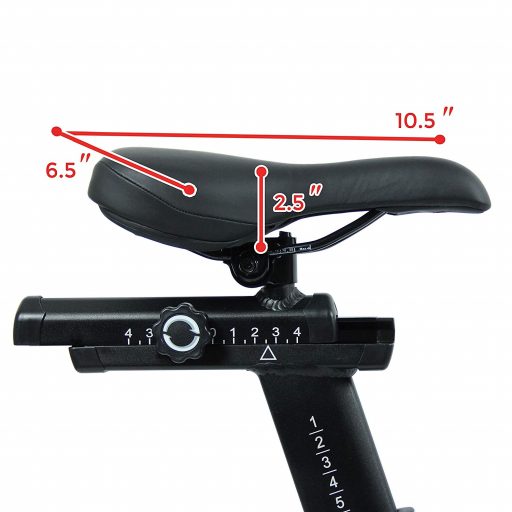 Seat and handlebars
Like most spin bikes, the Sunny ASUNA 5150 is not a model designed for comfort. It has a slim seat, similar to the ones on most spin bikes. It's not a comfortable seat; it does not integrate any air cell cushioning. However, its surface is contoured and incorporates a layer of padding. Its ergonomics can be bolstered, though, via a gel seat cover, for example.
The seat offers 4-way adjustability, up, down, front, and back. Also, the angle can be adjusted. Its upright bar offers a 12-inch (30.4 cm) adjustment span and can accommodate users with an inseam between 27″ and 41″ (68.5 – 104 cm), basically users of all sizes. Its horizontal adjustment bar offers nine adjustment positions, with a span of approx — 8″ (20.3 cm).
The handlebar features a multi-grip design, including an aerobar and a bottle holder. It's completely covered with rubber foam material to deliver a comfortable, sure grip. It's only 2-way adjustable, up / down, its adjustment span being 4″ (10 cm).
Both seat and handlebar are easy to adjust, featuring knobs easy to grip and turn. Differently put, it takes less than a minute to position them as your workout demands.
ASUNA 5150 Drive system
As opposed to the ASUNA 5100, this Sunny exercise bike features a chain drive. This type of drive comes with several benefits. One, the chain is made of steel, is much more robust than a belt, and doesn't stretch.
Two, the chain is identical to a road bike chain. Thus if it breaks or catches rust, you can easily find a replacement for it at your local bike shop. Three, the pedaling motion is quiet and smooth, similar to riding a road bike. Of course, as opposed to a bike with a belt-drive, you will have to lubricate the chain periodically. But that's quite a simple task.
This indoor cycle trainer comes with an extremely sturdy 3-piece crankset, with solid steel crank arms, made to support users up to 350 lbs (159 kg) in stand-up pedaling routines. It can withstand just about any spin workout. The crank arms have heavy-duty, dual-action metallic pedals. They have SPD clips on one side and toe cages on the other.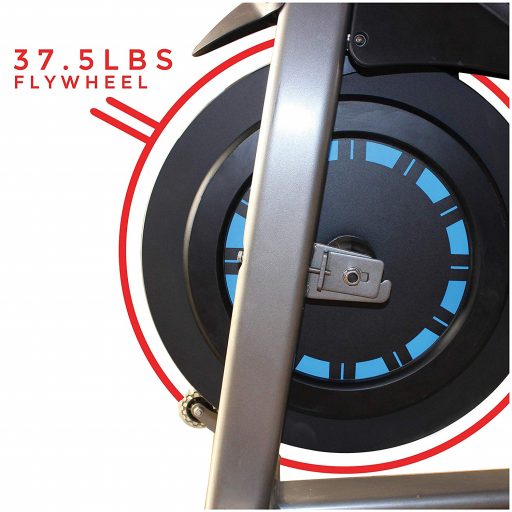 The flywheel is a steel and aluminum combo. It weighs 37.5 lbs (17 kg). It's not the most massive flywheel found in spin bikes; for example, the BodyCraft SPX has a wheel of 46 lbs (20.8 kg).
But the flywheel on this Sunny ASUNA model is heavy enough to deliver a consistent momentum. Also, most of the steel in its construction is in its perimeter. Therefore, the pedaling motion is stabile.
Pedaling in reverse is possible. However, when driving in reverse, the bike retains its resistance. So, when pedaling in reverse, you will benefit from the selected level of resistance. This adds quite a bit of diversity to the available workout spectrum.
Resistance system
As opposed to many other gym grade exercise bikes, the ASUNA 5150 features a manual magnetic resistance system. Thus, the resistance system consists of a set of magnetic elements connected to the tension knob situated on the main tube of the frame.
By turning the knob clockwise, the magnets will cover a full portion from the flywheel generating more resistance.
The bike offers eight resistance settings. The first ones make available light workouts, perfect for warm-ups or for users who require recovery training. Conversely, the top resistance settings simulate a steep climb, offering the possibility to undergo extremely intense pedaling sessions, interval training, or strength training.
ASUNA 5150 Assembly and Maintenance
Most of the bike comes assembled. The chain, the magnetic resistance system, the flywheel, and the crank are already in their place. Therefore, in terms of assembly, you only have to add the bike's bases, the pedals, the seat, and handlebars.
This shouldn't take longer than 30 min. The manual provides pretty clear assembly instructions — also, all the tools required for assembly (are included).
Maintenance requires the periodic lubrication of the chain to prevent it from catching rust. Also, even though the bike comes with corrosion-resistant paint, it's recommended that sweat is wiped off from the frame or other parts, as it's considerably more corrosive than plain water.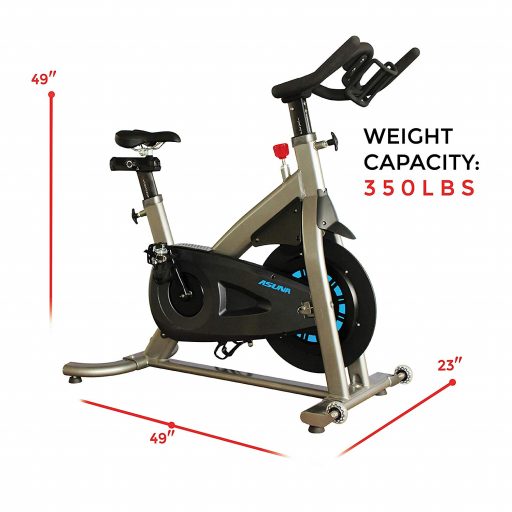 Technical Details and Specifications
Assembled dimensions: 49L x 23W x 49H inches (125L x 59W x 125H cm)
Assembled weight: 112 lbs (50.8 kg)
Flywheel weight: 37.5 lbs (17 kg)
Supported weight: 350 lbs (159 kg)
Handlebars: 2-way adjustable
Seat: 4-way adjustable
Pedals: Dual-action (SPD clips + toe cages)
Drive mechanism: Chain
Resistance: Magnetic, eight levels
Console: Not included
Bottle holder: Included
Warranty: Frame 5 years / Parts 180 days
Pros
Sturdy steel frame, commercial construction;
Superior stability;
High user capacity – 350 lbs;
Elegant design;
Ovalized tubing for the seat and handlebar posts which prevents them from turning sideways during more intense workouts;
The bases have adjustable rubber feet;
Silicone transport wheels;
4-way adjustable seat;
The bike can accommodate a wide range of users, with an inseam between 27″ and 41″.
Multi-grip handlebar, with a fixed, solid aerobar and bottle holder;
Dual-action pedals, with SPD clips on one side, toe cages on the other;
Frictionless, quiet magnetic resistance;
Smooth and highly durable chain drive;
Heavy, perimeter-weighted flywheel for a consistent momentum;
Extremely easy to assemble;
Little maintenance required;
Decent warranty.
Cons
Console not included;
Handlebar only 2-way adjustable.
Sunny ASUNA 5150 Summary
The ASUNA 5150 is a heavy-duty, commercial quality indoor cycle trainer. In particular, it features a sturdy frame and crankset, being able to support users up to 350 lbs. Also, it comes with a smooth, frictionless magnetic resistance system and a durable chain drive. It's a bike made for the whole range of spin workouts.
It's great for intense cardio training, stamina and strength training, intervals, and weight loss. And finally, even though it's not exactly an affordable bike, it's still at least $5-600 cheaper than an authentic spin bike in this range. Therefore, it's a bike with an excellent price/value/quality ratio.
I hope you found this article helpful and informative. If you have anything that you'd like to share or opinions about the content on my website, please do speak up. I look forward to your comments, questions, and the sharing of ideas.
Recommended articles:
Please follow and like us: