Hold on tight to the pulling handle because your workouts will surely be blown away by the Sunny Carbon Premium SF-RW5983 Rowing Machine! Improve your overall stamina or focus on powerful strokes; the SF-RW5983 has countless ways to customize your home workouts to fit your goals.
The SF-RW5983 combines air resistance and magnetic resistance to provide an enhanced and unique rowing experience. The Sunny SF-RW5983 incorporates rigid metallic fan blades that reduce flex and bend when rowing compared with the more commonly used plastic fan blades of other air rowers. This improves the integrity and consistency of the air resistance with every stroke.
The Sunny Carbon Premium SF-RW5983 features an advanced fitness console that tracks your Time, Pulse, Calories Burned, Distance, Strokes Per Minute (SPM) & Total Strokes. Row through 23 pre-set and manual rowing programs targeting your: Body Fat, Watts, Heart Rate, and more. Hence, the pulse reading function requires an HR chest strap, which comes included with the rower.
Stainless steel dual slide rails provide smooth and quiet operation, perfect for home use, and the sleek portable designed rower is a perfect fit for those looking to be space-efficient. The seat's height rises 16.5 inches off the floor to provide easy access to mount/dismount. Also, non-slip foot pedals will accommodate all sizes; foot straps keep your feet secure to focus on the workout.
Learn more in my complete review below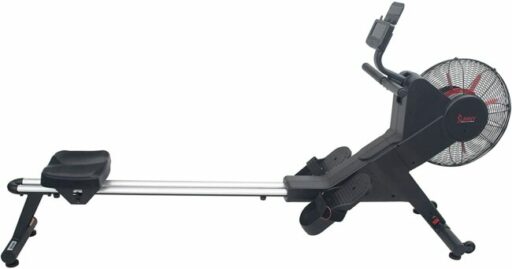 Product: Sunny Carbon Premium SF-RW5983 Rowing Machine
Price: For a great deal on this rower, merely go here on Amazon
Warranty: Frame 3 years / Parts 180 days
My rating: 9.25/10
Amazon Affiliate Disclosure: I may earn commissions on purchases made through links in this post.
Details and Specifications
Assembled dimensions: 87.5L x 19W x 36H inches (222L x 48W x 91H cm)
Assembled weight: 74.6 lbs (34 kg)
Weight capacity: 265 lbs (120 kg)
Frame: Steel
Resistance: Air & magnetic, 16 levels
Console: 23 workout programs, goals, recovery
Extras: Device holder
Warranty: Frame 3 years / Parts 180 days
SF-RW5983 Frame construction
The Sunny Health & Fitness Carbon Premium SF-RW5983 rowing machine features a steel frame with a dual-rail construction. This type of rail system offers better stability for the seat. The two parallel rail bars are steel like the rest of the frame, but they feature aluminum covers for extra protection.
All the steel parts in the machine's construction come painted in black. Plus, the front section of the frame and the magnetic resistance system and belt drive are covered by two large ABS guards.
The fully assembled machine is fairly large. It is approx—87.5″ (222 cm) long and 19″ (48 cm) wide. The length of its slide rail is 44″ (111.7 cm), so the machine should accommodate users up to 6'6″ (198 cm) with no problem, allowing a complete leg extension. The seat and the rail system have a maximum user weight capacity of 265 lbs (120 kg).
This Sunny SF-RW5983 rower does not have a folding frame. However, it stores vertically, making it space-efficient. In a vertical position, its footprint becomes approx. 36″L x 19″W (91 x 48 cm).
The rower is fairly heavy, weighing approx. 74.6 lbs (34 kg). All of this weight provides excellent stability. Plus, both its base stabilizer tubes come equipped with adjustable levelers. The front base has a set of small wheels for easy relocation.
Seat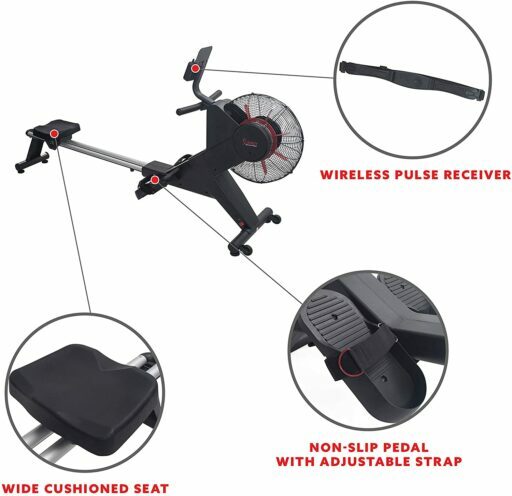 The Sunny Carbon Premium SF-RW5983 rower comes equipped with a standard seat. Its top is a thick layer of high-density foam, so it's not too hard. It is contoured for extra comfort. It is approx. 12.6″ (32 cm) wide and 10.28″ (26 cm) long, so it provides plenty of contact surface.
The base of the seat is steel made for improved sturdiness. It features three sets of rollers; two sets slide on top of the two parallel rails. These are concave for extra stability. The third set of rollers slides under the rails for added support. The rollers integrate sealed bearings and have a rubberized layer on the outside to reduce noise.
The rail system is not completely horizontal. It is slightly inclined forward. Therefore, the seat is a bit higher when extended all the way to the rear. It stands at approx. 16.5″ (~42 cm) above floor level for easy entry and exit.
SF-RW5983 Footrests
The Sunny SF-RW5983 rower comes with two large footrests. Their bases are steel-made for improved sturdiness, while the actual footrests are durable thermoplastic material. They have a textured surface, heel guards, and adjustable straps for improved foot stability.
The machine's footrests connect to the frame via screws in several points. Thus, they do not pivot on their axis; they are completely fixed. Moreover, their angle is approx—45 ° providing optimal positioning for your feet.
Pulling handle
The rower comes equipped with an ergonomic pulling handle. Its grips curve slightly towards the user to minimize the wrists' impact, and the grips have a rubberized surface for extra comfort.
The handle connects to a heavy-duty nylon strap. This is a plus as the machine's usage is quieter, and the strap doesn't require any maintenance. Although it may wear over time, it should last for at least a few years, even with everyday use.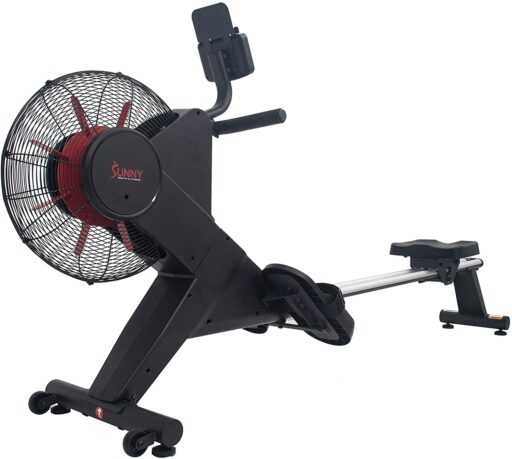 SF-RW5983 Resistance system
The Sunny Carbon Premium SF-RW5983 rowing machine features a hybrid resistance system combining air resistance and eddy current (magnetic) resistance elements.
The main resistance generator is the large, 8-blade fan visible at the machine's front and guarded by the steel cage. This fan connects to the pulling strap through a pulley and a belt drive. Therefore, when you pull the handle, it spins inside its cage generating air resistance.
The magnetic resistance mechanism is motorized (automatic). Thus, it requires a connection to a power source to adjust its magnetic resistance. It also means that the console can adjust the resistance automatically.
The magnetic resistance mechanism consists of a servo motor and a magnetic brake. As you adjust the console's resistance, the motor changes the magnets' pull on the brake to the internal flywheel, which adds or reduces the overall rowing difficulty.
It's also important to note that the rower provides a dynamic response. This means that the air resistance depends on how fast you pull, regardless of the selected magnetic resistance level. Differently put, if you pull the handle faster, the fan also spins faster and generates more resistance.
Like any other air resistance rower, the Sunny Carbon Premium makes some noise when in use. However, the generated noise is not extremely loud. You can compare it to the noise made by an electric fan.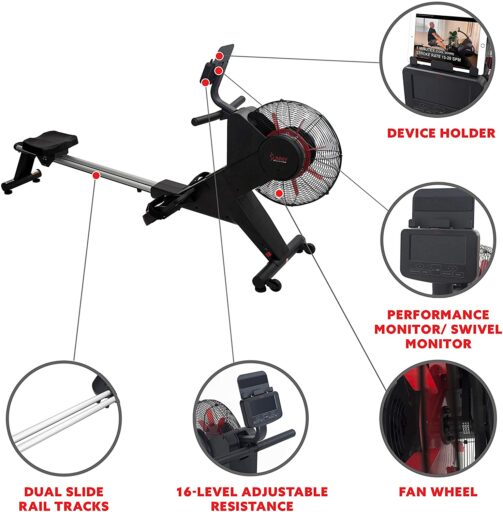 Console
The Sunny SF-RW5983 rower features a pretty advanced console. First of all, it comes with an LCD that divides into multiple sub-sections to show as many workout metrics as possible at once. It tracks time, time/500m, distance, strokes (per workout), strokes per minute, total strokes, calories burned, and pulse.
The distance displays in meters, and there is no option for yards or miles. Furthermore, the pulse rating function requires a 5.3 kHz HR chest strap transmitter, an accessory included with the rower.
Although the console does not have Bluetooth connectivity and is not compatible with any online fitness apps, it has a pretty decent range of built-in workout programs. And finally, the console also has four user profiles, U1 – U4. Therefore, up to four users can save their own program settings and personal workout data, pick up where they left off, or start a new workout session.
SF-RW5983 Workout programs
The first program (P1) is the Manual Mode. This gives you the possibility to row freely and adjust the magnetic resistance as you like during rowing. It also offers the possibility to select workout targets for time, distance, calories, and strokes.
The next 11 programs (P2 – P11) are pre-set. Each one has its own specific segment layout, which will appear on the display's bottom center. For instance, some have an interval layout; others are better for losing weight, etc. Thus, each program adjusts the resistance automatically in its own specific way.
The P13 program is the Body Fat program. This program will prompt you to input your data (gender, height, weight, weight, and age). As a result, it calculates your Body Mass Index and Basal Metabolic Rate.
The P14 program is the Watt program. For this program, you will have to select an energy output level. Accordingly, the rower will automatically adjust the magnetic resistance to keep you at the selected Watt value.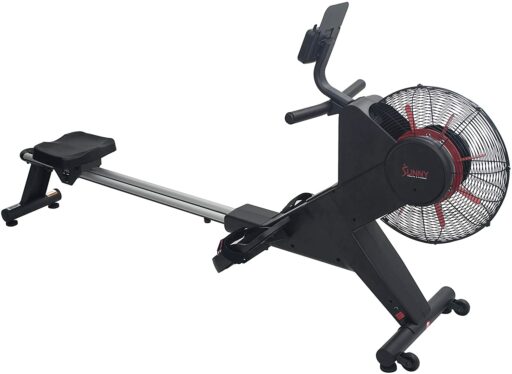 The P15-P18 are the heart rate programs. The first three (P15, P16, P17) have preset HR values for 65%, 75%, and 90%. The P18 program gives you the possibility to select your desired target HR.
Amenities
Two other notable console functions are the Recovery mode and the device holder. The Recovery mode counts how long it takes your pulse to return to normal after the workout, and based on the result; it will give you a fitness rating between F1 (excellent) and F6 (poor).
The device holder is integrated into the console above the LCD. You can fit most tablets and smartphones on it and view your favorite shows as you exercise. It is important to note, though, that the console does not have any ports to connect your device to it.
SF-RW5983 Assembly and Maintenance
The machine's front unit with the fan, the magnetic resistance system, and the other drive elements come pre-assembled.
The other parts do require user assembly. You will have to connect the front stabilizer, insert the seat onto the rails, connect the rail system to the front section of the rower, add the rear stabilizer, the footrests, and the console.
This may take more than an hour of your time, but the whole task is fairly simple. The manual provides clear assembly instructions, and a set of basic tools comes included with the machine.
Maintenance doesn't require much. You only have to keep your rower clean, especially the rails, to prevent any damage to the seat wheels or rail. Furthermore, the internal parts do not require lubrication or any maintenance.
Pros
Sturdy construction – can hold users up to 265 lbs (120 kg);
Can be stored vertically;
Adjustable levelers on both base tubes;
Transport wheels on the front base;
Dual rail system for improved stability;
Long rail for users with an inseam up to 46″;
Large footrests with heel guards and adjustable straps;
Padded and contoured seat;
Air resistance for a natural, dynamic response during rowing;
16 levels of eddy current resistance for overall tension adjustment;
Power adapter included;
Multi-window console with LED backlight;
23 programs on the console;
Goal settings for time, distance, count, and calories;
Pulse reading function;
HR chest strap included;
Very quiet for an air resistance rower;
Tablet holder included;
Easy to assemble;
All the necessary assembly tools come included;
Little maintenance is required.
Cons
No online connectivity;
No AUX or USB ports for connecting your phone or tablet.
Sunny Carbon Premium SF-RW5983 Summary
The Sunny Health & Fitness Carbon Premium SF-RW5983 is an air & magnetic resistance rower offering 16 levels of resistance, an extra-long dual-rail system, and a console with multiple workout programs. A wireless HR chest strap is also included for pulse monitoring. Moreover, it's an excellent machine for light to intense cardio workouts, muscle toning, stamina development, and weight loss.
I hope you found this article helpful and informative. If you have anything you would like to share or any opinions about my website, please speak up. I look forward to your comments, questions, and the sharing of ideas.