The Sunny Evolution Pro SF-B1714 Indoor Cycling Bike is Sunny Health's highly rated magnetic exercise bike for home use. An indoor cycle gives you the same feel as cycling on the road with a bicycle. The Sunny SF-B1714 provides an excellent cardiovascular workout with low impact on your joints.
Three essential features included on this bike are magnetic resistance, a heavy flywheel, and a belt drive for a smooth silent ride. The heavier weight of the Sunny SF-B1714 makes it more stable than cheaper exercise bikes. It has a massive 44 lb — flywheel, which creates a secure, quiet, vibration-free workout.
For a custom fit, the Sunny Evolution Pro SF-B1714 saddle and handlebars are fully adjustable, i.e., up/down and forward/backward.  The adjustability of the SF-B1714 spin bike makes it suitable for riders of different heights with an inseam range from 30.1" up to 38.3".
Although it doesn't come with a performance monitor, it is fair to say that Sunny Evolution Pro is another top-quality indoor cycling bike for home users. This particular model looks stylish and has a solid steel frame, and more importantly, it delivers a smooth, challenging, and responsive workout with minimal noise.
Learn more in our complete review below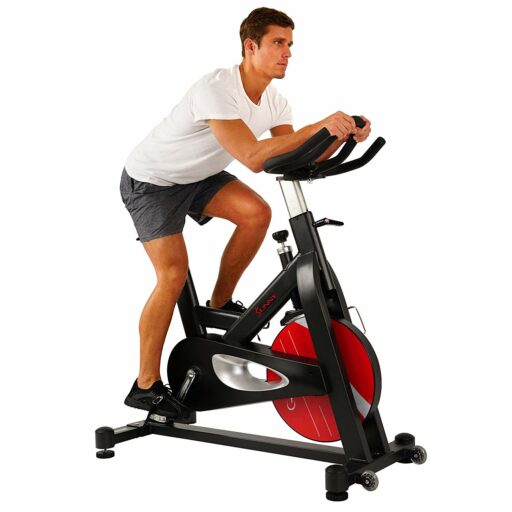 Product: Sunny Evolution Pro SF-B1714
Price: For a great deal on this bike, merely go here on Amazon.
Warranty: Frame 3 years / Parts 90 days
My rating: 8.75/10
Amazon Affiliate Disclosure: I may earn commissions from purchases made through links in this post.
Details and Specifications
Assembled dimensions: 48.5″L x 24″W x 53.5H (123L x 61W x 136H cm)
Assembled weight: 136 lbs (61.6 kg)
Flywheel weight: 44 lbs (20 kg)
Supported weight: 330 lbs (150 kg)
Handlebars: 4-way adjustable
Seat: 4-way adjustable
Drive mechanism: Belt
Resistance: Manual magnetic
Fitness console: Not included
Extras: Bottle holder
Warranty: Frame 3 years / Parts 90 days
SF-B1714 Frame construction
The Sunny SF-B1714 features heavy-duty steel construction with a weight capacity of 330 lbs (150 kg). The bike itself is considerably heavy as well; with the frame completely assembled, it weighs approximately 136 pounds (61.6 kg). The bike's base bars come with large, adjustable stabilizers. Therefore, you can perfectly level the trainer on any flooring. The frame is not foldable. However, despite its weight, it is easy to transport once assembled. The front base has two large silicone wheels which facilitate the unit's relocation.
This Sunny exercise bike isn't huge. With the frame fully assembled, it is approximately 48.5″ (123 cm) long, and 24″ (61 cm) wide. However, it is recommended to leave at least two feet of clearance all around it, so that you can perform any spin workout without any hindrance.
Although most of the bike's frame is ovalized steel tubing, there still are several plastic parts. These are the covers of the belt, the flywheel, and the caps of the adjustment knobs. But apparently, these don't affect the bike's overall sturdiness.
The bike's frame features a corrosion-resistant and scratch-resistant paint. The color used is black for most of the structure. However, the seat post and the handlebar post have a chrome finish. Evidently, despite the rust resistance of the paint finish, this Sunny Health & Fitness exercise bike is for indoor use only. If kept or repeatedly used outside, the screws and other parts may eventually catch rust.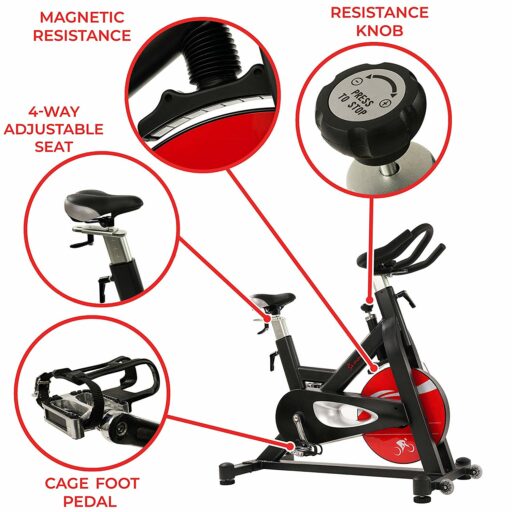 Seat and handlebars
The seat included with the Sunny Health & Fitness SF-B1714 is entirely different than the slim seat present in most spin bikes. It's thicker; it integrates a consistent layer of plush and also has a longitudinal groove to promote healthy blood flow. Differently put, this seat delivers much more comfort than a minimalistic spin bike seat.
On the other hand, the seat has a standard connection system to its post. So, in case you want a different one, you should be able to find a compatible model in just about any bike shop.
The bike's seat offers 4-way adjustability. Its height extends an adjustment span of approx. 8″ (20.5 cm), while its horizontal slider can also travel a few inches back and forth.
The handlebar assembly is also 4-way adjustable. It's for multiple grips with a unified aero bar in the middle. It's urethane-dipped, so it provides a secure and comfortable grip.
Thus, the Sunny SF-B1714 can accommodate users between 5'0″ – 6'5″ (153 – 196 cm) with no problem. The adjustment knobs are relatively large, easy to grip, pull, and turn. Thus, if several persons use the bike, re-adjustment shouldn't take more than 1 minute.
SF-B1714 Drive system and elements
The most crucial component of the bike's drive system is the flywheel. The Sunny Health & Fitness Evolution Pro bike features an extra heavy wheel, weighing 44 lbs (20 kg). This flywheel has a slightly different construction than other Sunny bikes.
It's still perimeter weighted, though, designed for aggressive inertia. It delivers a consistent momentum. Thus, the bike may not be the right choice for users with knee problems or other related disabilities.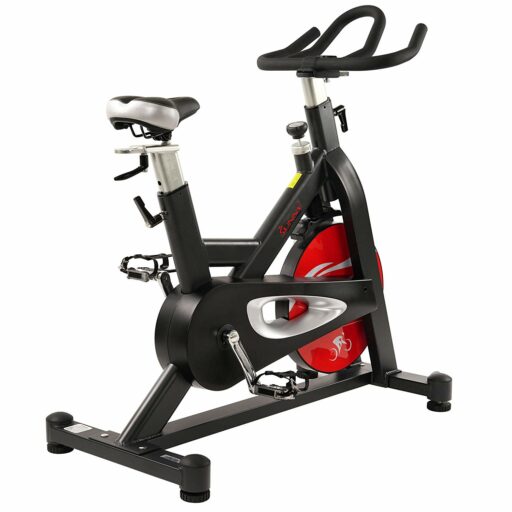 The flywheel is bi-directional. This means that you can pedal in reverse if you want. However, unlike road bikes, or other types of trainers with a more sophisticated drive system, you cannot coast on this bike. The pedals continue to move for as long as the flywheel is spinning.
The crankset is also an essential element in the construction of a spin bike. This Sunny exercise bike features a highly durable crankset with solid steel crank arms. It can hold the entire weight of the user as long as they don't exceed the specified maximum weight capacity (330 lbs).
The included pedals are also very durable, made of metallic alloy. They come with toe cages and adjustable straps but do not integrate clips for SPD shoes. They're replaceable, though; they feature standard 9/16 threads, so you should easily find compatible SPD models.
One last aspect to mention here regards the bike's Q-Factor (spacing between the pedals). The Sunny SF-B1714 features a narrow, 122 mm Q-Factor. This is quite a plus because your feet are positioned on the pedals naturally. Thus, you won't experience any extra lateral stress on the knees or ankles.
Resistance system
One of the reasons the Sunny Health & Fitness Evolution Pro is a bit more expensive than other models is its magnetic resistance system. Its brake consists of a magnetic pad attached to the turn-knob on the central tube of the frame. By turning this knob, the magnetic element changes its position about the metallic flywheel, increasing or decreasing tension.
The brake is adjusted manually by turning the knob left or right. You don't have to connect the bike to a power circuit.
The resistance knob doesn't have any levels or "clicks" specified on it, like most upright bikes with magnetic resistance. You turn the knob until you feel that the strength generated corresponds to your training requirements.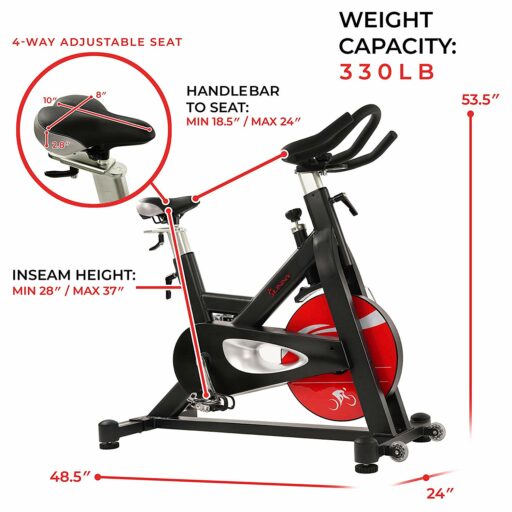 Since it's a magnetic brake, its pad doesn't touch the flywheel, so you won't have to worry about wear and tear. Also, since there's no friction, on a higher resistance setting, the pedaling motion is much smoother than for a bike with a felt pad brake.
SF-B1714 Assembly and Maintenance
Like most exercise bikes, this Sunny model comes partially assembled. The flywheel, the belt, the crankset, and the brake are already in their places. All you have to do is attach the front and rear base bars, the seat post, the handlebar post, the saddle, the handlebar, and the pedals.
The task shouldn't take more than 30 min. All the tools you will need for the assembly come with the box, while the included manual provides precise assembly instructions.
The bike is maintenance-free. Its drive system doesn't require lubrication; since it has a magnetic tension system, its brake pad doesn't need replacement. So, for maintenance, you'll need to wipe the sweat from the frame and periodically look for loose or damaged parts.
Pros
Heavy-duty construction similar to commercial-grade bikes;
Large, adjustable stabilizers on both bases;
Transport wheels;
Can support users up to 330 lbs;
Step-up bar element for easy mount/dismount or various spin workouts;
Can accommodate users between 5'0″ – 6'5″;
Extra-heavy, perimeter-weighted flywheel for aggressive inertia and a consistent momentum;
A solid crank assembly which can support all kinds of spin workouts;
Heavy-duty metallic pedals with toe cages;
Narrow Q-Factor (122 mm) to minimize lateral stress on the knees;
4-way adjustable seat;
4-way adjustable handlebar;
Multi-grip, urethane-dipped handlebar;
Smooth, almost silent belt drive;
Magnetic resistance system with virtually zero wear-and-tear;
Bottle holder included;
Almost no maintenance required;
Easy to assemble.
Cons
Sunny Evolution Pro SF-B1714 Summary
The Sunny Health & Fitness Evolution Pro SF-B1714 is an indoor cycling trainer featuring an extra-heavy flywheel, manual-magnetic resistance, and heavy-duty construction. It offers superior micro-adjustability (both handlebars and seat are 4-way adjustable). It's equipped with a plush seat and has a narrow (122 mm) Q-Factor.
It's a perfect exercise bike for medium to intense cardio training, interval training, strength and stamina development, and of course, for weight loss. Regarding price, it's not exactly one of the most affordable trainers. However, it still costs a few $100s less than other similar bikes. So, in conclusion, this Sunny exercise bike offers excellent value for the price.
I hope you found this article helpful and informative. If you have anything that you'd like to share or opinions about the content on my site, please do speak up. I look forward to your comments, questions, and the sharing of ideas.
Recommended articles:
Please follow and like us: