The Sunny SF-B1509C is basically the same bike as the SF-B1509. However, there are three main differences between these two models. First of all, as the "C" in this model's name suggests, the SF-B1509C has a chain drive. Second of all, it has a higher weight capacity than the 1509 model, and third, the C model features a gray finish.
Burn off those unwanted inches in time for swimsuit season with the Sunny SF-B1509C Chain Drive Premium Indoor Cycling Bike. This convenient indoor stationary bike is a great way to stay in shape in the comfort of your own home. A comfortable seat and adjustable handlebars ensure you stay healthy as you pedal away.
A chain-drive and 40lb flywheel provides smooth, quiet operation while a micro-adjustable resistance lets you increase the intensity of your workout as needed. It is constructed from a heavy-duty steel frame and durable crank, providing for a maximum user weight of 300 lbs.  This spin bike indeed ensures high endurance against long-standing use.
Sunny SF-B1509C comes with combination pedals (click/caged). It provides you with dual functionality of SPD pedals as well. In all, it's an indoor cycling trainer designed for spin workouts, perfect for in-home daily cardio training.
Learn more in my complete review below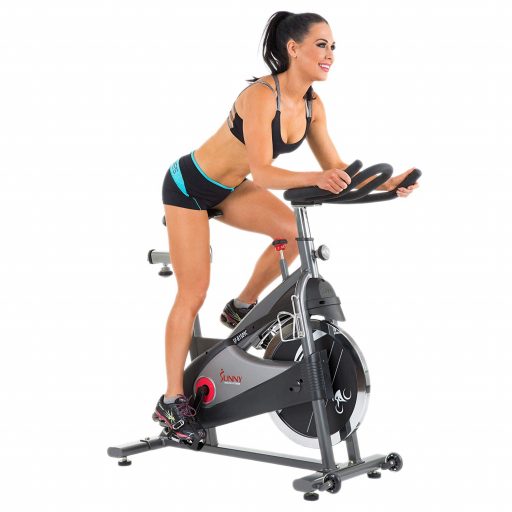 Product: Sunny SF-B1509C Indoor Bike
Price: For a great deal on this bike, merely go here on Amazon
Warranty: 90 days limited
My rating: 8/10
Amazon Affiliate Disclosure: I may earn commissions from purchases made through links in this post.
SF-B1509C Frame construction
The Sunny Health & Fitness SF-B1509C indoor cycling bike features a steel frame, designed to support spin workouts of all sorts. It's considerably more substantial than the average mountain bike, having a total assembled weight of 105 lbs (47.6 kg).
This weight results in excellent overall stability. Differently put, the bike won't rock even if you engage in a more demanding workout, or stand up on the pedals. On top of that, both the bike's bases have adjustable stabilizers with rubber caps.
Therefore, it's not necessary to place it on a rubber mat. These rubber stabilizers, not only that, will allow you to level the bike on uneven flooring perfectly, but they also provide a superior grip on the floor, preventing it from sliding forward or backward.
The bike's frame features an industrial-grade, corrosion-resistant powder finish, gray in color, as opposed to the finish of the SF-B1509 model, which has a white finish. The seat post and the handlebar post are chrome-coated, though. The chain guard and the upper guard of the flywheel are a durable plastic material.
This Sunny Health & Fitness exercise bike isn't huge for a cardio training machine. It's only 50″ (127 cm) long and 22″ (56 cm) wide but does require at least two feet of clearance on the sides for safe and unhindered operation. Its frame doesn't fold, but the front base features a set of transport wheels, which facilitate the relocation of the assembled bike. In all, this exercise bike is an excellent choice for a cardio machine, if storage and usage space are limited.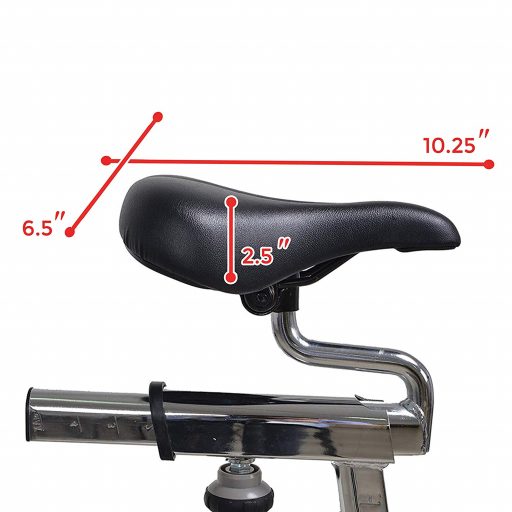 Seat and handlebars
The Sunny SF-B1509C exercise bike comes with a standard saddle, which is not as thin as other seats found on spin bikes. Thus, it does provide a bit more comfort, but overall, it's not an incredibly comfortable seat.
On the good side, though, its connection point to the post is conventional, so you can easily find a replacement for it. Also, a gel cover will improve its comfort.
The seat is 4-way adjustable, up, down, backward, and forward. Its upright post has nine adjustment holes, approx. 1″ apart from each other. The bike can accommodate users with an inseam between 28″ and 39″ (71 – 99 cm), or differently put, users between 5'0″ and 6'5″ (152 – 195 cm).
This seat is the main element that supports the user's weight, so in this case, it can hold users up to 300 lbs (136 kg). Although several other sources rate this exercise bike for a user capacity of only 265 pounds (120.2 kg), the manual states clearly that its user capacity is 300 lbs, as opposed to the 1509 model, which has a capacity of 265 lbs.
The handlebar doesn't offer horizontal adjustability, only upright. It has a multi-grip design, with a unified aerobar, offering the possibility to adopt leaned forward workout postures. The whole handlebar assembly is covered by a sheet of rubber foam material to provide a non-slip and comfortable grip.
Both seat and handlebars feature large knobs, easy to turn, and pull. Thus, adjusting the bike to your requirements takes less than a minute.
SF-B1509C Drive
As I've mentioned above, one of the main differences between this Sunny exercise bike and the SF-B1509, is the drive system. The Sunny SF-B1509C features a chain drive, which comes with several advantages. First of all, a chain drive won't stretch, it's more durable, and it's less likely to jump off the crank. And second of all, in case it breaks, you can replace it with a standard bike chain.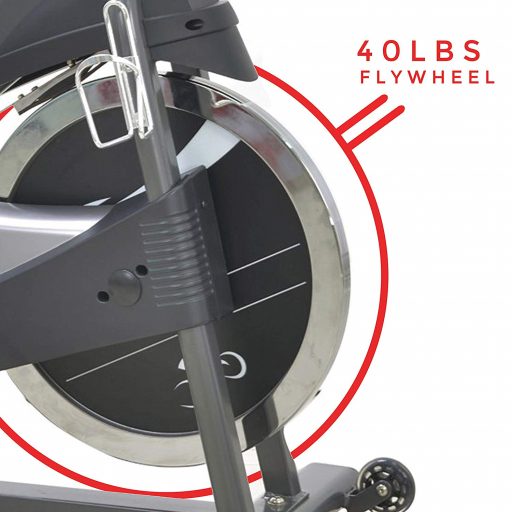 The bike's flywheel weighs 40 lbs (18.1 kg), which is more than enough for a steady and smooth pedaling motion, with a consistent momentum. Also, it's a perimeter-weighted flywheel; therefore, it minimizes the "Stairmaster" effect, which may be present in other bikes, if the resistance is too tight.
This exercise bike allows reverse pedaling. But the pedals will continue to spin for as long as the flywheel is spinning. Therefore, it's recommended to use the emergency brake in case you want to change the pedaling direction. Also, since this is an exercise bike, it doesn't integrate a great shifter or a derailleur like a road bike, so you cannot coast on it.
The crankset equipped on this exercise bike is a 3-piece model, featuring solid steel crank arms, which can support the whole weight of the user, and just about any spin workout, as long as the user doesn't exceed the specified maximum weight of 300 lbs (136 kg).
The pedals are dual-sided, with SPD clips for spin shoes on one side, and toe cages with straps on the other. They're quite durable, made of metallic allow, and feature standard 9/16 threads, so replacements for them are widely available.
The bike's Q-Factor (spacing between the pedals) is relatively narrow compared to other spin bikes, allowing a natural positioning of the feet onto the pedals, and eliminating the lateral stress on the knees.
Resistance system
The Sunny SF-B1509C features a friction resistance system. The brake pad combines an EVA layer and a cow's leather layer for contact with the flywheel. The pad connects to the turn-knob on the main tube of the bike. Thus, as you turn the knob clockwise, the pad will apply more pressure onto the flywheel, generating more resistance.
The resistance knob of this bike does not have any "clicks" or levels marked on it. You tighten it until you feel that the bike offers the required amount of tension for your workout. Differently put, you can tighten it up to the point you can barely pedal.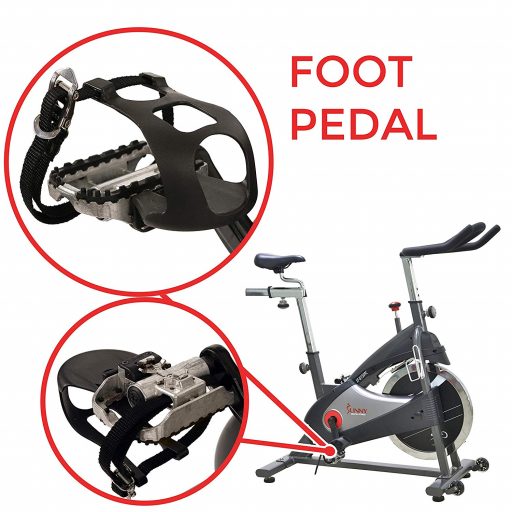 SF-B1509C Assembly and Maintenance
Some of the parts come pre-assembled from the factory. The flywheel, the chain, the crankset, and brake elements are already attached to the mainframe.
Therefore, you only need to add the base tubes to the structure, the posts of the seat and handlebar, the saddle and the handlebar itself, and the pedals. The box includes all the tools required for assembly and a manual that provides all the necessary instructions for it. The whole task shouldn't take more than 30 min.
The bike's maintenance requires the periodic inspection for loose bolts and parts, and their re-tightening if necessary. Also, the resistance pad may require a bit of lubrication with non-abrasive silicone lubricant, in case it makes a squeaky noise when in contact with the flywheel.
Details and Specifications
Assembled dimensions: 50L x 22W x 48H inches (127L x 56W x 122H cm)
Assembled weight: 105 lbs (47.6 kg)
Flywheel weight: 40 lbs (18.1 kg)
Supported weight: 300 lbs (136 kg)
Handlebars: 2-way adjustable
Seat: 4-way adjustable
Pedals: Dual-action, SPD and toe cages
Drive mechanism: Chain
Resistance: Friction, leather-pad
Bottle holder: Included
Warranty: 90 days limited
Pros
Solid steel frame, sturdy construction;
Elegant design;
Rubberized, adjustable foot stabilizers;
Multi-grip handlebar, with unified aero bars;
Perimeter-weighted, heavy flywheel, for a consistent momentum, and smooth pedaling;
4-way adjustable seat;
Durable chain drive;
Solid crankset, solid enough for all-range of spin workouts;
Comfortable Q-Factor considerably reducing the lateral impact on the knees;
Dual-action pedals, with SPD clips on one side, and toe cages on the other side;
Bottle holder included;
Not an extremely heavy fitness machine, easy to transport;
Easy to assemble;
Little maintenance required.
Cons
No fitness console;
Handlebar adjustable only vertically.
Sunny SF-B1509C Summary
The Sunny Health and Fitness SF-B1509C is an indoor cycling bike designed for home use. It's a bike made for spin workouts, being able to withstand users up to 300 lbs, standing up on the pedals. It features a standard friction resistance system, dual-sided pedals, and a 4-way adjustable seat.
It's an exercise bike for users of all levels, great for light to intense cardio, interval training, and weight loss. It's an affordable indoor cycling trainer, as it sells for less than $300. In all, it offers excellent value for the price.
I hope you found this article helpful and informative. If you have anything that you'd like to share or opinions about the content on my website, please do speak up. I look forward to your comments, questions, and the sharing of ideas.
Recommended articles:
Please follow and like us: