The Sunny SF-B1805 is a functional and durable indoor bike with a magnetic resistance belt drive, 300 lb. maximum user weight capacity, and user-friendly features. It will help you become stronger and healthier with a very intense workout that supports multiple hand grips, micro-adjustable resistance, and high interval training.
Sunny SF-B1805 has a sizeable 44-pound flywheel that ensures you get a proper intense workout that will help strengthen your lower body and core section with a high weighted wheel. The flywheel is created for both stability and speed and shall generate more momentum for an extended period.
The metal disks generate the magnetic resistance through a magnetic field for endless resistance levels, and you can change the levels of resistance easily and quickly. The closer the magnet gets to the flywheel, the higher the workout resistance will be.
The handlebar and the seat can be adjusted in four directions (up and down, back and forth) to accommodate people with different sizes of bodies. It has the steel toe-caged pedals with the adjustable straps for your comfort. The inseam on this bike is between a minimum of 28 inches and a maximum of 38 inches.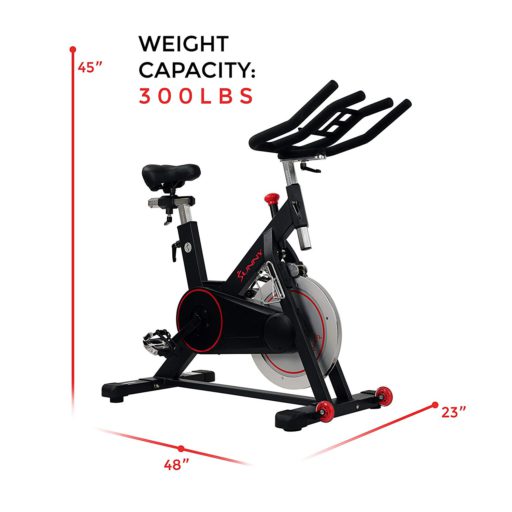 Learn more in my complete review below
Product: Sunny SF-B1805 Magnetic Belt Drive Indoor Cycling Bike
Price: For a great deal on this bike, merely go here on Amazon
Warranty: Frame 3 years / Parts 90 days
My rating: 9.25/10
Amazon Affiliate Disclosure: I may earn commissions from purchases made through links in this post.
Details and Specifications
Assembled dimensions: 48L x 23W x 45H inches (122L x 58W x 114H cm)
Assembled weight: 125.7 lbs (57 kg)
Flywheel weight: 44 lbs (20 kg)
Supported weight: 300 lbs (136 kg)
Handlebars: 4-way adjustable
Seat: 4-way adjustable
Pedals: With toe cages
Drive: Belt
Resistance: Manual magnetic
Fitness console: Not included
Accessories: Bottle holder, tablet holder
Warranty: Frame 3 years, Parts 90 days
SF-B1805 Frame
The Sunny Health & Fitness SF-B1805 features a heavy-duty frame designed to support any spin workout. Most of it has thick steel tubing, which results in an impressive overall weight. With the frame fully assembled, the bike weighs approx. 125 lbs (57 kg), which is more than three times the weight of a mountain bike.
Therefore, no matter what workouts you have in mind, the bike won't wobble or rock when you execute them. Since it's an exercise bike designed for spin workouts, it has a stepping pad element between the main bar of the frame and the tube of the seat.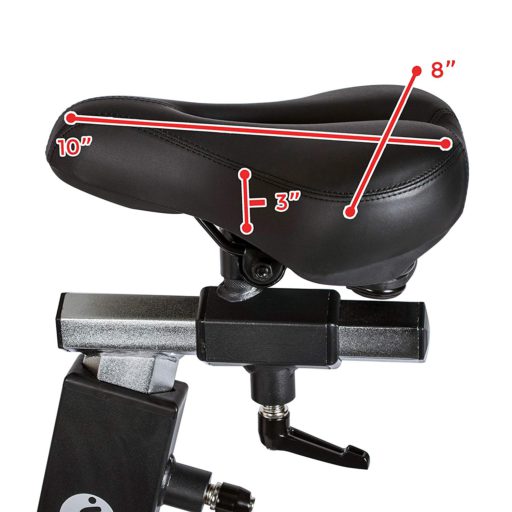 This stepping pad offers the possibility to perform spin workouts that require you to dismount, step-up, and step-down of the structure repeatedly, to engage more muscles. It's also rubberized to prevent damage to the paint finish and provide a better grip of your shoe on it.
Speaking of the paint finish, the Sunny SF-B1805 features a durable powder coating which is resistant to rust and abrasion. The color uses for the mainframe is black, with the Sunny logo painted red. However, the adjustment posts, sliders of the seat and handlebars, and the flywheel feature a chrome plating.
With the frame fully set up, it is approximately 48″ (122 cm) long, and 23″ (58 cm) wide. It is recommended, though, to leave at least two feet of clearance all around it, to be able to perform all the spin workouts correctly and access the bike with ease.
Seat & handlebars
The Sunny Health & Fitness SF-B1805 indoor cycling trainer has a high-comfort seat. It's 8″ wide, and 10″ (25.4 cm) long offering plenty of contact surface. It integrates approx. 2″ (5 cm) of foam cushioning and has shock absorption springs at the rear.
It also has a longitudinal groove for a superior airflow under the user and healthy blood circulation. In all, it's superior to the average slim spin bike seat, at least in terms of comfort.
The seat is 4-way adjustable. Its upright post along with its horizontal slider is designed to accommodate users with an inseam between 28″ and 38″ (71 – 96 cm), in other words, users between 5'0″ and 6'5″ (153 – 196 cm).
Its upright bar offers multiple adjustment positions, while the seat slider also provides several inches of front to back adjustment.
The bike has a multi-grip handlebar. It has two long aero bars in the middle, which offer the possibility of a racing grip. There is a tablet holder or reading rack attached to the aero bars, a feature that many other bikes do not have. The whole handlebar assembly is urethane-dipped to provide a secure and comfortable grip. Just as the seat, the handlebar is 4-way adjustable.
SF-B1805 Resistance system
The Sunny SF-B1805 has a manual magnetic resistance system. Its magnetic brake hugs the top section of the flywheel. It is attached to the tension knob on the top of the main bar of the frame. As you turn the knob clockwise, the brake will cover a more substantial portion of the flywheel, which results in a higher intensity of the magnetic field. This ultimately leads to greater pedaling difficulty.
Since the resistance system is manual, the bike doesn't require a connection to a power source. Also, the brake and the flywheel do not make contact, so the pedaling remains smooth and whisper-quiet, without any friction or wear and tear.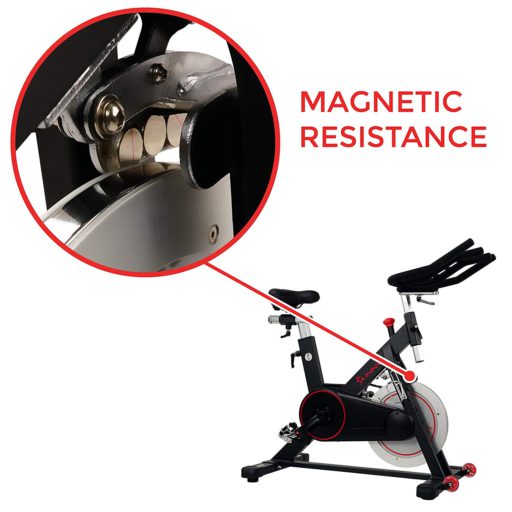 As opposed to other spin bikes that have a magnetic resistance system, this one doesn't have pre-determined resistance levels. You can turn the tension knob until the resistance feels adequate to the workout that you want to execute.
The highest tension setting does provide quite a high difficulty, offering the possibility to train on a superior level and achieve a consistent muscle burn.
Last but not least, the unit's tension knob also has the function of an emergency brake. You can press it down to immediately stop the flywheel from spinning.
This is quite important in case you pedal at a very high speed as it's hazardous to try to stop the wheel by abruptly ceasing your pedaling. This may lead to injuries as the flywheel is quite substantial.
Drive system
This Sunny exercise bike has a 44 lbs flywheel, which is perimeter-weighted. This type of construction leads to highly aggressive inertia but also delivers a very smooth and steady pedaling motion.
The flywheel and the bike's transmission allow pedaling in reverse. However, when pedaling in reverse, you will benefit from the same resistance as for pedaling usually. Also, coasting is not possible on this bike.
Since it's a magnetic resistance exercise bike, it uses a belt for its transmission, not a chain. A belt drive comes with several advantages. For example, you don't have to lubricate it. It generates less vibration than a chain. And the pedaling motion is very smooth, almost entirely silent.
It has a highly durable 3-piece crankset with solid steel crank arms. Therefore, as long as the user doesn't exceed the 300 lbs (136 kg) maximum weight capacity, the bike can support any workout that requires standing up on the pedals.
The included pedals are a metallic alloy. They don't have SPD clips for spin shoes but do have toe cages in case you need extra foot stability. They also have standard threads, so you can easily find replacements for them if needed.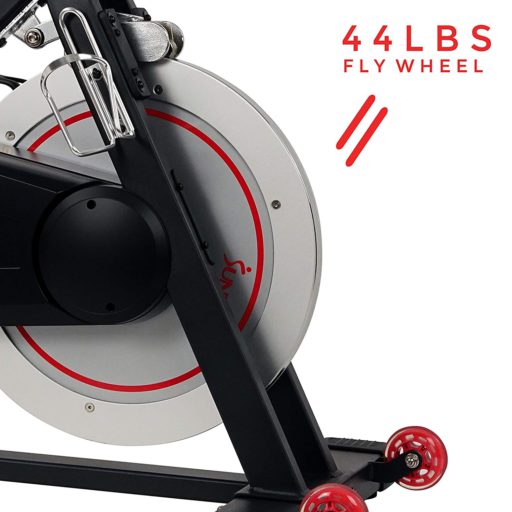 One last aspect to mention here is the bike's Q-Factor (spacing between the pedals). The Sunny Health & Fitness SF-B1805 has a 177 mm (6.9″) Q-Factor, which is an average spacing.
This means your feet are positioned on the pedals naturally, and the pedaling motion doesn't generate extra lateral stress on the knees and ankles.
There are, though, other exercise bikes with an even smaller Q-Factor. So, in case 177 mm it too much for you, two different models that you can check out are the Sunny ASUNA 6100, or the Spinner L7.
SF-B1805 Assembly & Maintenance
The bike's primary drive and resistance elements come already attached to the core frame. So, when it comes to assembly, you only have to connect the two base bars, the seat post, the handlebar post, the seat, the handlebar, and the pedals.
This shouldn't take longer than 30-40 minutes. The manual provides detailed assembly instructions and schematics. Also, all the tools needed for the assembly are (provided).
Maintenance doesn't require much. As I've mentioned earlier, the bike's transmission doesn't require lubrication. So, all you have to do is run a periodic check for loose or damaged bolts and parts.
Pros
Sturdy steel construction – can support users up to 300 lbs;
Transport wheels included;
Adjustable levelers with rubber pads on all bases;
Rubberized stepping pad element;
Durable metallic pedals with toe cages;
Cushioned seat with suspension springs at the rear;
4-way adjustable seat;
4-way adjustable handlebars;
Smooth and quiet belt drive;
Heavy, 44 lbs inertia-enhanced flywheel;
Frictionless magnetic resistance;
Bottle holder included;
Tablet holder included;
Little maintenance required;
Easy to assemble;
Decent warranty.
Cons
A fitness console isn't included.
 Sunny Health & Fitness SF-B1805 Summary
The Sunny Health & Fitness SF-B1805 is an indoor cycling bike designed for spin workouts. It has a magnetic resistance system, a heavy flywheel, and a quiet belt drive. It offers superior micro-adjustability; both its seat and handlebars are 4-way adjustable.
It's a heavy-duty bike, perfect for high-intensity cardio workouts, interval training, muscle toning, strength and stamina development, and weight loss. And finally, even though it doesn't come with fitness console, this Sunny exercise bike offers excellent value for the price.
I hope you found this article helpful and informative. If you have anything that you'd like to share or opinions about the content on my website, please do speak up. I look forward to your comments, questions, and the sharing of ideas.
Recommended articles: