Get fit and slim in the comfort of your own home with the Sunny SF-B2511H Upright Bike. The Sunny Health & Fitness SF-B2511H is a straightforward and easy-to-use entry-level exercise bike, suitable for people of all ages and fitness levels.
The Sunny SF-B2511H Upright Bike features eight levels of smooth and quiet magnetic resistance, which is easily adjustable via the simple-to-use turn-dial knob to increase or decrease the intensity of your workout.  Start at your own pace and gradually increase the resistance to keep yourself challenged!
The Sunny SF-B2511H upright bike comes with an easy-to-use LCD monitor that displays your workout stats to help keep you motivated as you exercise.  Workout stats displayed include time, speed, distance, calories burned, pulse (pulse-rate via in-built pulse-grips heart-rate monitors located in the handlebars), and scan.
The Sunny SF-B2511H even comes with a convenient tablet holder so you can keep entertained as you workout.  The tablet holder measures 10.5" long by 7.5" high and is adjustable for different viewing angles based on the user's height.  It features a suction-cup lining to hold your mobile device in place.
Learn more in my complete review below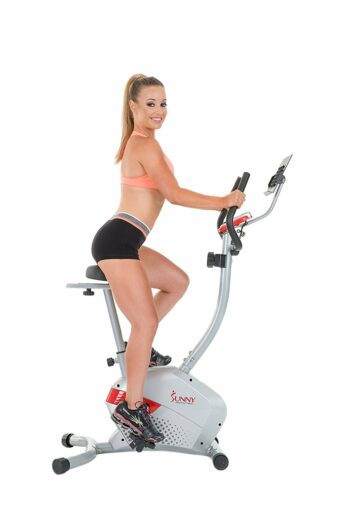 Product: Sunny SF-B2511H Upright Bike
Price: For a great deal on this bike, merely go here on Amazon
Warranty: Frame 1 year / Parts 90 days
My rating: 7/10
Amazon Affiliate Disclosure: I may earn commissions from purchases made through links in this post.
Details and Specifications
Assembled dimensions: 41L x 24W x 56H inches (104 x 61 x 142 cm)
Product weight: 49 lbs (22.2 kg)
Max. weight capacity: 220 lbs (99.7 kg)
Seat: 4-way adjustable
Pedals: With Straps
Resistance: Magnetic, eight levels
Console: tracks speed, time, distance, calories burned, and pulse.
Accessories: Tablet holder
Warranty: Frame 1 year / Parts 90 days
SF-B2511H Frame
Like many other upright bikes, this Sunny exercise bike features a frame made of steel tubing. All steel parts, including the seat post, are coated with corrosion-resistant silver paint. The guards of the resistance mechanism are made of plastic material, though.
Although this upright bike has a larger footprint than the Marcy model and several other models, it still doesn't take a lot of space. It features a 41″L x 24″W (104 x 61 cm) footprint; thus, it can easily fit in smaller rooms. However, the frame is not foldable.
The rear frame base is curved, to provide extra stability for the bike. The front base is a simple, straight bar, but does integrate small transport wheels, to facilitate the relocation of the bike after you've finished your workout. The fully assembled bike is not too heavy, though. At 49 lbs (22.2 kg) of weight, just about anyone should be able to transport it without too much trouble.
Seat and Handlebars
The Sunny Health and Fitness SF-B2511H features a 4-way adjustable seat. It's quite a generic seat, without a lot of cushioning, but it's much more extensive than the seats of indoor cycling bikes, thus offering superior comfort.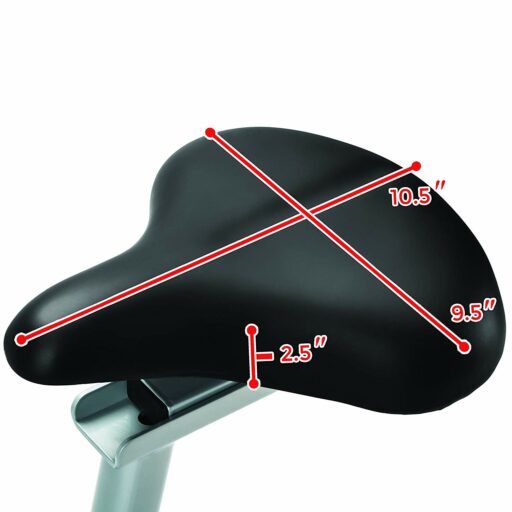 The bike can support users up to 220 lbs (100 kg). Even though the frame is pretty solid, and could probably withstand even heavier users, the seat's horizontal adjustment bar would possibly bend. This is the element that gives the bike's 220 lbs weight capacity.
Also, when it comes to user height, this bike can accommodate users up to 6'2″ (188 cm). Taller users should also be able to exercise on this bike, but may not benefit from a full leg extension.
Last but not least, the bike's handlebar is non-adjustable. It features a multi-grip design and has a rubber foam material to supply a comfortable grip. It integrates stainless steel pulse sensors, the bike's console also being able to track your pulse.
SF-B2511H Resistance System
As the title suggests, this Sunny Health and Fitness bike features a magnetic resistance system. It does not require to be connected to a power circuit, though.
The resistance system consists of a small, adjustable pad with magnets attached to it. It connects to a resistance knob via a steel wire. It moves closer or farther to the bike's flywheel as you turn the tension knob, generating more or less resistance.
As a general idea, the eight levels of resistance specified on the tension knob can offer workouts from very light to medium intensity. The 1-3 levels are natural to undertake, recommended for users who require a low impact workout.
However, the 7-8 resistance settings do offer a more regular exercise, simulating the climb of a hill. Differently put, a person with a lower level of fitness should be sweating after a few minutes of pedaling while using these levels.
Drive System
When it comes to the bike's drive system, the first element to mention is its flywheel. It uses a small wheel, but balanced, with most of its weight in its perimeter. Due to this fact, the pedaling motion is quite smooth and stable. The bike's crank arms are solid steel.
However, keep in mind that this is an upright bike, not a spin bike. It's not for spin workouts; in other words, it's not for pedaling in full stand-up position, as the crankset may not hold that much pressure.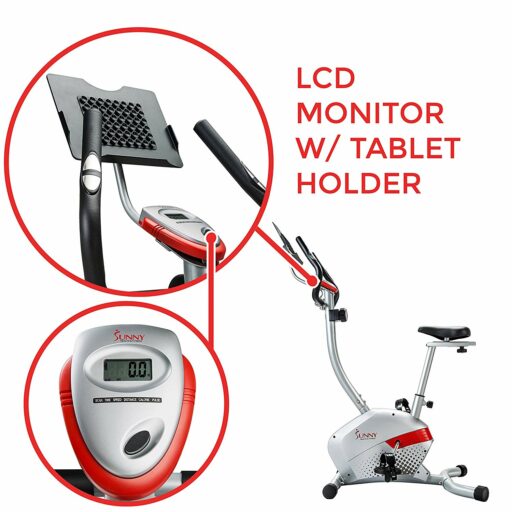 The pedals are heavy-duty nylon material, featuring straps with three adjustment positions. They have a non-slip surface, and they're also weighted. However, just like in most upright exercise bikes, they don't have clips for spin shoes.
This bike is belt-driven, which means that pedaling is pretty quiet. It's a bike suited for apartment use as your workouts will generate very little noise, far from being loud enough to bother the neighbors. Also, since it's belt-driven, maintenance of the transmission is inexistent.
One last aspect to mention here regards the pedaling motion. Even though it's a magnetic exercise bike, pedaling in reverse is possible. Due to this fact, you can diversify your workouts a little. But, keep in mind that pedaling in reverse is done at the selected resistance level.
"Coasting" on this bike is not possible. Also, when pedaling in reverse, the fitness meter will continue to track your statistics.
SF-B2511H Console
The Sunny Health & Fitness SF-B2511H upright bike comes with a fitness console. It can track speed, time, distance, calories burned, and pulse. It features a SCAN function which cycles throughout all these values, keeping each one of them on screen for several seconds. However, you can select any of the statistics to display on the screen at all times.
The console features only one button, which covers all its functions. The unit is easy to operate. It powers on when it detects activity on the pedals, or you can also turn it on by pressing the button.
The same button is used to navigate through the statistics and select the one that you want to be displayed, in case you don't want to keep it on SCAN mode. Also, by pressing and holding the button, you can reset all the statistics to default.
The fitness console uses two AA-type batteries, which are not (included).
When it comes to the tablet holder, the one supplied with this bike is much better than in other bike models. First of all, its angle is adjustable, which is great as sometimes 1-2 degrees can make a lot of difference when viewing the screen of a tablet or smartphone. Second of all, it features a grid of suction cup holds, which will secure your tablet entirely in place. The tablet holder is 10.5″ (26.6 cm) long, and 7.5″ (19 cm), being able to accommodate just about any tablet.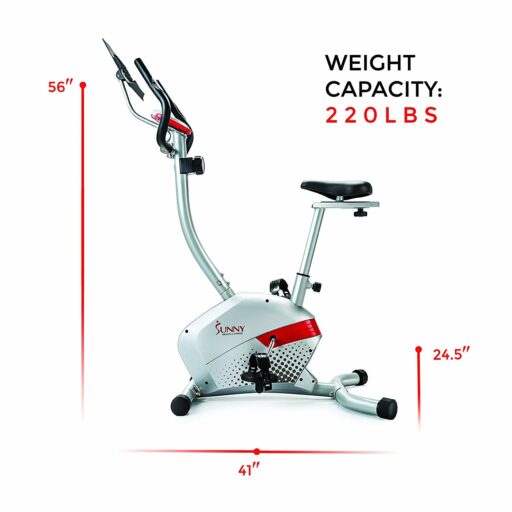 SF-B2511H Assembly and Maintenance
This Sunny exercise bike does not come fully assembled. However, the drive and resistance elements come already attached to the frame and sealed by the lateral guards.
You will only need to connect the bases, the handlebar and seat posts, the seat and handlebars themselves, and finally the console and table holder. Manual and tools for assembly (are supplied).
When it comes to maintenance, lubrication for the moving parts of the bike is not needed. It's a maintenance-free fitness machine. The only thing to do is check its joints and nuts from time to time; a re-tighten them if it's the case.
Pros
Sturdy construction, elegant design;
Small footprint;
Comfortable seat, 4-way adjustable;
Magnetic resistance, with eight distinctive settings, for light to medium cardio;
Handlebars with pulse sensors;
Angle-adjustable tablet holder;
Console included;
Quiet and smooth drive;
Maintenance-Free.
Cons
Not a bike for tall users (over 6'2″);
User weight capacity of only 220 lbs.
Sunny SF-B2511H Upright Bike Summary
The Sunny SF-B2511H Upright Bike is for light to medium cardio exercise. It's excellent for toning muscles, keeping good cardiovascular shape, regaining strength and stamina, recovery training, and of course, for losing weight.
It's a bike featuring manual magnetic resistance, with eight tension levels, and by using the 7-8 resistance settings, you can benefit from a more consistent workout, which should be able to help you burn up to 5-600 calories per hour.
Overall, it's a well-constructed exercise bike, with a sturdy frame and quiet operation, great for apartment use. And finally, since it costs less than $200, it offers excellent value for the price.
I hope you found this article helpful and informative. If you have anything that you'd like to share or opinions about the content on my website, please do speak up. I look forward to your comments, questions, and the sharing of ideas.