The Sunny SF-B2630 Upright Bike by Sunny Health & Fitness is an excellent entry-level cross-training bike that's ideal for home use.  It's a relatively compact size that won't take up much space in your home, and because the fitness console is battery operated, you don't have to worry about trying to find an area near an electric outlet.
It's rare to find a cross-training bike at such a low price point of the Sunny SF-B2630.  You'll love the unique total body workout this bike gives, allowing you to sit while exercising both upper and lower body for a more effective workout than cycling alone.
The Sunny SF-B2630 features eight levels of magnetic resistance so you can adjust the intensity of your workout for a harder or easier session. This is an excellent way of toning, burning calories, and getting a good cardio workout all in a low-impact way, which means its kinder to your joints compared to many other forms of exercise.
The Sunny SF-B2630 Upright Bike is straightforward and easy to use.  It comes with a simple digital fitness console that displays motivating workout stats, including time, distance, speed, scan, odometer, calories burned, and pulse heart-rate.
Learn more in my complete review below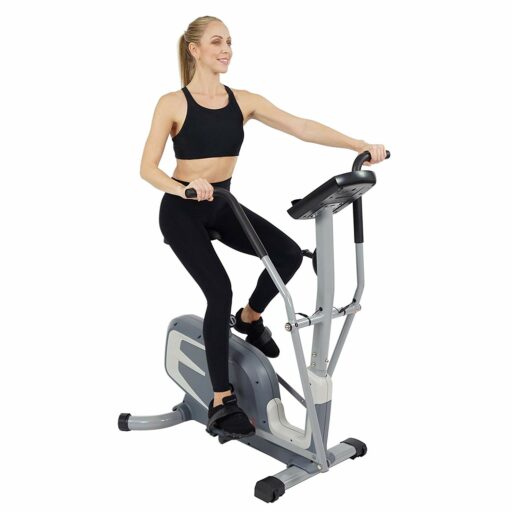 Product: Sunny SF-B2630 Upright Bike
Price: For a great deal on this bike, merely go here on Amazon
Warranty: Frame 3 years / Parts 90 days
My rating: 7.25/10
Amazon Affiliate Disclosure: I may earn commissions on purchases made through links in this post.
Details and Specifications
Assembled dimensions: 43.5″L x 25″W x 53″H (110.5L x 63.5W x 135H cm)
Assembled weight: 72 lbs (32.6 kg)
Supported weight: 220 lbs (100 kg)
Handlebars: Mobile
Seat: 4-way adjustable
Drive: Belt
Resistance: Magnetic, eight levels
Fitness console: Time, speed, distance, total distance, calories, pulse, SCAN
Warranty: Frame 3 years / Parts 90 days
SF-B2630 Frame construction
Since it's a trainer made for home use, the Sunny SF-B2630 doesn't offer an extraordinary weight capacity. It's only rated for a maximum user capacity of 220 lbs (100 kg). However, it does have a sturdy construction and stable construction. Also, the rear base caps serve as adjustable stabilizers; they have a polygonal design and can rotate, offering the possibility to perfectly level the trainer on any flooring.
This trainer is not an extremely heavy one. Fully assembled, it weighs approx. 72 lbs (32.6 kg), and therefore it's not difficult to assemble or move. Plus, its front base features a set of wheels that facilitate its relocation.
Although the bike's mainframe is steel-made, its construction also integrates several plastic parts. These are the covers of the flywheel and pulley and several other small caps. All the steel parts come with a rust-resistant paint, light gray, this being the only color available for this trainer. Despite the corrosion-resistant paint finish, this is a trainer for indoor use only; if stored and used outside, some of its other parts or bolts may eventually catch rust.
The Sunny SF-B2630 upright bike isn't a large fitness machine. With the frame fully assembled, it only takes 43.5″L x 25″W (110.5 x 63.5 cm) of floor space, while its highest point is the handlebars which reach a height of approximately 53″ (135 cm). Thus, the bike can fit well even to a small room or apartment, but it is advisable to allow a clearance of at least two feet on each side, and at least one foot of clearance at the front and rear, for safe operation and easy entry and exit.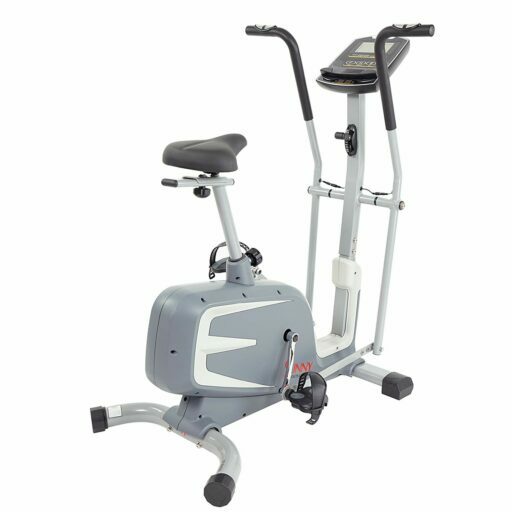 Seat and handlebars
The Sunny SF-B2630 upright bike is equipped with a standard saddle. This type of saddle is a bit wider than the average seat of most spin bikes. It's 10.5″ (26.6 cm) long and 9.5″ (24.1 cm) full offering plenty of contact surface; it also integrates a thin layer of padding for optimal comfort.
The standard attachment system to the adjustment bar offers plenty of replacement possibilities. It also allows you to tilt it backward or forward slightly. Apart from the tilting options, the seat is 4-way adjustable (up, down, forward, and backward).
Therefore, it can accommodate users with an inseam between 29″ and 38″ (73.6 – 96.5 cm); in other words, it should fit users between 4'10" and 6'5″ (147 – 196 cm).
This upright bike cross-trainer only has a set of mobile handlebars that are attached to the pedals. Therefore, the handlebars will move for as long as the pedals are moving and vice-versa. They cannot be locked in place or moved independently from the pedals.
The handlebars are non-adjustable; they come with rubberized grips to provides optimal adherence and comfort. They integrate stainless steel pulse sensors so that the unit's console can monitor your heart rate.
SF-B2630 Resistance system
The Sunny SF-B2630 upright bike cross-trainer comes equipped with a manual magnetic resistance system. This means you don't have to connect it to a power source. Also, the console does not control its resistance.
The bike's resistance system consists of a small magnetic brake attached to the lever on the console mast through a steel cable. By pressing the bar down, the magnetic brake comes closer to the bike's metallic flywheel, increasing resistance.
There are eight distinct resistance settings marked on the adjustment lever. The top 1-3 levels provide a light resistance, great for recovery training. Conversely, the lowest 7-8 settings offer the possibility to achieve a higher burn and execute training routines of superior intensity. But as a general idea, the highest resistance setting isn't challenging; it is a mid-range resistance.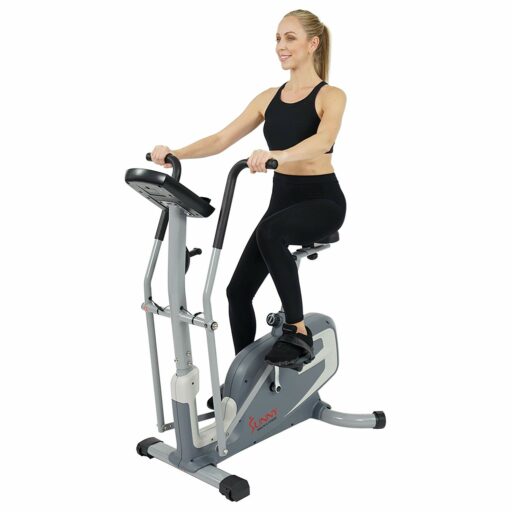 Drive system and elements
Since it's a trainer equipped with a magnetic resistance system, it has a belt transmission. It uses a durable, stretch-resistant rubber belt. Just like any belt drive system, it comes with several advantages. First of all, it promotes a silent pedaling motion. Second of all, it generates less vibration than a chain. And finally, it doesn't require any lubrication.
The bike integrates a small metallic flywheel. Its weight is not specified, but as for other trainers in this range, it should weigh between 10-16 lbs (4.5 – 7.2 kg).
This flywheel is perimeter weighted, which means that it provides quite a bit of inertia and consistency for its momentum. It also delivers a smooth and steady motion.
The flywheel is not bi-directional, though. The manual specifies that the bike does not support reverse pedaling; this may cause damage to the internal components.
The crankset consists of a reasonably large pulley and two solid steel crank arms. The pedals are durable nylon material, featuring a non-slip surface and adjustable straps. They're weighted in order to always turn face-up for ease of foot placement. They also have standard threads, so replacements for them are widely available.
SF-B2630 Console
Although the trainer's fitness console does not have fancy features such as Bluetooth connectivity or pre-set workout programs, it does offer quite a bit more than a basic unit. First of all, it has an LCD with significant digits, easy to read.
It can read your pulse via the sensors integrated into the handlebars, a feature that the fundamental units do not have. It also incorporates a media rack so that you can place your tablet, smartphone, or a magazine, for a bit of entertainment during the workout sessions.
Along with pulse reading, the console also tracks time, distance, total distance, speed, and calories. There are only miles/MPH options for distance and speed. It also doesn't offer the option of user data input, such as weight, age, or gender, so the calorie reading is only an estimate, not extremely accurate.
On the other hand, there is a table with the optimal heart rate ranges depending on age, under the unit's tablet holder. This should help you maintain your heart rate within the required interval for your desired training goal.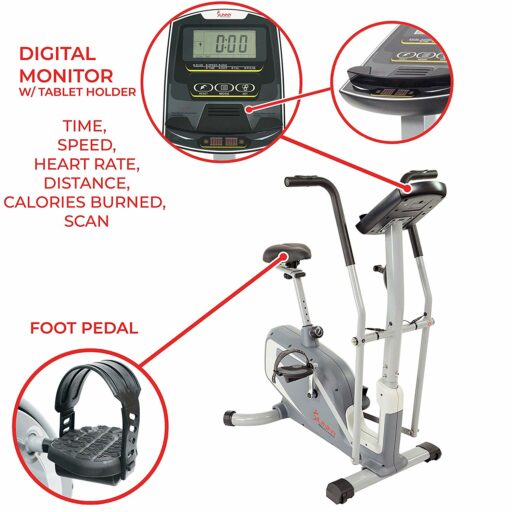 The fitness console offers the possibility to set goals for time, distance, pulse, and calories. In other words, you can set up a target value for any of these metrics, and it will countdown from it until it reaches zero.
The unit is easy to use. First of all, it's battery-powered; it uses 2 AA batteries, which are (included) with the bike. It has three buttons – MODE, SET, and RESET. Mode toggles the unit's SCAN function ON/OFF.
When the SCAN function is ON, all the workout metrics rotate in a sequence, each one shown for 4 seconds. The SET key allows you to set goals for time, distance, calories, and pulse. And the RESET button clears all the values to zero.
The unit also has a sleep mode function. It will enter its sleep mode after several minutes of inactivity. To turn it back on, you can either press any of the buttons or begin pedaling.
SF-B2630 Assembly and Maintenance
The trainer's internal mechanism along with the base bar and half of the console mast comes pre-assembled and covered by the plastic side shrouds. Therefore, you will only need to attach the base bars, the other half of the console mast, the bars that connect the pedals to the moving arms, the moving arms, the pedals, the seat, and the console.
This may take up to an hour, but it's not at all difficult; the manual provides very suggestive schematics and step-by-step assembly instructions. Also, all the tools you'll need for assembly are (included) with the bike.
This Sunny exercise bike is maintenance-free. Once assembled, you only need to dust it and check for loose bolts or parts periodically.
Pros
Sturdy steel frame;
Adjustable stabilizers on the rear base;
Transport wheels;
4-way adjustable, standard seat, easy to replace if needed;
Smooth, silent magnetic resistance;
Standard weighted pedals with adjustable straps;
Hand-grips with integrated pulse sensors;
Fitness console with a large LCD which can track time, distance, total distance, speed, calories, and pulse;
Goal settings for time, distance, calories, and pulse;
Tablet holder included;
Little maintenance required;
Easy to set-up.
Cons
No bottle holder;
The console doesn't have a backlight.
Sunny SF-B2630 Upright Bike Summary
The Sunny SF-B2630 is an upright cross-trainer featuring a manual-magnetic resistance system, a 4-way adjustable seat, and mobile handlebars with pulse sensors. It comes equipped with a basic fitness console that can track your pulse, time, distance, total distance, speed, and calories.
It's an excellent trainer for light to medium cardio workouts, stamina development, muscle toning, and weight loss. And finally, it's one of the most affordable trainers of this type, currently available for less than $300.
I hope you found this article helpful and informative. If you have anything that you'd like to share or any opinions about my website, please do speak up. I look forward to your comments, questions, and the sharing of ideas.
Recommended articles:
Sunny SF-RB4631 Recumbent Bike – with Arm Exerciser!